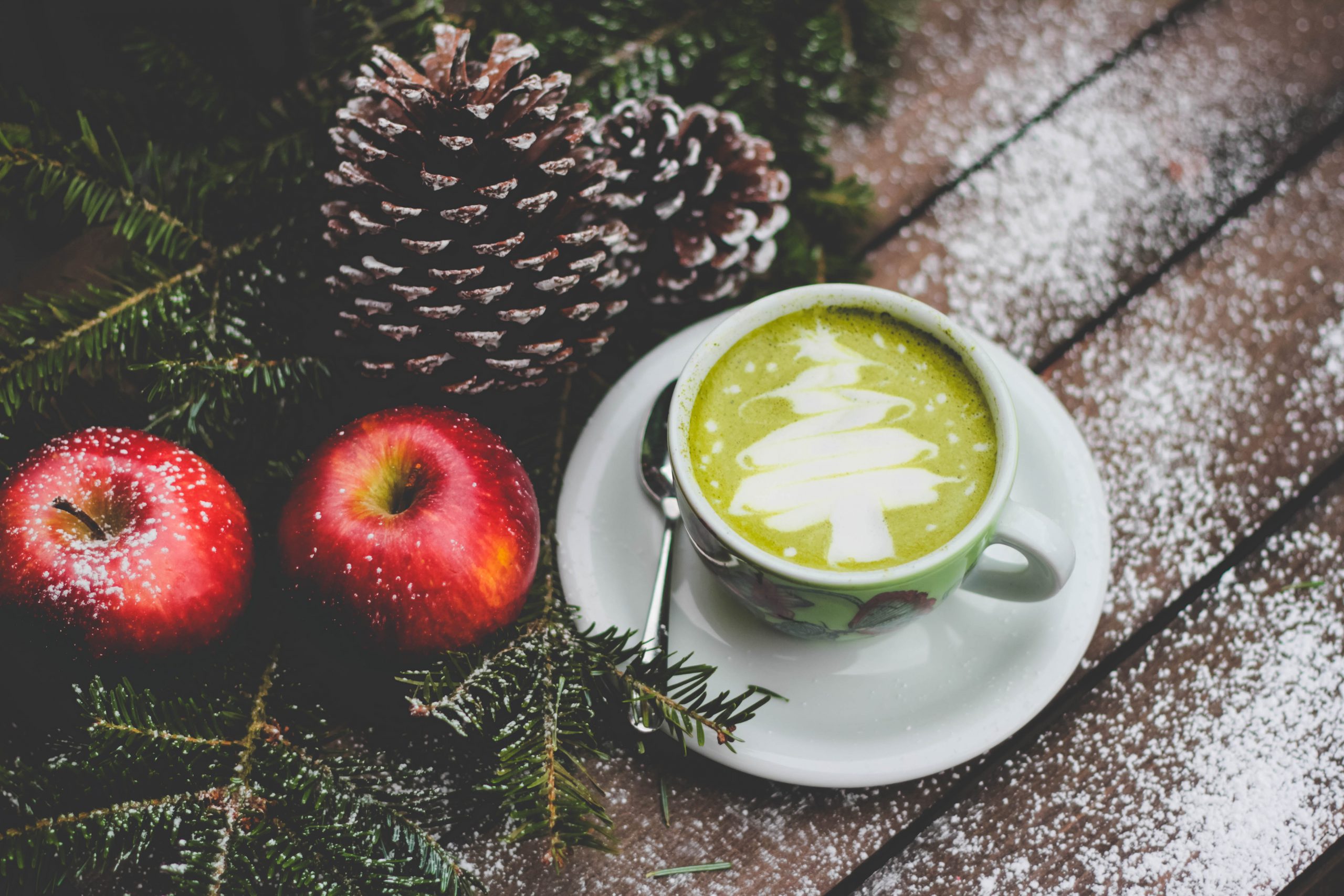 UW registered dietitians share seasonal recipes!
As the team at The Whole U begins to reflect on all we've published over the past twelve months, we are most grateful to those registered dietitians from across UW Medicine who, monthly, contribute our recurring RD Blog feature. As authors of some of our site's most-read and shared articles, this group regularly delivers expert insight onto all things related to food and how we feed body and mind. That's why, to close out 2019, we asked them to share their favorite seasonal recipes!
Read on to discover what these regular Eating Well contributors like enjoy at the table during the holidays.
---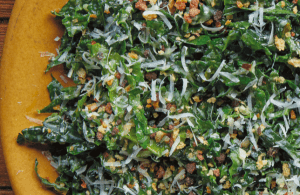 "Salad is the hero we need at our holiday dinner table," says Amanda Li, MS, RD, CD, CNSC, a registered dietitian nutritionist and certified nutrition support clinician who works in the Radiation Oncology clinic at the University of Washington Medical Center.
"Meat, potatoes, and pumpkin pie may get all the attention, but even the most indulgent holiday meal requires balance. This uncomplicated, but insanely delicious Kale Salad is bright and refreshing from the lemon juice and raw kale, creamy from the cheese and olive oil, and crunchy from the breadcrumbs."
Read the full recipe here.
---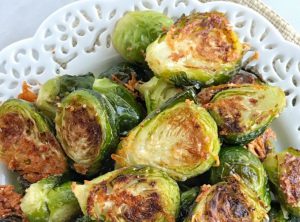 When it comes to eating together during the holiday season, a vegetable dish can easily steal the show at lunch or dinner—like these Oven Roasted Parmesan Brussel Sprouts recommended by Judy Simon, MS, RDN, CD, CHES, FAND, a clinic dietitian at Roosevelt Clinic and clinical instructor at the UW Medical Center specializing in reproductive nutrition.
"I love to showcase seasonal vegetables at my holiday meals," Judy says. "We love the savory taste of fresh roasted brussels sprouts alongside traditional sweet potatoes and cranberry sauce. Many of my guests are vegetarian so we will serve several vegetable dishes, and you can easily leave the parmesan on the side if there are any vegans at your table!" Read the full recipe here.
---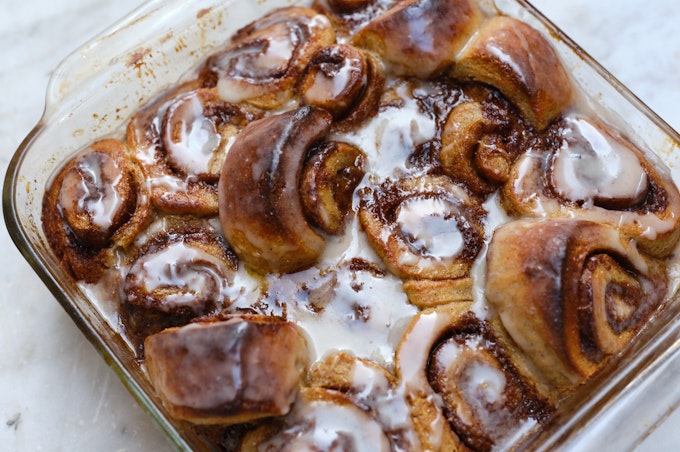 A Cinnamon Roll can be just the thing during the holiday season. They're sure to get you out of bed in order to enjoy them hot if you're not the one making them in the morning and they'll keep you full as you embark on your day. Eliza Lagerquist, MS, RD, CD, shares how they fit into her family's holiday routine.
"In my family we love to celebrate the holiday season with cozy mornings and those often include something warm from the oven," says Eliza, who works in the Neonatal ICU and Labor & Delivery units at the UW Medical Center. "I love these cinnamon rolls because they contain my favorite holiday spice, cardamom, and they can be adapted in so many ways to please many different families. Cozy up all!" Read the full recipe here.
---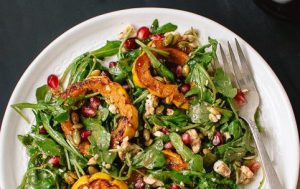 "This recipe is colorful and festive," says Lisa Messerli, MS, RD, CD, CDE, when describing Roasted Delicata Squash Pomegranate Arugula Salad. "The greens, red, whites, yellows all complement each other and look festive no matter what holiday is being celebrated. You can cook the squash ahead of time and it can be served cold, meaning you can throw this salad together in a few minutes right before you serve it (saving valuable space elsewhere in the kitchen). This light side dish balances the heaviness of all the other foods and desserts served at holiday meals."
Read the full recipe here.
---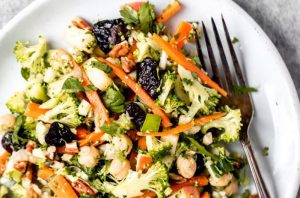 Bring some zest to any table with the following recipe for Chickpea Apple Broccoli Salad with Honey Dijon Dressing recommended by Leah Isaacson, MS, RD, CD, who loves this dish for being as delicious as it is versatile. Chickpeas pack a nutritional punch, apples provide a hint of sweetness, while the broccoli will give it a welcome crunch often missing from meals at this time of year. "The chickpea apple broccoli salad with honey Dijon dressing is one of my favorite go-to salads to make ahead for the week or to simply take to parties," Leah says. "During the holidays, I love to use dried cranberries instead of cherries."
Read the full recipe here.
---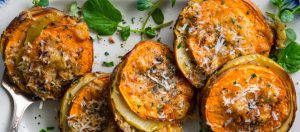 Want to take a salad up a level? Add some yam.
"If you have never had this Yam and Kale Salad you are in for a treat," Leah says of this favorite recipe that only requires a few simple ingredients.
"It is always a big hit at any dinner party!"
Link to full recipe here.
---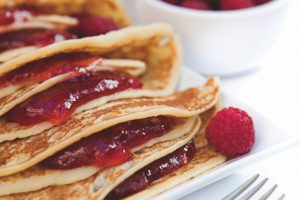 "Growing up with Swedish grandparents and relatives, Swedish pancakes with lingonberry sauce was a family tradition I looked forward to every Christmas morning," says Kristine Carlson, MS, RD, CD, CNSC, a registered dietitian and certified nutrition support clinician who works in the Surgical, Medical and Oncology Intensive Care Units at the UW Medical Center.
"I have been using the same cast-iron Swedish pancake pan, gifted to me by my grandmother, for over two decades now to serve this breakfast treat every year! Leftover lingonberry sauce is great with Swedish meatballs, on toast, or even a replacement for cranberry sauce in other holiday recipes."
---
Although she's sworn to never reveal her grandmother's traditional recipe, Kristine says "this one is very close!"
Authentic Swedish Pancakes Recipe
Ingredients
3 eggs
1 1/4 cups milk
3/4 cup all-purpose flour
1 tablespoon white sugar
1/2 teaspoon salt
1 tablespoon butter, or as needed
Directions
Beat eggs in a bowl with an electric mixer until thick and lemon-colored, 3 to 5 minutes. Stir in milk.
Sift flour, sugar, and salt together in a bowl. Add to egg mixture; mix until batter is smooth.
Grease a griddle with butter; heat over medium heat. Drop tablespoonfuls of batter on the griddle; spread to make thin pancakes. Cook until light brown on bottom, 1 to 2 minutes. Flip and continue cooking until second side is light brown, 1 to 2 minutes more. Repeat with remaining batter.
SERVES: 12
YIELD: 3 cups
Lingonberry Sauce
Ingredients
4 cups lingonberries
½ cup water
1 cup sugar
Directions
Drain berries, wash and pick out any leaves
Place berries in a saucepan; add water and bring to a boil
Add sugar; stir to dissolve. Lower heat; simmer 10 mintues
Remove from heat; serve warm if using for pancakes; chill if serving with meat, poultry or seafood.
---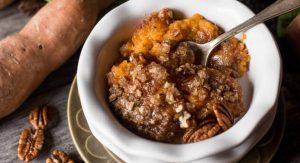 "I love sweet potatoes and this dish puts a healthier, slightly sweet and nutty spin on the traditional sweet potato side dish," says Diane Javelli, RD, CD, a Clinical Dietitian at the UW Medical Center who, for the past 20 years, has worked in the Outpatient Nutrition Clinic specializing in gastrointestinal disorders as well as recovery from esophageal cancer surgery.
"High in vitamin A, C, and fiber this recipe for Sweet Potato Streusel (adapted from Bon Appetit) makes a great accompaniment to meals all year round!"
---
Sweet Potato Streusel Recipe
Ingredients
4 pounds sweet potatoes or garnet yams*
1/3 cup orange juice
2 Tablespoons brown sugar
1 Tablespoon butter
1 ½ teaspoons freshly grated orange peel
Directions
Bake potatoes for one hour at 400 degrees.
Peel and mash in bowl.
Add other ingredients and salt and pepper to taste.
Spoon potato mixture into 9X13 inch pan. Top with streusel. Bake at 400 degrees for 40 minutes.
Can make one day ahead.
Streusel Topping
Ingredients
1/3 cup flour
1/3 cup pecans
3 Tablespoons brown sugar
2 teaspoons paprika
3 Tablespoons butter
Directions
Cut butter into small pieces and crumble together with other topping ingredients and sprinkle over potatoes.
Note: I use red garnet yams instead of sweet potatoes for a moister, more colorful dish.
---
Happy holidays from all of us at The Whole U to all our contributors and readers!