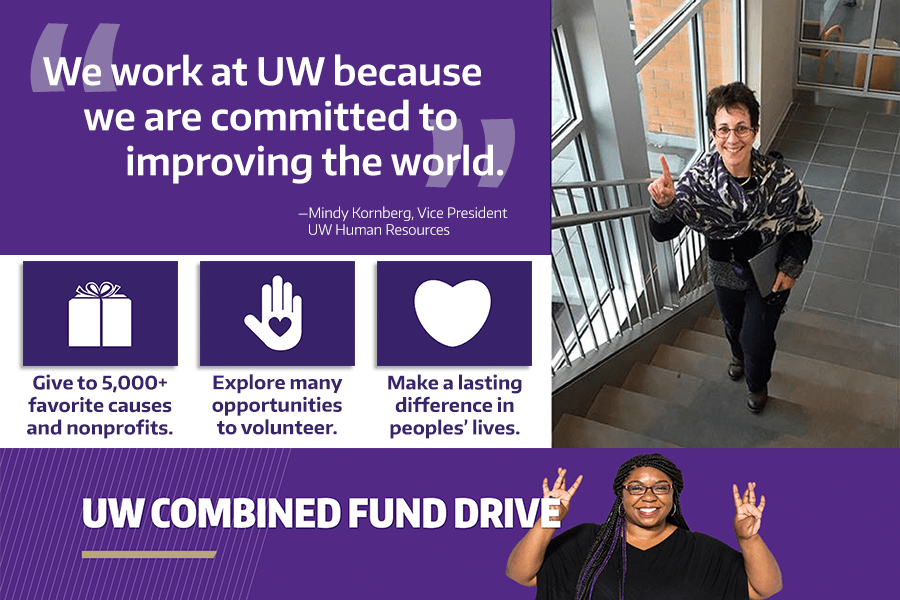 Staff Story: Mindy Kornberg
Running from October 2 to December 6, the UW Combined Fund Drive (UWCFD) is the University of Washington's annual workplace giving campaign. We caught up with Mindy Kornberg, Vice President of UW Human Resources and UWCFD's longtime executive sponsor, to learn more about giving's profound impact in providing lasting hope to our community, nation and world.

---
Amid all the excitement of a new academic year, there's one thing UW VP for Human Resources Mindy Kornberg looks forward to the most every fall: the UW Combined Fund Drive.
A chance for faculty, staff, and retirees to give to their favorite causes through payroll deduction or a one-time donation to a nonprofit of their choosing, UWCFD raised $2.1 million last fall for 1,800 nonprofits, making the University of Washington the leader in giving for institutions of higher education.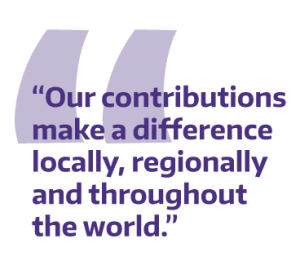 "We work at UW because we are committed to improving the world," Kornberg says. "A workplace giving campaign provides a window into the needs of our community and our contributions help make a difference locally, regionally and throughout the world."
When Kornberg joined the UW 13 years ago, the UWCFD's all-time best annual total raised was $1.6 million. It has since almost doubled, growing steadily even during periods of economic recession.
To create a groundswell of awareness around individual giving, Kornberg embraced making the process fun for UWCFD's volunteer coordinators, appointed from departments across the UW—creating a culture of visibility and friendly competition. From bake sales and chili cook-offs to pie-in-the-face contests and "coin wars," unique ideas are encouraged.
Kornberg credits Kerri Fuller, UWCFD's development services officer and campaign manager, and Jolyn Mason, its development coordinator, and their team for the "incredible job" they do helping hundreds of CFD volunteer coordinators connect with the wider UW community to spread awareness and solicit donations.
But for Kornberg, the grand total of funds raised isn't the whole story.
"It's not just about raising the money; it's also about the esprit de corps and team-building that goes on once you begin learning all about these fascinating nonprofit organizations and what your colleagues support," she says.
She says the power of choice is another major factor in the UWCFD's sustained success.
"Not only can you pick where you'd like your donation to go, but if you don't see the organization you wish to support, the team will work with you to have it added to the campaign," Kornberg says, adding that she likes to choose areas of giving that focus on homelessness, food insecurity, or healthcare—"especially if it impacts the lives of children."
"I feel passionately that everybody is entitled to and should have adequate and appropriate healthcare, a roof over their head, and food," she says.
This year, Kornberg's nonprofit of choice is SOS Children's Villages, the largest nongovernmental organization dedicated to the care of orphaned, abandoned, and otherwise vulnerable children in 135 countries, including the United States. She was inspired to the choice by Capri Everitt, an 11-year-old from Vancouver, Canada who set out on a world-spanning journey to sing 80 different national anthems in 41 languages at locations around the world in support of SOS Children's Villages.
---
---
Like Everitt, Kornberg's father also originally hails from Canada. She describes how, as a child growing up in poverty, he benefited from organizations like the Salvation Army, which provided him with shoes and clothes when his family would have had nothing.
"From a very early age, I grew up with my parents emphasizing how important charitable giving is because it literally saved my dad's life in terms of providing him and his family what they needed to live," Kornberg says. "Giving back has always been a part of my life. I truly have to attribute that to my parents."
In law school, Kornberg served as weekend volunteer manager for the Ronald McDonald House for Critically Ill Children and, when she later worked at Duke, she got involved in that university's fund drive through United Way.
Whether it's her own parents' example or those of peers at UW, Kornberg credits "the stories that you hear about why individuals are giving" as one of the greatest motivating factors that drives charitable giving through the UWCFD.
Stories like that of Alexes Harris, a UW professor of Sociology, whose journey of surviving a rare, life-threatening blood cancer is reflected in the UWCFD's selection of Be The Match as this year's featured charity.
---
---
Be The Match facilitates life-saving, cancer-curing marrow and stem cell transplants for patients like Harris who have rare blood cancers via the nation's largest registry of potential marrow donors.
"Part of what makes Be The Match such a fantastic choice as this year's featured charity is that it offers so many ways for people to get involved to help saves lives," Kornberg says.
"If you are between the ages of 18 – 44, you can join the registry at no cost to be a potential marrow donor; you can also help by encouraging others in your social networks who meet the age requirements to register."
"You can also make a monetary donation so Be The Match can continue to cover the full cost of the life-saving marrow transplant procedure and complete wraparound care for the donor and transplant recipient."
The more who join the registry as potential donors increases the chances that a patient in need of a life saving transplant finds a match. There is currently special need for potential donors of mixed ethnic background in order to increase the chances that others of similar backgrounds find matches. Learn more about this pressing need, read Alexes' inspiring story of survivorship and explore the University of Washington's first-of-a-kind partnership with Be The Match here.
No matter which organization you choose to support, what's important is that you find one that resonates with what you care about.
"There are so many different avenues for giving," Kornberg says. "Through the CFD, you even have ways of giving to UW scholarships and programs across the University of Washington."
More than 80 nonprofit organizations will visit UW on October 16 as part of the Fall Nonprofit Expo—giving UW faculty, staff, and retirees a chance to meet face-to-face to learn more about their work and how UWCFD-raised funds help support it.
At the same time, UW faculty, staff, and retirees can bid in a silent auction with all funds raised supporting Be The Match.
Kornberg says she is especially proud of the array of professions who participate in the UWCFD campaign—"everyone from custodians to surgeons."
"People are so generous here—with their time, with their scholarly research, with their volunteerism—it's just an incredible place," Kornberg says. "It makes asking a lot easier because people understand how important it is to give back."
It's a spirit of service that, for Kornberg, lies at the heart of what it means to work at the University of Washington.
"Being the executive sponsor of the UW Combined Fund Drive is a real privilege. I really do believe it takes a village and we are really an incredible village here at the University of Washington."
---
Whether you are on our Seattle, Bothell or Tacoma campuses or at Harborview or the UW Medical Center, you can give through UWCFD to make a difference in your community and beyond. Learn more about the UWCFD, explore causes to support, and get involved to make a world of difference here.