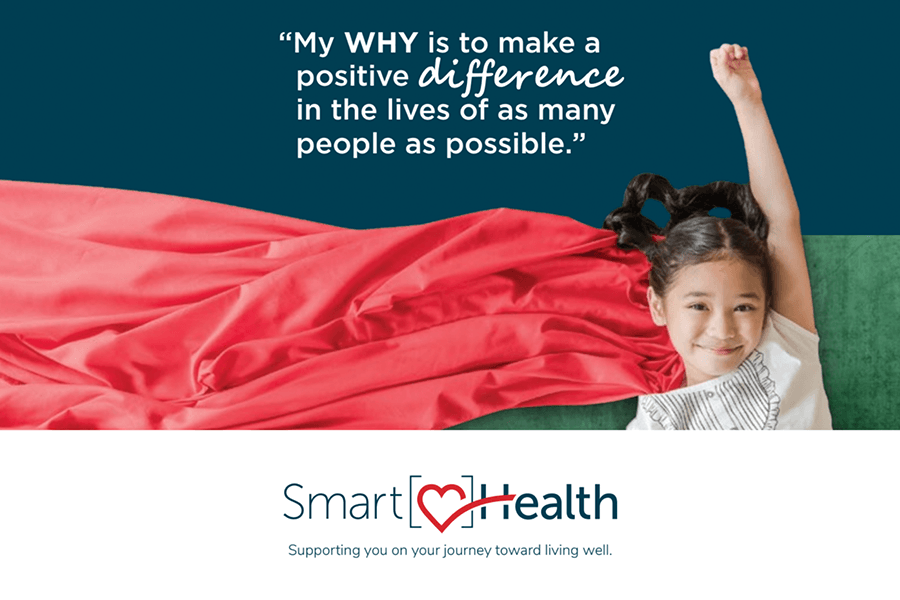 Make the most of your PEBB benefits
The University of Washington's wellness resources for employees are extensive. We've already detailed some key tool in our Guide to Living Well. For another great way to navigate the competing priorities in life while finding time to care for your well-being, try making the most of the wellness benefits offered through the Public Employees Benefits Board (PEBB).
As a University of Washington (UW) employee enrolled in PEBB, you get access to these wellness benefits at no cost!
Taking care of our well-being is not only a priority at UW—it also matters to Washington State. In fact, here's a great explanation from Governor Jay Inslee on why it's so important: "Improving our well-being help us all be more productive and happy—in the important work we do, and with the family, friends, and community we care about."
To support your well-being, take advantage of these three PEBB wellness benefits:
SmartHealth
Diabetes Prevention Program powered by Omada
Living Tobacco Free
Why SmartHealth?
SmartHealth is your voluntary wellness program that supports you on your journey toward living well.
The secure, easy-to-use, mobile-friendly website offers fun activities to help you reach your wellness goals, such as sleeping better, eating healthier, and planning for retirement. Whether you are trying something new or adding to what you already do, SmartHealth has something for everyone.
To help you along your journey, SmartHealth asks you to find, support, and pursue your purpose. Your purpose is what motivates and inspires you to be your best every day. It's what is most important to you.
We call it What's Your Why?
Your why can be something big or small such as family, career, music, pets, or community. Your why can change over time, you can even have more than one, but it always supports your beliefs and values. Have fun exploring what matters to you.
---
"It [SmartHealth] completely changed how I interact with my coworkers. I have more self-confidence. I'm more active. It's going to take you less time than how much time we spend on social media and these things that don't breathe life into us. It's such a small amount of time to invest in yourself and that's important." 

—Jenny, WA State Department of Licensing
---
---
SmartHealth rewards
The most meaningful rewards for using SmartHealth might be to support your why, pursue your purpose, and be your best. In case you need another reason, you can also qualify for both a $125 wellness incentive and a $25 Amazon.com gift card! Learn more about SmartHealth.
Why diabetes prevention?
More than 1 in 3 American adults have prediabetes, a serious health condition that can result in type 2 diabetes.
The Diabetes Prevention Program powered by Omada is a digital lifestyle change program that combines the latest technology with ongoing support to help you build healthy habits that last. Clinical research shows these lifestyle changes can reduce the risk of developing type 2 diabetes by almost 60 percent.
"I was fascinated by the idea of using technology to help me get control of my weight. I was struck by how easy it was. It made sense." —Rodney, DPP participant
The program surrounds you with the tools and support so you can make the changes that matter most – whether that's around eating, activity, sleep, or stress. You will get your own professional health coach, wireless smart scale, supportive peer group, and more.
Learn more about the Diabetes Prevention Program powered by Omada and learn how Omada works in this video.
Why live tobacco free?
Living tobacco free helps you breathe easier, feel better, and have more energy to do what you enjoy.
You can also save money. As a PEBB member, you save both the money you would use to buy tobacco and the monthly payment for the tobacco use premium surcharge.
Here are three more key reasons to live tobacco free offered by the Centers for Disease Control and Prevention:
Smoking leads to disease and disability and harms nearly every organ of the body.
Smoking is the leading cause of preventable death.
On average, smokers die 10 years earlier than nonsmokers.
Learn more about living tobacco free.
What else do I get with PEBB?
You get a lot! Make the most of your PEBB benefits by looking into other options such as the Dependent Care Assistance Program (DCAP), a medical Flexible Spending Account (FSA), and more. Learn more about the additional benefit options through PEBB.