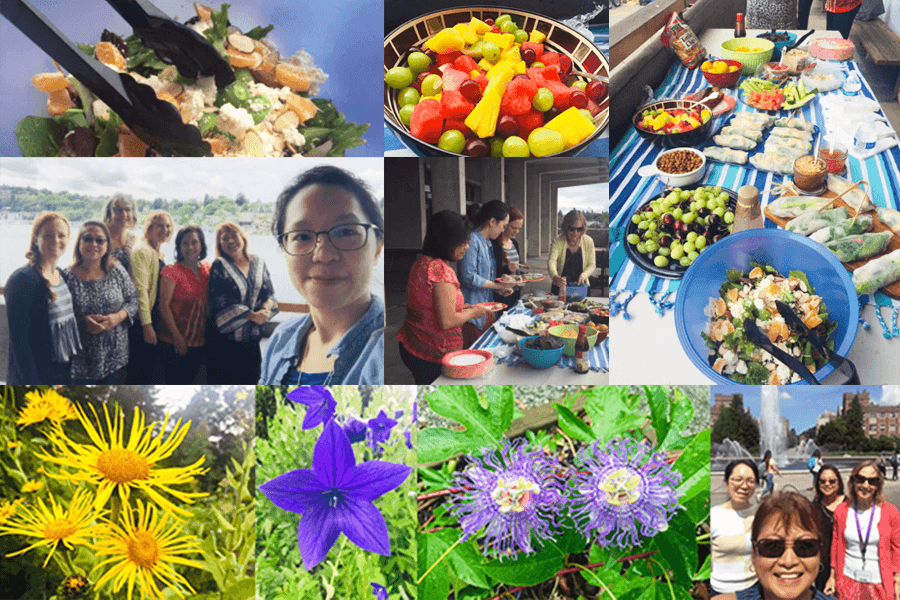 Summer Update: Raise the Bar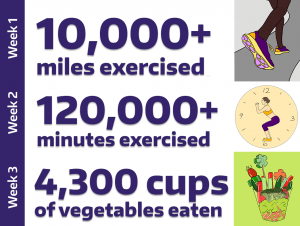 Pat yourself on the back or give your teammates a high-five because you likely just completed the third week of our Raise the Bar wellness challenge!
The first three weeks of The Whole U's annual summer focus on ways to boost wellness at work demonstrated how determined faculty and staff from across the UW are to make this summer at work one of their best yet.
So far, it's been one filled with energizing walking meetings, summer-themed potlucks, and trash-picking strolls.
As teams and individuals, we tracked miles exercised in Week 1, minutes exercised in Week 2, and cups of vegetables eaten in Week 3—see the results at right!
The next three weeks are going to be just as connective with more individual/team challenges and activities for all to participate in. Remember to log your weekly data into these links at the end of the week to share your accomplishments with us. This help us track total Raise the Bar progress as well as see who hits the highest, winning our weekly competitions and bragging rights. Read on to get inspired by what some of our teams have been up to these first three weeks!
---
An Eco-Friendly Stroll in Grieg Garden
One of the best ways to amp up your daily steps is by picking up trash during work break with your friends—you get a walk in and do something positive for the environment—not to mention the rest of those with whom we share our beautiful campuses.
Chris Pennington and Evyan did exactly that! They went out for a walk in Grieg Garden and decided to pick up some trash.
"[We] passed a group of young visitors and a delightful young man started helping us!" Chris relates. "Not only did they feel great about helping the planet, but they also influenced other people on campus to do the same."
---
Sunshine, Steps, Smiles and Flowers!
In summer, the flowers around UW campuses are blossoming like never before. But if you don't actively go out to look for them, they go unnoticed for the season. But Rose Meriales and her work friends wouldn't let such a rare viewing of these flowers go to waste. So they decided to take a campus stroll and spot some lovely flowers on the way!

---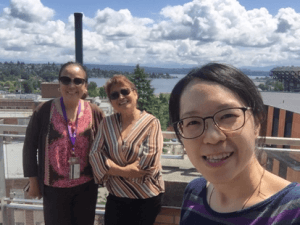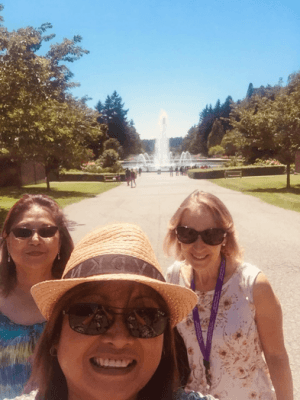 A Trio Takes On a Fun Campus Route
Sunglasses—check! Sunscreen—check! Rose and her friends had all the essentials for their walk break. They took a fun route to soak in some sun and explore the beautiful campus. They visited Greig Garden, ventured around Stevens Way Loop, and explored the Union Bay Natural area.
Success comes one step at a time!
During Week 1 of the challenge, participants tracked total miles exercised and Elsa took the opportunity to up her steps and distance with her coworkers by bringing some out for a lunch-hour tour on campus to explore and breath some fresh air! Elsa shared that, by the end of the day, she had walked more than 14,600 steps. Way to step up to get things started!
---
Did Someone Say Potluck?
Nothing is better than fruits, veggies, and people you care about at the table, even at work! Team Peek-a-Boo held a healthy lunch together for Total Cups of Veggies Eaten Week 3! They shared: "[We] had out healthy potluck picnic in the deck of Marine Sciences Building with awesome view!"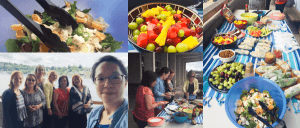 ---
Great job to everyone participating in the weekly competitions and challenges! We are all so impressed by the improvements and performances of every one of you. We look forward to more exciting story updates and pictures of your Raise the Bar journey! Remember to log your weekly performance here!
---
Raise the Bar could not be possible without the support of our wonderful program sponsors. Thank you AT&T, BECU, US Bank, UW Recreation, University Y Tacoma, UW Bothell Recreation & Wellness, and IanFitness for sponsoring the Raise the Bar Summer Wellness Challenge!