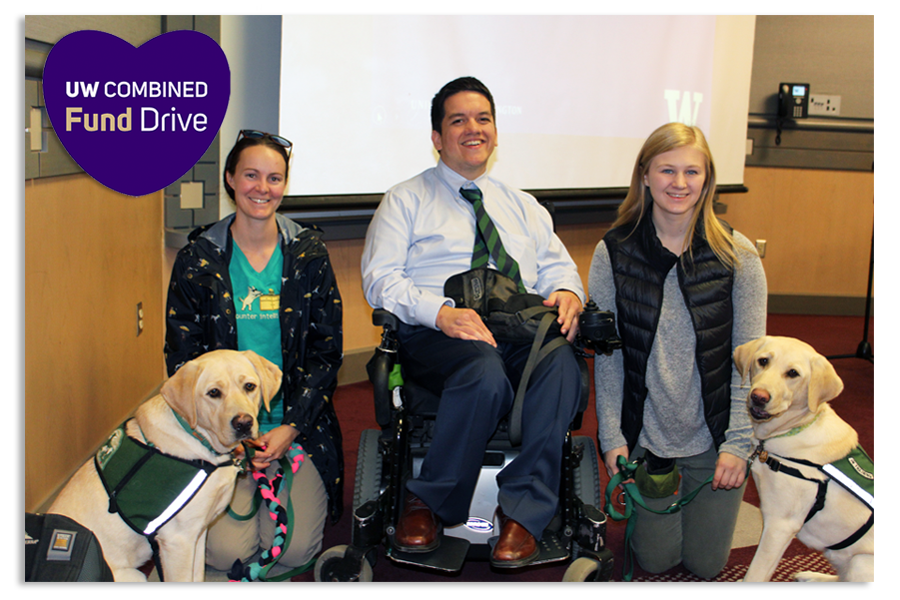 UWCFD raises more than $1.8 million
You might have noticed something happening across University of Washington campuses this fall: pop-up events drawing co-workers together in support of good causes to make real difference in Washington state and around the world.
Whether attending Halloween costume contests, chili cook-offs, service dog meet-and-greets or simply by giving on their own, UW faculty, staff, and retirees combined to raise $1,873,681 for their favorite charities through the UW Combined Fund Drive (UWCFD).
UWCFD is the University of Washington's workplace giving campaign, providing faculty, staff and retirees the opportunity to give to their favorite charities through payroll deduction or a one-time gift. Now through Nov. 30, you can make a life-changing gift by choosing from more than 5,000 member charities and giving via payroll deduction or a one-time gift.
Before the campaign rounds into its ninth and final week, we thought we'd roundup just a fraction of the UWCFD giving events that took place at the UW during Fall Quarter!
---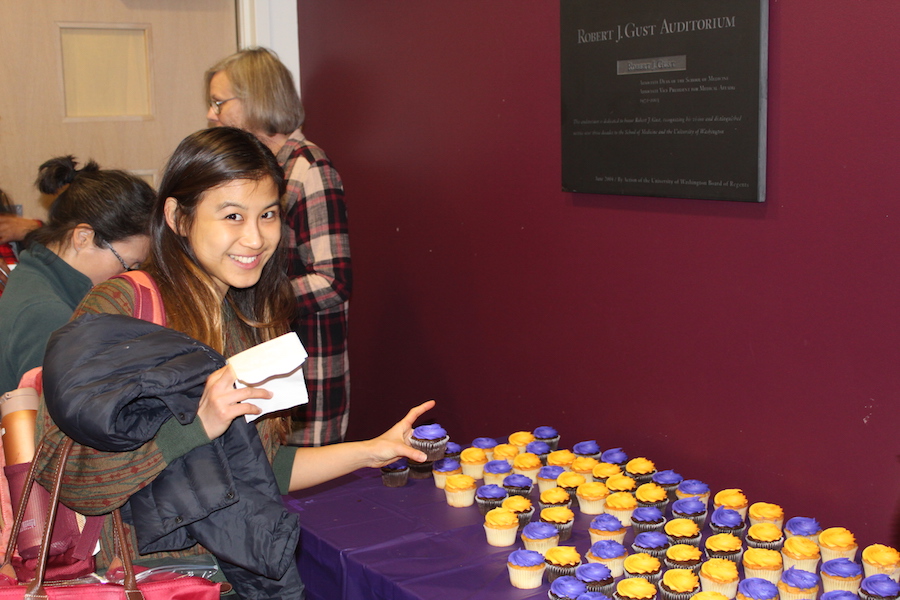 ---
Featuring puppies in training and cupcakes, Pupcakes collected a minimum donation of $5 to benefit Summit Assistance Dogs, an organization that creates life-changing partnerships by providing highly-skilled mobility-assistance dogs for people living with disabilities, affording them increased independence and renewed confidence.
---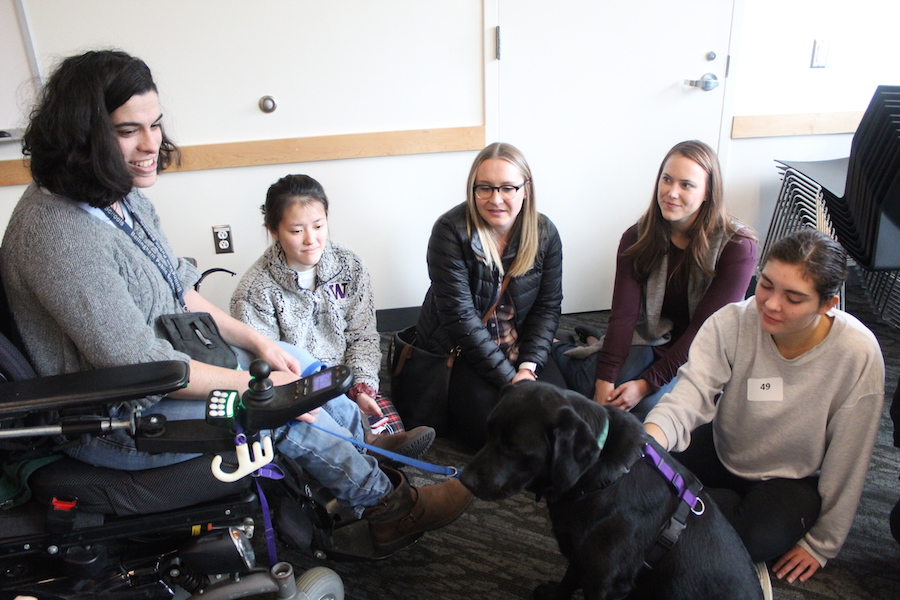 ---
350 attendees raised $2,560 to help transform lives by connecting assistance dogs with people living with disabilities.
---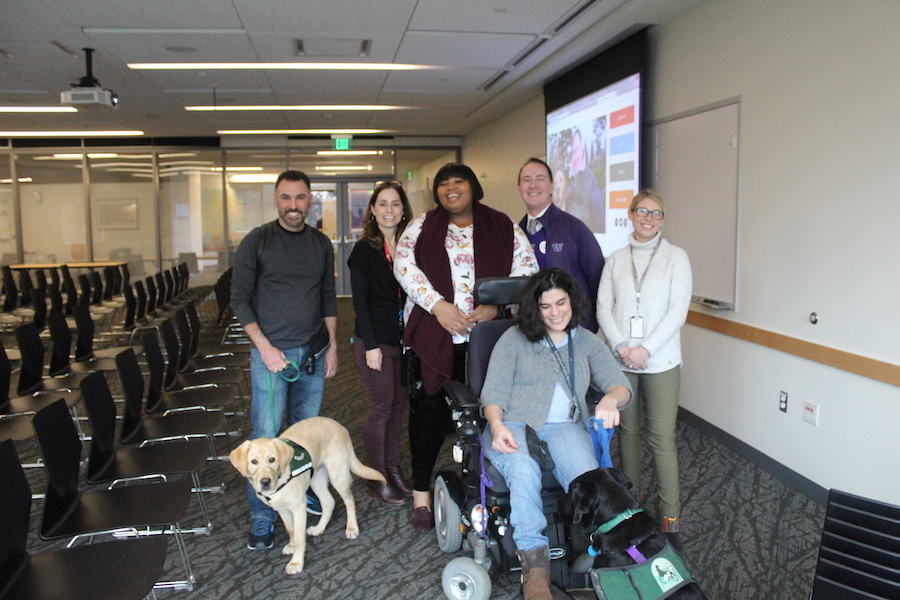 ---
In return, participants got to enjoy UW-themed cupcakes and spend time with the dogs and the people they assist. One more Pupcakes session scheduled for Thursday, Nov. 29 at UW Bothell!
---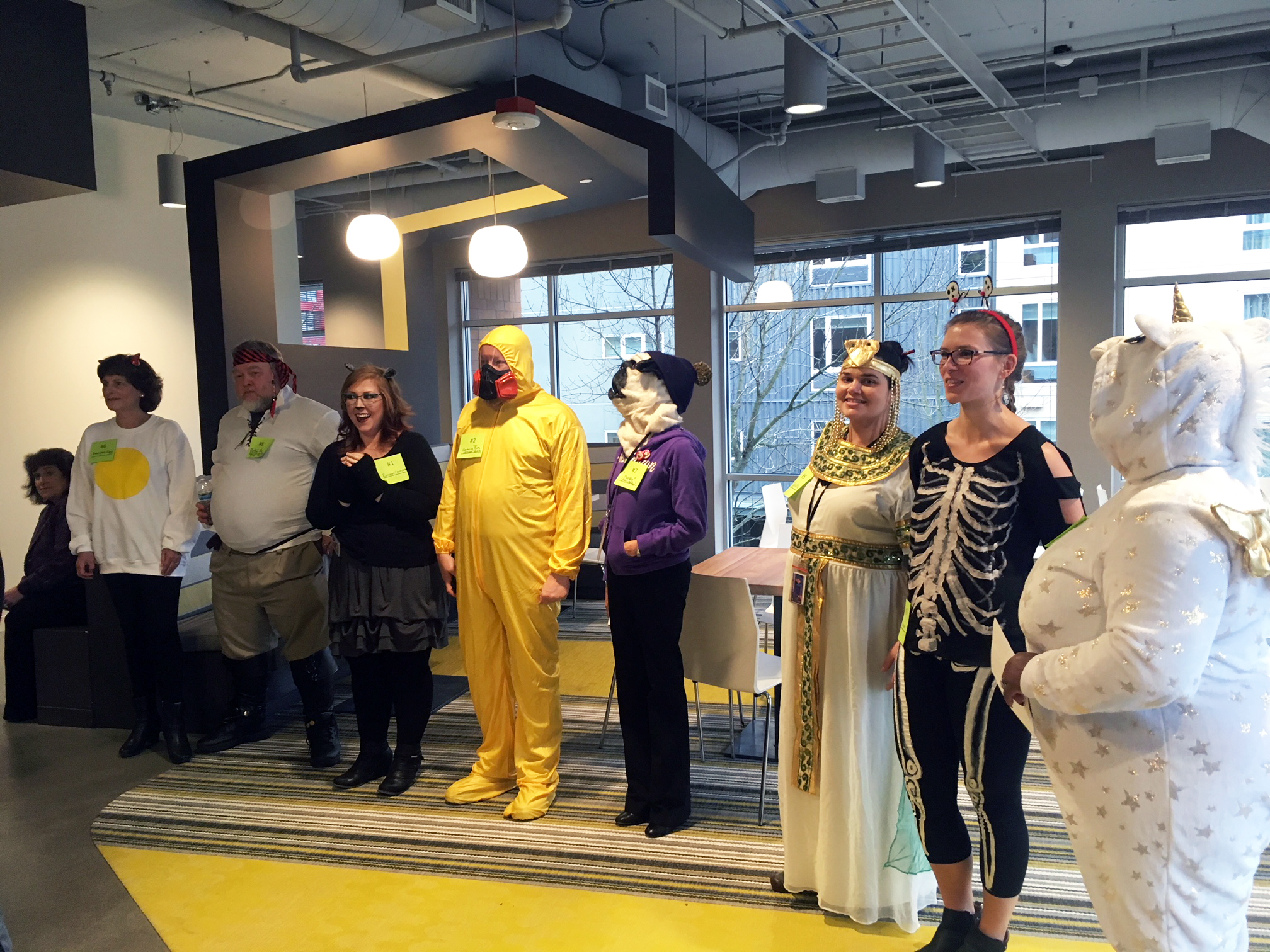 ---
UW Human Resources held a Halloween Costume Contest in Roosevelt Commons West to benefit Any Hungry Husky (CFD #1482050). Purple and gold shone through a host of get-ups.
---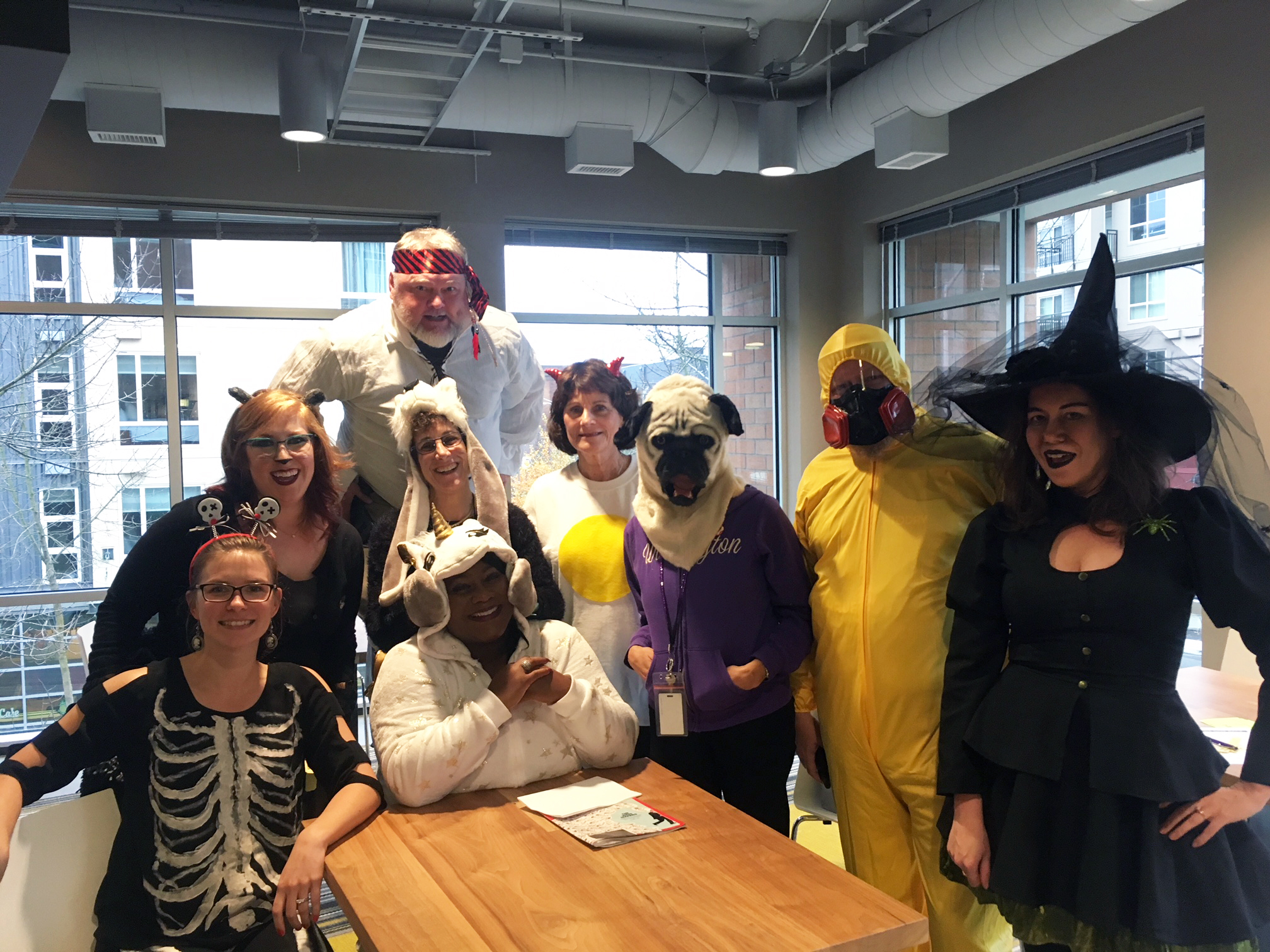 ---
Voting participants donated $3 per vote for their favorite costume (among them: dogs, witches, devils, pirates, pugs, unicorns, skeletons, Cleopatra, and hazmat workers) and could vote as many times as they wished. Gwyneth Parmar took top prize for a Cleopatra costume.
---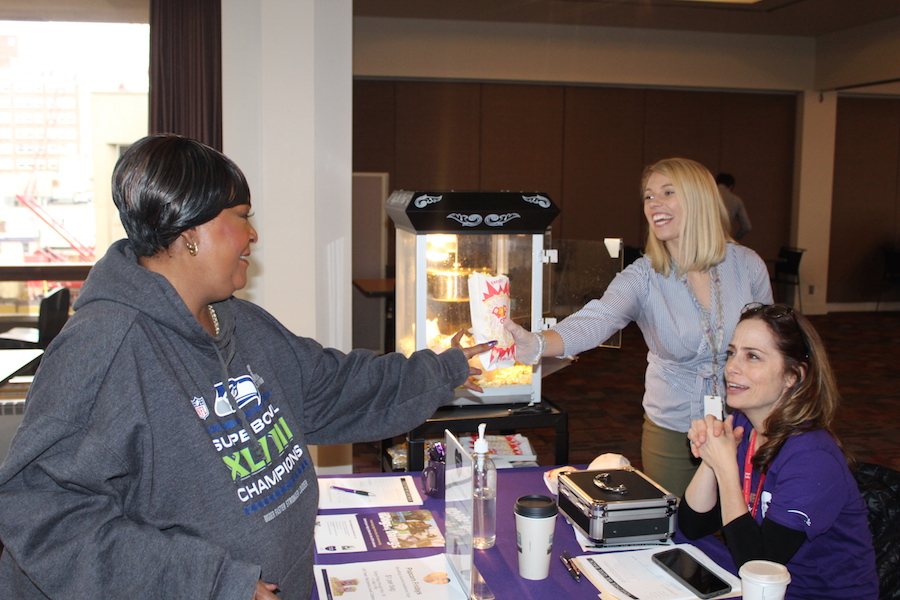 ---
With Popcorn Fridays throughout the fall, UW raised $296 at $1 a bag. Popcorn Friday will feature a final time on Friday, Nov. 30 in the UW Tower cafeteria from 11 am to 1 pm.
---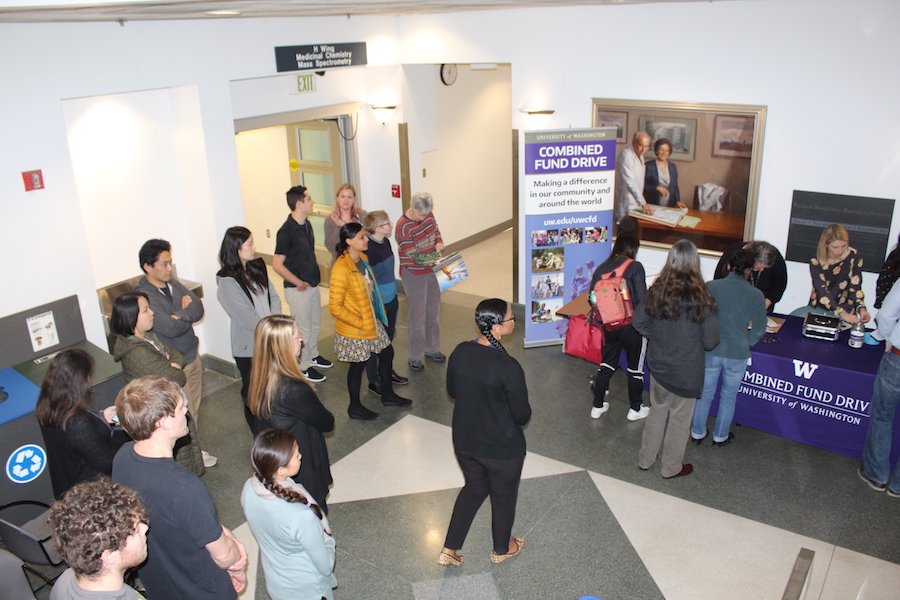 ---
Staff queued up to learn more and give in the Health Sciences Building.
---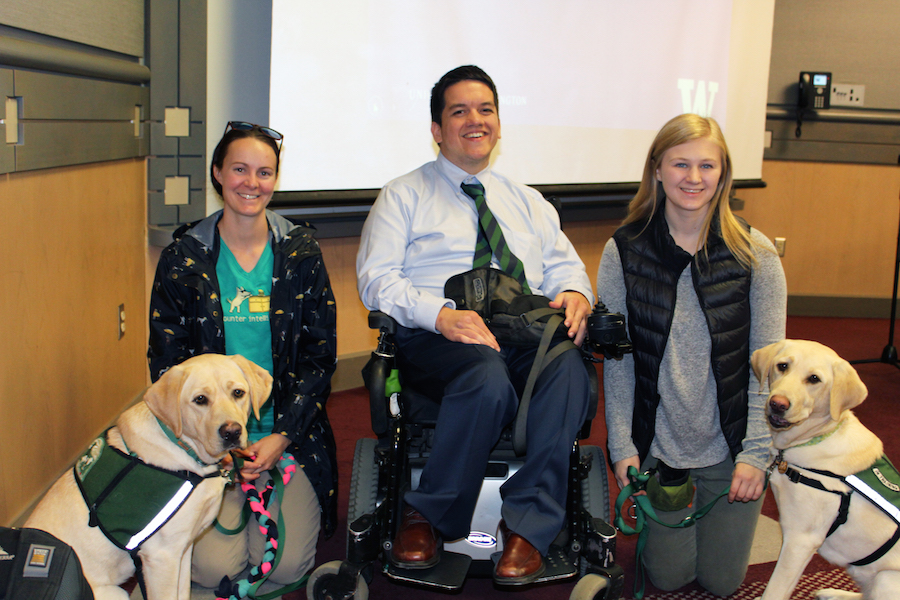 ---
Additionally, a Silent Auction raised $2,942, while UW Bothell Evergreens Fundraiser raised $1,455. All of the upcoming fundraisers listed below will benefit the 2018 UW Combined Fund Drive featured charity, Summit Assistance Dogs.
---
Dogs of Dawgs Calendar
Total raised via the calendar: $11,483
Total donors to the calendar: 205
Total dog photos in the calendar, including Sally, President Cauce's dog: 277
---
What's coming up?
Monday, Nov. 26
Watch for the THANKSforGIVING video via email!
Tuesday, Nov. 27
Why I Give Story Contest. In honor of Giving Tuesday, share your Why I Give story online or post on Facebook using #WhyIGiveUWCFD and be entered to win a $25 Ram gift card.
Wednesday, Nov. 28
Save the date for the THANKSforGIVING Holiday Charity Fair, Wednesday, Nov. 28, in UW Tower Cafeteria on the Mezzanine Level from 11 am to 1 pm.
The fair features an art sale, local nonprofits, donut fundraiser, entertainment and more! Free and open to all faculty, staff and students.
Visit the photo booth and enter to win the photo contest! Submit a photo holding a Together We Give Back sign (attached) to cfdevents@uw.edu to be posted online or post on Facebook using #WhyIGiveUWCFD and enter to win a $50 Cheesecake Factory gift card!
Thursday, Nov. 29
It costs $25,000 to raise, train and place a Summit Assistance Dog with a person living with disabilities.
If UWCFD reaches its $25,000 goal to fund the care, training and placement of a Summit pup with a person living with disabilities, all Summit donors will go into a drawing and a lucky donor will get to name a Summit pup from a future litter!
Make a donation to Summit Assistance Dogs by the end of the campaign and enter to win naming rights!
Friday, Nov 30: Last Day to Give & Mason Jar Day (up to two entries)
Challenge your colleagues to Fill the Mason Jar on the last day of the campaign!
Coordinators – Turn in your coin jar on Friday, Nov. 30, and enter to win a $20 Little Thai Restaurant gift certificate
Friday, Nov. 30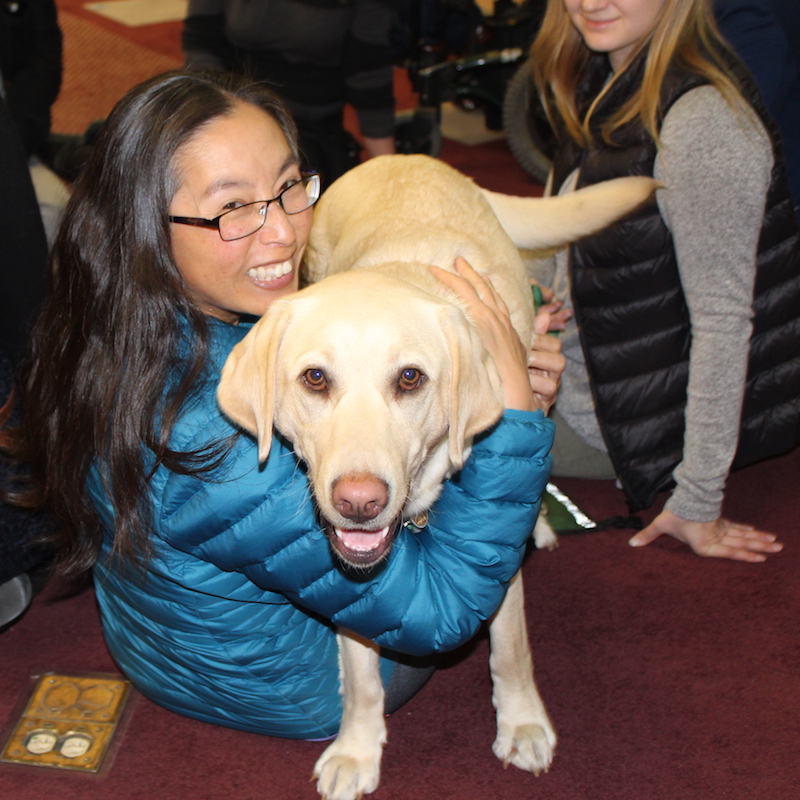 Friday marks the last day to give and that means it's Fill-the-Mason-Jar Day. In honor of National Mason Jar Day (yes, apparently that's a thing), we are filling our coin jar to benefit Summit Assistance Dogs! Bring your spare change and help us fill the jar!
---
Giving through regular payroll deductions is an easy way to make a lasting difference. If you pledge just $12.50 per pay period, you will become a Giving Circle member and will receive a philanthropist pin and special recognition from UW President Ana Mari Cauce.
Here's how to make a tax-deductible donation through the UW Combined Fund Drive: 
Visit the online 

charity guide

 for a list of participating organizations.

Pledge online

 or complete the giving form arriving in your campus mailbox.

Choose ongoing payroll deduction or a one-time gift.

Visit 

uw.edu/uwcfd

 for more information.
---