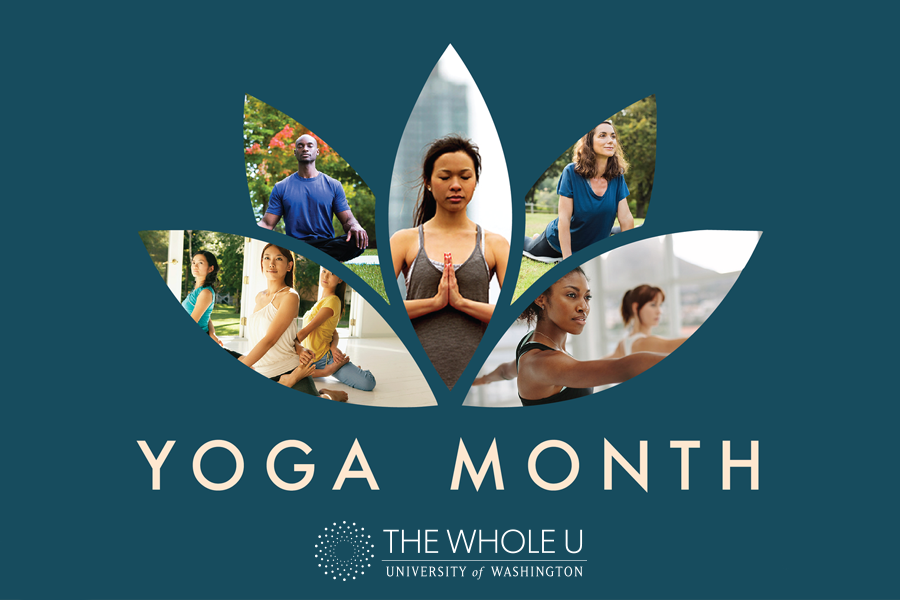 This October, more than 2,800 UW faculty, staff, and students joined The Whole U in celebrating Yoga Month. From practicing yoga and learning about its benefits to diving into the seven chakras and having access to over 50 free yoga classes in the greater Puget Sound region, Yoga Month 2018 was one for the books.
For the length of October, we partnered with Danny Arguetty, manager of UW Recreation's Mindfulness Program, to learn important lessons about yoga. As we reflect back on our growth this past month, we gathered the resources we've built for mindful yoga practice, expanding yoga knowledge, and learning yoga poses below for you to carry forward into November and beyond.
---
8 Physical Benefits of Yoga
In our first week, we focused on the many physical benefits of yoga. Danny wrote a guide explaining eight physical benefits that one can gain from continued yoga practice. Ranging from improving bodily movement to taking care of your internal body systems, these physical benefits help promote a stronger, longer life.
---
Yoga for Mental Health
In our second week, we tuned into the ways yoga effects our brain and mental health.  Danny explored the science behind some of the mental health benefits that consistent yoga practice can provide.
Did you know: Continuous yoga practice can help regulate the parasympathetic nervous system in women to support premenstrual stress.
Dopamine levels can rise after one deep relaxation session.
Yoga has profound impacts on physical parts of our brain and body that, in turn, lead to reduced stress levels and increased relaxation levels.
---
Exploring the Chakras: Part One
In our third week, Danny delved into the first four of seven chakras (foundation, fluidity, empowerment, and heart). We learned in depth about each chakra, and what yoga poses can help us to explore each chakra, as well as recalibrate each area in our life.
Special thanks to yoga pose models May Lim (Department of Electrical Engineering) and Nate Panelo (Office of Minority Affairs & Diversity).
---
Exploring the Chakras: Part Two
During week four, we continued to examine the 7 chakras. Danny provided an in-depth description and yoga poses to access the remaining three chakras (expression, insight, and connection). Having knowledge about all seven chakras, and how to cultivate these areas in your life, can lead to a healthier, longer life.
Once again, special thanks to yoga pose models May Lim (Department of Electrical Engineering) and Nate Panelo (Office of Minority Affairs & Diversity).
---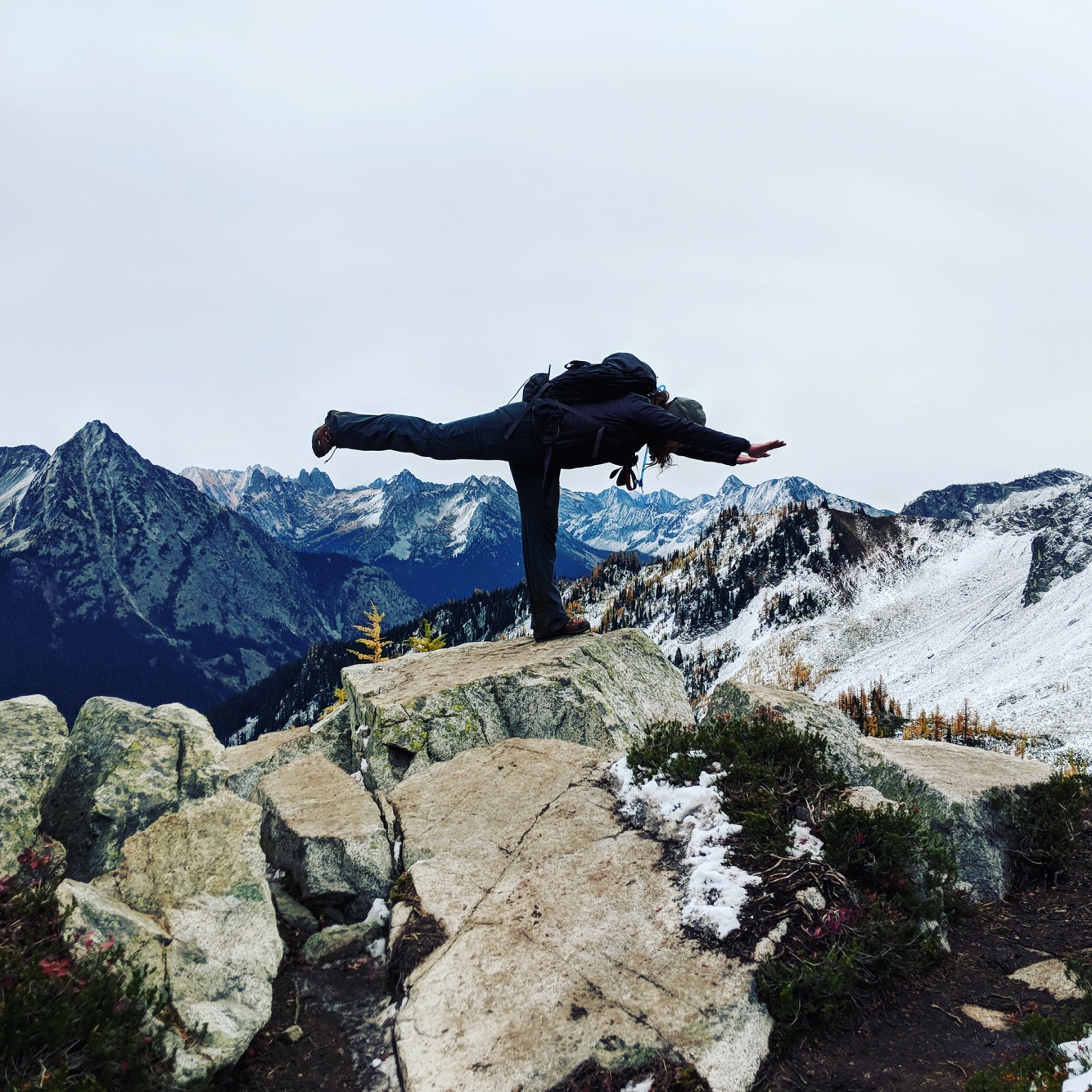 ---
Yoga Dawg Pass
Everyone who signed up for Yoga Month received a Dawg Pass with over 50 free classes offered at 7 different yoga studios spanning from Tacoma to Bothell. Studios offered a variety of classes from aerial yoga to meditation, Iyengar Yoga, hot yoga, and more.
Yoga Month gave me the opportunity to try out Aerial Yoga for the first time! It was really fun and the instructor was amazing, I've always wanted to try! – Julia Worden, UW Student
Special thanks to The Center for Yoga of Seattle, Inside Out Yoga, MODO Yoga, Omculture Greenlake, Shefayoga, Leela Yoga Studio, and University Y at Tacoma for offering free classes to Yoga Month participants. 
---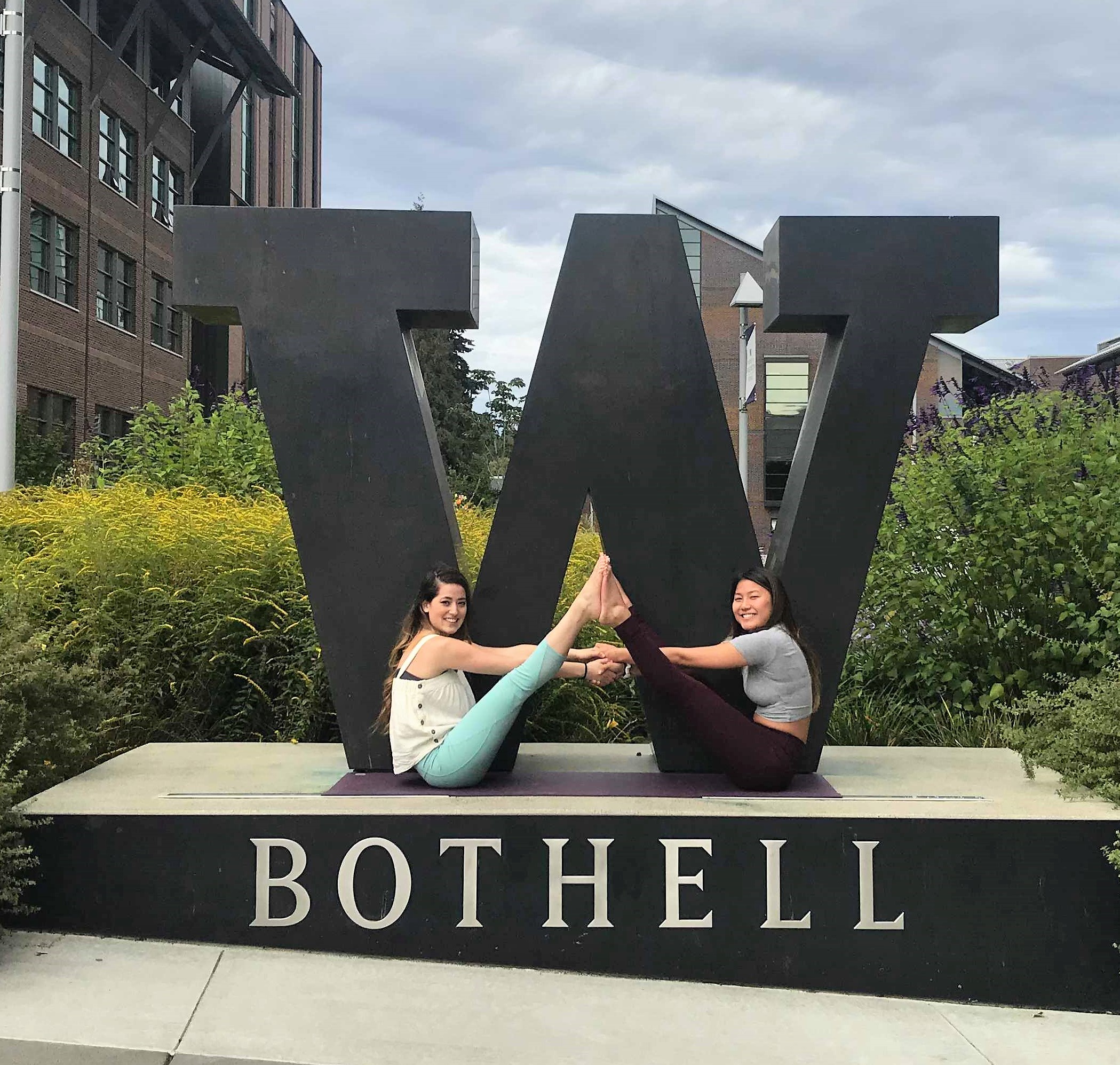 ---
Whole U Resources for UW faculty, staff, and students
If you're interested in trying out more yoga poses beyond Yoga Month, try the Whole U's 21-Day Yoga Pose Challenge. Let loose with a new yoga pose every day and learn the benefits each one produces!
Throughout the year, the Whole U hosts Yoga Series and Yoga Classes. Stay up-to-date with our events page to see when series and classes are scheduled and register to join us.
Yoga Discounts
The Whole U discount network is full of yoga studios to expand your practice at a time and location that works for you. Consider visiting one of these studios this October:
Aditi Yoga and Massage – 10% discount
Balance Yoga Studio – $100/month membership (regularly $165)
Bikram Yoga – U District – $10 off/month
Breathe Yoga Studios – 20% discount
Classical Hata Yoga – 15% discount
Core Power Yoga – $109/month membership (regularly $135)
Edgeworks Climbing (offers yoga) – 20% discount
Exhale Pilates (offers yoga) – 15% discount
Expand Yoga – 10% discount
Fruition Yoga – 20-25% discount
Highline Athletic Club (offers yoga) – 20-25% discount
Jasyoga at Hec Ed – $3 discount per class
Levitas Studio – 25% discount
Tacoma Yoga – 10% discount
Vertical World (offers yoga) – 10% discount
YMCA (yoga classes) – Free enrollment
Zum Fitness (yoga classes) – 20-25% discount
We have loved every minute of Yoga Month. From the photos that you shared with us, to meeting new faces at events across campus, thank you for joining us this month!
A special thanks to Danny for creating such thoughtful and informative content, to the yoga studios who partnered with us in offering free classes, as well as to our sponsors AT&T, BECU, and US Bank.
We can't wait for next year and hope to have you join us!
---