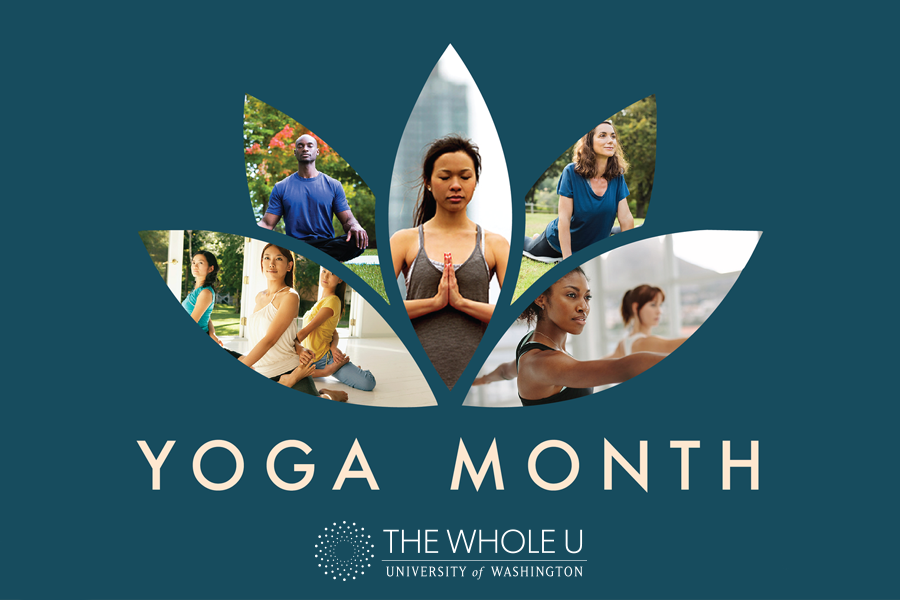 October is Yoga Month at UW!
For the fifth consecutive year, The Whole U is proud to bring Yoga Month to the University of Washington. Throughout October, we invite avid yogis and new practitioners alike from all campuses and medical centers to join in scores of fun events and activities—all chances to explore the many benefits of yoga practice.
Last year, we explored the seven chakras. This year, we decided to start Yoga Month in October to coincide with Mental Health Awareness Month. From helping cope with depression and anxiety to higher levels of confidence and energy, yoga has a profound effect on mental health with many studies detailing yoga's benefit on emotional and spiritual health.
Okay, so how do I participate? Register here for more details and access to all UW Yoga Month offerings. Then, check out five ways we're making it easy for you to make yoga work for your overall wellness at work this October!
---
Yoga Month Dawg Pass
Local yoga studios are partnering up with the Whole U Yoga Month and offering a FREE Yoga Month Dawg Pass—that's as many as 66 FREE yoga classes—but you must be registered for Yoga Month to access it. Here's a peek at the studios participating in the Yoga Month Dawg Pass:
Moda Yoga Seattle, Inside Out Yoga. Shefayoga, Omculture at Greenlake, The Center For Yoga of Seattle, Leela Yoga Studio and The University Y at UW Tacoma
---
Whole U Sponsored Seminars and Classes
The Whole U and UW Recreation will also be offering these seminars, classes, and discounted series to celebrate Yoga Month. Sign up for each offering before they fill up!
*Please note there is at 15.6% institutional overhead charge for using credit card, cash or check.
---
Weekly Articles and Expertise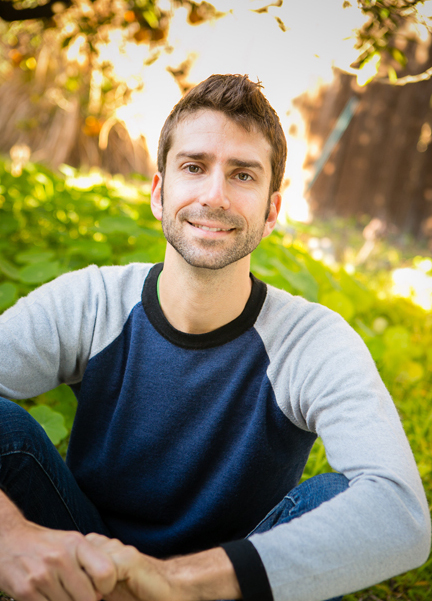 Yoga extends beyond the physical practice and so, The Whole U has partnered with Danny Arguetty, Mindfulness Program Manager at UW, to provide additional content and expert advice to all participants. Check out our website every Monday in October for new articles on the chakras, the mental health benefits of yoga, and how yoga increases longevity and strength. Also, don't miss the opportunity to learn from Danny first hand, both on and off the mat, by signing up for his yoga class and seminar.
Danny Arguetty, M.A., E-RYT 500, is the Mindfulness Program Manager at the University of Washington, yoga teacher (and trainer), nutrition and health counselor, wellness educator, and a lover of the environment. Danny has guided workshops throughout the United States, led basic and advanced yoga trainings in the U.S. & India. He was adjunct faculty at Williams College, leads a quarterly course on Intro to Mindfulness at UW, and is a faculty member at Kripalu Center for Yoga & Health.
---
Yoga Discounts
The Whole U discount network is full of yoga studios to expand your practice at a time and location that works for you. Consider visiting one of these studios this October:
Aditi Yoga and Massage – 10% discount

Balance Yoga Studio – $100/month membership (regularly $165)

Bikram Yoga – U District – $10 off/month

Breathe Yoga Studios – 20% discount

Classical Hata Yoga – 15% discount

Core Power Yoga – $109/month membership (regularly $135)

Edgeworks Climbing (offers yoga) – 20% discount

Exhale Pilates (offers yoga) – 15% discount

Expand Yoga – 10% discount

Fruition Yoga – 20-25% discount

Highline Athletic Club (offers yoga) – 20-25% discount

Jasyoga at Hec Ed – $3 discount per class

Levitas Studio – 25% discount

Tacoma Yoga – 10% discount

Vertical World (offers yoga) – 10% discount

YMCA (yoga classes) – Free enrollment

Zum Fitness (yoga classes) – 20-25% discount
---
Social Media Fun
Throughout the month, we're encouraging you to document your yoga experiences and share it with us to inspire others across the UW. Here are some ways to connect and get involved:
---
However you participate in UW Yoga Month this October, we hope you do. So grab a mat, some comfy clothes, and register here if you haven't already. We can't wait to see you around!