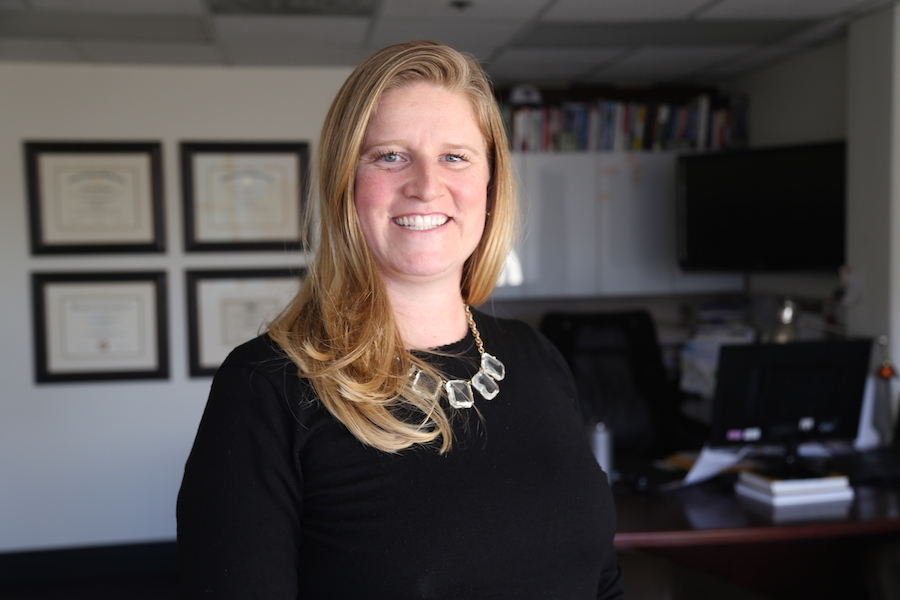 Staff Story: Cassie Pasquariello
When Dr. Cassie Pasquariello watches from the sidelines of a big game, she does so with the knowledge that whatever the outcome, winning big as a student athlete will take many forms. As UW Athletics' director of Counseling and Sport Psychology, Pasquariello is as much concerned with athletes' long term success as a person as she is in their performance in a pinch.
"Collaborating with the athlete, I'm not so much giving answers as I am helping them generate answers within themselves with a couple ideas," she says of her process, describing her role as a blend of individual mental-health therapy and performance work.
"The coolest thing about the performance aspect of my role is the most successful athletes already use performance skills, they just might not have the best awareness of it. If I can build their awareness around the mental skills that they have so they can access those skills when the crunch time happens, I've done my job."
In addition to working with individual athletes, she also collaborates with coaches, formulating "mental-skills-minded" approaches for teams, as well as with whole teams and specific position groups on the mental skills around emotional regulation, focusing under pressure, decision-making, communication, and team chemistry.
What's unique to Pasquariello's position within the broader profession of psychology is that she often has the opportunity to watch her client's success play out before her. This takes place when the work athletes put into their own wellbeing pays off in their athletic performance for all to see—often a sign of much broader wins in their personal life.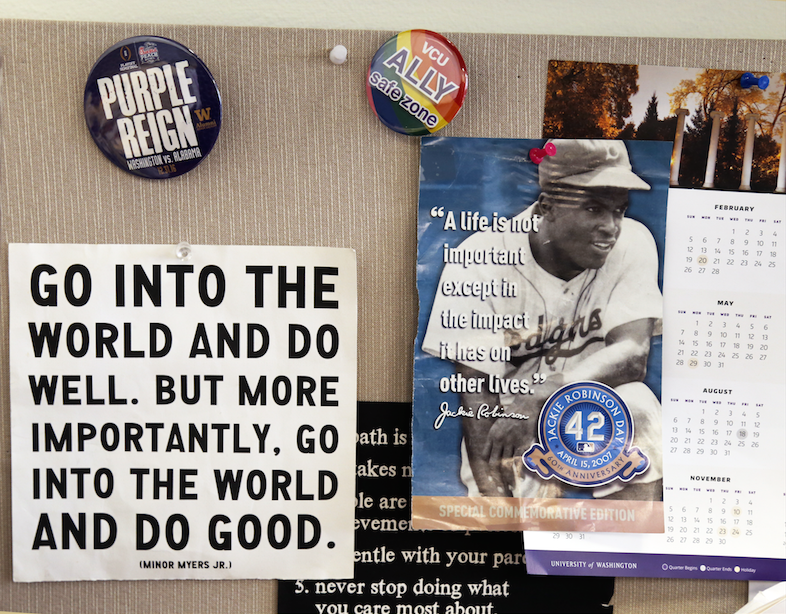 "My role is integrative, which is amazing," Pasquariello says. "Psychology often is isolated to an office and you might not ever see the client in the real world."
As director, Pasquariello draws on her own insights and experience as a former student athlete. The eldest of six sisters, she captained high school teams growing up in a small town in California's Napa Valley. Her desire to swim competitive full-time eventually morphed into a pursuit of multiple sports, including basketball and volleyball.
When time came for college, she was initially uninterested in becoming a student athlete at the collegiate level. However, she realized after a short time at University of California San Diego that she missed competition and transferred to Pacific Union College, embarking on a pre-med track.
Then one day she read an article in the San Francisco Chronicle about the sport psychologist for the San Francisco Giants. "That journalist changed my life and career trajectory," she says. "Prior to that, I had no idea psychologists could have this kind of role in athletics."
She approached her psychology professors who encouraged her to attend a national psychology conference held nearby in San Francisco that year. After hearing a psychologist talk about working with Olympic ski jumpers to help them overcome anxiety before jumps, she made up her mind that she'd earn a Ph.D. in Psychology.
An Integrative Approach
Since joining the UW more than three years ago, Pasquariello keeps a flexible schedule, ready to respond to challenges as they arise.
"My schedule changes everyday and sometimes last minute based on need," she says. "The goal is helping athletes manage all aspects of their lives so they can take care of awesome academic endeavors at this incredible institution."
In addition to crediting UW Athletics' coaching, strength and conditioning, sports medicine, and academic support staffs, Pasquariello says campus partners such as Hall Health and the Counseling Center at Schmitz Hall have been integral in helping build a holistic support structure for student athletes' success as whole people.
"Our work is also in building and maintaining campus partnerships. They work just as hard to serve students and the broader UW community as we do."
Pasquariello says a primary obstacle in her work is getting athletes and others to overcome the stigma around seeking help for mental health by overcoming their natural instinct to "tough it out."
"It can be difficult to ask for help as an athlete because you're taught to be mentally tough," she says. "But once they have the courage or someone to encourage them, we really want to foster the idea that you can be a great athlete and still seek support."
One common misperception is that one's problems are not important enough in relation to others'. However, Pasquariello cautions student-athletes against comparing emotional needs with their peers.
"We look at emotional pain and how that's impacting your life and help student-athletes through their pain and learn coping strategies," she says.
Helping athletes retain a strong mindset as they work their way back from injuries or other struggles is also integral to her role. She calls it the second most-rewarding aspect of the job.
"It is humbling to watch an athlete who has really struggled to perform in their sport or come back from a serious injury, you see that glimmer of excitement and confidence—their hope in the world—back after they may have lost it for a while."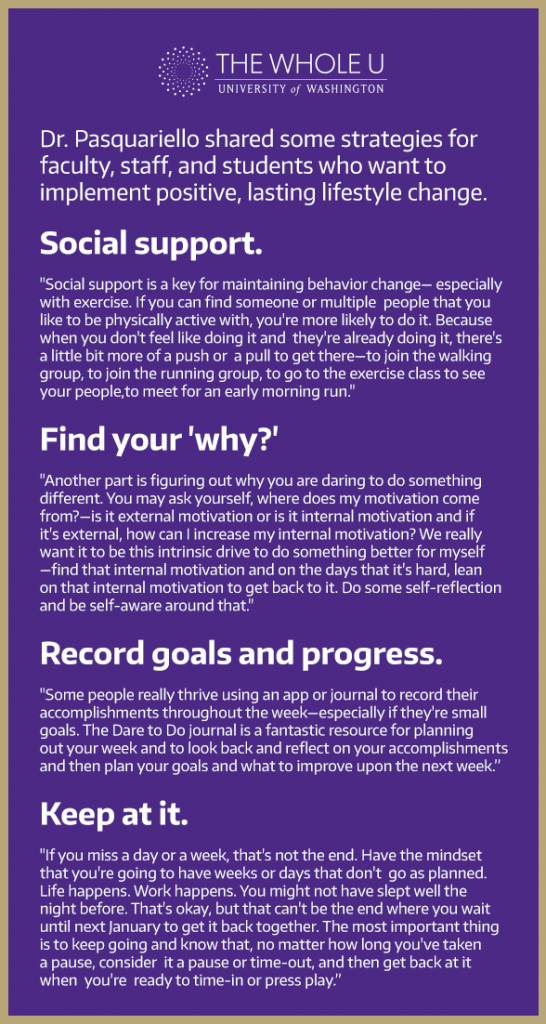 What's the most rewarding? That's a victory that typically occurs in June.
"Seeing an athlete graduate who has really struggled—maybe in multiple domains, academically, socially, and/or athletically—have worked to a healthier place and been able to graduate move forward in life with the fortitude and strength of being able to say, 'Yes, I did this. I worked through difficult times and no matter what happens in my life, I can work through it. And if I ever need help, I know I can ask for help'—that is the most rewarding part."
On a professional level, Pasquariello says another big win is when athletes feel comfortable enough to talk about their work with people they trust.
"If that's their coach, that's great, but it might also be a teammate, a partner, a parent, a friend from home—it's important to talk about it."
In Pasquariello's view, when she has best served the student athlete, she's best served the institution. In turn, she says the institution supports her—crediting the environment fostered by UW leadership in particular.
"One of the reasons I chose to work here and continue to stay is that I ultimately report to two women, which is phenomenal and very unique—there are very few places in the country where you have a female Athletic Director [in Jennifer Cohen] and a President [in Ana Mari Cauce]."
"Being a young female professional in a field primarily driven by males that are older, it's been an awesome experience to both earn this position and then continue to work in an environment where there are women in leadership that really care about student wellbeing and the facets of my job that drive the work that I do: I work in alignment and alongside the goal that trickle down from Ana Mari—from her Race and Equity plan to how she envisions the student experience at the University of Washington."
The coaching staff is also a major motivator.
"Not only do we have females in power, but we also have female head coaches that have been here a really long time that are phenomenal and very well respected nationally for what they've done—both in team leadership and what they've done for their sport," she says. "It's really amazing to serve and be able to work alongside coaches like that."
But it's the players too who ultimately provide the most electric jolt of inspiration. Pasquariello makes it a point to attend practices and games as often as she can.
"Showing up to practices and going to matches, games, competitions is another incredible aspect of my role, because, first of all, that's what we're helping these athletes do," she says. "Second, and most importantly, the athletes see us there and think, 'you don't just care about my mental health, you actually care about all of me and my sport in particular.'"
---
Cassie Pasquariello holds a B.S. in Behavioral Science from Pacific Union College, an Ed.M. in Counseling & Sport Psychology from Boston University, an M.S. in Counseling Psychology from Virginia Commonwealth University, and a Ph.D in Counseling Psychology from Virginia Commonwealth University.