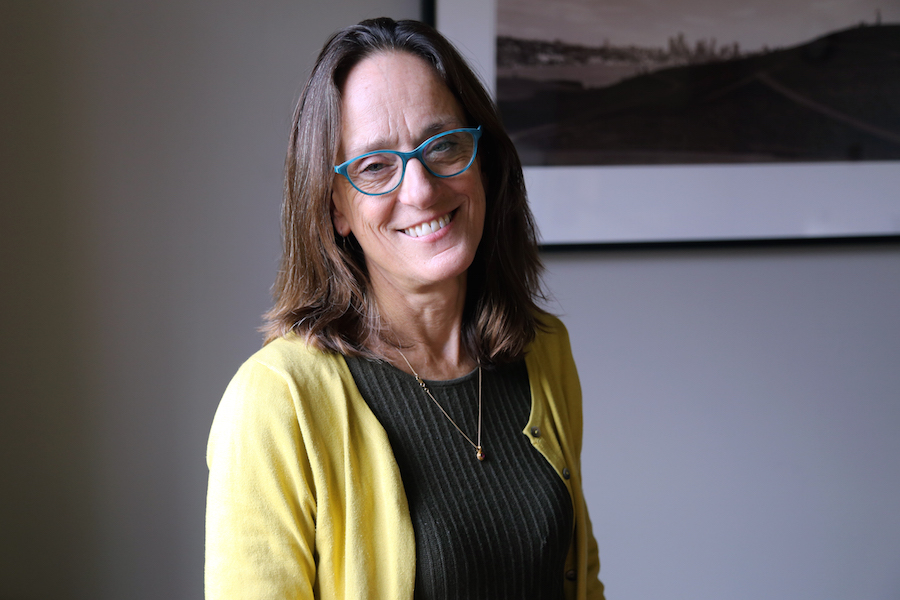 Faculty Friday: Thaïsa Way
Last July, Thaïsa Way set out with her daughter to climb Mt. Rainier. Several days and 9,000 vertical feet later, they stood together atop the 14,411-foot summit. Beneath the blisteringly blue sky stretched a vast sheet of cloud into a trackless sea of white, broken only by an occasional archipelago of mountain peaks jutting upwards from the hidden world below.
At such heights, views verge into the otherworldly, but in that moment, Way says she'd never felt more grounded. After a decade as an historian and professor of landscape architecture at the University of Washington's College of Built Environments, she had just about mastered the long view from every conceivable vantage point.
"One of the reasons I love to teach is because I love to teach people things they didn't know they didn't know," Way says. "Climbing up Mt. Rainier is something I could never have imagined myself doing, but it intrigued me and the only way I was going to figure it out was to do it."
Way says now that she's summited Rainier, the peak-bagging bug is behind her. She'll continue to run and hike as avidly as ever, but is looking towards the future in her new role as chair of the University of Washington Faculty Senate. Having served most of this past year as vice chair to Zoe Barsness, Way says the Senate will look to address challenges of diversity and difference, academic freedom, and the role of the public university in the 21st century in the year ahead.
"When President Ana Mari Cauce talks about being the number one University for impact, that, to me, is what a public university should be doing—making an impact," she says. "So, as faculty, how do we make sure we do that in all the different ways we can engage?"
It's a question Way has addressed broadly in her other roles at the UW to date. She serves as director of Urban@UW, an interdisciplinary effort to tackle city issues through research, teaching, and community collaboration, and is part of the team moving forward the Population Health Initiative. She also contributes as a member of the Steering Committee for the eScience Institute and the newly launched Earthlab in the College of the Environment.
In these capacities, she uses her own scholarship on feminist histories of design—particularly the role of women as professionals and practitioners—to frame questions about how landscapes as "designed places" foster human and environmental health and wellbeing, which, in her view, lie at the core of the mission of public education.
"What a campus is, what it looks like, and how one experiences it actually matters," Way says of universities' ability to create spaces that spark inquiry, exploration, and shared learning within a wider community. However, Way cautions that campus spaces can only serve as a catalyst for healthful, human impact when academics are willing to bring their expertise to the table to share with community and civic leaders.
"What we've learned in the late 20th and early 21st century is that specialization doesn't take care of issues on its own; it can lead to incremental success, but it's not until we all come to the table together that we're going to start talking about something more holistic," Way says.
The call for University engagement on community issues hasn't always been so strong. For evidence, Way suggests looking to the UW's 1895 relocation from Seattle's city center to a site on a hill to the northeast.
Predominating theories about education and space in the late 19th century held that growing universities would do well to pull away from the ills of the city, so that students might learn in a more enclosed environment—or, as Way puts it, be "sequestered, but inspired."
But as time transforms landscapes, views also shift.
"We no longer think of students coming here and hiding from life to get educated," Way says.
"Over the last 50 years, we've expanded what it means to be attentive to human health and wellbeing; as an institution, we better understand the importance of being engaged in the city, our communities, thinking about work and life."
Ask her how that shift in views is reflected on the UW's campuses today and Way points to UW Tacoma's "totally immersive" idea of an urban campus and to UW Bothell's integration of a suburban setting with proximate woodland and wetland as "fantastic examples" of more fully realized landscapes.
She also cites the demolition of walls and the construction of the new Burke Museum along 15th Avenue as indicative of how the University's public-seeking spirit is manifesting in the community and beyond traditional campus confines.
"Those are really important moves to me," Way says. "It says to the public: we are a public university and this is public land."
From Way's perspective, the campuses we form shape the kind of university we are.
"I firmly believe we're shaped by the places we're in—and the places we have access to."
Of place and plants
Way grew up in New York City just blocks from Central Park. Her father taught Classics, Greek, and Chinese; her mother, dance and choreography. Both were anti-war activists and protests could be family affairs. Way recalls being ten and sharing a seat on a crowded bus with Bob Dylan while her mother stood with her two siblings in tow. Crowded transit aside, such experiences left Way with a sense that collective action was an important—and effective—means of achieving goals.
"I also began to realize this idea of collective action required collective knowledge," she says. "It wasn't enough to just say, 'This is wrong, you have to change it.' You actually have to understand how it got to be the way it is and why people at some point thought it was the right thing to do."
By age 11, Way had moved with her parents to Ohio, where her father and mother took up respective professorships at Denison University and Oberlin College.
"At the time, I was thinking a lot about how the places where I live ended up the way they were," Way says, "and how people think about the world differently depending on the environment they grow up in."
Rather than follow her parents into academia, Way was determined to find a way she might more directly make change in the world. After receiving her B.S. in Conservation and Natural Resources at University of California, Berkeley, Way led a business designing gardens and running a plant nursery that sold drought-resistant and native plants in Berkeley.
"I had a sense that I could make a difference working through the system on a small scale and one-on-one with people," she says. She later moved to Germany, where her soon-to-be husband was pursuing post-doctoral work. When she couldn't obtain working papers, she ended up volunteering in a botanical garden. They assigned her to work in an heirloom apple orchard where, over the course of two years, she grew versed in the history of apple trees.
"There were varieties people didn't grow anymore and that was for certain reasons and there were stories behind that," she says. "I suddenly realized my whole idea about gardens and what kind of plants people used had a whole history of its own."
She says she realized that, had she run that nursery in California 20 years before, native plants wouldn't necessarily have been on the table. "There was a reason native plants had gone out of style and then came back in. My work [in California] was very much about a particular moment in time."
Returning to the U.S. after two years abroad, Way landed a job running the kitchen garden at Monticello, Thomas Jefferson's home in Charlottesville, Virginia. Through her study of Jefferson's copious notes and personal observations on running the 18th century plantation, Way says she came to understand the third president as a "conflicted, complex" character whose own fascination with natural science and the history of landscapes fueled her own interest in presenting the history of plants to the public.
"If we understand the history of gardening and farms and plants and food production, we can make better choices today," she says. That conviction led her to pursue her Master's in Architecture History at the University of Virginia, which in turn landed her a job as UVA's curator of the Historic University Landscape. Way says it was only then that she began thinking more about "the history and role of campuses in shaping how we learn and think about the world and the importance of what the actual place is as a landscape and space."
But before long, she again pivoted with her family. This time, to Ithaca, New York, where she'd spend seven years leading non-profit institutions and initiatives. Over time, however, she felt increasingly drawn back to academic life and in 2005, obtained her PhD in the History of Architecture and Urbanism at Cornell. Then, after serving for two years as visiting assistant professor in the Department of Landscape Architecture at SUNY College of Environmental Science & Forestry, Way joined the UW faculty.
"This is one of the few design schools that actually took the intellectual side—the inquiry and the research and the scholarship—as critically important to what it means to be a designer," she says. In this environment, Way felt she could be an historian "who actually shows up in studio" to teach students who are ready to engage with the lessons that history can impart about people, place, and ways of thinking.
"Here, history can be a tool for good design—not as precedent, but as a way of thinking," she says. "If I could bring students history as a way to critically think about why something has come to be and why cities are the way we see them today, then they can make better, more informed choices about where we go in the future."
After a decade in Seattle, Way's scholarly interests increasingly involve urban landscapes. Last summer, she and other members from the College of Built Environments, Jackson School of International Studies, and departments of French and Italian studies teamed up team to offer a three-week course for university and college instructors, titled "CITY/NATURE: Urban Environmental Humanities."
"Cities," Way says, "could be both the greatest challenge and the most audacious opportunity to address the challenges of the 21st century—from climate change to poverty to developing inclusive and equitable communities."
Most recently, Way helped launch The Doorway Project, a partner effort between faculty, students, and community service agencies to establish a neighborhood hub and navigation center for young people experiencing homelessness. At last January's count, more than 11,000 people were recorded to be without a stable residence in King County—up 10% from the year prior with as many as one-third of the county's 1,500 homeless youth centered around the University District alone.
Backed by $1 million in state funding over two years, The Doorway Project will bring youth in the University District together with UW faculty and students in a series of four pop-up café events beginning December 3 featuring pay-as-you-can food trucks, live music, social-service agency representatives and access to indoor restrooms and warming spaces. For Way, these kinds of initiatives illustrate how multiple groups can join forces to affect meaningful, positive change for population health and the public good.
"I've realized how much a place like Seattle and the surrounding region has room to make good decisions and do differently than other cites," Way says. "I think the thing that holds us back is we don't ask often enough, "Why did we make the choices we made and where did that lead us?' If we can step back and ask those questions and understand the history, then we learn and can start to make different decisions."
Across her many roles at the UW, Way finds herself in a unique position as a professional historian: harnessing narratives of the past to shape the course of the present. She says generating and sharing knowledge with a much larger audience—whether that's online or with major players at the city and state level—is the most exciting aspect of working in a public university today, but adds that, with access to so broad a public, faculty have a greater responsibility to communicate the power and necessity of public education through their teaching, scholarship, and outward engagement.
Ways says many faculty have long been going about this quietly, but now "need to do it much more explicitly and loudly."
"It's not something we can do by going into our offices on our own; we all have to come together. I want to be part of helping us do that better."
---
Thaisa Way holds a B.S. in Conservation and Natural Resources from University of California, Berkeley College of Natural Resources, a Master of Architectural History from University of Virginia School of Architecture, and a Ph.D. in History of Architecture and Urbanism from Cornell University College of Architecture, Art, and Planning. She serves as Affiliate Faculty for the Center for the Study of Demography and Ecology and the West Coast Poverty Center as well as a Data Science Fellow at the UW eScience Institute.