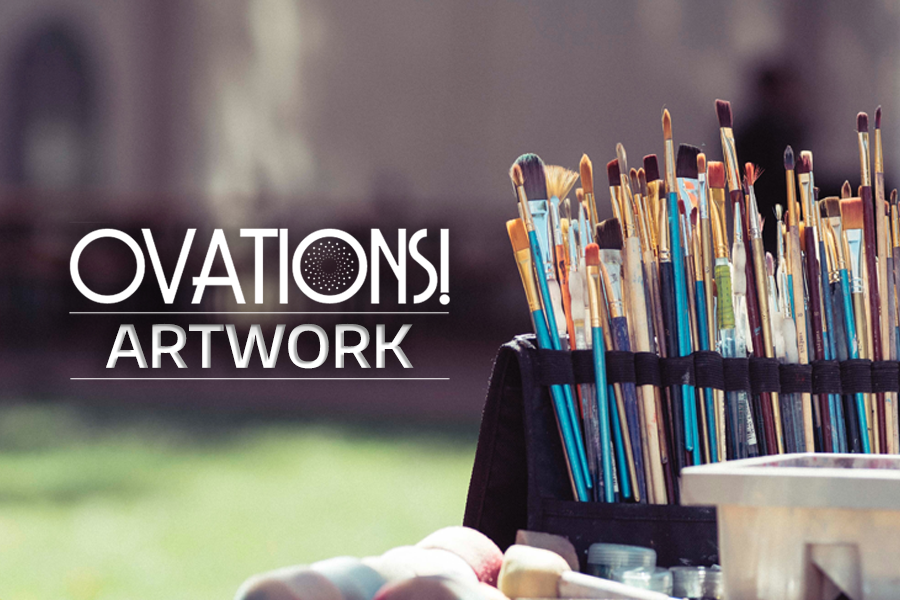 UW Artists Exhibit Work at Meany Hall
Yesterday, we recapped the diverse talents who performed on-stage October 29 at Ovations. However, our Halloween celebration and showcase of UW's hidden artistic talents continued just a short ways away past the doors to Meany Theater and into the lobby. 11 artists displayed artwork ranging from found object constructions and dexterously composed paper sculptures to vibrant still-lives and mind-bending digital collage.
Before, during, and after the show, those in attendance enjoyed exploring these intricate compositions. But don't take our word for it; see for yourself in this photo gallery of the artwork on display at Ovations 2017! (Want a primer on the following artists and their work? Get to know them a bit better in our Meet the Artists feature.)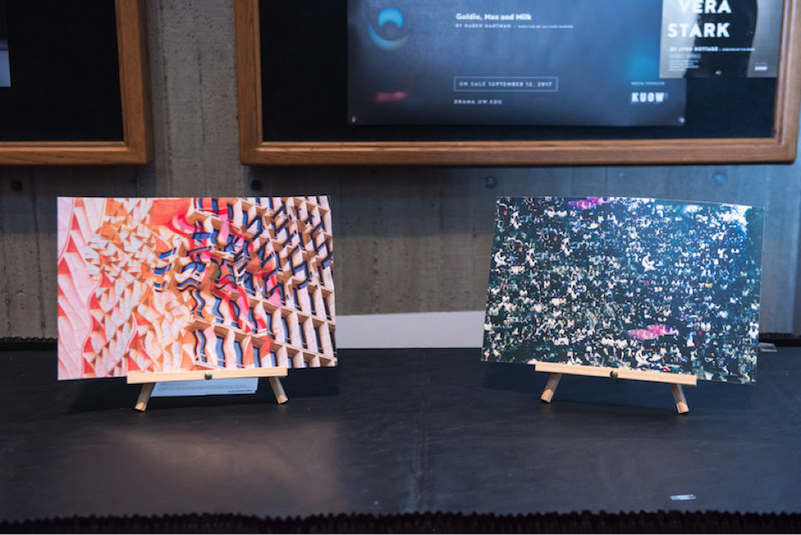 The Whole U's very own graphic designer, Rachel Connelly is a junior at UW studying Visual Communication Design. Rachel says she enjoys taking photographs when she's spending leisure time around Seattle, sharing that, "I get the most interesting photos when I go downtown—there's so much happening."
Her two pieces for Ovations are digital prints with distorted color and light—the one at left was captured while traveling to Atlanta with the Husky Marching Band, while the one at right she snapped on a summer trip to Germany. Rachel has been experimenting with long exposure design since high school, but says art has long been an integral part of her life.
"My parents always encouraged me to draw and paint as a child—and always blasted music throughout the house."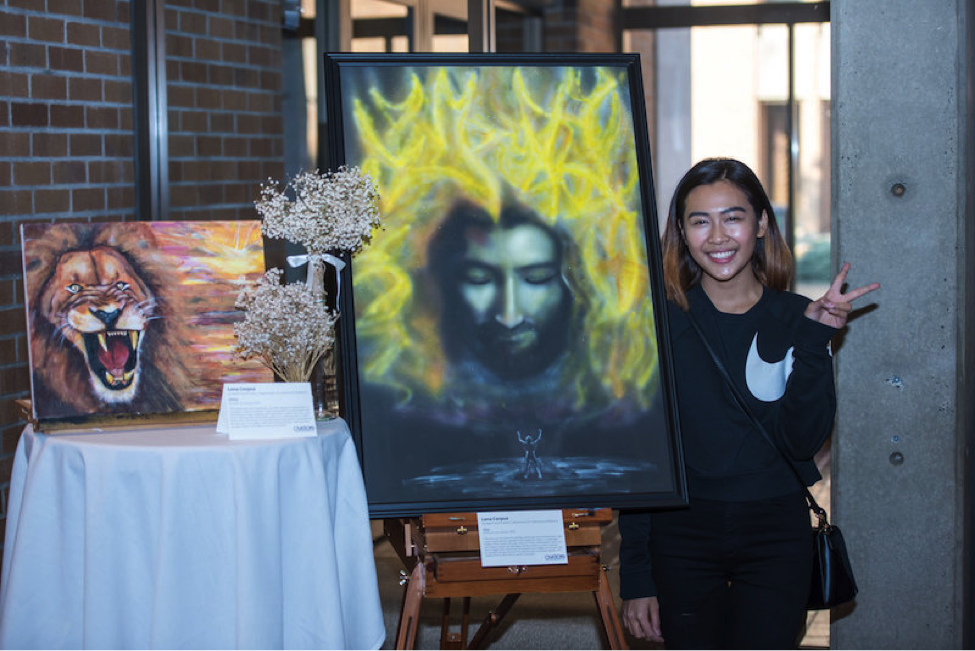 A fiscal and budget analyst for the Department of Laboratory Medicine, Lena Corpuz says she loves to paint when she has heightened emotions, adding that she feels the more passionate she is, the more the audience will be able to connect to her paintings. For Lena, painting is an integral form of worship and celebration of faith—a way of working to communicate hope, life, light, and love.
She says she first started painting three years ago and found it to be "extremely exhilarating, exciting and thrilling not knowing exactly what I'm doing—but still creating something beautiful in the end."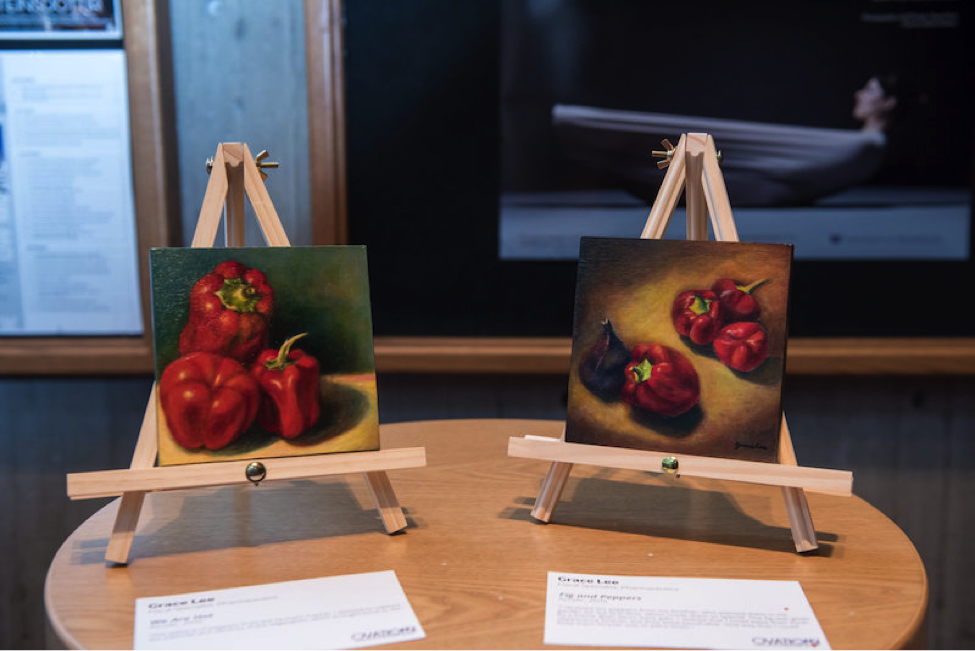 A fiscal specialist in Pharmaceutics, Grace Lee became interested in art when she took an art class in high school and received encouragement from her art teacher. Today, she shares that, "art brings sparkles to my everyday life."
Her subject matter consists primarily of still life and animals, yet she dedicates her talents to making jewelry, felt animals, and greeting cards as well.
"I want my arts to bring joy to people and celebrate the aesthetics in nature and kindness in humanity," she says. Her pieces on display at Ovations are of figs and peppers she received from family and friends—representations of her appreciation for the spirit of their friendship.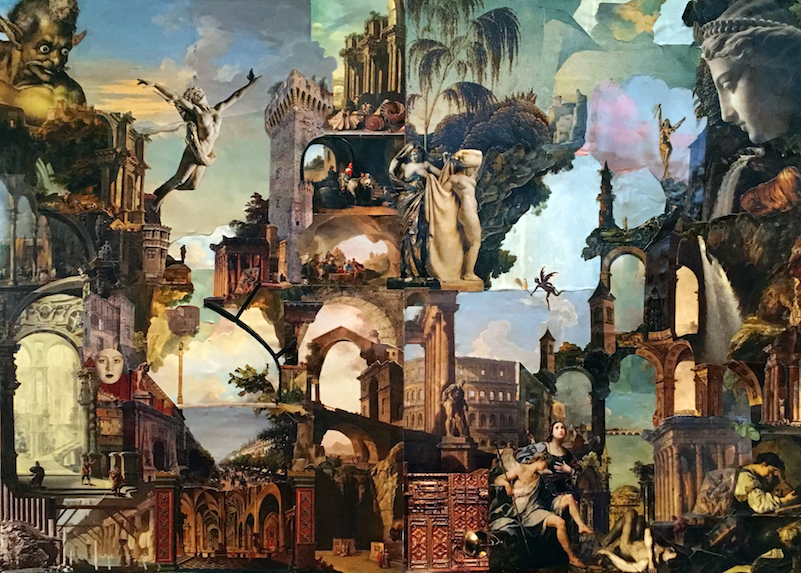 Using clippings from old auction catalogs he'd find in bookstore bargain bins around New York City, Matthew Leib began collaging in 2014, several years before joining The Whole U as web editor and visual producer. As his process and style evolved over time, Matthew says he started working on a larger scale "as a challenge," looking to Renaissance painters Hieronymus Bosch and Pieter Bruegel for inspiration to create landscapes that remix myth and history.
"I hope to draw the viewer into a world that feels familiar and foreign at the same time," he says of "Before the Fall," on show at Ovations. "Our sense of time, place, and history is malleable and ever-changing. To collage is to take something that feels present and known and shred it into something new; something that says if there's no longer so much wonder to be found in the world, there's still wonder to be found within ourselves and in the stories we've told over time."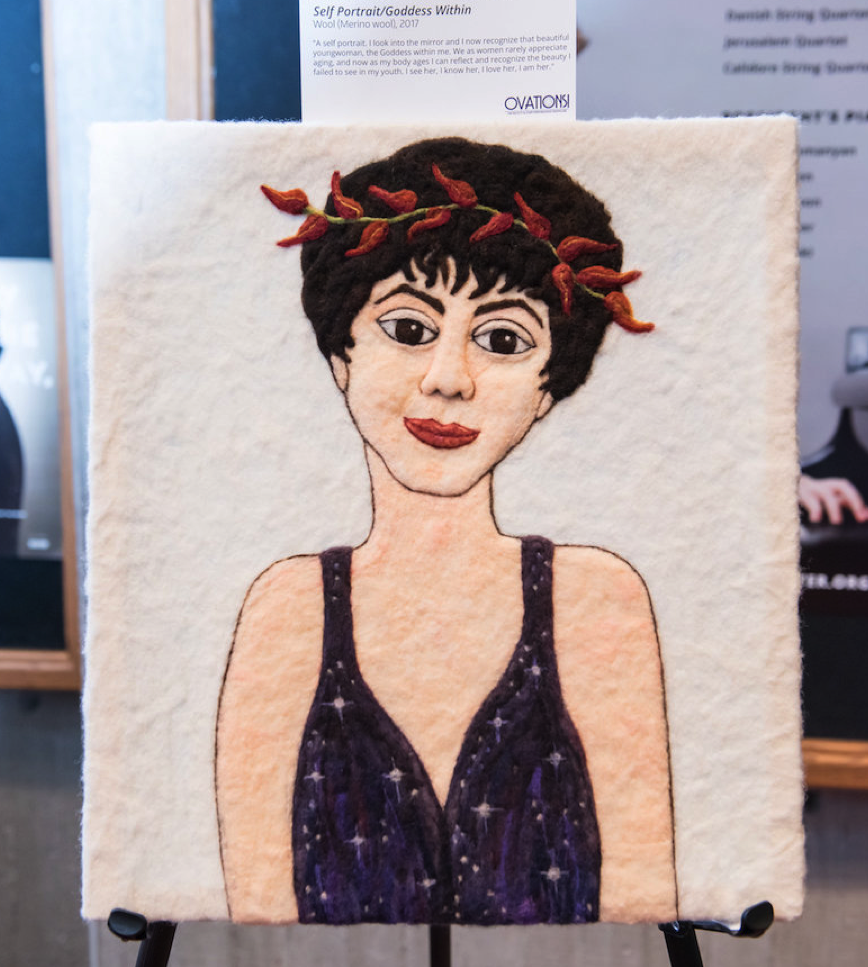 Connie Lobo, a clinical data specialist and coder part of the Utilization Management, Coding and Compliance staff, sets aside time every evening to work on her art. Although she has always enjoyed making arts and crafts, Connie says she did not find her medium until she discovered needle felting in two-dimensions.
She now spends as much time as possible "painting" with wool, drawing inspiration from her surroundings in the Pacific Northwest.
"I love the mountains and the water," she says. "There is so much [here] to draw from and be inspired by."
For Connie, art is about telling a story and making connections. She says her hope is "someone will find a connection to a piece of my artwork that they can relate to, and that also tells a part of their story."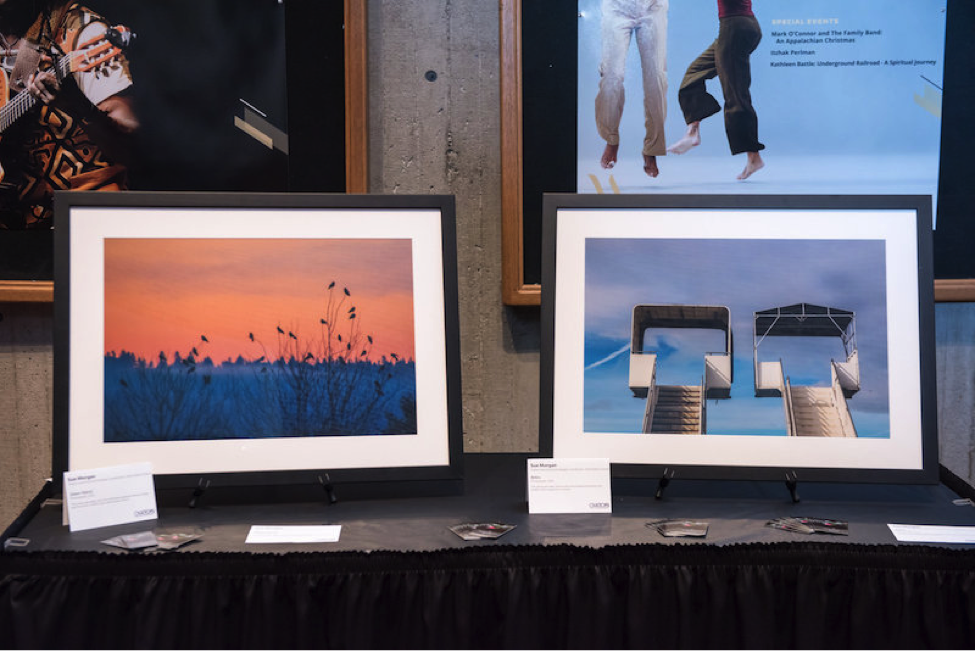 By day, Sue Morgan is an Online Learning Technologies Coordinator at the UW iSchool. But that doesn't mean she only practices photography by night or only on weekends. To Sue, the time of day doesn't matter when capturing her photographs.
A self-described "observer of things," she always has her phone camera ready in case something catches her eye, and enjoys taking what she calls "photo junkets" around town on weekends and in her free time. She says says she tends to look for subjects or objects we see in everyday life, but might otherwise look past.
"My interest in photography didn't start until several years ago when I discovered how to use the camera on my iPhone," she says. "With the encouragement of others, I gradually moved to using a DSLR."
Proof, perhaps, that artistic passion—just like the next photograph—can lie around any corner, no matter one's path.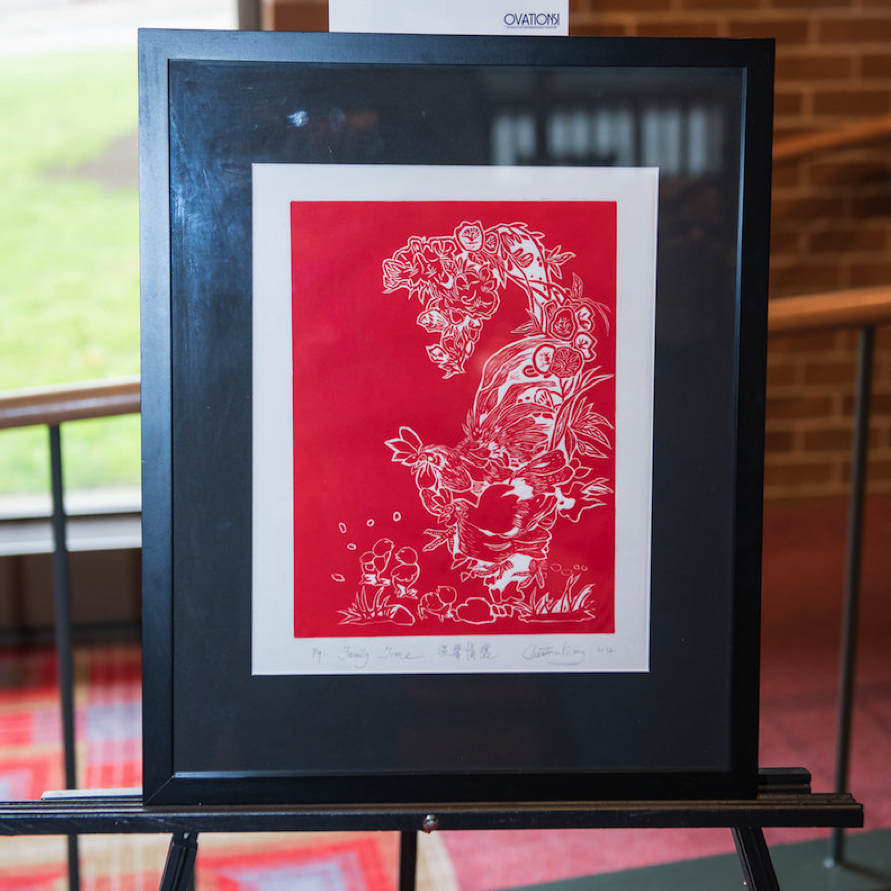 Program coordinator for the office of Admissions at UW Bothell, Chris Kwong loves to draw or paint on her days off—but especially on cloudy and rainy days. Chris says she's been interested in art since she was a child, having since explored many mediums to draw and paint. Her favorite? Watercolor and sumi-e painting for landscapes—reflected in her two pieces at Ovations, which convey a sense of Chinese culture and of place.
When asked what she hopes to communicate through her artwork, Chris says that, "by sharing my artwork, I would like to show how the simple things can bring so much richness to life by using my brushes and paints."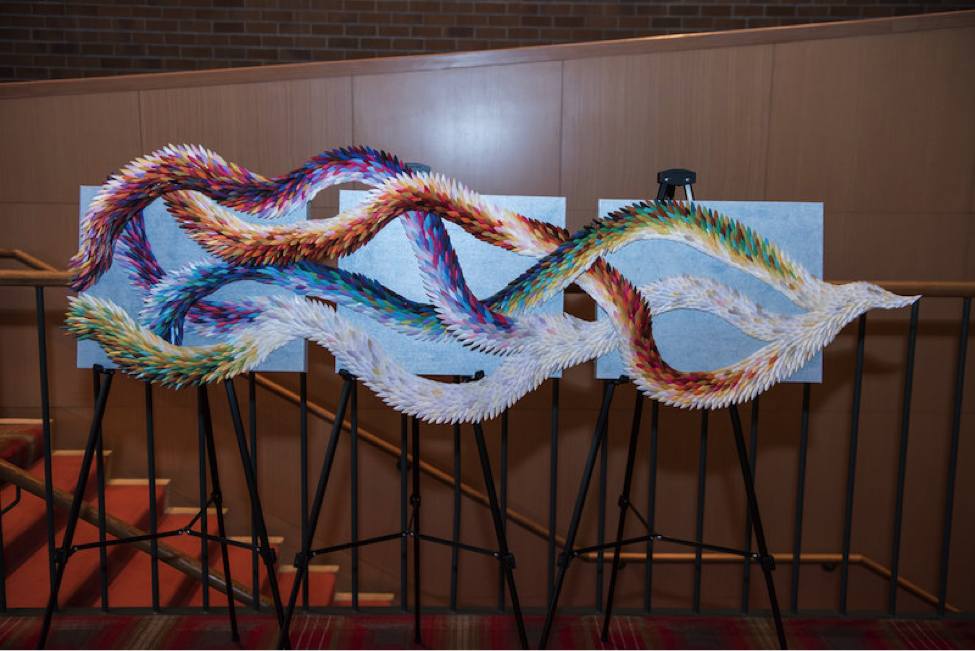 An academic advisor in the UW Civil and Environmental Engineering department, Melissa Pritchard has always been interested in color and art, yet only began diving deeper into her creativity as a young teen. She describes her current work as, "a form of paper sculpture that creates the illusion of movement and emotion through color, texture and scale," adding that she enjoys playing with the boundaries of art and what constitutes the frame.
Her most recent artwork series, including the piece on display at Ovations, are some of the more thoughtful and meditative pieces she has created. Sharing with us her inspiration in art, Melissa (who is a cancer survivor herself) says, "each piece in this particular series represents a friend of mine who has either had or has cancer. I try to capture the spirit of my friends in some ways within the colors, patterns and textures."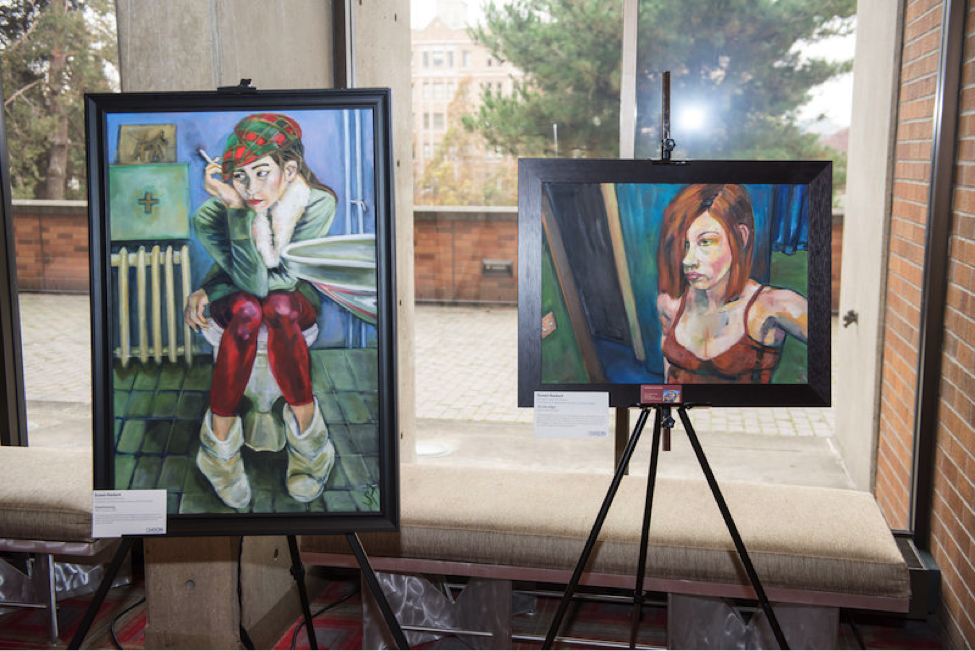 An assistant clinical professor in the Departments of Psychiatry and Behavioral Sciences and Psychology, Susan Radant sets aside Sunday afternoon to paint when she is not spending time with her family. To get into her creative zone, she prefers to set aside four to five hour periods without interruption.
"I usually like to listen to rock when I paint," she says. "The rhythm is translated into my rhythm of painting—the more bass the better."
She says it wasn't until she began using oil paints that she felt she has found her niche and passion.
"I am drawn to the affective and expressive quality of people's faces and bodies, and the process of trying to understand what is happening inside of them."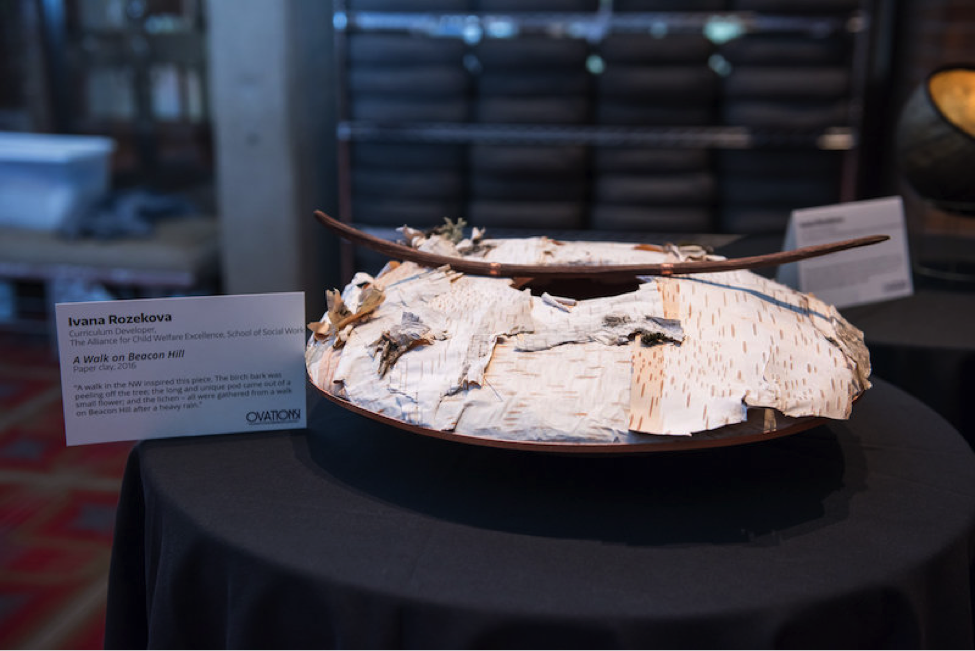 Ivana Rozekova is a curriculum developer for the Alliance for Child Welfare Excellence Department in the School of Social Work. However, by night and on weekends, she is a versatile artist. Ivana finds items in nature that are inspirational and thinks about how she will use them in her artwork, experimenting with many forms of artwork.
Talking with us about being inspired by her mother, Ivana recalls, "If she saw it and could make it, she did. She inspired me and instilled the creative bug in me."
In her art, Ivana strives to communicate her expressive self—that she can do anything that inspires her regardless of the limits. But who said anything about there being limits? Next, she says she would like to learn to be creative with 3D printing.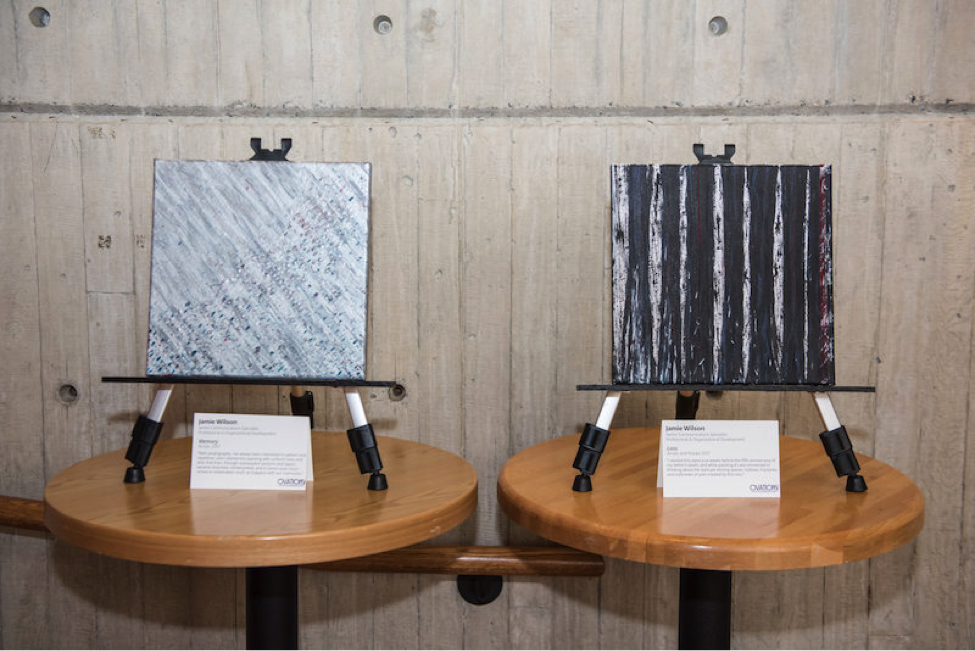 A senior communications specialist for UW Professional & Organizational Development, Jamie Wilson says she's always been interested in art and design. Both of her parents were artistic and instilled in her that shared passion as well as providing for creative outlets. Although she will sometimes paint alone, Jamie says she also appreciates family painting sessions with her husband and 4-year-old son out on her deck when they have sunny afternoons.
"I enjoy the iterative process of painting, revisiting a canvas many times, thinking about it when I am way from it, and having the opportunity to hone it over time."
Jamie's art is about emotion and reflection: she create paintings that provoke an emotional response or inspire introspection, as seen in the reverberating quality of her textual canvases on show at Ovations.
---
Thank you to our artists and performers for sharing your talents, as well as to everyone who came out to celebrate the richness UW has to offer. We hope you had as much fun as we did! To stay up to date on what's next, follow us on Facebook, Twitter, or Instagram. Or, if you have an idea for an event you'd like to see, drop us a line at wholeu@uw.edu.