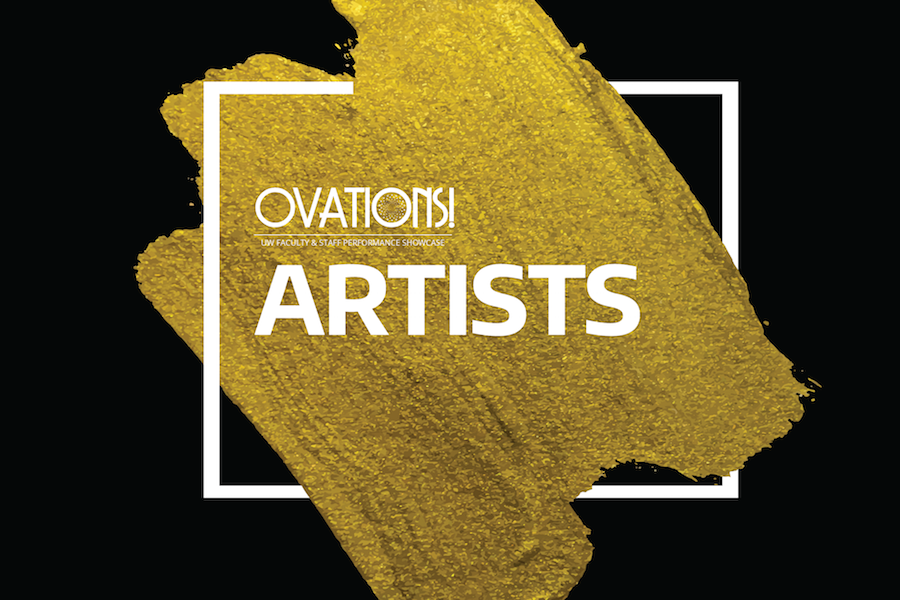 Ovations: Meet the Artists
The performers on stage at Meany Theater will not be the only ones in the spotlight on Sunday, October 29 for Ovations. During the show's 25-minute intermission and afterwards, take a trip into the artistic minds of these 10 staff and student artists whose work will be exhibited throughout the lobby of Meany Hall.
Learn more about their individual processes and inspirations below, but to see the work itself, you'll have to attend. To do so, register here. Tickets are free, but this afternoon of art and entertainment is priceless.
---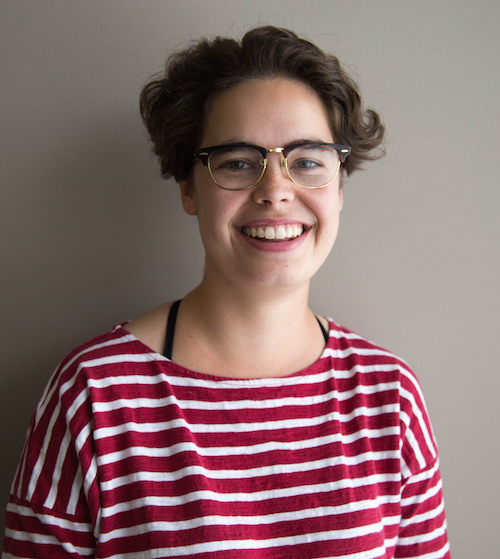 Rachel Connelly
Rachel Connelly approaches art with eyes of an observant traveler and skilled graphic designer, using Photoshop to distort color and shape and manipulate color and light.
Connelly, who is a UW junior and graphic designer for The Whole U, is showing two digital prints at Ovations, ATL and Peeps. She use photographs as a base before applying scene-bending swirls of digital distortion. Connelly captured the photo for ATL "while roaming about downtown Atlanta while traveling with the Husky Marching Band for the Peach Bowl." Peeps, a product of a summer trip through Germany, depicts a crowd at the Berlin Sunday flea market—there for main attraction besides the market: karaoke.
---
Lena Corpuz 
A budget/fiscal analyst at the UW, Lena Corpuz has been creating artwork since 2014 using an airbrush and acrylic paint. Her two pieces for Ovations, Fire and Glory, are dreams she's experienced translated onto canvases she calls "unapologetic" celebrations on faith and belief.
"I saw this lion in my dream," she says of the one. "It was so majestic. It was roaring with so much power and authority, yet it was gentle and meek and I knew it couldn't hurt me. I was in so much awe that I just had to capture it in painting even if I didn't know what I was doing. This painting doesn't do justice to how glorious the lion was in my dream, but it reminds me of that time."
---
Grace Lee
A fiscal specialist in Pharmaceutics, Grace Lee says she loves painting still lives in acrylic because the medium allows her to bring objects' natural vibrancy and color alive on canvas. Her paintings Fig and Peppers and We Are Hot reflect her appreciation for the spirit of friendship in which both foods were given.
"I received the peppers from my brother, who planted them in his garden for the first time, which made them so special. The fig was given by a friend," Lee says. "Both items were gifts. I wished that I could keep their fresh appearance forever. One way that I could keep them forever was to paint them."
---
Matthew Leib
Web editor and visual producer for The Whole U, Matthew Leib started collaging in 2014 with scraps from old auction catalogs.
His piece for Ovations, Before the Fall/After the Fall, blurs the line between what is, was, and what could be, inviting the viewer to explore a phantasmal landscape of found paper and construct their own narrative based on where the composition's visual cues lead them.
"I started working with scissors at the age of four when I convinced my younger sister to let me cut her hair," he says of early artistic efforts around his family's kitchen table. "My work has improved somewhat since then and my sister would probably agree."
---
Connie Lobo
A clinical data specialist and coder part of the Utilization Management, Coding and Compliance Staff, Connie Lobo creates intricately detailed needle-felted paintings using felt as her canvas and colorful wool roving as paint, shaping soft tuffs of wool into reflections of beauty: what she calls "a synergy manifested in a physical form that touches the many layers of our perception and muses."
Lobo will shows two works at Ovations, Night Watcher and Self Portrait/Goddess within. She says of the latter: "I look into the mirror and I now recognize that beautiful young woman, the Goddess within me. We as woman rarely appreciate aging, and now I can reflect and recognize the beauty I failed to see in my youth. I see her, I know her, I love her, I am her."
---
Sue Morgan
Sue Morgan takes a camera wherever she goes, capturing thoughtfully composed photographs of life and nature throughout the wider West as well as locally in Seattle and at the UW, where she serves as online learning technologies coordinator at the iSchool. 
She took the photo Dawn Patro near the UW Bothell wetlands, where "it's been said more than 10,000 crows call this place home." She captured Relics at the south end of Boeing Field "where old, random airline equipment is stored."
Last April, Morgan's photo of Arizona's San Xavier Mission was a featured finalist in The Whole U's UW Time Off photo contest.
---
Chris Kwong
When she's not serving as program coordinator for the Office of Admissions at UW Bothell, Chris creates art that reflects Chinese culture and a sense of place. In the lithographic print Meandering Down the Stream 輕舟飄逸, she says she endeavored to capture, "the relaxed, carefree feeling of floating in a stream enveloped by the quiet flow of gentle water."
She remarks of her use of color in the linoleum print, Family Time 温馨情懷: "Red is the color or symbol of good luck in Chinese culture and is often used for new year decorations. During the new year, family members get together for the annual reunion dinner and spend quality time with each other. This print is especially fitting for this year— the year of rooster."
---
Melissa Pritchard
A graduate program adviser in Civil & Environmental Engineering, Melissa Pritchard uses paper to craft flowing compositions that foster an illusion of movement through careful eye to color, texture, and scale. She created Heartlines, the centerpiece of her 'Patient' series, to celebrate and remember friends who have or had cancer.
"Each strand represents one of them and the entire piece reads as a timeline from left to right," she says. "As each strand fades to white, it signifies the time when they passed away. However, even though they are gone, their memory and impact live on with their friends, family, and community." A cancer survivor herself, she dedicates the piece to Trystan, Ginnie, Armand, Tarek, and Jonathan.
---
---
Ivana Rozekova
A curriculum developer for The Alliance for Child Welfare Excellence in the School of Social Work, Ivana Rozekova finds inspiration to make art in the world around her, mixing multiple mediums to create unique pieces. The joy of the process, she says, is that "no two pieces are ever alike." 
Her composition A Walk on Beacon Hill (paper clay) was inspired by a walk in the Pacific Northwest—"the birch bark was peeling off the tree; the long and unique pod came out of a small flower; and the lichen all were gathered from a walk on Beacon Hill after a heavy rain." Tuxedo (papier mâché) combines a rich and elegant paper motif with black velvet trim and gold leaf.
---
Jamie Wilson
A senior communications specialist in Professional & Organizational Development, Jamie Wilson creates paintings that explore her interest in pattern and repetition. The process for creating the acrylic work, Memory, was one of building up layers in different media until the piece undergoes distortion, reinterpretation, resurrection, or obliteration, "much as happens with our memories," she says.
She started painting her other featured work, Loss (acrylic and thread), just weeks before the fifth anniversary of her father's death.
"While painting it I was immersed in thinking about the dark yet shining spaces—hollows, fractures, and outbreaks of pain created by this loss."
---
Artwork won't be the only thing to see in the Meany Hall lobby. There will be trick-or-treating and a costume parade for kids, a group photo area with a professional photographer, and light dessert after the show. And don't forget to pick up the 
Husky-themed Halloween coloring book
 created specifically for this event. But none of it happens unless you 
register
—so 
reserve your seats today
 before the house fills!