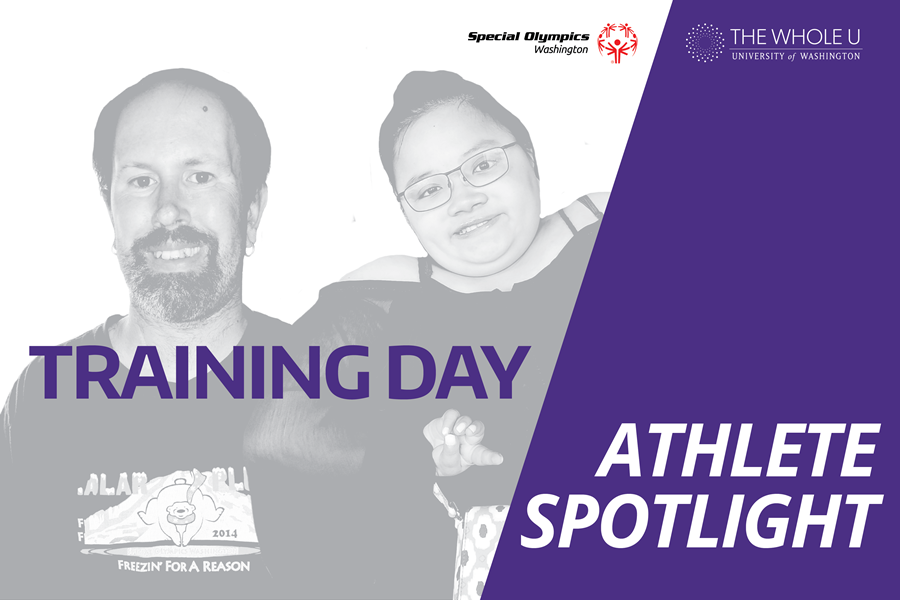 Help Make Dreams a Reality at Training Day
What makes an Olympian?
It's more than just a medal or having the fastest time on the clock. At Special Olympics Washington, being an Olympian about having the opportunity to lead—both on the field and in the world; as an athlete competing to test one's own limits and as a volunteer to help others attain their goals.
Special Olympics Washington provides these opportunities of personal growth and leadership to thousands across Washington year round. So, when they send their delegation of 278 Washington state Special Olympians to Seattle and the UW next summer to participate in the USA Games, let's show them they have our support.
The Whole U is partnering with the UW Combined Fund Drive to host Special Olympics Washington Training Day, November 16 at the HUB. So far, 57 UW staff and faculty have raised more than $2000. With your participation, we can reach our goal of 200 participants and more than $6000 raised, which will help send three Washington athletes to Seattle.
With a minimum $10 donation benefiting Special Olympics Washington, Training Day participants will get to experience first-hand the training regimen of a Special Olympics Washington athlete by taking the circuit challenge. Special Olympics Washington athletes will be on hand to share their stories and spur you on to success.
If you can't make it to the Seattle campus, you can complete the workout remotely via a specially created training video. Have a sneak peak below:
To get inspired and learn more about Special Olympics Washington, read the stories of two SOWA participants below and then register for the event!
Jezzy Tumbaga

In addition to your generous support, Special Olympics is powered by energy from within—drawing on the diverse abilities and unique experiences of the program's participants. While fellow Special Olympians are prepping for their competitive events, Jezzy Tumbaga can be found lending them her support from the sidelines and behind the scenes. Jezzy is in a wheelchair, which prevents her from competing athletically, but she nevertheless involves herself in many different Special Olympics events as a volunteer.
For Jezzy, volunteering with Special Olympics has been an incredibly rewarding, enriching experience. She says she loves being able to help out and travel with friends to events, and at just 21 years old, has already contributed so much to the Special Olympics community in just three years of involvement. Her experience even translated into an internship at Seattle Children's Hospital, where she works in addition to her involvement with the Special Olympics community.
Sean Pugh
Sean Pugh, 39, has been involved with Special Olympics since he was 8 years old. His early exposure to sport through SOWA gave him the confidence to join his high school's track team. Though it was a step outside of his comfort zone, Sean worked hard and went on to earn a varsity letter.
As a Special Olympian, he's played many sports and currently competes in basketball, track, softball, and bowling. His favorite Special Olympics memory came in 1999, when he was able to travel to North Carolina for the World Summer Games to compete in softball. Asked if he had a message about how living with an intellectual disability has impacted him, Sean says he doesn't feel like he has a disability; rather he says he feels that everyone has some kind of an issue they deal with, and so he doesn't think of himself as any different.
Sean carries his sense of commitment and hard work forward into other spheres of life. Outside of competition, he has served on the Special Olympics Board of Directors, worked as a member of the input council, and taking part in the Athlete Leadership Program to make an impact on the Special Olympics community.
---
---
Please consider joining us for Special Olympics Washington Training Day in support of this great cause. Let's help Washington athletes make the journey of a lifetime and welcome thousands of athletes to compete, learn, and flourish in our own backyard—show them they have your support!
Team Washington Fast Facts
278 Washington State athletes
20 coaches/delegation
15 sports to train and compete
$2,018 per person to train and compete in the 2018 USA Games
$750,000 dollars needed to fund all of Team Washington
---
In case you missed it, we introduced two of Washington's prospective Special Olympians last week. Meet them here!