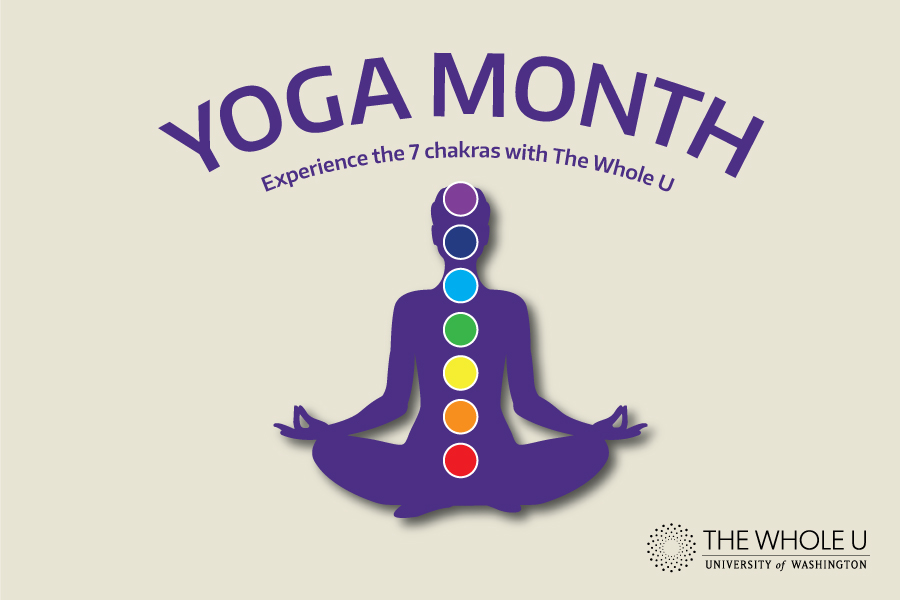 This year marks the fourth year in a row that The Whole U has supported National Yoga Month, encouraging UW faculty and staff from all campuses and medical centers to try yoga. From postures to flows, thousands of avid yogis and new practitioners alike have discovered the incredible benefits of this exercise.
This year's focus will be the chakras: seven energy centers that mark stability, sensuality, personal power, love, communication, intuition, and interconnections with nature. For centuries, yoga has not only served to benefit physical and mental health, but also as a means to recalibrate such areas of our lives.
Join us in celebrating this year's National Yoga Month with a movement experience that'll push your wellness beyond physical health. Rooted in tradition and practiced with purpose, yoga is for any age or experience level and, for the whole month of September, The Whole U is partnering with UW Recreation to host UW faculty, staff, and students in a celebration of yoga and the seven chakras.
Start your physical, mental, and spiritual exploration by learning about the seven chakras and channeling your energy to find your balance. Through yoga postures, foods, and more, participants will be challenged with new practices each week to explore the areas of our lives that correlate to each chakra. Participants can also find free yoga classes on all campuses throughout the month and an opportunity to celebrate and learn from UW Recreation Mindfulness Program Manager Danny Arguetty on the UW Seattle campus.
---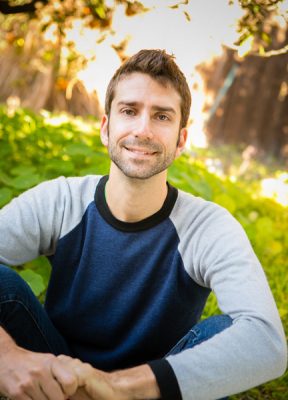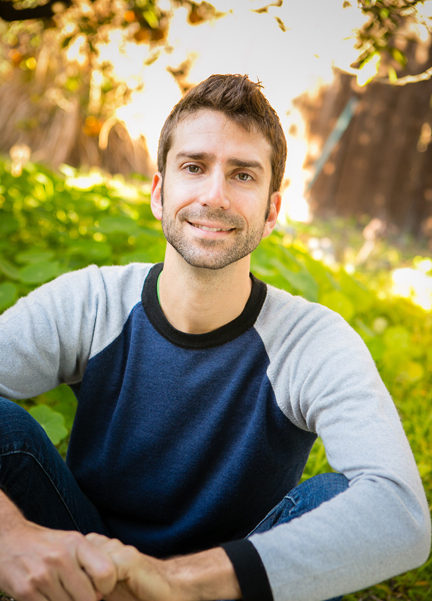 Danny Arguetty, M.A., E-RYT 500, is the Mindfulness Program Manager at the University of Washington, yoga teacher (and trainer), nutrition and health counselor, wellness educator, and a lover of the environment. Danny has guided workshops throughout the United States, led basic and advanced yoga trainings in the U.S. & India. He was adjunct faculty at Williams College, leads a quarterly course on Intro to Mindfulness at UW, and is a faculty member at Kripalu Center for Yoga & Health.
The Whole U has previously partnered with Danny in providing classes, retreats, and seminars. Check out what participants have had to say:
"Danny Arguetty's instruction was simply superb. The yoga and meditation were mindful, positive, uplifting and rejuvenating. I will definitely continue to pass along word of this event and will seek out other offerings with Danny Arguetty. Thank you to Whole U and a special thank you to Danny for his work."
"This was fabulous. I love the instructor. This yoga was very doable for beginners. And he offered ways to modify and make it more challenging for those who needed more. Thank you, thank you, thank you."
"Thank you for a relaxing and wonderful way to spend my lunch hour. I felt refreshed and energized for the rest of the afternoon (and didn't even need my usual 3pm pick-me-up coffee). I would love to see more noontime offerings like this, especially ones where we don't get too sweaty. Thank you!"
---
We will offer yoga classes with Danny Arguetty at all of the following dates and locations:
Danny will also be leading a seminar on exploring mindfulness that will add real, practical, effective mindfulness techniques to your wellness tool bag that you can weave into your daily life and explore how to access greater states of calm and resilience at the wǝɫǝbʔaltxʷ – Intellectual House on Sept. 12 from noon to 1 p.m.
Discount partner, Leela yoga studio, is also sponsoring yoga month by opening their doors from 12 – 1 pm every Monday, Wednesday, and Friday for the month of September. Check out their class schedule and be sure to bring your husky card.
---
As we focus on our chakras and balancing our lives, The Whole U is here to keep you encouraged. With many ways to participate, try a couple of these options:
Take a picture of yourself doing yoga at a non-traditional location or at your favorite location to practice and share it with us on Facebook, Instagram, Twitter, or email.
Try a new yoga style (or try all seven) at the IMA.
Try a yoga discount from our fitness partners:

Aditi Yoga and Massage – 20% discount
Balance Yoga Studio – $100/month membership (regularly $165)
Bikram Yoga – U District – $10 off/month
Breathe Yoga Studios – 20% discount
Classical Hata Yoga – 15% discount
Core Power Yoga – $109/month membership (regularly $135)
Edgeworks Climbing (offers yoga) – 20% discount
Exhale Pilates (offers yoga) – 15% discount
Expand Yoga – 10% discount
Fruition Yoga – 20-25% discount
Highline Athletic Club (offers yoga) – 20-25% discount
Jasyoga at Hec Ed – $3 discount per class
Levitas Studio – 25% discount
Tacoma Yoga – 10% discount
Vertical World (offers yoga) – 10% discount
YMCA (yoga classes) – Free enrollment
Zum Fitness (yoga classes) – 20-25% discount

For even more inspiration, join The Whole U Be Active Facebook group and see what the rest of the UW community is up to.
Need more motivation? Those who register and show up for class will be entered into a raffle for a yoga prize! Register today for the 2017 Yoga Month Challenge here and encourage your colleagues to try it as well!