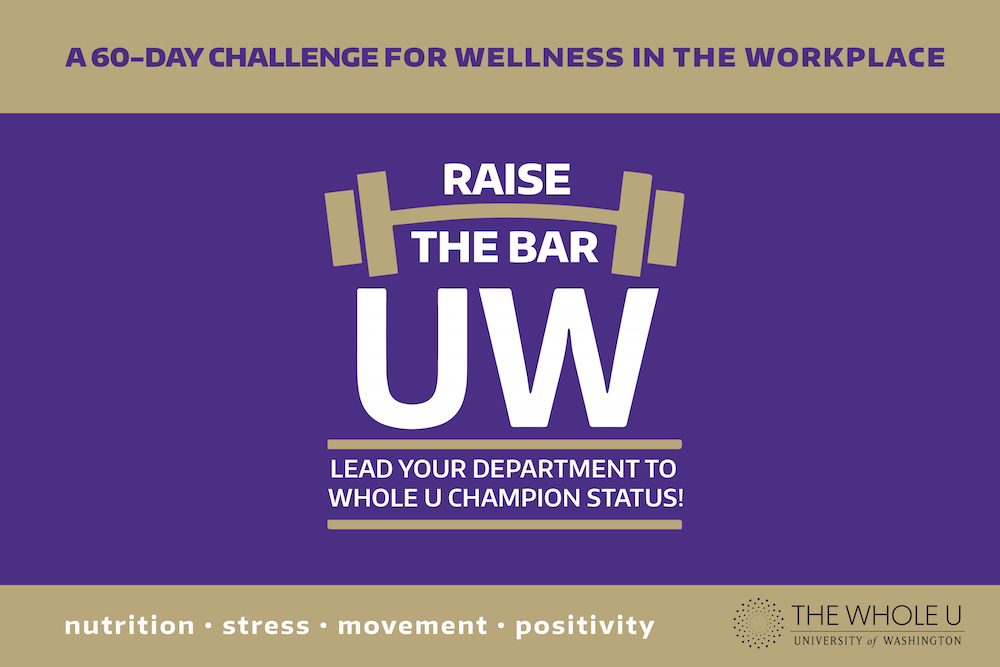 Lead Your Team to Whole U Champion Status!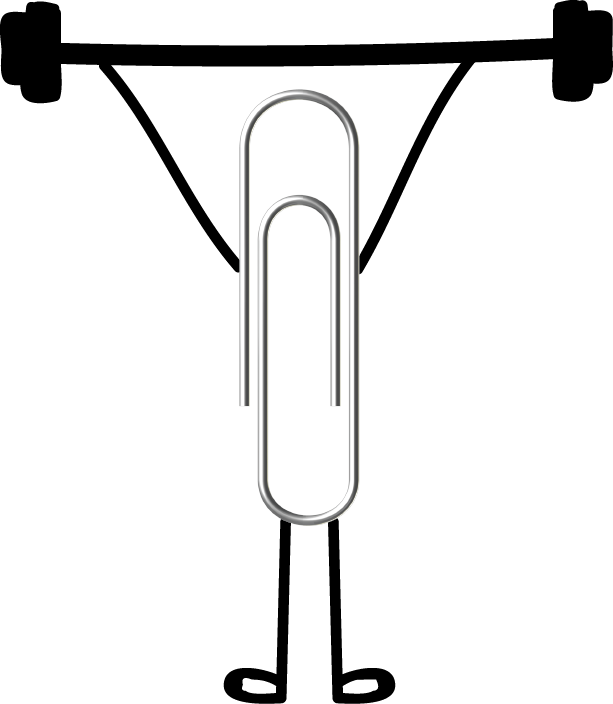 Think of a place where you can exercise, where you can find something healthy to eat, where you can have a bit of fun, and where you always feel supported. Was it your work place? If it wasn't, what if it was? And how could we make it so?
That's exactly what our 60-day Raise the Bar Challenge seeks to address. Sponsored by UW Medicine and in partnership with UW Recreation, UW Club, and Ian Fitness, Raise the Bar challenges and supports teams and departments within the UW to create a healthier and more positive work environment across four main areas of workplace wellness: physical activity, eating well, stress management, and positive affirmation.
10 Reasons why YOU and your team should participate in Raise The Bar this summer:
Physical activity in the workplace should always be encouraged, as getting moving leads to more energy overall. With this challenge, you'll get yourself and your coworkers active during the day.
Eating well in the workplace doesn't have to be boring. Through this challenge, you have the opportunity to shake things up and start something new: be the one to introduce that new healthy snack or spearhead a team cookbook that reflects your team's tastes!
Stress management in the workplace is crucial. At some point or another, we've all been in a position that required we step back and take a breath. This challenge encourages that. Know it is okay to go sit quietly, take short walk, or fiddle with a Rubik's cube to compose and collect your thoughts.
Positivity can transform a workplace enormously. You might make someone's day by celebrating a birthday as a team. Even a simple smile, word of appreciation, or offer of encouragement can lift the moods of many.
Planned activities are one of the keys to social support. They help you meet new people at work or get to know your team better.
Creating organized groups is another way to stabilize social support that will carry forward to other projects you and your team decide to tackle together.
Explore your workplace, learn about your work environment, and get an understanding of what you and others think could be improved. Without your voice things may not change for the better, so get your voice out there!
You'll get to express how you work best while also listening to others' insight. Through this process of open communication, you'll likely find common cause with others and then be able to articulate strategies for improvement.
Freedom. Be that person! Bring in ideas, pose new questions, open the eyes of others. Don't be afraid to suggest things that might make you feel more comfortable. But with freedom to be creative, comes great responsibility. Be sure to always respect others as well.
You will have so much fun. The last thing we want you to do is think of this as another thing to do. Get creative. We'll provide guidelines to help you out, but think outside the box. Every department has different needs, so do what works best for you!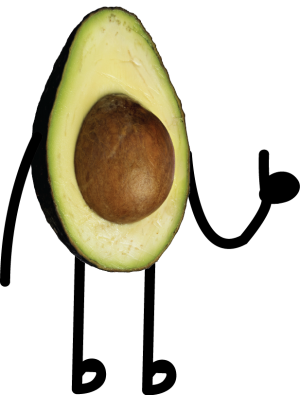 Here's how Raise the Bar works. One person will sign up as a leader for the team, group, or department. The team leader will receive an email from The Whole U with a toolkit including a checklist and will assign members of their team or department to a certain area.
Each team leader is responsible for taking charge of changes in their assigned area and each team will have 60 days to complete their checklist. After the end of 60 days, teams who submit their checklists will receive a Whole U Champion Certificate and invitation to a celebration luncheon!
As the challenge progresses, we hope you'll share your stories of success with us, including photos, comments, and tips you pick up along the way! Send them to wholeu@uw.edu and we'll post them as part of a featured story every Wednesday!
As we join together to Raise the Bar for workplace wellness, consider participating in these related Whole U events:
So, are you ready to help you and your work team commit to wellness and a more positive workplace? Raise the Bar begins July 10 and runs through September 7. Register here.