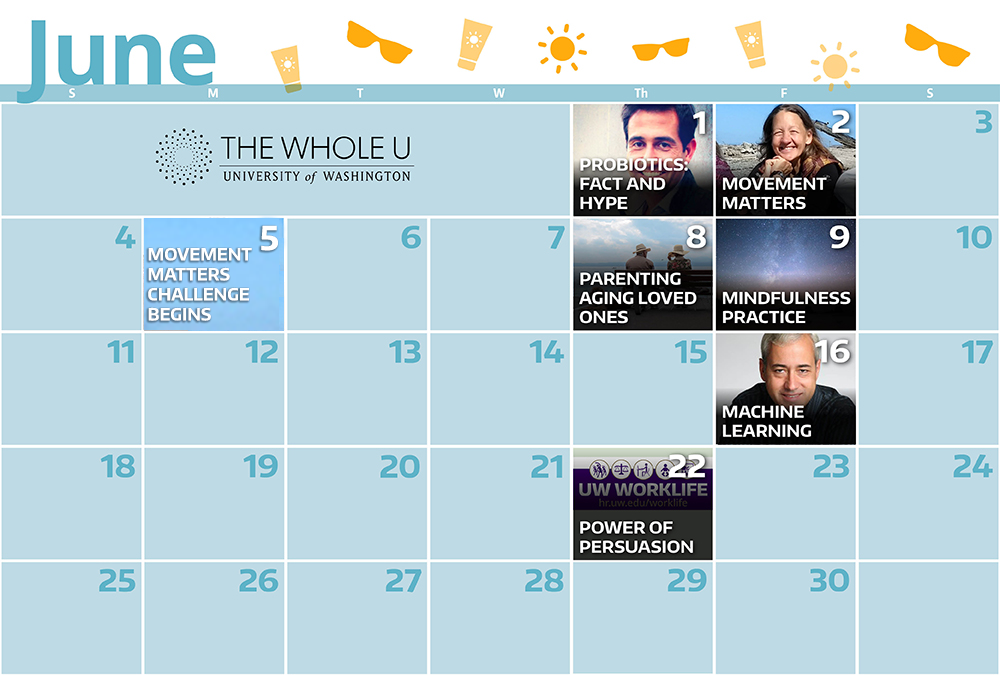 Here Comes The Sun: Whole U June Events
If summer isn't officially here yet, it certainly feels like it is! The Whole U has some great events lined up to help you relax, have fun, and feel great this summer with wellness in mind. This June is filled with seminars around topics such as gut health, technology, and aging, as well as a four-week movement challenge specially designed to work wherever you do. We can't wait to celebrate summer together by kicking it off with the following events.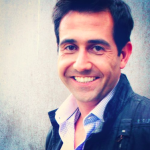 Do Probiotics Really Work? Deciphering Fact From Hype (June 1)
We are told time and again that probiotics are good bacteria for our guts—but why? What makes certain bacteria "good" or "bad"? And does taking a daily dose of probiotics really help us? Associate Professor Will DePaolo, director of the University of Washington's new Center for Microbiome Sciences and Therapeutics (CMiST), will break down the science behind these live micro-organisms, which have received much attention in the recent years from researchers, manufacturers, and the wider public. DePaolo's talk will focus on the importance of recognizing that everyone's microbiome (the bacteria that live inside and on our bodies) is different, debunking the widespread idea that every probiotic is good for every person, condition, or disease. Register here to attend this June 1 talk.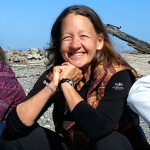 Movement Matters Challenge (June 5-30)
"Yahoo!" That's the sound of summer on the move—and we can't wait to help you get moving. Our movement defines who we are and the more we move, the better we are overall: physically, mentally, and emotionally. We often do not give movement nearly the attention it deserves in our daily lives beyond a designated hour or two in the day for working out.
To explore the many ways to move throughout the day, join us for a four-week challenge led by research scientist for the Department of Pediatrics and avid Chi Running and Walking instructor Laura Houston that will probe how important movement is to us as a society. Over the course of the four weeks, Laura will share some tips on how you can keep movement in your life even when you are not exercising, both in the office and in daily life. So, if you are ready to get moving, register for the challenge here.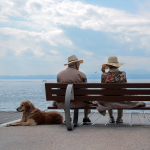 UW CareLink: "Parenting" our Aging Loved Ones (June 8)
Maybe you will be traveling or maybe you will stay at home, but however you choose to spend your summer months, it is likely you might spend some of that time with family. Talking and communicating openly about family is always important—especially when it comes to talk about our relationships with the elderly and their care. On June 8, join us for a talk that focuses on ways to prepare for aging parents' future needs.
From eldercare and managing crises, a special emphasis will be placed on ways in which we can improve our listening skills, conversation skills, and approach to addressing family concerns. These tips will provide a way for families to connect to each other and create a positive environment for everyone in the family. You can register here to start on a path of care and learning.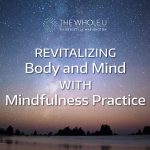 Revitalizing Body and Mind with Mindfulness Practice (June 9)
Nobody knows your body better than you, which is what makes you your body's best advocate. Learn to be mindful of yourself, powering your sense of self to new heights with registered nurse Christina Tidwell and licensed psychologist Dr. Barrymore Rosellini.
Together Christina and Barrymore will cover the many benefits of mindfulness  and teach you new mindfulness strategies that will improve your daily life. Register here for the first step in a summer of being mindful of your body and of loving yourself.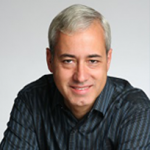 Machine Learning: What is it and why is it so important? (June 16)
How does Netflix choose what movies to recommend? How do Siri or Alexa understand what you ask them? How are cars able to drive themselves? And how does Facebook recognize people's faces each time you upload a picture? The answer is machine learning, a type of artificial intelligence that gives computers the ability to learn new things without being programmed, and arguably the most important technology in the world today.
Pedro Domingos, a Professor of Computer Science and Engineering at the University of Washington and one of the world's leading experts in machine learning, artificial intelligence, and big data, will explain what machine learning is and what it does. He will talk about how its numerous current applications are affecting our lives today and how its future ones, like curing cancer and possibly solving every problem humanity has, will revolutionize the world. Register here to attend this June 16 talk.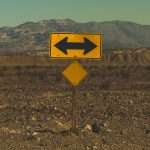 UW CareLink: The Power of Persuasion – How to Influence Others (June 22)
Persuasion is a very powerful tool, and can be used in a variety of circumstances. We all encounter situations where we need to talk people into or out of doing things. Join UW CareLink for a conversation on persuasion. This talk will cover best practices and examples of ways to shift your presentation style for the audience you are speaking to. Really, you should register here.
---
The Whole U is incredibly excited to offer these events to welcome in the summer months. Join us throughout June to enjoy mindfulness, explore technology, and get moving. We hope to see you there! If you enjoyed the event or have an idea for a future event in mind, let us know at wholeu@uw.edu.