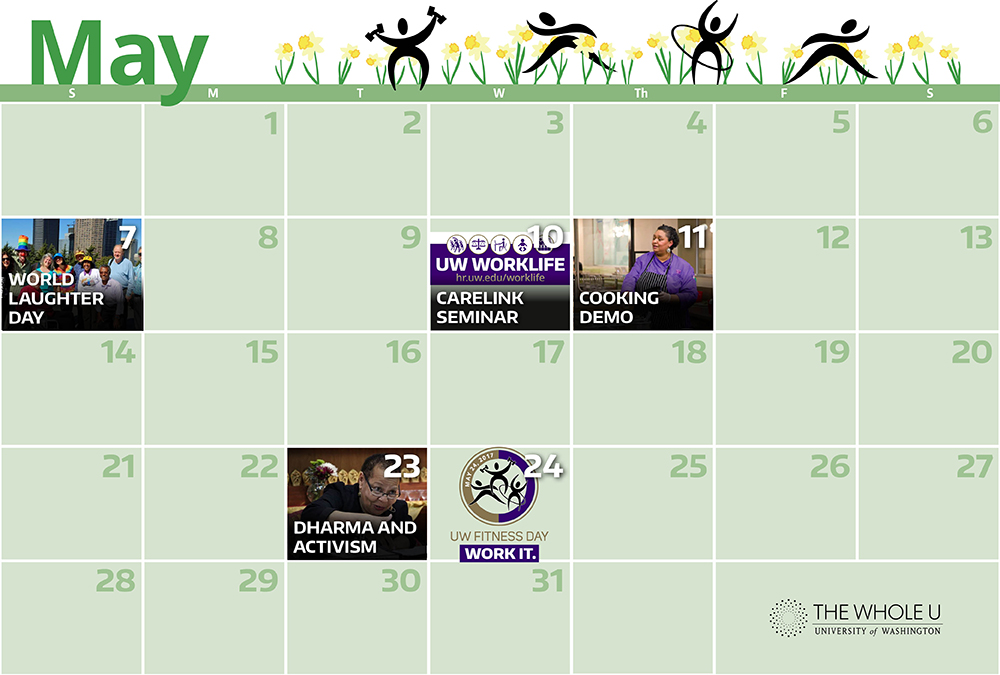 Flower Power: May Events to Get You Moving
We kicked off the Spring season with UW Walk Week and UW Take Our Kids to Work Day to continue the effort to make changes in our daily lives to better our wellness. There's no reason to stop there! Start the month by laughing for positivity or finding the perfect balance between work and life. As Spring kicks into full gear, celebrate it by cooking with vibrant flavors and making UW fitness history. The Whole U invites you to join us in celebrating May with the following activities: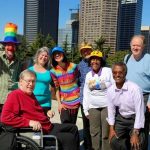 Laugh Your Way to Feeling Good on World Laughter Day (May 7)
The laughter movement is a movement for health, happiness, and world peace. How does that work? Laughter is known to be the key to positivity, but it doesn't stop there – it has been documented to improve the immune system and cultivates relationships.
Certified laughter leaders from the Harborview Tee Hee Hee Laughter group will lead a fun session of laughter "exercises" to get us laughing our way to feeling good. Come see what the fun is all about and laugh with us! Register here and get laughing!
UW CareLink Seminar: The 5 Buckets Principle ™ (May 10)
Struggling to find the ideal balance between work and life? Don't worry, you're not alone. Join us in the UW Tower Auditorium at noon on May 10 for a fun, interactive seminar that will introduce you to the 5 Bucket Principle™ of work-life balance. Learn how to prioritize what is and should be important and learn how to manage it all – fun, work, and "me time." Identify priorities, make choices, and manage expectations with us! Register here to participate.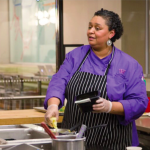 Cooking Demo with Chef Tracey – Celebrating Spring! (May 11)
The flavors of spring are bright and fun, which is all the more reason to come celebrate the season with us at the Chef's Table in Lander Hall. Learn from campus executive chef Tracey MacRae as she teaches us how to make spring risotto cakes (with asparagus, morels, and pecorino romano), served with English pea sauce.
Don't miss out as she shares her secrets for a refreshing rhubarb shrub, the perfect accompaniment to spring meals. Register here and take a step closer to turning fresh, vibrant produce to the mouthwatering dishes you can't resist.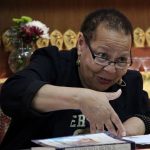 Dr. Jan Willis, Dharma and Activism (May 23)
Author of Dreaming Me: Black, Baptist, and Buddhist (2001) and popular scholarly works on Buddhist meditation, hagiography, women and Buddhism, and Buddhism and race, Jan Willis studied Buddhism with Tibetan teachers for more than forty years as one of the earliest American scholar-practitioners of Tibetan Buddhism. As a path to healing the trauma of racism growing up in the segregated south, Willis discovered dharma and made way for the tripartite integration of Buddhism and social and political justice. Register here to attend the talk as we welcome Dr. Jan Willis to Kane Hall, Room 220 to present on the potential impact of Dharma and Activism.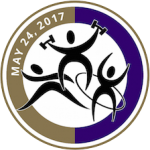 UW Fitness Day (May 24)
Physical fitness is something we all can achieve, and in doing so it can be fun along the way. Join us May 24 to celebrate fitness in the tradition of past years' kettlebell workout, umbrella dance, and exercise ball class. This year, The Whole U is proud to sponsor UW Fitness Day, the largest circuit training workout ever held at the UW. Featuring 20 training exercises and 40 coaches, including UW Gymnastics Coach Elise Ray, it's going to be an event like never before. All month long we'll be featuring short profiles of our participating coaches, so keep an eye out. Whether you're a beginner or a pro, we hope to see you there! Register here and a receive a t-shirt and wicking headband the day-of!