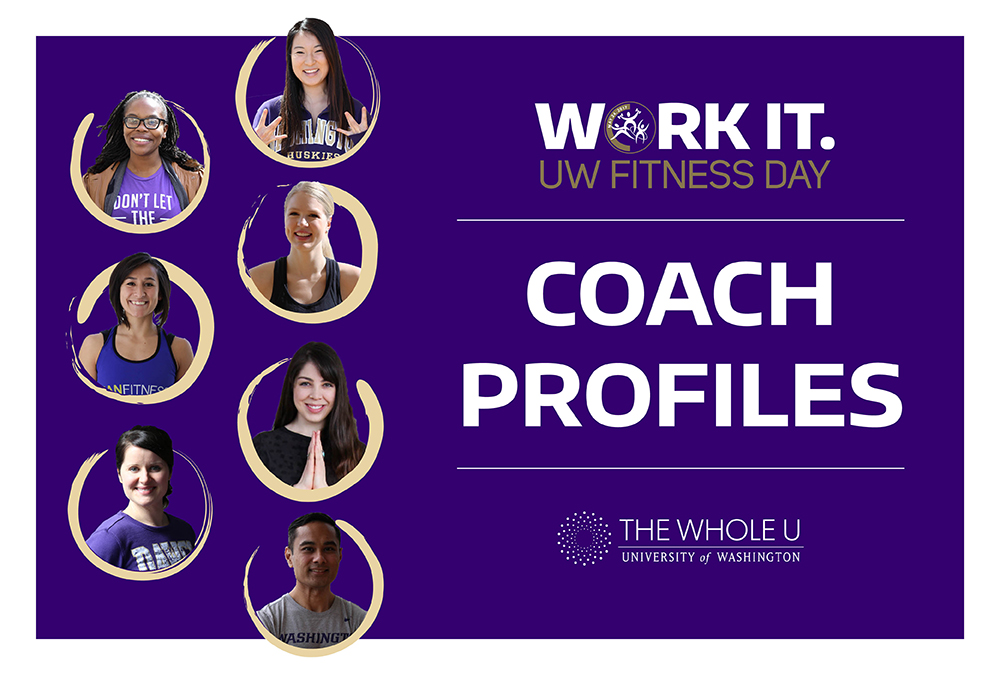 UW Fitness Day: Meet the Coaches I
Each year, the UW community has made fitness history. In 2014 we set a Guinness World Record with a kettlebell workout and in 2015 we umbrella danced on Husky Stadium, before bouncing back into action in 2016 with a one-of-a-kind group exercise ball workout.
This year, The Whole U is proud to present UW Fitness Day, the largest circuit training workout ever held at the UW. To help us make this day even better, we've recruited 40 coaches from UW Athletics, UW Recreation, and our fitness discount partners to get you pumped up and keep you inspired as you cycle through the 20-station circuit.
From Olympic medal-winners and kickboxing experts to dancers and yoga gurus, we'll be featuring a new slate of coaches every Monday in May. Learn what gets—and keeps—them motivated to stay at the top of their game and then register to take part in UW Fitness Day alongside these indomitable individuals and receive a performance t-shirt and wicking headband the day-of. Registered? Great! Now, let's meet who will be joining us on the turf at Husky Stadium May 24.
---
Elise Ray — Head Coach, UW Gymnastics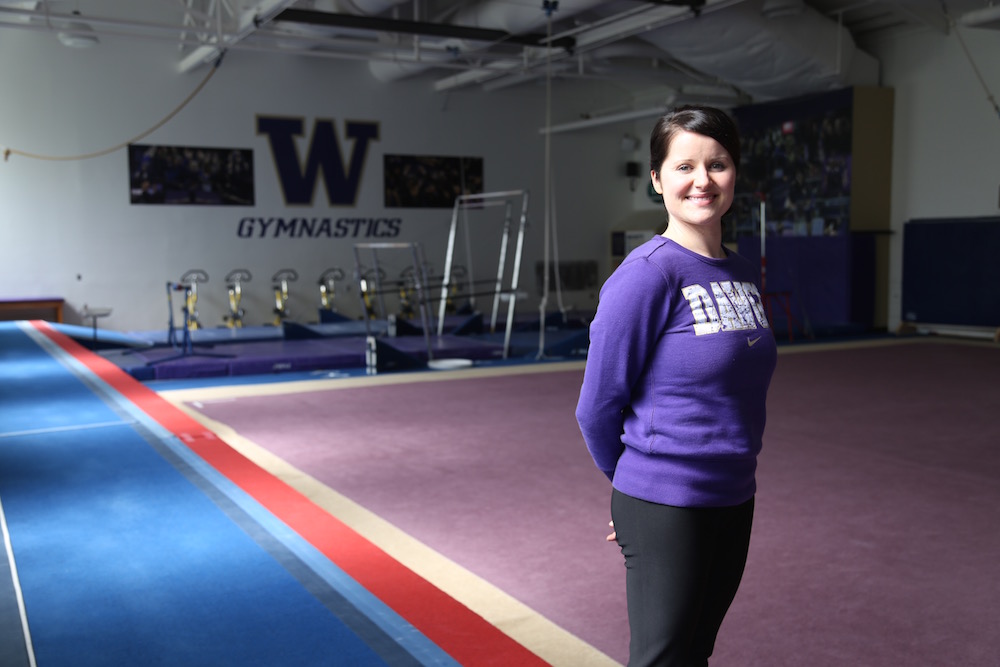 What gets and keeps you motivated?
I'm just an adult athlete now—a retired Olympian—but I exercise everyday just because of the emotional benefits. Exercise energizes me; it keeps me even. There are so many benefits, I could go on and on. As a coach, it's the little landmarks, the little goals you set for yourself. It's not just in the gym—there's recruiting, there's alumni relations. Reaching those little goals can be the most motivating thing. To be able to check it off just feels really good.
What is your preferred strategy for setting goals and reaching them?
I was taught at a very young age to set small goals, short-term goals, to reach your long-term goals. So I carry that in to even my office work and admin stuff. As a person, I'm passionate about growing and pushing yourself out of your comfort zone. I was taught that at a young age and I'm really thankful for it: that it's okay to be uncomfortable and that it makes you grow and you feel yourself stretching. I try to teach my girls that because it's really easy to stay in your comfort zone and stay stagnant, but you're in this beautiful evolution process; you're going to change so much. That idea of growth and evolution is so important.
Eldridge Alcantara — UW Recreation Cardio Kickboxing Instructor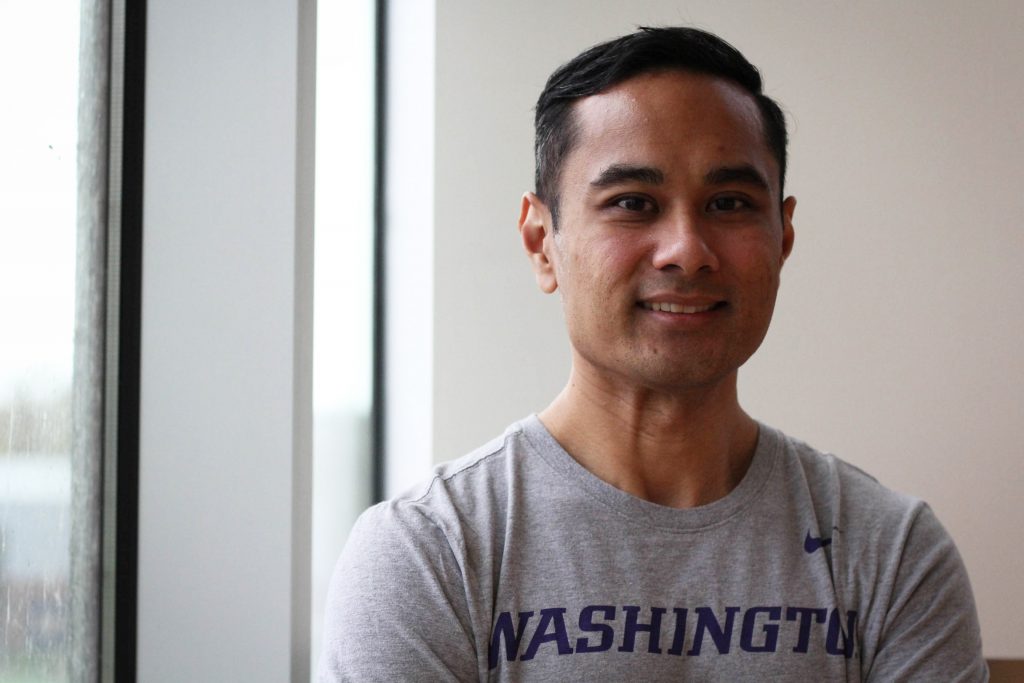 What keeps you motivated—especially after a long day's work?
What helps is to constantly remind myself of my long-term and short-term goals here at the UW, whether it's to finish my Ph.D. or to teach an awesome cardio kickboxing class in the coming week. My class participants are another source of motivation for me. I love teaching them a new routine every week, and I know the only way I can continue teaching is by making sure I practice my class routines during the week and by staying in shape and heading to the gym to do my own workouts in the morning before I start school.
What's your most memorable fitness moment?
My most memorable moment so far is the day I taught my first class as a fitness instructor during Dawg Daze Week back in Fall 2015. That was my first time ever teaching a class of all new participants following my training with the IMA FIT Program. I was so nervous right before I got started, but the energy that group of 40 students brought to the class was amazing. Their motivation and commitment gave me the energy I needed to finish that whole class. I don't remember who those students are anymore, but thanks to them, I will have a memory at the UW that I will never forget!
Rachael Collard — UW Recreation Yoga Instructor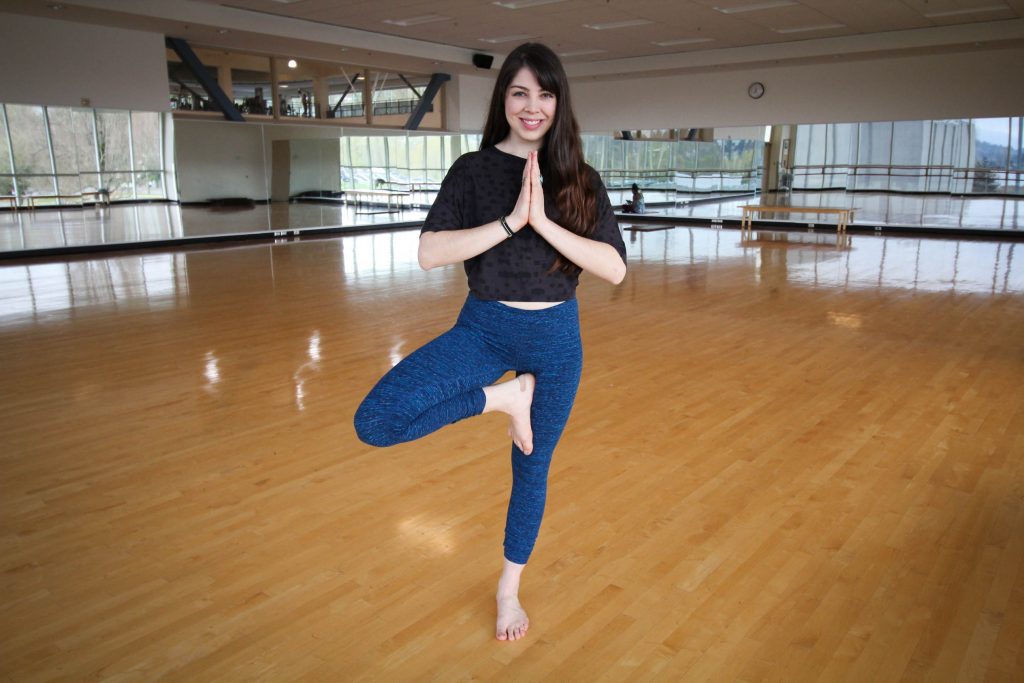 What's the most valuable fitness lesson you've learned ?
I've learned to stop treating working out as a task on a to-do list and have started to look at movement as an exploration to learn more about my body and appreciate my own capabilities. Fitness isn't an outcome, it's a process of self-love, of strengthening in our body and mind. This lesson has helped me chill when I miss a day, to get playful with "exercise" and let go of all the seriousness we acquire about life as we age. The journey of wellness is a lifelong relationship and each day may look different. Be kind to yourself, physically and emotionally because you have one body, one mind to keep you company forever.
What's something surprising about fitness or training that many might not realize?
I've felt the most "progress" in my physical capability when I let go of my expectations or goals and have fun and move in a way that feels good (versus the way I think I'm supposed to). Yoga and mindfulness in general continue to shape my mindset and perspective on life. It keeps me grounded in the here and now. Practicing moving mindfully and approaching each breath, pose, and day with curiosity, acceptance, patience, and love is a daily intention.
Stacy Earl — UW Recreation Dance Instructor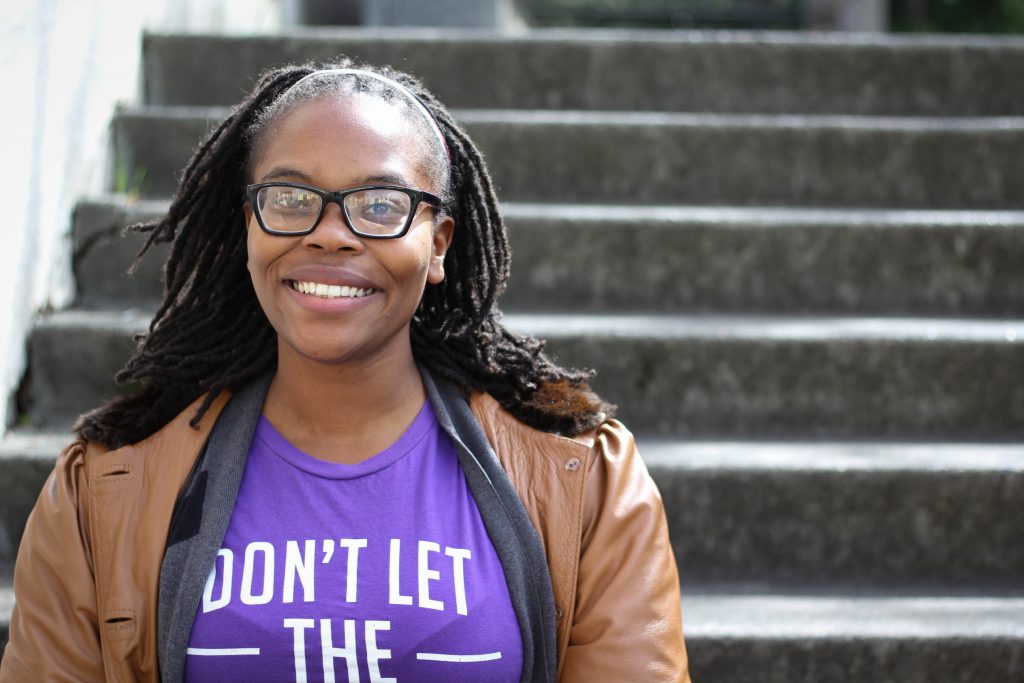 How has fitness changed your life and/or mindset?
Fitness has taught me that when you have an "off" day, you should just brush it off and start again. In a relationship, when you have a fight, you don't throw everything all away; in fitness, when you have a bad day you don't sabotage the rest of the day (with food) or week (by giving up).
What's something about training many might not realize?
You can push yourself a little harder and a little farther than you think. Overwork is real, but it's sometimes farther away than you realize.
Steph Morey — IanFitness Bootcamp Coach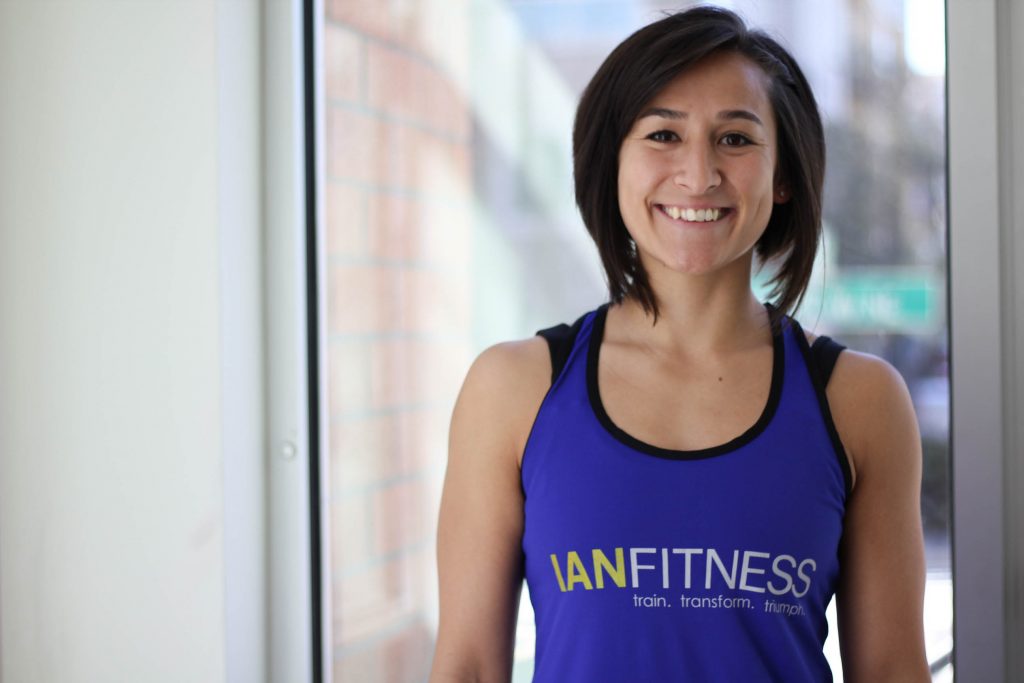 What keeps you motivated daily?
The fact that I'm a healthy human being. Some people are not fortunate to live a healthy life due to any number of circumstances. I try to use my health as my motivation because if I wasn't healthy, then I wouldn't be able to do all of my day-to-day activities and things I love best.
What does fitness look like to you?
Fitness can come in many different forms: eating right, recreational activities such as kayaking, or even just going for a walk! Not every fitness routine matches every individual. Each individual needs to find what works best for them.
Letty Limbach — UW Recreation Instructor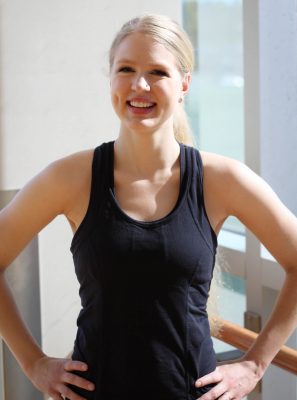 What keeps you motivated and engaged?
The way fitness benefits the brain is probably my biggest motivator. Numerous studies have found that regular exercise benefits cognition, focus, mood, and, yes, even boosts creativity! Whenever I slip on my running shoes, or pick up my dumbbells, that is really on the forefront of my mind, because when I do keep up a consistent exercise regime, I experience those benefits.
For me, one of the big benefits of incorporating strength training into an exercise regime is the empowerment and confidence that come with feeling yourself get stronger.
What's something surprising about fitness or training that many might not realize?
Fitness can really help develop the connection between the mind and the body. Whether you are following along during a cardio warm-up, or paying close attention to form while doing a squat, many forms of exercise can really help cultivate your sense of kinesthetic awareness. This not only helps you navigate anywhere from a crowded store to a dance floor, but also helps you feel more connected to your body in general.
Melissa Ling — UW Recreation Strength Instructor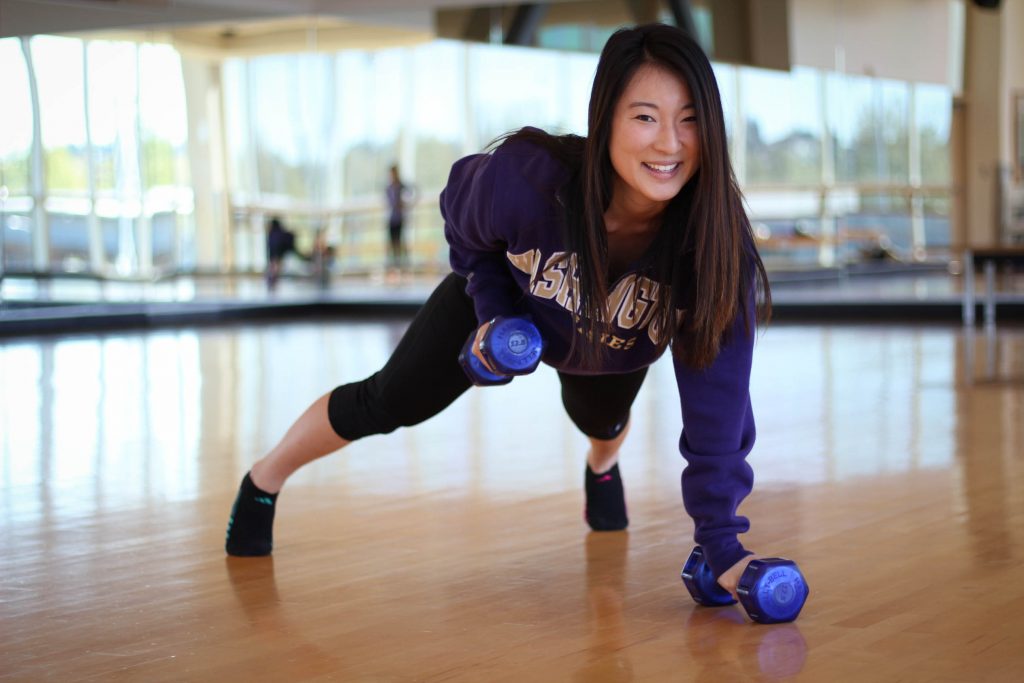 What's the greatest lesson you've learned when it comes to fitness?
Humility. You can lift the heaviest weights and be the fastest on the team, but put the same person in a group fitness class they may struggle at first. Fitness requires perseverance along with the motivation to learn. Many become discouraged after difficult experiences in fitness. It doesn't matter what level you at, everyone is going to struggle, but patience and discipline will set us apart.
What about fitness or training do people sometimes miss or forget?
I think a huge concept that people often don't fully grasp is how multi-faceted their fitness goals are. Whether it's for weight loss, physique, physical, or emotional health, you'll need to utilize the entire "health toolbox" to fully achieve them. Proper nutrition, intrinsic motivation, social support, reliable instruction, mental health, and appropriate program structure are extremely important when it comes to physical training. Fitness is more than 50 crunches, it's dynamic, universal, and should be sustainable and fun!
---
Check back next Monday to meet your next seven coaches. Whether you're a beginner or a pro, we look forward to seeing you on UW Fitness Day! A very special thanks to event sponsors, UW Medicine, UW Athletics, UW Recreational Sports, AT&T, Bondi Band, and KIND Bars!