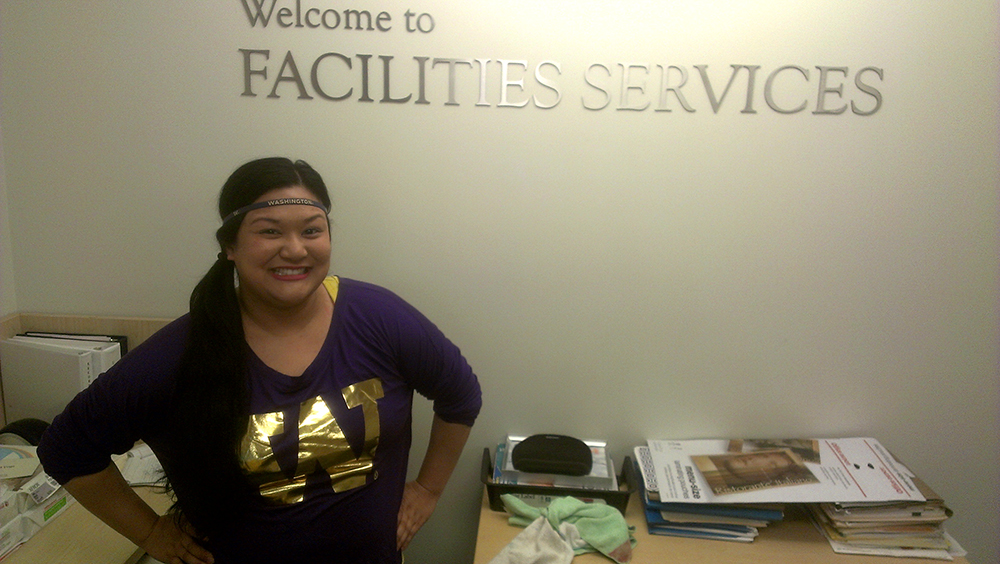 Earlier in the month I had the pleasure of meeting Renee when she agreed to be my fitness model for a strength training handout I was preparing for Facilities Services. Her positive energy was contagious and she told me she was starting a 100 day challenge back to fitness. I asked Renee if she would write about it for The Whole U.
Renee's story:
Today I start my 100 day challenge!
I am challenging myself to work out every day for 100 days. What triggered this nutty idea? Facebook! Lakeisha Shurn made a video diary that went viral. She documented 100 days of her efforts to lose weight, boost her self-esteem, and show off her inspirational progress. After watching her time-lapse video, I am joining the challenge.
When I had my baby, I stopped all cardio activity while I was 35 weeks pregnant. Eight months have since passed and I am at a point in my life where I have no excuses for not working out. During this challenge I will be documenting all my workouts, food intake, and physical progress.  My current workout schedule will consist of cardio dance, boxing, and cycling classes. I like to try new workouts, so my exercise regime will vary as well as food restrictions during my challenge. This month, I am challenging myself to not consume dairy products and stay away from refined sugar.  I may even try the Paleo diet. 🙂
There will be days when I can't get to a class, so this is where my eight-month-old son will come in handy. My alternative plan for non-class days is a 45-minute walk with some stroller lunges and squats. If I can't work that in, it is my job to locate the largest hill and push that stroller up it!
Oh, by the way, my name is Renee Taculad and I am the administrative assistant for Facilities Services Administration. I am the greeter to those who walk in the front door and answers questions large and small. I am the face of the team when people walk in and the gatekeeper of FS. You will always see me with a smile, asking, 'how can I help?' I support the three directors who work in the FS administration building: Debra Hanna, the Assistant to the AVP, and AVP Charles Kennedy when Debra is unavailable.
I came to Facilities Services Administration from Transportation Services where I was also an administrative assistant, supporting the director, assistant director, deputy director, and managers. I have worked for the UW for four years and describe my career path as "a UW fairytale story," in which I was first hired as a temp, then on a fix-duration appointment, then applied and competed for my job as administrative assistant in Transportation, and am now the administrative assistant for Facilities Services Administration.
Throughout the day I will also fit in fitness with The Whole U Stretch and Flex Handout. This will get me out of my chair and moving through the day. Click here and you can register for it too.
My goal during this 100 day challenge is to be food conscious, work off the baby weight, and get back on track to being fit.
Here's to 100 days of #fitness! #technics#gym#operationhotbod#shreddingcheddarallday I keep myself #accountable.
Go Renee! We are rooting for you and know you can do it!!
Related articles: Fitness Challenge: Are you ready for the Summer of FUNction?
School of Social Work's Life Affirming Fitness Group Marks 29 Years of Fun