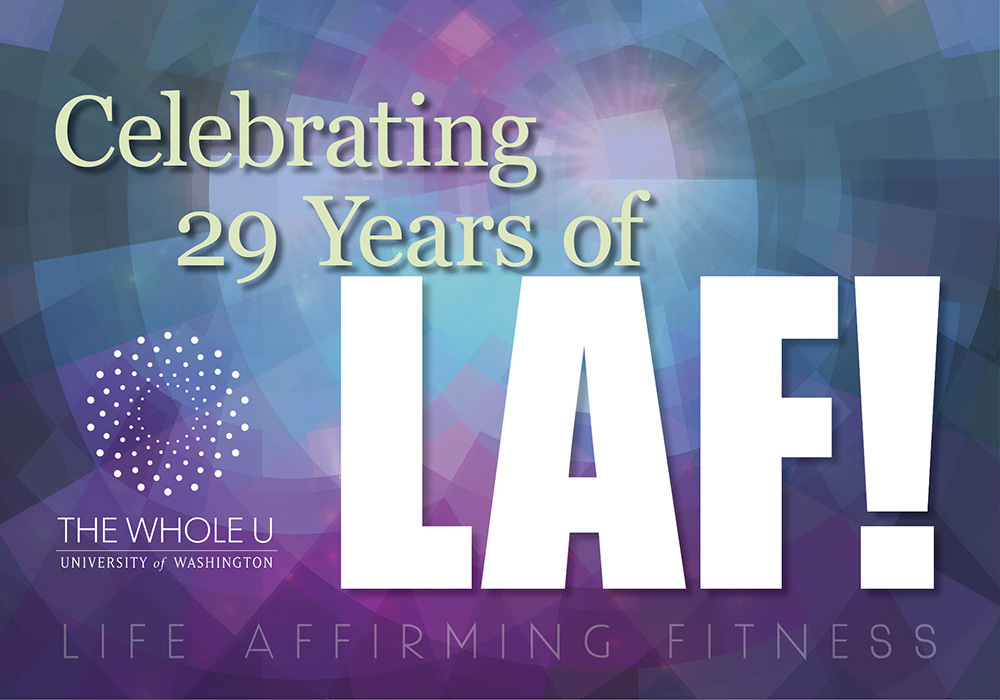 School of Social Work's Life Affirming Fitness Group Marks 29 Years of Fun
The year was 1985. "Back to the Future" (the first one) was popular at the movies. "Grunge" had just emerged on the Seattle music scene. A loaf of bread cost 55 cents. And a small group of faculty, staff, and students gathered in a classroom in the UW Social Work building clad in leotards, sweat pants, and tennis shoes ready to try out "aerobics." Almost 30 years later, the group still exists…and the current membership includes one individual from that original gathering!
Today we're known as "LAF" (Life Affirming Fitness group), and our priority is to support the physical and mental health of our members…and have fun! We currently meet on Mondays, Wednesdays, and Fridays, every week…every quarter…and even through breaks. We do Zumba with an instructor on Mondays, and use exercise videos on Wednesdays and Fridays. Our vintage video collection includes Richard Simmons, Cher, Jane Fonda, Jazzercise, etc.
The class is attended by faculty and staff (and occasionally students) from the School of Social Work and other campus offices. Members are at all fitness levels, and ages range from 20's to 70! It's a low key, relaxed and supportive group and we have a lot of fun together! Many of us have had some major life challenges and the group is also always there to listen and help out when needed. And we support each other's efforts, milestones, and successes including training for marathons, new jobs, the birth of grandchildren, and retirement. We even initiated a flash mob to provide entertainment during a School of Social Work scholarship fundraising event. We consider this group our "favorite UW resource," and it contributes to why we love working here.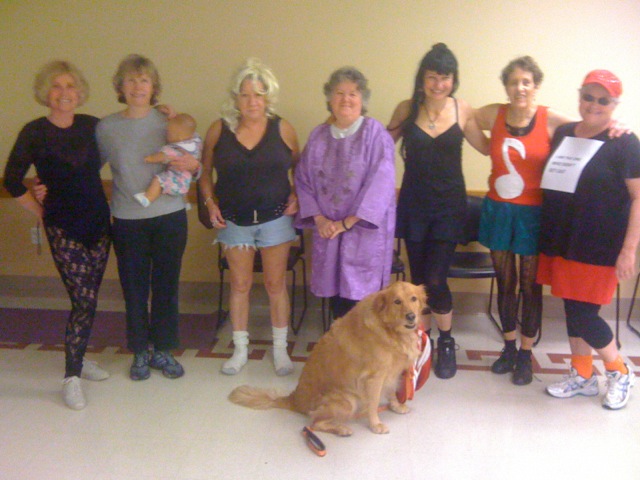 Above is a photo of our group when we dressed up for Halloween as our favorite aerobics instructors! We don't take ourselves too seriously, and I think that's one reason why the group has continued to this day.
You may not think you have time to work out, but if you can find a colleague to exercise with before work or during your lunch, you'll find that it's much easier to stay motivated. Taking a break at lunchtime to exercise while having great conversations with colleagues and friends makes us more focused, productive, and refreshed for the afternoon. I definitely recommend it!
Congrats to LAF on almost 30 years of promoting mental and physical well being!
Have coworkers you'd like to team up with? Join our Summer Challenge to be active and try new things! Looking for a group of UW colleagues to exercise with? Heavy Metal Caucus has kettlebell groups in the Tower, Kane Hall, South Lake Union, and Loew Hall, with more springing up every day. Or join Chi Running & Chi Walking, UW Medicine Cycling Club, or The Whole U Seattle Rock 'n Roll Team. Being active is more fun when you're together!