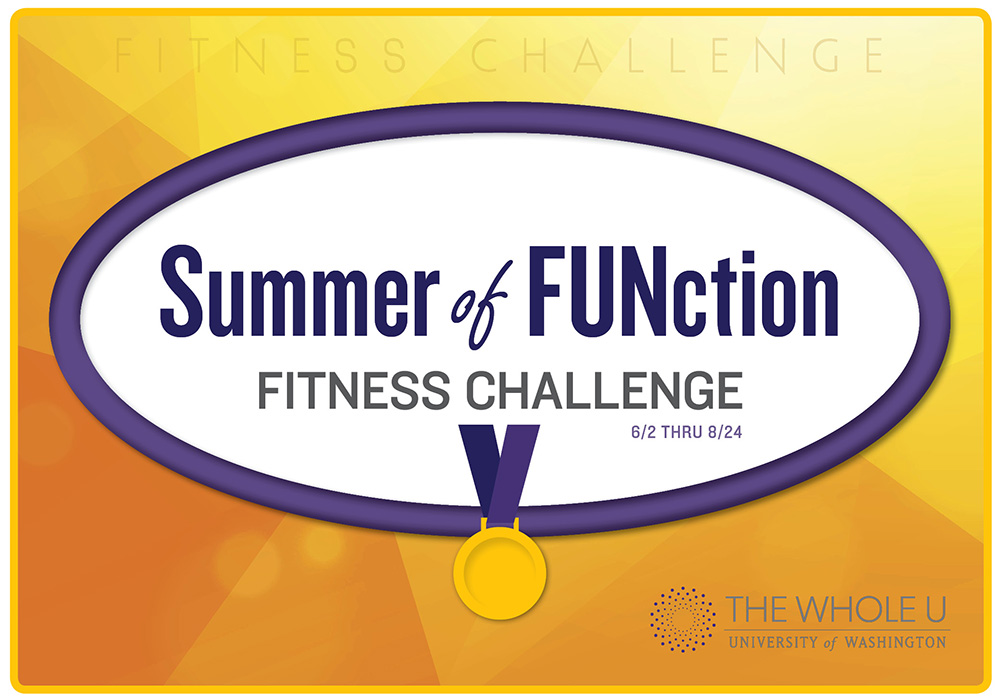 Fitness Challenge: Are you ready for the Summer of FUNction?
Are you on a quest to keep your body strong and healthy? The Whole U is here to help with the Summer of FUNction fitness challenge. Join a team and get ready to eat healthy, fit fitness into your day in unexpected ways, and find new ways to make your quest fun.  This challenge begins on June 2 and you will have 12 full weeks to complete the Fitness Challenge Checklist. Successful teams will have a chance to attend a barbeque hosted at the home of President Michael Young and Marti Young.
Who Can Participate?
All UW faculty & staff
How Does it Work?
Register your team of three to six people.
Team Captain will receive the "Fitness Checklist." Teams must complete 85% of the exercises and the other challenges. (Challenge examples: sharing your favorite recipe, capturing your activities with photos, exercising at least 10 minutes together three times a week.)
Checklists due August 29.
What Teams Can Expect:
We will send inspirational emails twice a month for encouragement, ideas, and tips to stay on track.
We will invite you to our Summer Challenge Facebook group to share ideas, photos, and inspiration.
We will have training plans to follow and custom resources for you on our website.
We will encourage updates from teams so we can highlight strategies for success.
Fun prizes along the way.
All successful team members will receive the Summer of FUNction Fitness Challenge Certificate and medal.
Successful teams will be entered into a raffle to attend a celebration barbeque hosted by President Michael Young and Marti Young.
The Summer of FUNction Fitness Challenge is a great team building activity and an amazing way to make this summer count. If you are ready for the challenge, find a few colleagues and REGISTER before May 30!
UPDATE: Here are the items that will be on the Fitness Checklist:
Each team member sets a SMART goal (Specific, Measurable, Action-Oriented, Realistic, Timed)
Team must exercise together at least 36 times (at least 10 minutes each time)
Team must host three healthy potluck lunches
All team members must keep a log of exercise (logs to be provided)
Team must post inspirational messages in office space, break room, or social media (take photos of theses)
Team must exchange at least 1 favorite healthy recipes each and hand them in at the end
Team must participate in two new activities together (ex: canoe, hike, trampoline, yoga, a 5K, Step on Up Challenge)
Team must submit at least 6 photos of team activities or team training
To request disability accommodation, contact the Disability Services Office at 206.543.6450 (voice), 206.543.6452 (TTY) or dso@u.washington.edu, preferably at least 10 days in advance of the event.