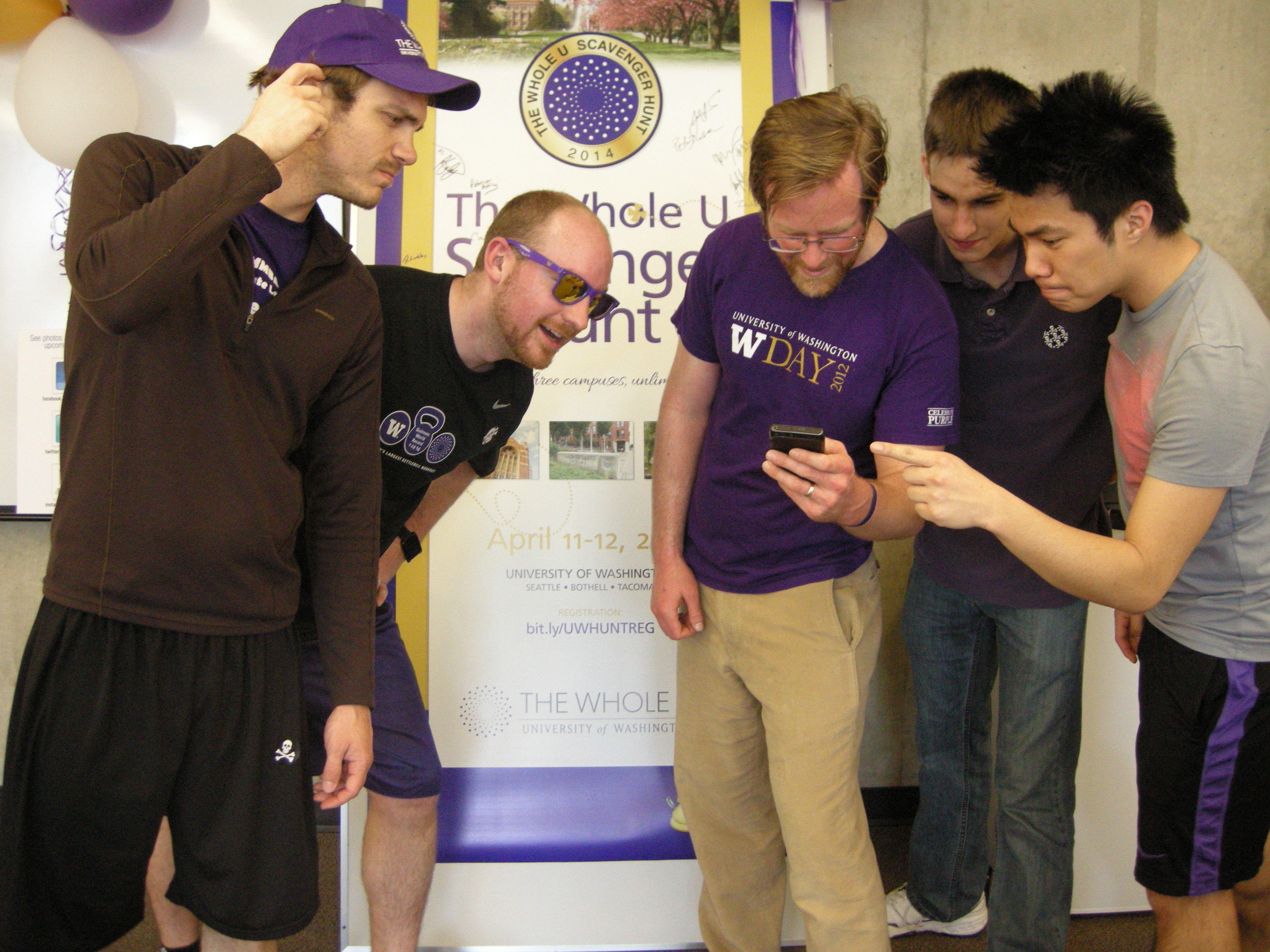 Scavenger Hunt Brings Out the Sleuths in Faculty & Staff
The Whole U launched in January with the Largest Kettlebell Workout in History! The feedback from faculty and staff was positive, but we also heard that people wanted an event that they could do on their schedule with friends and family. Enter The Whole U Scavenger Hunt: a geocaching adventure on all three campuses that took place over two days. Thanks to everyone who came out to explore campus in a new way. We're still tallying the registrations, but we believe over 1,000 people participated! Were you there? Looks for your team picture on our Facebook page! We'll also be sharing our favorite pictures in The Whole U photo carousel over the coming weeks; be sure to check back to see if you're featured!
Special shout out to the first team to complete the Hunt: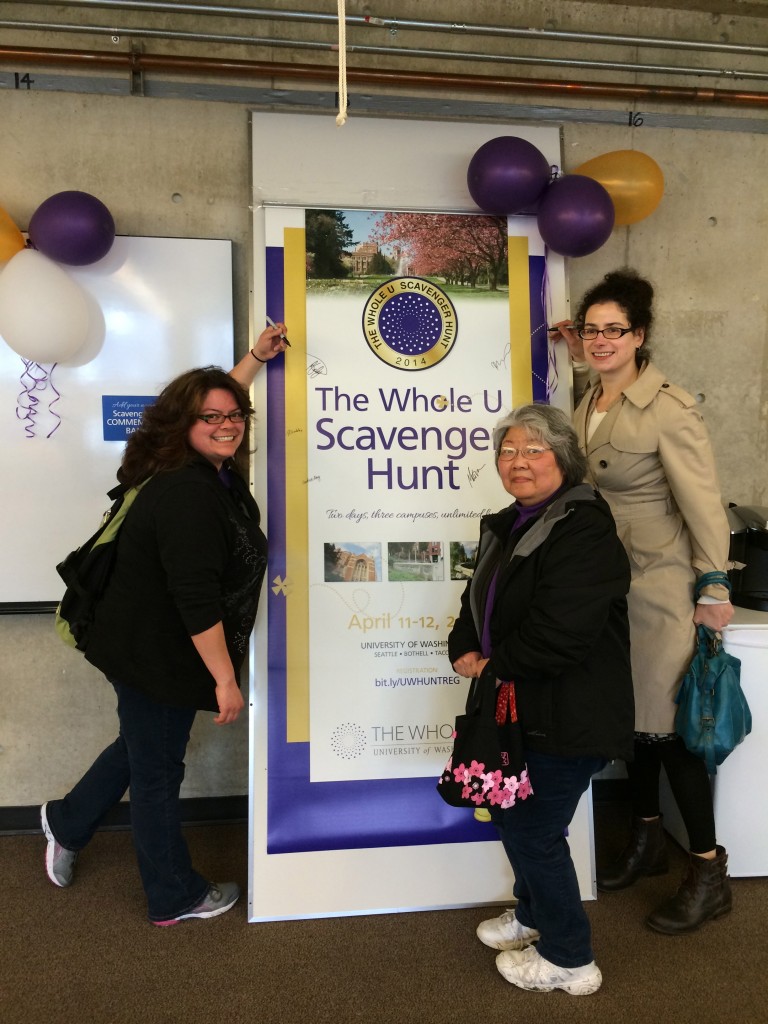 the largest team photo…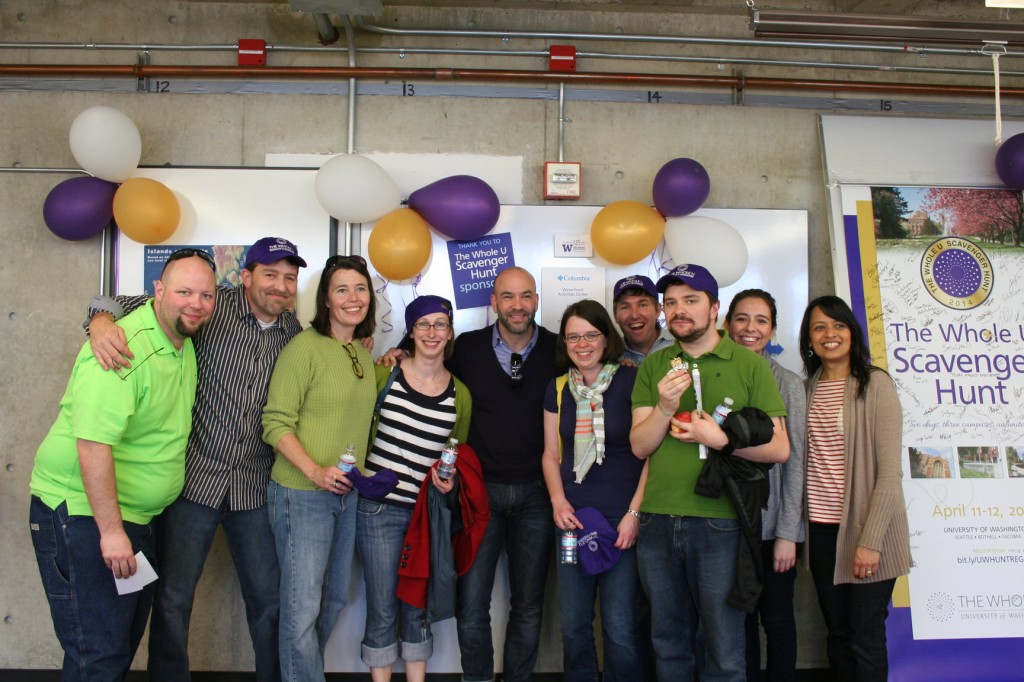 and the team that completed both the Tacoma and the Seattle versions of the Hunt: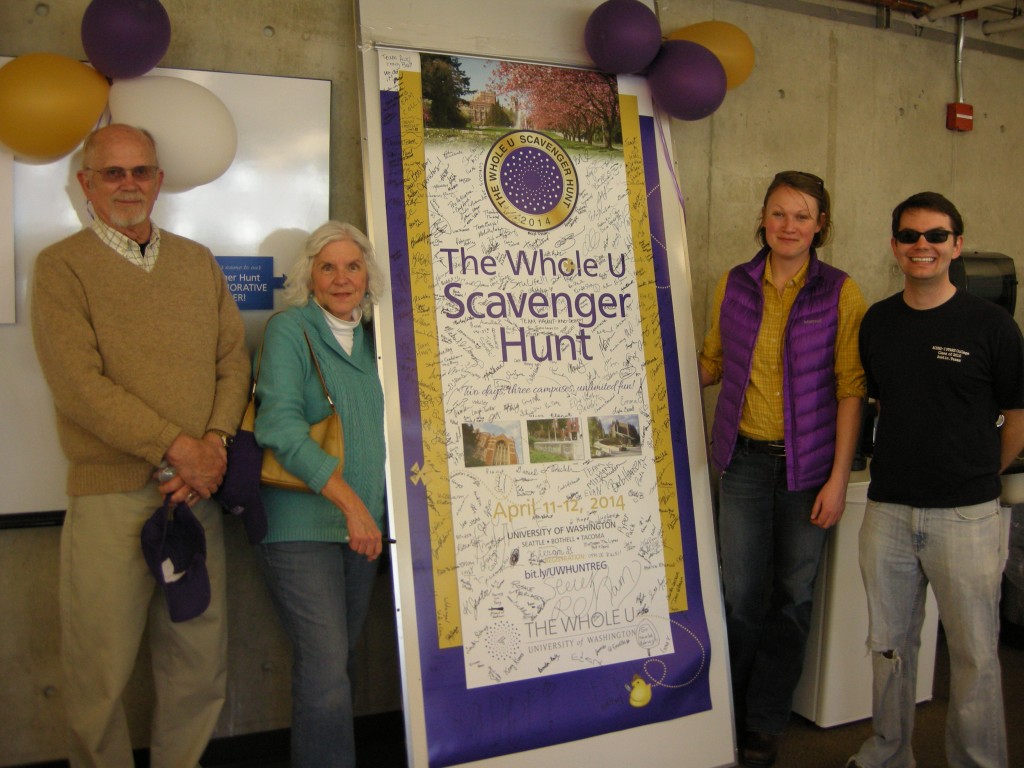 But everyone who completed the Scavenger Hunt is a winner to us!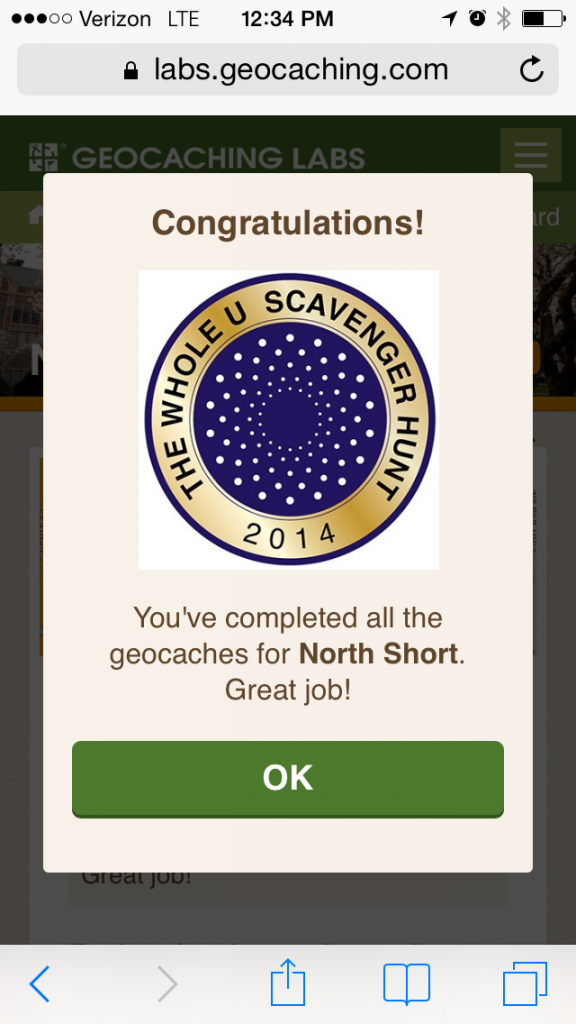 PRIZES:
On Thursday, Lauren and I invited teams to post about the Scavenger Hunt on Facebook, Instagram, or Twitter: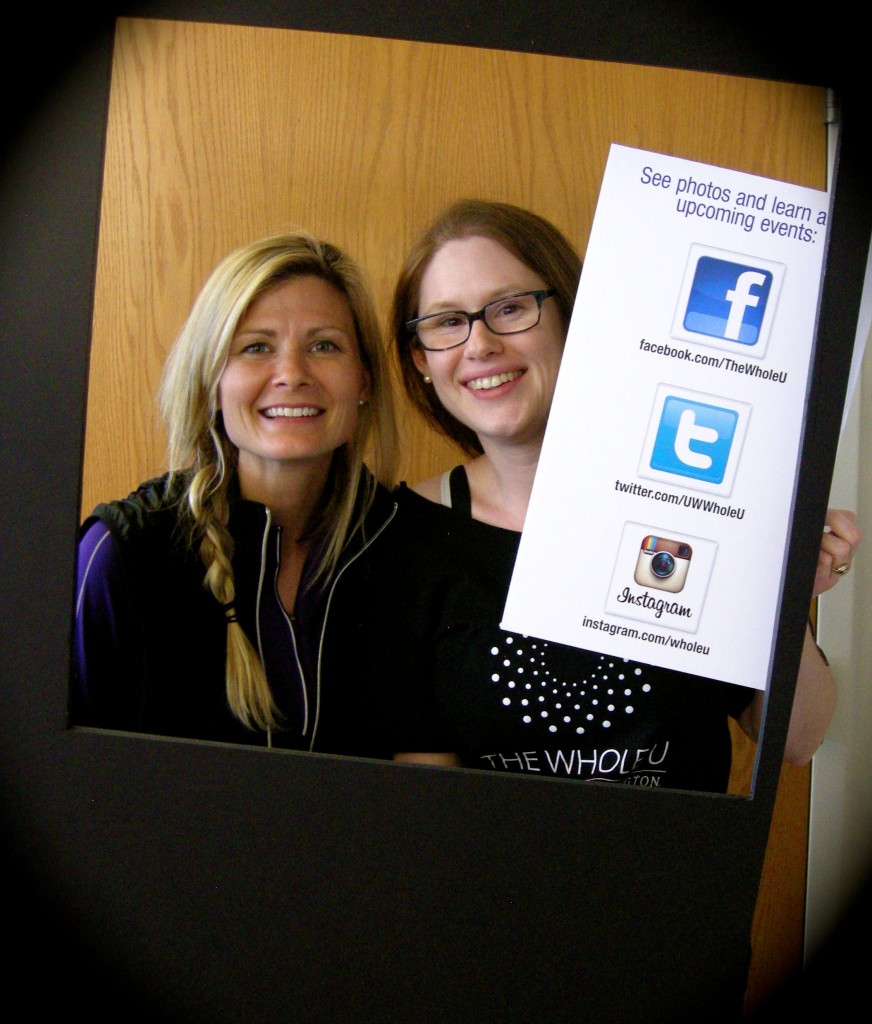 Well Team HCDE (Human Centered Design and Engineering) went above and beyond by live Tweeting their Hunt and sharing a collage on Instagram: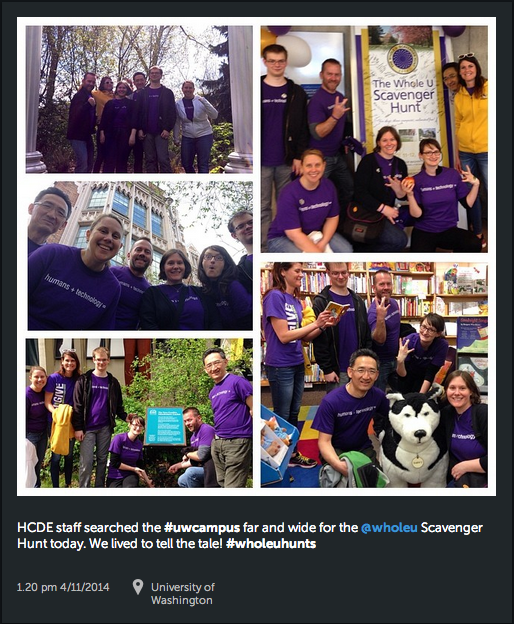 We felt like we were right there with you. Go HCDE! Other great team shots: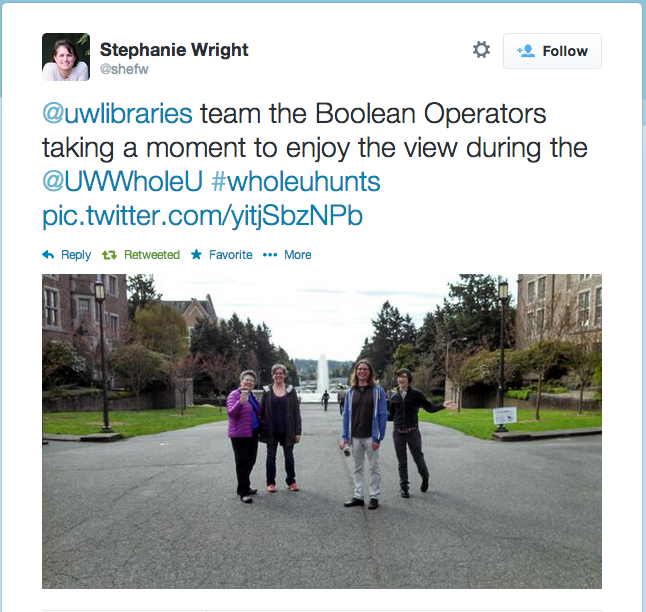 Team Boolean Operators from Libraries got out and about.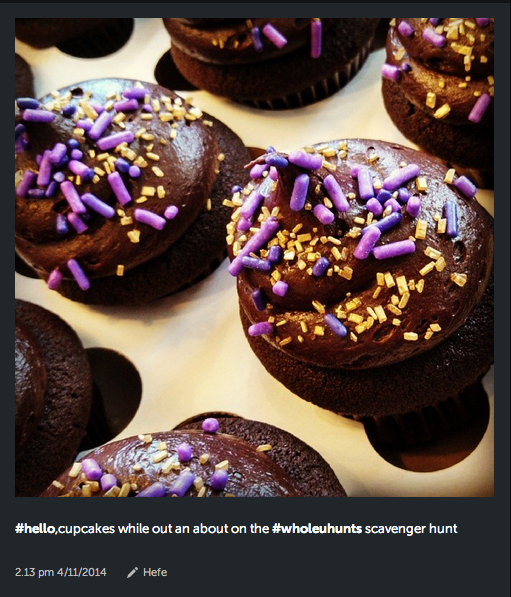 A team in Tacoma made us super jealous with the purple and gold cupcakes they found on their Hunt!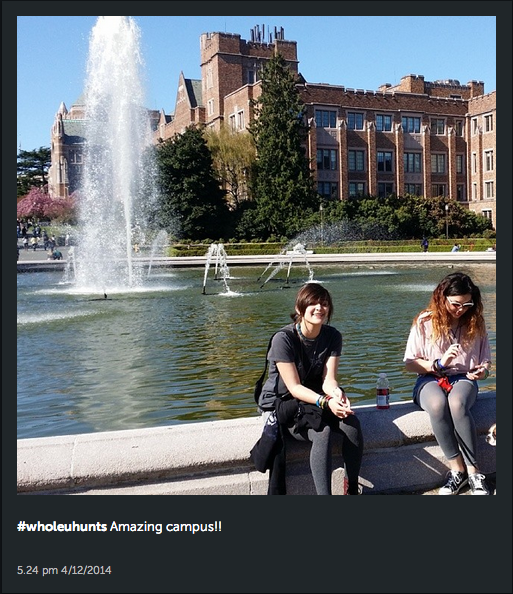 And many teams appreciated the beauty of campus. Thanks to everyone who shared their experience of the Scavenger Hunt on social media. Everyone pictured in this post will receive a Whole U tote bag!
Another contest was our search for a masterpeep. We had three dioramas on display in The Whole U office and invited teams to vote on their favorites.
3rd place: "Jeepers,Creepers, where'd you get those Peepers!" by the Eye Institute at Harborview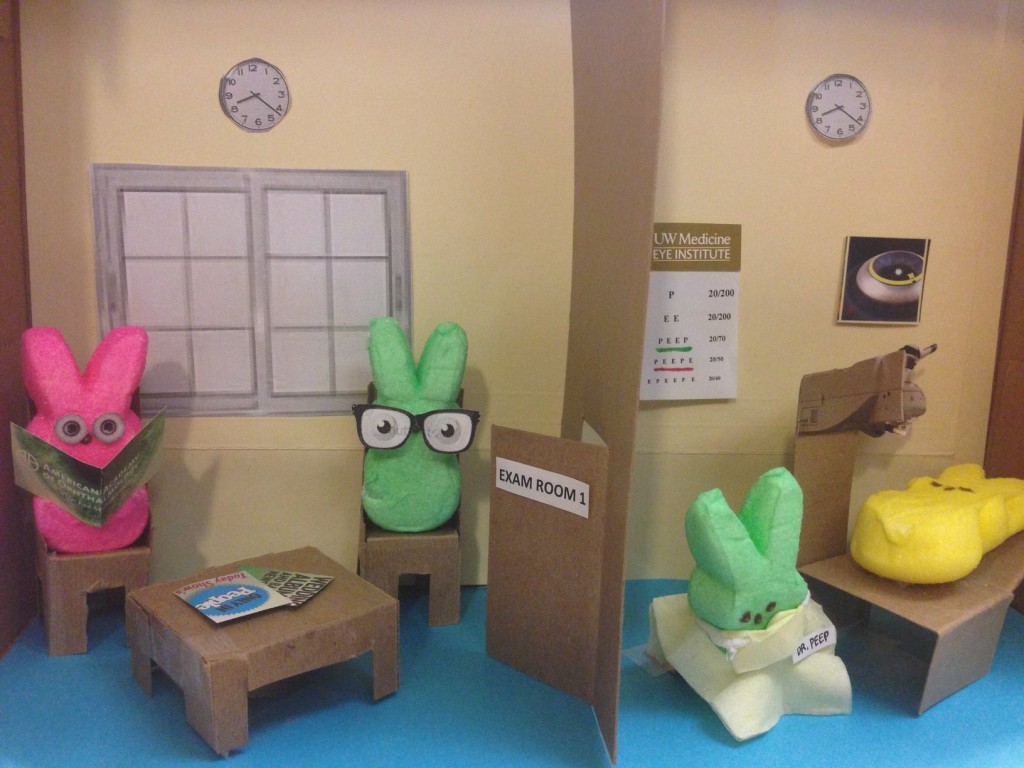 This one was my personal favorite because of the eye exam chart (but maybeI'm biased because I wear glasses). In any case, you win Whole U t-shirts!
2nd place: "Somebody start C-PEEP-R!" by HMC Cardiology Diagnostics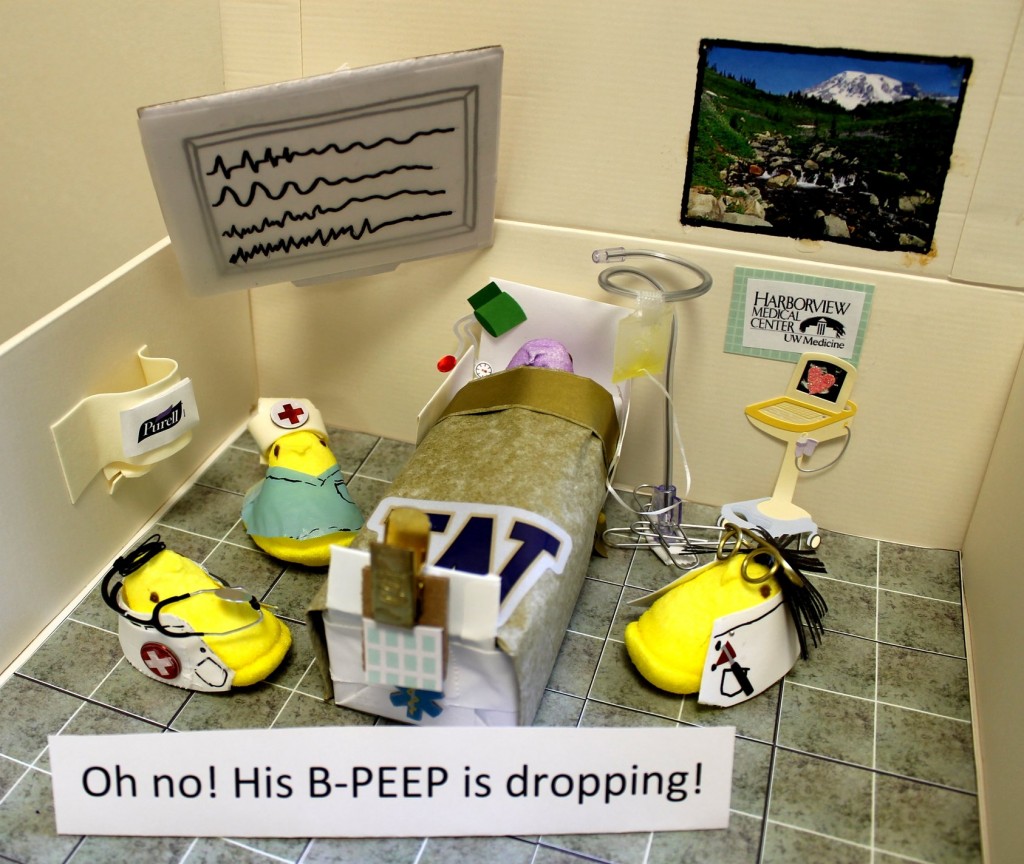 Coming in only 22 votes short of first place, voters really loved these puns. Your team wins a $25 Amazon gift card!
1st place: "Peep-a-boo! Spring in the Quad is here!" by UW Medicine Clinical Applications Education Team: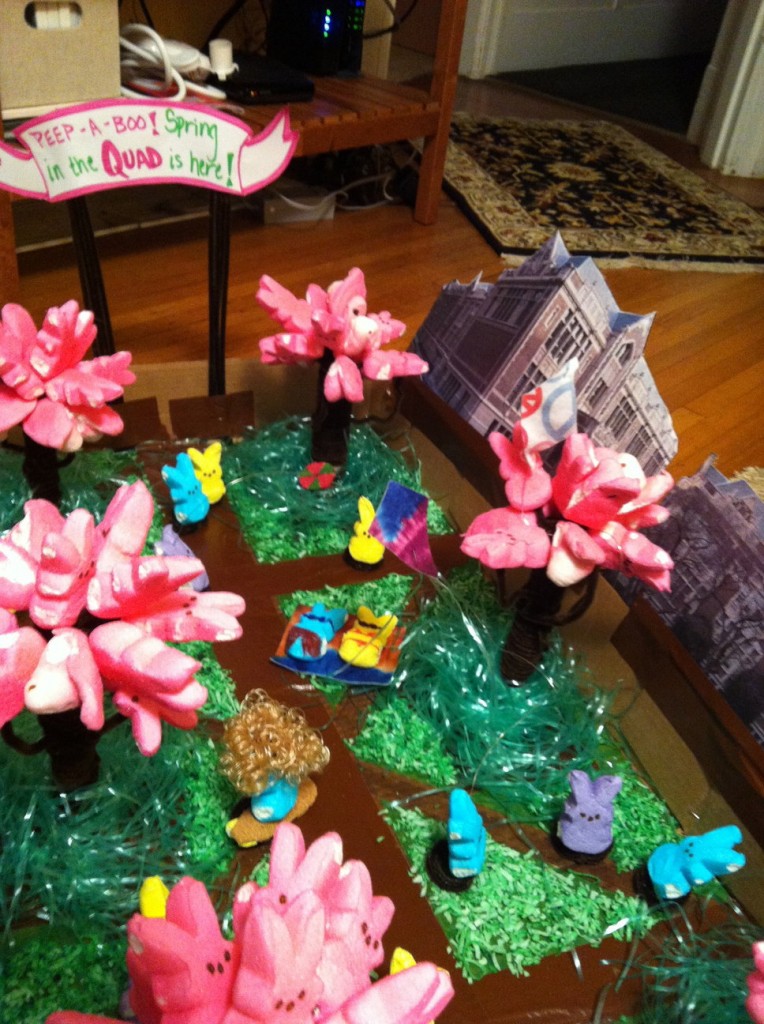 The level of detail was what put this entry over the top. Peeps sunbathing, playing Frisbee, flying kites…it's amazing. You've got to see the detailed pics. For coming in first, this team wins pizza and ice skating at Comcast Community Ice Rink! You definitely earned it!
Finally, the Scavenger Hunt Grand Prize is four tickets to UW Night at the Mariners on Saturday, July 12. Anyone who completed the Scavenger Hunt was elligle, but the winner is…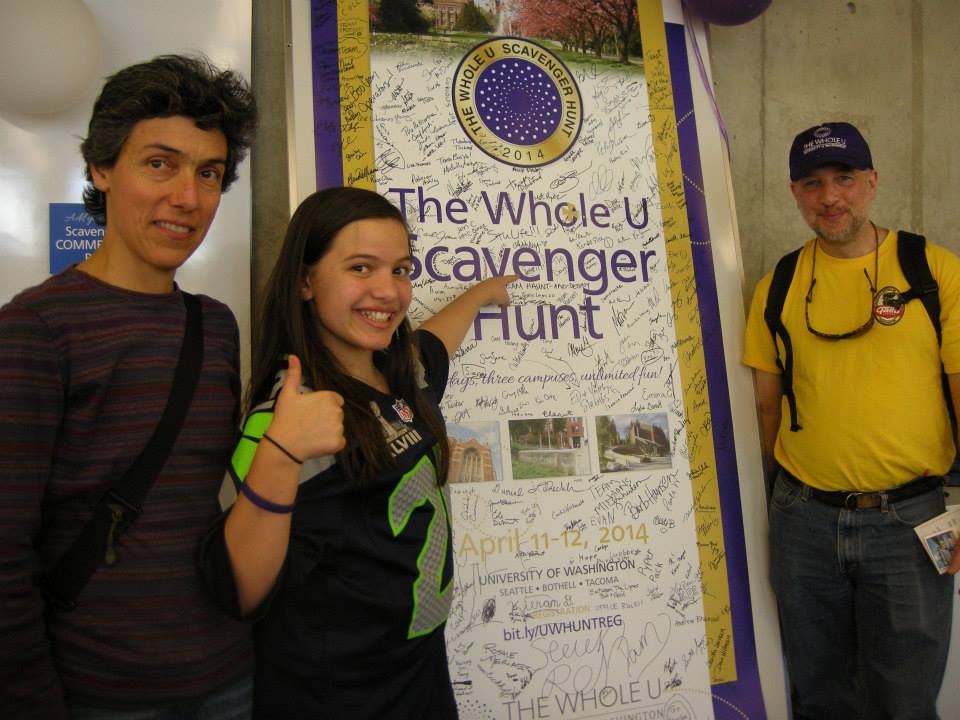 Dr. Daniel Pollack from the Department of Mathematics!
You and three friends or family members will get to cheer on the Mariners against the Oakland A's with UW leaders! Thanks to UWAA for donating this wonderful grand prize.
Did you enjoy the Scavenger Hunt? Should we do it again next year? Let us know your feedback in the comments below!