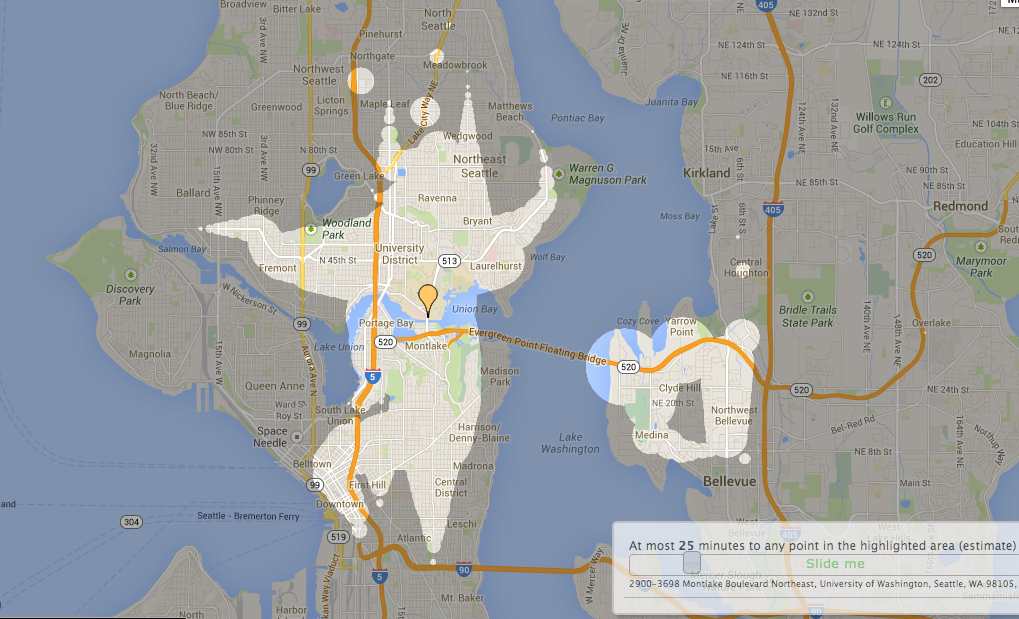 Transit Access: Today's Islands of Seattle
January's Islands of Seattle post was an engaging, if not slightly terrifying, reminder of our relationship to the planet and each other. But looking at the map made me wonder if we're not already island-hopping to some extent.
In fact, the map from that post looks a lot like something out of Mapnificent. Mapnificent is an on-line tool that maps out how far you can travel from your current location in a given amount of time via public transportation. For example, from Campus Parkway and 15th Ave NE, you and your U-PASS are just 30 minutes from Golden Gardens, the stadium district, or the top of the Space Needle (well, you still have to wait in line and buy a ticket, I suppose). Or you can get to the eastside with express services to downtown Bellevue, Redmond, and Kirkland. But what stands out to me on these maps are the 'islands' – standalone circles of access at the edge of your parameters, like the South Everett Freeway stop near Silver Lake or Juanita Beach Park. They're both within a 45-minute ride from campus, but these seem to push the boundaries of mobility in surprising ways.
Mapnificent isn't a trip planner, and the data it presents is pretty idealized (it assumes you can walk across water or through buildings to reach your destination, for example), but it reminds us that the U-PASS is a powerful tool. Click on the settings button to bring a bike along for the ride or to increase your comfortable walking time, and watch the islands grow into a continent, powered by your feet or your bike.
And this is just looking at King County Metro – it doesn't account for the other five transit agencies with fares covered by U-PASS. Thinking about all of those connections really made me wonder – how far can a person go on transit alone?
Someone else has thought about this more than I have, and while this may be too transit-nerd for most riders, it's kind of fun. Seattle to Vancouver? Seattle to Long Beach? Seattle to the Tri-Cities (and on to Walla Walla)? It's all possible with public transit, some legwork between transfers, and a lot of patience.
Unfortunately, your U-PASS would only cover the first leg of this 13.5-hour, 6-transfer transit trip from Seattle to Portland, and the 2-hour layover in South Bend, WA, isn't much of a selling point. But as much as I wouldn't want to take this trip myself, it's amazing that it can be done–that we've put a system together as a community that provides so much access and mobility to so many for so little cash.
But back in the realm of practical travel, I think the U-PASS in your pocket has that power, too –  to let you explore your community quickly, easily, and comfortably; to give you a chance to work or read or nap or chat with friends on your way to your destination; to get you out of your standard routine. When was the last time you went island hopping?
Related articles: Islands of Seattle
UW Commuter Calculator Helps You Compare Your Options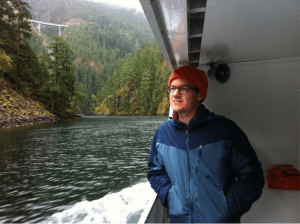 Zachary Howard is the Transit Program Operations Specialist at University of Washington Transportation Services. Favorite local transit routes include the 44, the Rapid Ride E line, and the King County Water Taxi. Other transit ride highlights from his life include: a ferry to the Isle of Skye, a funicular in Lisbon, and a gondola in Istanbul. He lives in Phinney Ridge with his wife and their cat, Dr. Peabody Scampers.