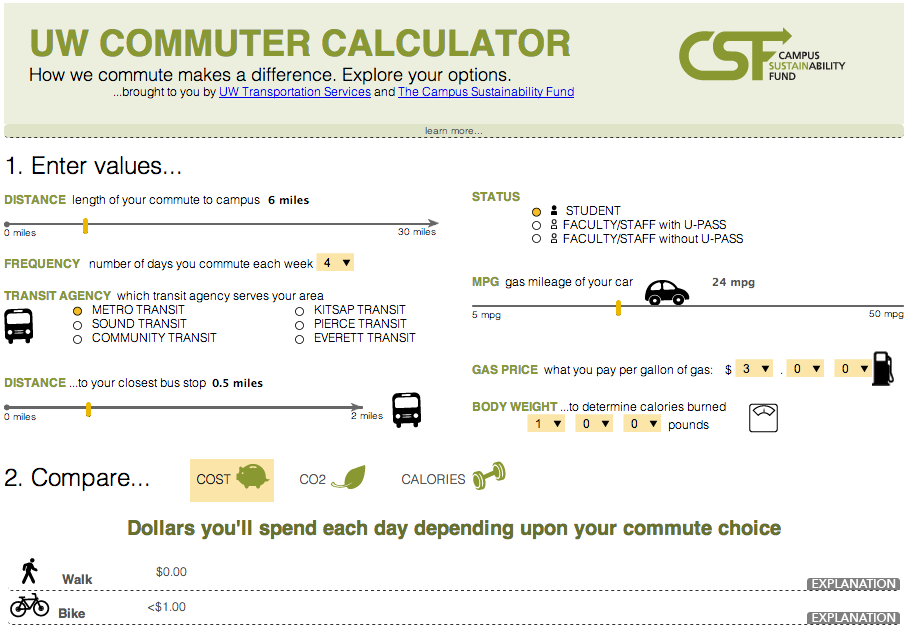 UW Commuter Calculator Helps You Compare Your Options
Have you ever wondered what difference it would make if you walked to a more distant bus stop, used a more gas efficient vehicle, or picked up one more person in your carpool or vanpool? With support from the Campus Sustainability Fund, a team of students and I developed a Commuter Calculator to answer such questions. The Commuter Calculator is designed to help UW commuters explore their options for getting to and from campus. The calculator makes it easy to compare costs, calories burned, and CO2 produced depending upon whether you drive, bus, carpool, walk or bicycle. It presents the data as a bar chart that makes it easy to see the difference (see the image below), and gives you additional information about how the calculation was made if you're interested.
The idea was partly inspired by my own commuting experience. I ride my bike to campus from Bainbridge Island and I love it.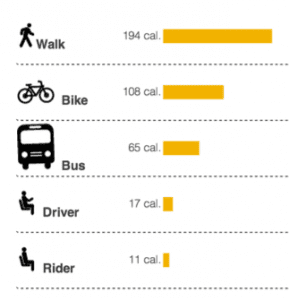 It enriches my life in so many ways. It keeps me healthy—I rarely get sick and, at 50, I have as much energy as I did 30 years ago (I'm just a little more concerned that if injure myself I'll take longer to recover). It keeps me happy—I find meaning in making a choice every day to get to work in a way that is more gentle on the planet and more respectful of my neighbors (less noise, less pollution, less traffic). I also like the feeling of experiencing the neighborhoods I ride through and the changes in seasons in a way that is richer than the experience from inside a vehicle. I've talked with other people who walk or bike to work and feel the same way.
I would love to see everyone benefit from their commute as much as I do. I recognize that there are real barriers to doing so. I also know from personal experience that sometimes the barriers are less real than they seem. When I was an undergraduate I commuted by bus from Bellevue. For the first 3 years, it didn't occur to me that bicycling was a viable option. Then one summer I joined my classmates on recreational bike rides and realized that it was possible to ride long distances and feel energized rather than an exhausted when the ride was over. I tentatively started riding longer and longer distances and I've been bicycling to work/school ever since.

So if you would like to challenge yourself to choose a commute option that feels better to your body, your pocket book and your conscience, use the Calculator as a source of inspiration. You'll find it at: green.washington.edu/commuter-calculator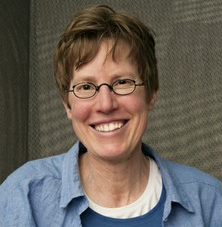 Marilyn Ostergren is a recent graduate of the PhD program at the Information School. She is a 3rd generation Husky and currently teaches Information Visualization and Visual Media at the Information School and the Department of Human Centered Design and Engineering.
Photo credit: Mary Levin