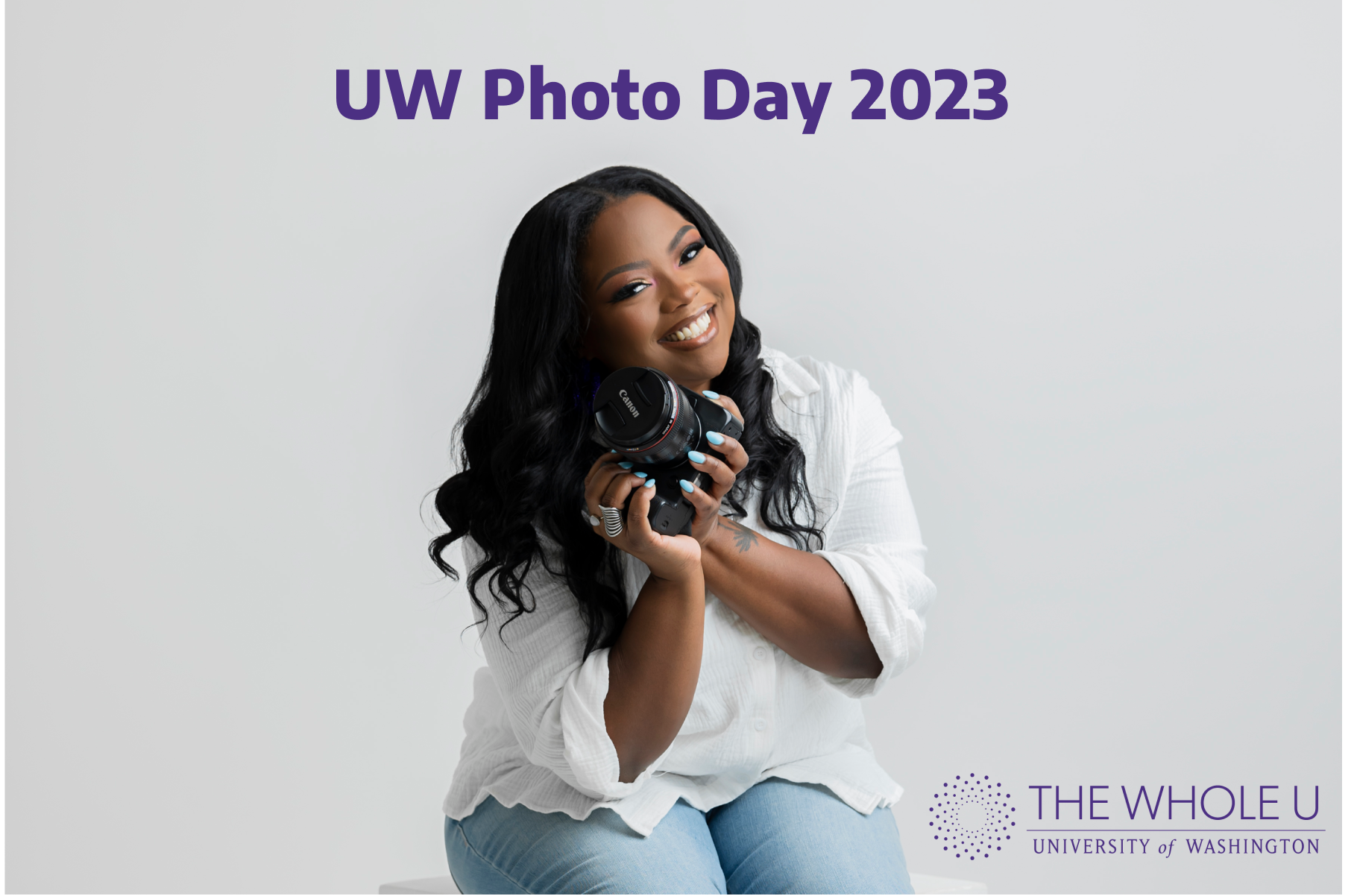 UW Photo Day: Meet your photographers
Join The Whole U for Family Weekend, Saturday, August 12 or Sunday August 13 from 10 a.m. – 2 p.m.! Gather your favorite people and furry friends and strike a pose for some of Seattle's top portrait photographers, then enjoy a free picnic on Red Square.
This year's photography locations include Drumheller Fountain, Suzzallo Library, among the cherry trees in the quad and the 'W' on Memorial Way.
Registrants are invited to bring their family, friends and pets to the Seattle campus for our free annual UW photo weekend. The beautiful, high-resolution portraits our photographers create are perfect for holiday cards, fireplace mantles and social media.
New this year is a free picnic lunch on Red Square for those interested! You and your family can choose from The American Grill burgers or dogs (vegan options available).
Note: Registration for this event is at capacity both days, but we hope to make additional spots available for those interested. Check back on our registration page to see if spots have opened.
Meet your photographers
The Whole U is delighted to introduce you to our 2023 UW Photo Day photographers, who share their time and expertise to help our community create amazing family portraits at iconic UW locations. Check out their work, follow their socials and consider recommending them to your family and friends.
Jason Luc of Project Bokeh Photography is an astronomy geek, occasional wanderer, idealist, adventurer and – if you'll indulge him – your guide in capturing and immortalizing lifelong memories.
His favorite thing about photography is capturing the right moment at the right time and immortalizing it.
"Photography is as much of a medium for conveying my perspective of the world as they are "bookmarks" for periods in my life. Each photo has a story. Pick out any one of them and I can tell you where I took them, when I took them and even how I felt when I took them. And I want to offer that experience to others."
See Jason's work and follow his journey: Facebook | Instagram | Donation Page
Jason will be photographing both days in front of Suzzallo Library.
---
Erica Daniels of Emazing Photography (pictured in featured image above) loves the aspect of freezing time and capturing families during some of the most important and special moments of their lives.
Erica is the mom of one spunky girl, a lover of life and an ambitious entrepreneur based in Seattle, with a spacious, light-filled studio in Lower Queen Anne.
"I like high energy and good vibes during photo sessions. I try to create a fun and unique experience for each client. I want you to love your photos."
A graduate of Garfield High School and the University of Washington, Erica started her photography business in 2013 and has been a full-time photographer since 2018.
See more of Erica's work on Facebook | Twitter | Instagram | Pinterest.
Erica will be photographing on Sunday, August 13 at Drumheller Fountain.
---
Kathryn Parrott of Kathryn Parrott Photography is a Seattle-based freelance photographer who loves shooting portraits, couples, families, events, boudoir and headshots. Her favorite thing about photography is capturing connection and having fun doing it!
"Photography is a way to tell your own unique story. It's a way to preserve a precious, fleeting moment in your life. Life is just a series of fleeting moments. And I'm honored to help capture your moments in an artful way. I want to know what lights you up! What kind of image would hold the most value for you? Let's chat about it and make it happen!"
Check out Kathryn's work on Instagram!
Kathryn will be photographing both days in front of the "W" on Memorial Way.
---
Lena Porter of Salt & Ink Photography is Seattle- and Tacoma-based family photographer. As a mother of 4, Lena understands the importance of capturing the fleeting seasons of childhood. She has a lifestyle approach to photography that focuses on connection by capturing real moments and emotions in the families she works with.
With over a decade of experience, Lena is passionate about providing a luxury experience for mothers that focuses on a stress-free experience. She enjoys spending time outdoors gardening, homeschooling her two younger kiddos, and adventuring with her two teens. At night you'll find her snuggled up in bed, watching Netflix with her dog and cat.
She looks forward to seeing the families of UW again this year and giving them a small taste of the experience she provides!
Follow Lena on Pinterest, Instagram and Facebook
Lena will be photographing both days at Drumheller Fountain.
---
Nadia Nguyen of 3rd Eye Photography loves learning everyone's story and building confidence in each person by showing them a beautiful and powerful version of themselves or bringing out a connection between a couple.
"When a couple or an individual leaves feeling more connected to themselves or each other with my help, I feel like I've left the world a little better."
"Whether you are celebrating a moment in time, giving your significant other a special anniversary gift, shedding a layer of the past and embracing a new version of you, I'm here for all of it."
Follow Nadia on Instagram
Nadia will be photographing both days on the Quad.
---
Gaby Cavalcanti of Gaby Cavalcanti Photography loves photographs because they are an honest expression of the present, the past and the future, all at the same time, and like people, no two photos are exactly the same.
"My background as a Fine Art Photographer helps me infuse an artistic vision into every photographic project I embark on. It also means that even in my commercial work I instinctively look for spontaneous moments and interesting angles.
"My favorite thing about photography? The fact that I get to capture moments that words can't describe "
Follow Gaby on Facebook, Pinterest and Instagram
Gaby will be photographing Sunday, August 13 on the Quad.
---
Andrew Lai of Andrew Lai Photography is a wedding, adventure, and portrait photographer, based in New York City and Seattle who values being present with people and capturing unique and authentic moments
"I believe that people always take precedent over pictures. I'm always looking to capture feeling and emotion, to create a distinguished look in all my photos, to capture you in your best form."
Apart from taking photos, I'm a climber, linguist, coffee enthusiast and traveler. Thanks for taking a look around my space! Feel free to reach out if you're looking for current rates or my resume.
Follow Andrew on Instagram
Andrew will be photographing both days on the Quad.
---
Kuria Jorissen of Frozen Sentiments Photography is the company founder and lead photographer. She graduated from the Art Institute with a BFA in photography and wrote her thesis was on what's called Astrophotography. Kuria's favorite pastime is to read art books and sketch in her travel journal. She's artsy and nerdy and has a large collection of working antique cameras.
Run by passionate nerds who really care about your enjoyment and the quality of their pictures, the Frozen Sentiment team specializes in photo booths, cosplay shoots and event photography.
Follow Frozen Sentiments on Facebook | Instagram | Pinterest
Kuria will be photographing both days in front of Suzzallo Library.
---
Alex Tran of Alex Tran Photography is a Seattle-based travel, fashion and food blogger and photographer at @alextran.photography.
"I picked up a camera in 2019 and never looked back. I started photography to improve my blog and now use my skills to help capture the perfect moments for brands, people, and families.
I love making people feel and look good. Capturing moments that are precious to you is most important to me because those moments with your loved ones are the ones that will last forever. I encourage people to be themselves and choose joy when approaching photography. "
Follow Alex on Instagram | Unsplash | Twitter. Alex will be photographing on Sunday, August 13.
Alex will be photographing Sunday, August 13 on the Quad.
---
Ashley Warren of Ashley Warren Photography loves how photography shows everyone the true beauty within themselves. In business since 2021 and the winner of several awards, Ashley has grown fond of shooting maternity, engagement and adventure sessions. A Pacific Northwest transplant to northeastern Texas as of June 2023, she still gets back to Seattle throughout the year.
"Photography is much more than posing someone and clicking a button. It is about building your confidence, learning to love and express every part of you, meanwhile capturing memories for each and every person."
Follow Ashley on Instagram
Ashley will be photographing both days at the "W" on Memorial Way.
---
Shylynn Dewey of Kitsap Maternity Photography* loves taking pictures because she loves capturing moments for people to look back on. A mom, chocolate lover, book worm and Star Wars fan, she loves to do "Mom and Me" sessions.
*Note: this link takes you to an Instagram page that requires account sign-in
Shylynn will be photographing both days at Drumheller Fountain.
---
Dani Eden of Dani Takes Great Photos loves being the magician behind the magic of photography.
"Photography is magic and I get to be the Magician! I can freeze time with the tip of my finger.  I can immortalize the joy of family and the beauty of nature.  By looking at this charm of paper and ink or electric squares, I can send someone to a different time or place.  Photography is magic, but most importantly it's my magic. "
A photographer and graphic/document designer located in First Hill, Seattle, Dani is looking to help her community and spread a little joy in the world.
Follow Dani on Instagram
Dani will be photographing Saturday, August 12th on the Quad.
---
Paul Williamsen of Reflective Light Media has an unyielding passion for portrait and family photography as well as being outside exploring all the fun/new things to see in the great PNW.
"Portrait and family photography allow me to document moments that celebrate the beauty of relationships and the joy of being together. The natural setting of the outdoors complements the genuine emotions, creating photographs that are not just pictures but memories that will last forever."
Besides photography, I am a huge Seattle Sounders fan, and love going on adventures with my 2 year old daughter. I love seeing the world through her eyes!
Follow Paul on Instagram
Paul will be photographing both days on the Quad.