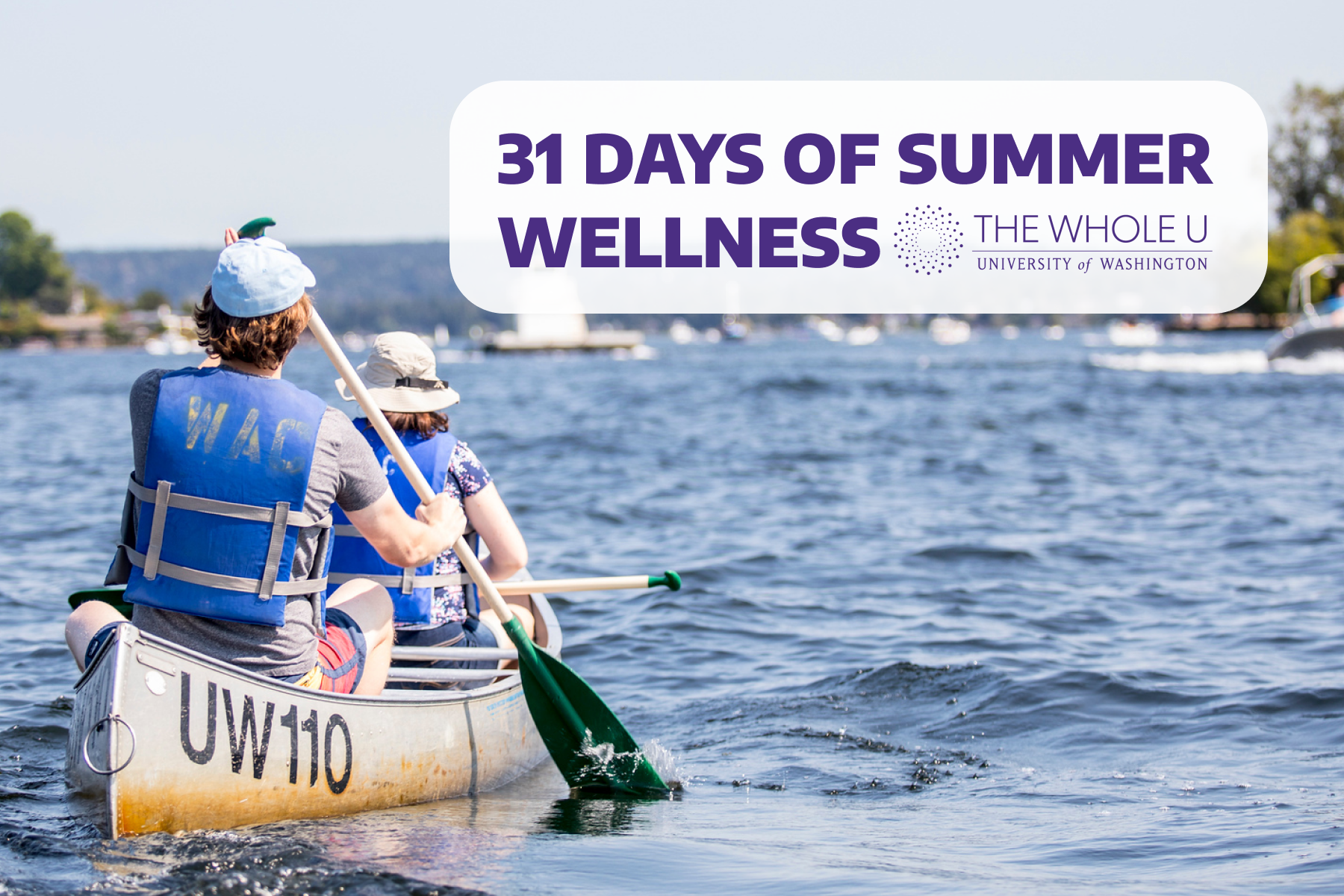 Complete a checklist for holistic well-being
Summer is the perfect season to slow down and prioritize your personal well-being and health. Whether you've been dealing with stress or craving more movement and nutrition, The Whole U's Summer Wellness Challenge is the ideal first step to incorporating more self-care into your day.
The Summer Wellness Challenge begins on August 1. Each day, participants will focus on a small step to expand wellness in eight key areas: Career development, sustainability, finances, mindfulness, nutrition, physical fitness, community and connection.
---
---
Here's 7 reasons why you should participate:
1. Try something new
With 31 different tasks to complete, chances are high that you'll get to try something new. Participate in the challenge and you may learn something that inspires you, encourages you to face a new challenge or expand your interests. With 8 different wellness categories in the challenge, there's sure to be a new task to your wellness journey that piques your interest!
2. Build habits
Incorporating self-care into your everyday routine takes practice and consistency. This challenge lasts 31 days and is relatively simple; pick one item per day and check it off. By the end of 31 days, you'll have refreshed your own habits of wellness and perhaps find a new rhythm.
3. Quality time
Whether you are participating by yourself or with others, you have an opportunity to be intentional when taking the time to complete your daily task. This is one of the best things we can do for ourselves and our relationships with others. So, dive in, and set aside that time for self-reflection or for shared experiences as you complete the challenge.
4. Support your mental health
Each summer as our schedules fill to soak in the sunshine, mental health can take a back burner in our list of priorities. While this season may naturally boost our mental health, it's still an ideal time to be building strong routines to support your resilience. This challenge will encourage you to prioritize mindfulness, which supports and boosts your mental health.
5. Support your physical health
Longer daylight hours and better weather makes summer the ideal time to get outside and move! We all know it's a bit easier to get outside when the sun is shining. This challenge will offer various forms of movement to support your overall physical health.
6. Connect to the world around you
Connection is an important part to holistic wellness and can often be the driving factor in consistency and satisfaction. Whether you are looking to connect to your loved ones, your community or our planet, this challenge will offer a variety of ways to deepen your connection.
7. There's nothing to lose and everything to gain!
The 31-day Summer Wellness Challenge offers a variety of ways to practice wellness without being overwhelming. It's perfect for this season as summer can be busy and hectic. This is our way of helping you to prioritize wellness in a no-frills, approachable way.
We hope you'll join us beginning August 1. Register today as an individual or gather a team! Participate with your work colleagues, family or friends and see which of the 31 activities inspires your wellness journey!
Thank you to AT&T and BECU for sponsoring The Whole U program.