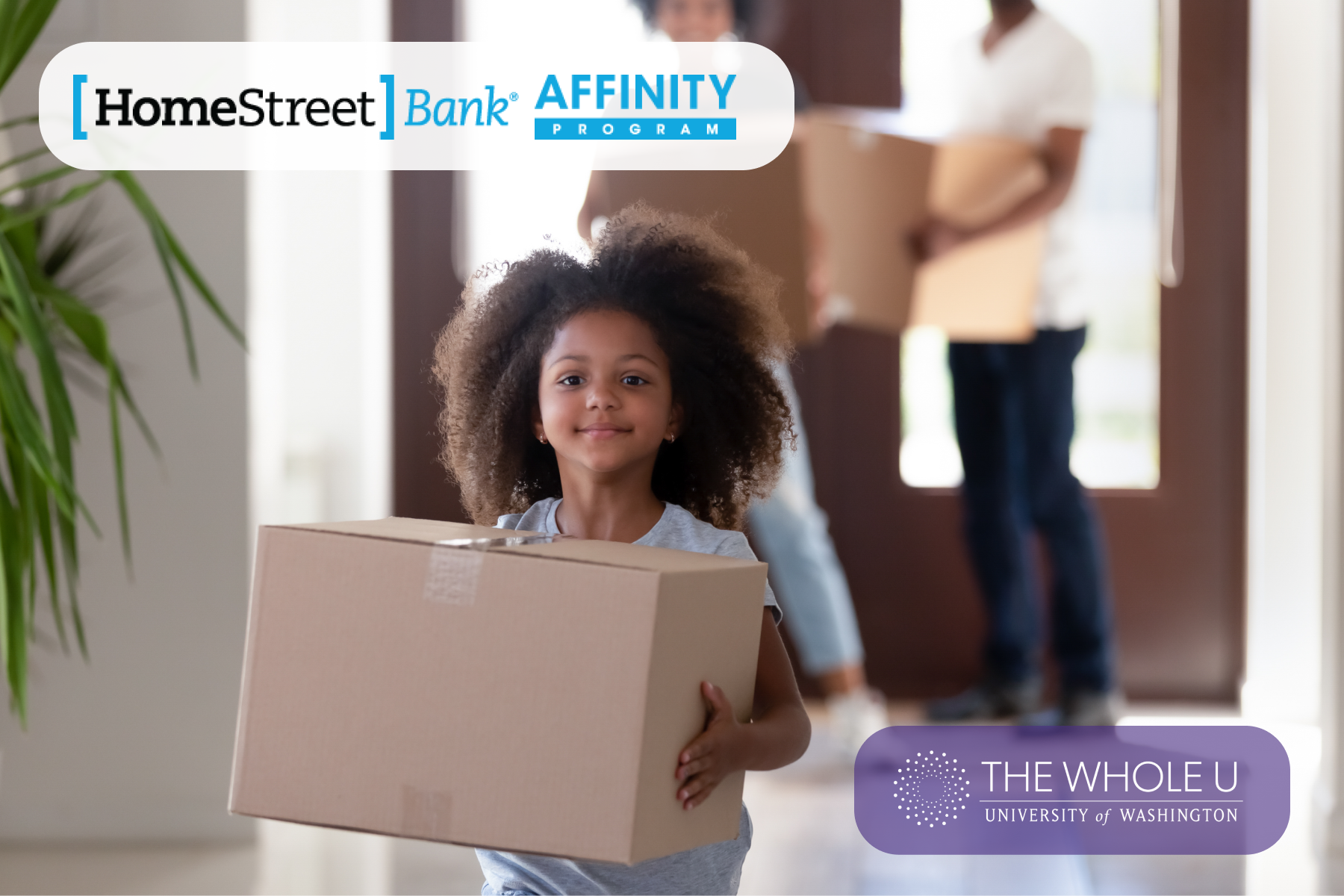 Get to know your home ownership benefits with HomeStreet Bank Affinity Program
Whether you are looking to rent an apartment or buy a first home, finding the right type of housing in Seattle can be a challenge. The Whole U partners with UW Community Relations to bring you options and resources to fit your budget level. One of the great resources available is through HomeStreet Bank's Affinity Program.
For those who are interested in buying or re-financing a home, this partnership can be very beneficial and help you to save thousands of dollars!
What is the HomeStreet Bank Affinity Program?
The HomeStreet Bank Affinity Program offers exclusive mortgage benefits as a closing cost savings of 0.5% of the loan amount on a home purchase or refinance and up to 1% discounted services of the purchase price from participating real estate agents to UW employees. These cost savings will be applied to your closing costs in the form of a credit.
The Affinity program benefits are only available through a HomeStreet Bank Affinity Loan Officer. To contact an Affinity Loan Officer and to learn more visit: www.homestreet.com/uw or call 206.628.0207.
Here's an example of what those mortgage savings could be:
Affinity Program savings on a 5%-down, conventional fixed-rate loan

Who's eligible?
In addition to UW employees, the HomeStreet Bank Affinity program mortgage benefits are available to immediate family members! That means a spouse, child, parent, brother, sister, grandparent, grandchild, step-parent, step-child, step-brother, or step-sister of the employee qualify too!
Down-payment assistance programs
We offer a wide variety of down payment assistance programs from deferred silent seconds, home grants and community land trusts for first time homebuyers.  A first-time homebuyer is considered a person that has not been on a loan or title of a property in the past 3 years.  We work in partnership with some of the state's nonprofits to help buyers with other down payment resources.
Many of our programs are statewide and each county has specific programs tailored to their residence needs. Many of the larger down payment assistance programs are income or geographically restricted in Washington State.  If you have owned a home in the past three yours and find you need assistance with some down payment or closing costs, we also have a down payment assistance for you.
Wanting to learn more? Join us and The Whole U on Wednesday, June 14 at noon for a webinar on down-payment assistance.
Homebuyer classes for down payment assistance
Considering buying a home? Attend an upcoming free homebuyer class. Learn how to build a budget, prepare your credit, and get a comprehensive overview of the home buying process from a HomeStreet Bank Affinity loan officer and other real estate professionals before you start looking for a home.
This class also offers a certificate of completion from the WA State Housing Finance Commission that is good for 2 years if applying for down payment assistance.  Spouse and partners are strongly encouraged to attend, and the classes are available for immediate family members as well. Classes are (almost) every month and you must register to attend.
To register email: HTHL@Homestreet.com.
Educational webinars
Whether you need to work on your credit, you're buying your first home or just need a refresher, our monthly webinars specific for UW faculty and staff are here for you! Learn about the multiple benefits of homeownership, the basic steps in home buying process and how to establish your team to assist you during your home buying experience.
The Affinity program provides monthly webinars for The Whole U the second Wednesday of every month at noon. Register to attend on The Whole U's event page. 
You can get your questions answered live or schedule an individual home buying consultation (virtually, via telephone call or in person) to discuss specific details as they relate to you. Topics include: Buying a Home, Buying a Home with Down Payment Assistance, Understanding your Credit, Buying a Condo, Upsizing or Downsizing your Home and more!
These webinars are always recorded and viewable on your own schedule from The Whole U YouTube. Check out our library consisting of over 15 HomeStreet webinars!
Additional free financial fitness tools
Get to know your UW landing page, www.hometreet.com/uw, with a new financial fitness article at the first of every month addressing current topics related to home buying education and trends. By scrolling down the page, you will also see how to access our education center for more helpful info too.

HomeStreet Bank Affinity Program is here for all UW faculty and staff. Visit our website: www.homestreet.com/uw to contact a HomeStreet Bank Affinity Loan Officer. You can also call 206-628-0207, or scan the QR code to receive these savings.