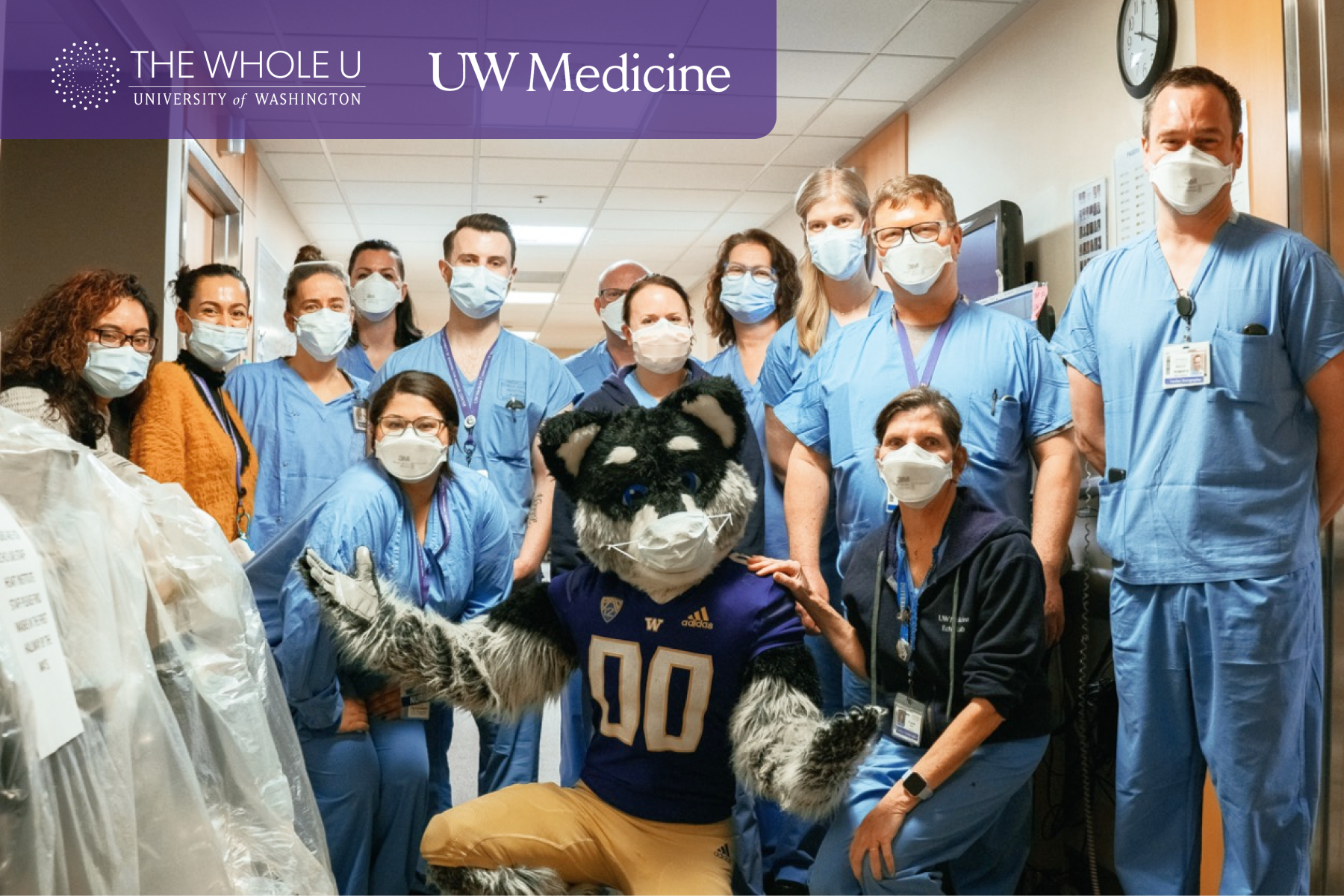 Championing staff-directed change: UWMC's Healthy Work Environment Workshop Series
In 2022, University of Washington Medical Center (UWMC) launched a system-wide initiative called the Healthy Work Environment (HWE) Workshop Series. This initiative involved a series of four workshops that provided education, guidance and collaboration to healthcare teams that were interested in improving the health of their work environments.
Based on the American Association of Critical Care Nurses' (AACN) Healthy Work Environment (HWE) standards, the participating teams tackled projects aimed at improving a variety of common but troubling issues facing healthcare environments in the wake of COVID-19, such as staff burnout, job dissatisfaction and increasing attrition in the workplace.
The program has completed a first round in 2022 and this January began the 2023 installment again under the leadership of Cheri Constantino-Shor, Director of Professional Engagement and Nursing Excellence at UWMC Northwest and Caron McMahon, Director of Ambulatory Care Nursing for UW Medicine and UWMC Northwest.
The goal of the workshop series is to recognize and acknowledge the state of our healthcare environment, including the impact of the COVID-19 pandemic on our already struggling healthcare teams, and to use an evidenced-based approach to work toward actively improving the team environments.

– Cheri Constantino-Shor, Director of Professional Engagement and Nursing Excellence
We spoke with the program's first participants to highlight the incredible impact this program has had at UWMC. Their commitment to improving their workplace can inspire everyone at the UW and beyond, and there are many takeaways to be shared from their successes.
What is a Healthy Work Environment?
For those who are unfamiliar, healthy work environments are:
"…safe, healing, humane, and respectful of the rights and contributions of everyone involved…patients, families, nurses, and all the healthcare team. They are environments that are collaborative, and patient focused, and where nurses and all healthcare team members can provide their optimal contribution and derive fulfillment from their work."
Linda Cassidy, PhD, RN, from the American Association of Critical-Care Nurses      
Healthy work environments lead to:
Less burnout
Less intent to leave jobs
Less job dissatisfaction
Lower rates of absenteeism
Improved retention rates
Lower patient mortality rates
Improved patient satisfaction
Improved safety outcomes
Naturally, incorporating the HWE framework is a win-win for healthcare systems. At UW Medicine, Healthy Work Environments are a tenet of the organizational values.
Kicking off UWMC's HWE Projects
The UWMC program begins with a team assessment of the AACN's six HWE evidence-based standards:
Skilled Communication
Clinicians must be as proficient in communication skills as they are in clinical skills.
True Collaboration
Clinicians must be relentless in pursing and fostering true collaboration.
Effective Decision Making
Clinicians must be values and committed partners in making policy, directing and evaluating clinical care and leading organizational operations.
Appropriate Staffing
Staffing must ensure the effective match between patient needs and nurse competencies.
Meaningful Recognition
Healthcare staff must be recognized and must recognize others for the value each brings to the work of the organization.
Authentic Leadership
Healthcare workers must fully embrace the imperative of a healthy work environment, authentically live it and engage others in its achievements.
After assessment, teams establish a project for an area needing improvement, followed by a post-project assessment. All steps in the program are led within the unit itself, with unit staff participation being essential to project success.
Supporting staff-led changes
A central tenet of the program is that each participating unit is led by a HWE Champion who is inspired to make change within the unit. These champions are high performing, engaged employees who pass their enthusiasm onto others and prioritize relationship building and trust within their units. Unit leadership is involved in the projects in a support role, assisting the Champion and the unit's project work as needed or wanted.
The program is designed to support and facilitate HWE improvements without overburdening Champions who commit to the program. Champions are led through high-quality, content rich workshops and are provided support on an ongoing basis.
Here are a few examples of the more than 30 teams who participated in the workshop series in 2022:
Outpatient Pharmacies: Informal praise within distanced teams
For outpatient pharmacies, getting involved in the HWE projects was a no brainer: already spread across four UW Medicine locations with little opportunity for team building, the impact of the COVID-19 pandemic resulted in pharmacy staff being further siloed.
Pharmacy manager Shakeel Bandali and technician manager Pamela Slack jumped at the opportunity to better understand the work environment needs of their entire division. After conducting the HWE survey and facilitating brainstorming sessions, Pamela found that staff overwhelmingly wanted to improve meaningful recognition and true collaboration.
Pharmacy staff shared that to them, meaningful recognition meant more visible recognition across the entire pharmacy organization, delivered in an informal and approachable way in which all levels of staff were encouraged to give and receive recognition.
Pamela and Shakeel's solution was simple yet highly effective: they launched the use of the Praise extension in Microsoft Teams and built a dedicated virtual space for Praise to be shared. Given the disparate work sites for pharmacy staff, it is no surprise that Microsoft Teams was already in use for staff communications. Until the HWE project, however, Teams use was mostly reserved for official business communications.
Within the division's Teams channels, Pamela's newly-introduced Praise extension allows users to interact in various ways—they can view all Praise given across the organization, view only praise they've received, or only praise they've given. Users can also set reminders to give Praise on a regular cadence.
Pamela planned an official launch and trained staff on how to use the extension during a staff all-hands. She shared that staff immediately jumped right in, and Praise continues to be used widely and on a regular basis. Sending a Praise only takes a moment, but it can make a big difference for the person receiving it.
Pamela's major takeaway from participating in the project is just how important it is to remember that small, informal recognition goes a long way in instilling a culture of appreciation and respect. Staff in the organization report feeling more recognized, heard, seen, and connected to one another. Shakeel shared that these small interactions are slowly but surely melting the ice from a few years of extreme burnout and disconnect.
Pamela and Shakeel credit the success to the low buy-in time and the infectious energy that spread across the organization as more and more staff gave and received Praise.
UWMC Ambulatory Float Team: Defining formal recognition
The UWMC Ambulatory Float Team provides critical staffing coverage for all UWMC clinics. Assignments can change with little notice, yet staff on the team are highly skilled in adapting to new environments. Like the outpatient pharmacies, the float team is often spread across floors and units working separately.
Registered nurse Jenna Shiosaki shared that she got involved in the HWE projects following the encouragement of her nurse managers. After surveying the department and reviewing the results, Jenna determined that the area needing the most improvement was formalized award and recognition.
Jenna's brainstorming sessions with staff clarified what they felt distinguished formal recognition from informal recognition. For formal recognition, most staff preferred something tangible with an official presentation, and if a gift was included, ideally it be related to the University. One thing Jenna noticed was that each person has their own preferences for receiving formal recognition. That's why in designing the solution of an Employee of the Quarter Award, the official award presentation is planned with the recipient's input.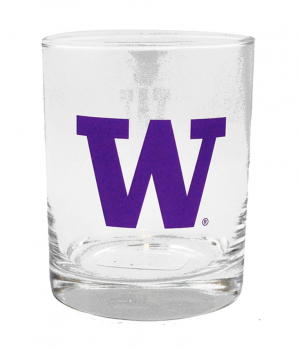 Jenna setup a nomination process allowing both anonymous and identified nominations. For the first awardee in summer of 2022, the recipient preferred to have an in-person presentation to the unit and the award be included in the unit newsletter announcement. The unit was able to use some funds to print a certificate and get the awardee a nice set of UW glassware. Jenna is still working through the award process, with plans to offer the award quarterly for one full year before having staff complete a post-project assessment.
For now, Jenna shares the impact the HWE project has had on her own workplace experience. She says she feels encouraged to be more social with teammates, going out of her way to connect when the opportunity presents itself. She can sense others on the team engaging more thoughtfully and seeking out positive interactions.
Jenna highly recommends the HWE program to other UWMC units. Participating helped her to remember that some of the challenges her unit faces are also faced across UW Medicine and when coming together, everyone is stronger in finding solutions.
Breast Surgery Clinic: Fostering true connection and appreciation
For the Breast Surgery Clinic at UWMC-NW, the HWE projects came at the perfect time. After a few years with high staff turnover, the clinic had finally filled its open positions and had an opportunity to redefine their work environment.
After initially surveying staff, it became clear to Brandy Jenkins, registered nurse and assistant manager of the clinic, that the team needed to focus on increasing connection among the staff and meaningful recognition opportunities.
To the unit members, true connection meant having more authentic moments together to build relationships. The first change the unit made was incorporating daily huddles to keep everyone informed and involved. Brandy shared that in a small clinic, consistent communication is very important.
The clinic also standardized a weekly staffing update. This update is sent to all clinic staff and provides an overview of the expectations for the week, who's working which shifts and a kudo recognizing a team member for the week.
The next part of the project was to further build out meaningful recognition. Team members shared that they preferred authentic human experiences, not formal thank you cards or gifts. Brandy started what the clinic calls the Awesome Jar. It's on display in their break room and team members fill out cards for one another. They are read aloud at the all-staff meetings and promote intra-team recognition.
Brandy shares that these small changes have transformed the relationships among staff. There is a spreading culture of gratitude, with team members more willing to help one another out when needed. This year was the first time the clinic participated in the Breast Cancer Walk together and ideas for connection are always flowing. Staff chose to participate in a Secret Santa in December and a Thanksgiving potluck in November.
As for her main takeaway, Brandy says that the more you get to know the people you work with, the more willing you are to help one another and extend grace. The HWE project showed Brandy that true collaboration stems from personal connections. Understanding how people work and what they need and want from one another is a key step to building rapport.
5NE at UWMC: Auditing the impact of existing recognition programs
5NE at UWMC is a specialized unit with about 90 staff that work primarily with advanced heart failure patients or patients recovering from cardiothoracic surgery. Julie Navarro, a registered nurse who's been at UW for over 20 years, was particularly excited to start her unit's HWE project after completing the same survey on the unit a decade ago.
After conducting the survey this time around, Julie was thrilled to see that overall 5NE scored high in all HWE categories. Out of all the sections, the one that could use the most improvement for a potential project was, once again, meaningful recognition.
The results were discussed in an all-staff meeting, and then Julie started an audit of the existing recognition methods. She says that even when you think you're doing a lot of recognition, odds are you need to be doing more because people can never get recognized enough.
Julie found that while staff enjoyed the variety of ways the unit showed recognition already, there could be a discrepancy in who was receiving praise or how they received praise. This led her to create a recognition database including information on each staff member. The database collected what meaningful recognition looked like to that person and the ways in which they had been recognized before.
From here, Julie can see who hasn't gotten as much recognition or if how they perceive meaningful recognition was different from the way in which they were previously recognized. There is still work to be done to see how this database can be used in the future for 5NE, but it's helped Julie and the unit leadership to be more intentional with recognition.
Julie also began to solicit thank you notes from patients by using QR codes in patient rooms. If a patient has a great experience and wants to share appreciation, they can scan a QR code to easily submit their note, which is then shared in a manner consistent with the recipient's preference.
Julie's biggest takeaway? It's important to remember that everyone is unique and taking the time and effort to understand people individually can have a big impact on your workplace culture. While 5NE had not finished a post-survey at the time of our chat, Julie was looking forward to continuing recognition work on the unit and seeing the results.
What we can learn from the HWE Projects
There are many takeaways from the HWE projects, most notable that people want to be recognized for their efforts. It goes a long way for leaders to be intentional about recognizing teams in a personal way that values each person's identity, unique contribution and sense of self. Alongside leaders, all staff have a meaningful role in sharing praise and advancing connection.
The benefits of improving recognition programs outweigh the time and effort it takes to create them. There are many simple yet highly effective ways to show both informal and formal recognition.
The HWE projects have been instrumental in formalizing much needed and thoughtful recognition programs across UWMC, leading to better retention and satisfaction at work.
Are you at unit or team at UWMC interested in starting a HWE project? You can learn more about the 2023 cycle by contacting Cheri Constantino-Shor at cheric@uw.edu or Caron McMahon at caronmc7@uw.edu.