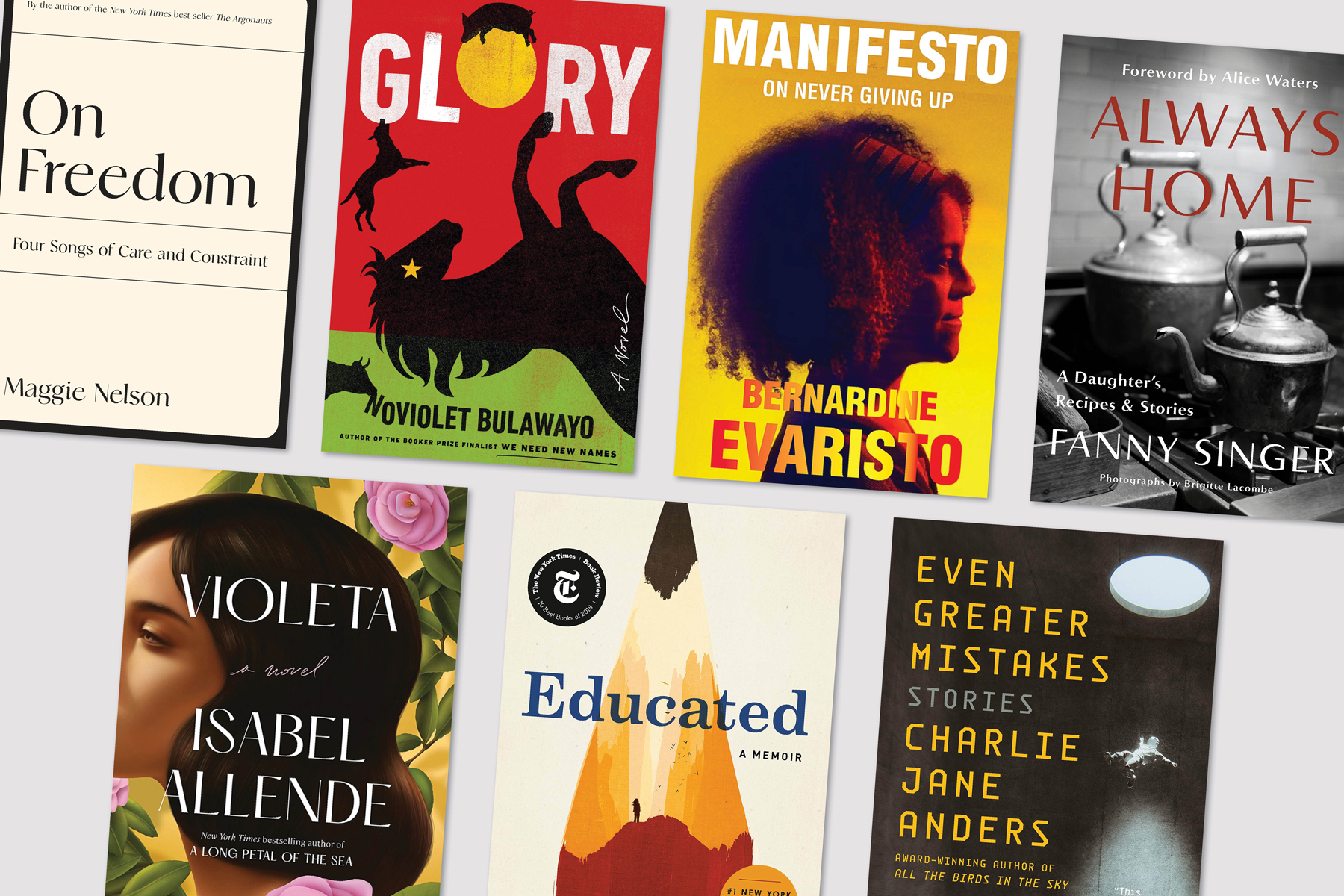 7 Great Reads for Women's History Month
March is Women's History Month and these are seven books our booksellers think you should read to celebrate! Discover speculative and historical fiction, memoir, uplifting nonfiction, and even more great books written by women. Check out these titles at ubookstore.com today, as well as at our U District store for an even wider selection of noteworthy titles handpicked by our booksellers.
Glory, by NoViolet Bulawayo
Glory is our March Book of the Month! Save 25% on your purchase in-store and at ubookstore.com today!
Named Most Anticipated Book of 2022 by Vulture, BuzzFeed, and Oprah Daily. NoViolet Bulawayo's bold new novel follows the fall of the Old Horse, the long-serving leader of a fictional country, and the drama that follows for a rumbustious nation of animals on the path to true liberation. Inspired by the unexpected fall by coup in November 2017 of Robert G. Mugabe, Zimbabwe's president of nearly four decades, Glory shows a country's imploding, narrated by a chorus of animal voices that unveil the ruthlessness required to uphold the illusion of absolute power and the imagination and bulletproof optimism to overthrow it completely. By immersing readers in the daily lives of a population in upheaval, Bulawayo reveals the dazzling life force and irresistible wit that lie barely concealed beneath the surface of seemingly bleak circumstances.
And at the center of this tumult is Destiny, a young goat who returns to Jidada to bear witness to revolution—and to recount the unofficial history and the potential legacy of the females who have quietly pulled the strings here. The animal kingdom—its connection to our primal responses and its resonance in the mythology, folktales, and fairy tales that define cultures the world over—unmasks the surreality of contemporary global politics to help us understand our world more clearly, even as Bulawayo plucks us right out of it.
---
Since its release, Educated has become one of the most acclaimed books of our time and a perennial classic. Among its accolades, Educated was named one of the Ten Best Books of the Year by the New York Times Book Review, was one of President Barack Obama's favorite books of the year, featured Bill Gates's holiday reading list, and was a Finalist for the National Book Critics Circle's Award in Autobiography.
Born to survivalists in the mountains of Idaho, Tara Westover was seventeen the first time she set foot in a classroom. Her family was so isolated from mainstream society that there was no one to ensure the children received an education, and no one to intervene when one of Tara's older brothers became violent.
When another brother got himself into college, Tara decided to try a new kind of life. Her quest for knowledge transformed her, taking her over oceans and across continents, to Harvard and to Cambridge University. Only then would she wonder if she'd traveled too far, if there was still a way home.
---
Manifesto, by Bernardine Evaristo
"There is a manifesto in each one of us, emerging over the course of our lives, changing & reconfiguring through our experiences. This is mine."
Bernardine Evaristo's 2019 Booker Prize win was a historic and revolutionary occasion, with Evaristo being the first Black woman and first Black British person ever to win the prize in its fifty-year history. Girl, Woman, Other was named a favorite book of the year by President Obama and Roxane Gay, was translated into thirty-five languages, and has now reached more than a million readers.
Evaristo's astonishing nonfiction debut, Manifesto, is a vibrant and inspirational account of Evaristo's life and career as she rebelled against the mainstream and fought over several decades to bring her creative work into the world. With her characteristic humor, Evaristo describes her childhood as one of eight siblings, with a Nigerian father and white Catholic mother, tells the story of how she helped set up Britain's first Black women's theatre company, remembers the queer relationships of her twenties, and recounts her determination to write books that were absent in the literary world around her. She provides a hugely powerful perspective to contemporary conversations around race, class, feminism, sexuality, and aging. She reminds us of how far we have come, and how far we still have to go. In Manifesto, Evaristo charts her theory of unstoppability, showing creative people how they too can visualize and find success in their work, ignoring the naysayers.
Both unconventional memoir and inspirational text, Manifesto is a unique reminder to us all to persist in doing work we believe in, even when we might feel overlooked or discounted. Evaristo shows us how we too can follow in her footsteps, from first vision, to insistent perseverance, to eventual triumph.
---
Violeta, by Isabel Allende
This sweeping novel from the New York Times bestselling author of A Long Petal of the Sea tells the epic story of Violeta del Valle, a woman whose life spans one hundred years and bears witness to the greatest upheavals of the twentieth century. Also available in Spanish!
Violeta comes into the world on a stormy day in 1920, the first girl in a family of five boisterous sons. From the start, her life will be marked by extraordinary events, for the ripples of the Great War are still being felt, even as the Spanish flu arrives on the shores of her South American homeland almost at the moment of her birth. Through her father's prescience, the family will come through that crisis unscathed, only to face a new one as the Great Depression transforms the genteel city life she has known. Her family loses all and is forced to retreat to a wild and beautiful but remote part of the country. There, she will come of age, and her first suitor will come calling…
She tells her story in the form of a letter to someone she loves above all others, recounting devastating heartbreak and passionate affairs, times of both poverty and wealth, terrible loss and immense joy. Her life will be shaped by some of the most important events of history:  the fight for women's rights, the rise and fall of tyrants, and ultimately, not one, but two pandemics.
---
So often deployed as a jingoistic, even menacing rallying cry, or limited by a focus on passing moments of liberation, the rhetoric of freedom both rouses and repels. Does it remain key to autonomy, justice, and well-being, or is freedom's long star turn coming to a close? Does a continued obsession with the term enliven and emancipate, or reflect a deepening nihilism (or both)? On Freedom examines such questions by tracing the concept's complexities in four distinct realms: art, sex, drugs, and climate.
Drawing on a vast range of material, from critical theory to pop culture to the intimacies and plain exchanges of daily life, Maggie Nelson explores how we might think, experience, or talk about freedom in ways responsive to the conditions of our day. Her abiding interest lies in ongoing "practices of freedom" by which we negotiate our interrelation with—indeed, our inseparability from—others, with all the care and constraint that entails, while accepting difference and conflict as integral to our communion.
For Nelson, thinking publicly through the knots in our culture—from recent art-world debates to the turbulent legacies of sexual liberation, from the painful paradoxes of addiction to the lure of despair in the face of the climate crisis—is itself a practice of freedom, a means of forging fortitude, courage, and company. On Freedom is an invigorating, essential book for challenging times.
---
Charlie Jane Anders came to national attention with her bestselling debut SF&F novel, All the Birds in the Sky. Since the late 2000s, Anders has been steadily publishing some of the most lively, outrageous, and engaging short fiction in the field.
The woman who can see all the possible branching futures is dating the man who can see the one and only foreordained future. A wildly popular slapstick filmmaker is drawn, against his better judgment, into working with a fascist militia, against a background of social collapse. Two friends must embark on an Epic Quest To Capture The Weapon That Threatens The Galaxy, or else they'll never achieve their dream of opening a restaurant. A trans woman is captured by an agency that brutally forces detransition by means of brain transplants – only to discover that the person overseeing her case is her childhood friend. And in the liminal space between the warring fragments of what was once the United States, a mysterious bookstore is the place where all the incompatible realities can touch.
Here are delightful upendings of genre cliches, and heartfelt revitalizations of classic tropes. Here is social commentary with teeth, and here are scenes of pants-wettingly funny comedy. Here are characters and situations that by their very outrageousness achieve a heightened realism unlike any other. Here is one of the strongest voices in modern science fiction, the writer called by Andrew Sean Greer, "this generation's Le Guin."
---
A culinary memoir-in-recipes about growing up as the daughter of revered chef and restaurateur Alice Waters: a story of food, family, and the need for beauty in all aspects of life. With a foreword by Alice Waters
In this extraordinarily intimate portrait of her mother—and herself—Fanny Singer, daughter of food icon and activist Alice Waters, chronicles a unique world of food, wine, and travel; a world filled with colorful characters, mouthwatering traditions, and sumptuous feasts. Across dozens of vignettes with accompanying recipes, she shares the story of her own culinary coming of age and reveals a side of her legendary mother that has never been seen before.
A charming, smart translation of Alice Waters's ideals and attitudes about food for a new generation, Always Home is a loving, often funny, unsentimental, and exquisitely written look at a life defined in so many ways by food, as well as the bond between mother and daughter.