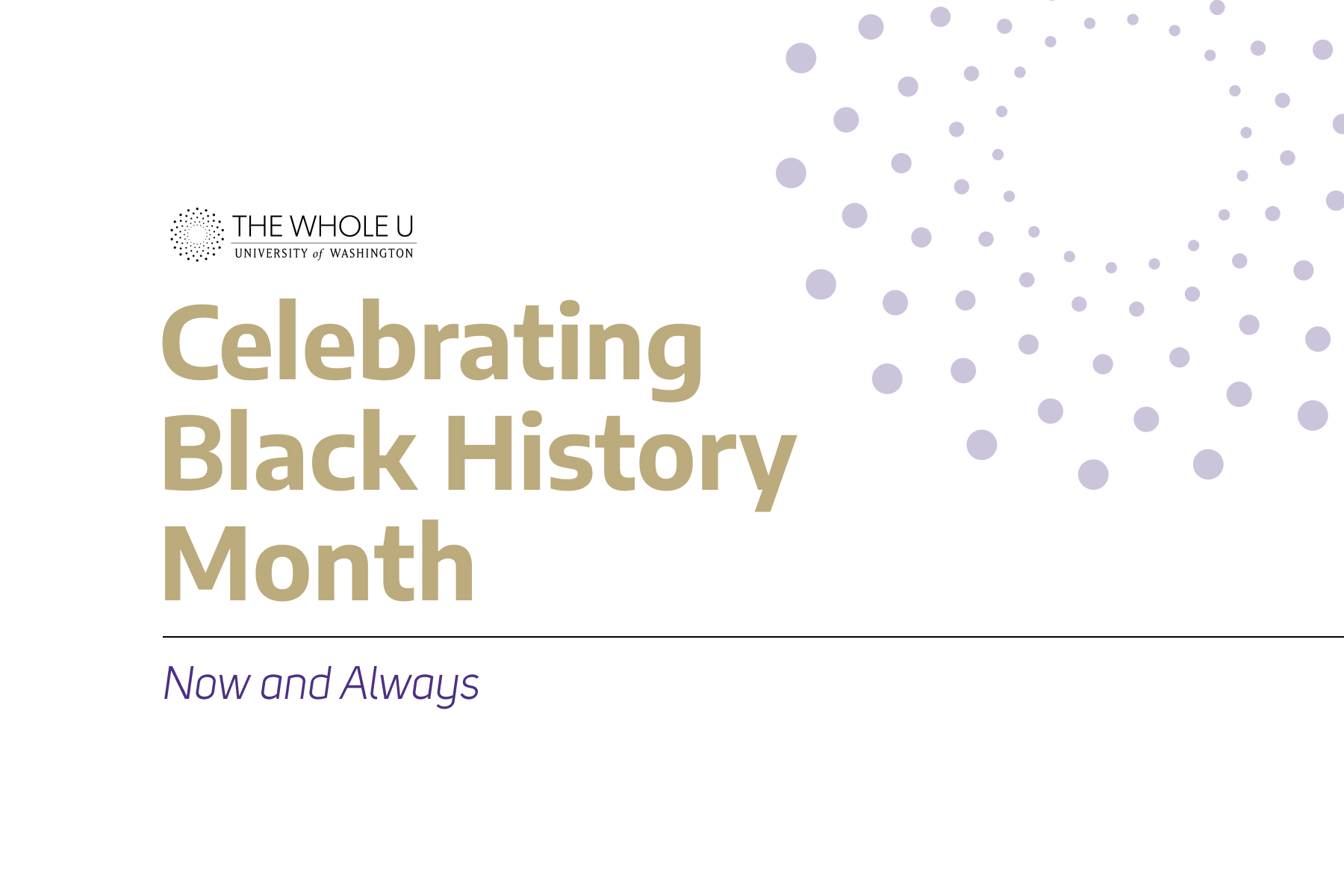 Celebrating Black History Month Now and Always
The Whole U invites our community to celebrate and honor Black History Month. May this month be a reminder that the commitment to learning about Black excellence, history and empowerment is not limited to the month of February, but year round. The University of Washington and beyond is celebrating Black History Month throughout February with screenings, lectures, and a host of other events that will shed light on Black voices and achievement past, present, and future.
We encourage everyone who counts themselves part of the UW community to engage and learn something new through the following events!
---
The University Book Store highlights speculative fiction, fantasy, and poetry written by Black American authors. Through imagining the future, re-imagining the past, and trying to make sense of the present, these books ask questions about the connections between power and history, and what kind of future we can build from history.
---
Throughout the Month of February 
ASALH will hold innovative virtual programming in the month of February celebrating the 2021 Black History Month Theme, The Black Family: Representation, Identity, and Diversity. Learn more and register here. 
---
February 4 at 10:45 AM
Celebrate the Oakland Library's "February Black Culture Fest 2021" with Oakland Youth Poet Laureate finalists Siara Edmonds and Monique Jonath, who plan to share their poems and engage in an interactive discussion with attendees. Learn more and register here. 
---
February 4 at 3:30 PM 
Join us for a night of celebration, honoring Black excellence and imagining the future of Black tech. As tech companies chart a path to scale, harnessing the expertise and grit of Black tech professionals must become a key part of their strategy. While doing so, Black voices and success stories must continue to be amplified as a means of paving the way for generations to come. Learn more and register here. 
---
February 5 at 5 PM
Join Sam's Club and award-winning author Jemar Tisby for a special live reading from his book, "How to Fight Racism." Using real-world examples, Tisby will inspire and empower audience members with practical tools to courageously confront, discuss and fight racism in everyday life. This Zoom event is open to Sam's Club members and non members. Learn more and register here.
---
February 24 at 6 PM
How does history shape who you are? Hear from community members inspired by moments from local Black history that impact their present lives. Learn more and register here. 
---
Honor and celebrate Black History Month by attending one or more of these great community events. If there are other events we have missed, please share them in the comments and we'll add them above as well as help spread the word on our social media channels.
---
Support Local, Black Owned Businesses with The Intentionalist
Intentionalist is an online guide to intentional spending that supports small businesses and diverse local communities. Beyond serving as a directory, Intentionalist supports community connection through business profiles based on interviews with local business owners, and meet-ups that provide the opportunity to meet them and learn about the stories behind their businesses.