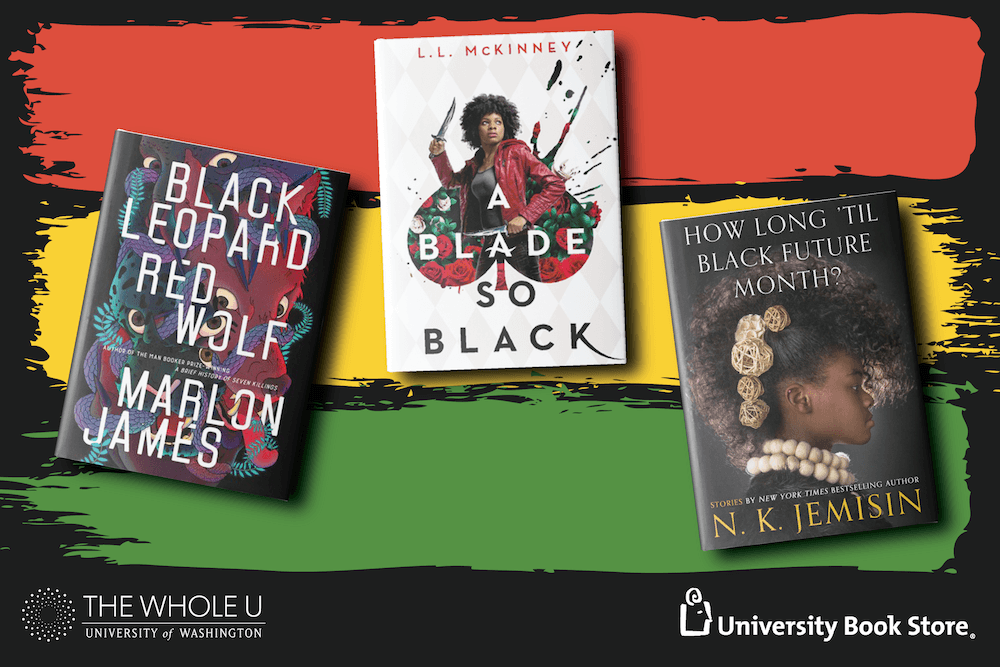 Books Beyond Black History Month
This February, to celebrate Black History Month, University Book Store highlights speculative fiction, fantasy, and poetry written by Black American authors. Through imagining the future, re-imagining the past, and trying to make sense of the present, these books ask questions about the connections between power and history, and what kind of future we can build from history.
"Black Leopard, Red Wolf" by Marlon James
Engaged to track down a mysterious boy who disappeared three years earlier, Tracker breaks his rule of always working alone when he finds himself part of an unusual group with secrets of their own. As Tracker follows the boy's scent, he and the band are set upon by creatures intent on destroying them. As he struggles to survive, Tracker wonders: Who, really, is this boy? Why has he been missing for so long? Why do so many people want to keep Tracker from finding him? And perhaps the most important questions of all: Who is telling the truth, and who is lying?
Combining African history and mythology, unforgettable characters, and James' own rich imagination, Black Leopard, Red Wolf is a novel that defies categorization as it explores questions of truth, the limits of power, and the need to understand them both.
---
"How Long 'Til Black Future Month?" by N.K. Jemisin
N.K. Jemisin, three-time Hugo Award winner and New York Times bestselling author, is one of the most powerful and acclaimed authors of our time.
In this first collection of her evocative short fiction, including never-before-seen stories, Jemisin equally challenges and delights readers with thought-provoking narratives of destruction, rebirth, and redemption.
Spirits haunt the flooded streets of New Orleans in the aftermath of Hurricane Katrina. In a parallel universe, a utopian society watches our world, trying to learn from our mistakes. A black mother in the Jim Crow South must save her daughter from a fey offering impossible promises. And in the Hugo award-nominated short story "The City Born Great," a young street kid fights to give birth to an old metropolis's soul.
---
"American Sonnets for My Past and Future Assassin"
by Terrance Hayes
Written during Trump's first 200 days in office, each of Terrance Hayes's poems explores the meanings of American, of assassin, and of love—and all in sonnet form!
Each of the seventy poems written in this collection bears the same title, allowing them to build upon each other and explore the nuances of each idea. Haunted equally by the country's past, and future errors, this collection is inventive, compassionate, melancholy, hilarious, and stunning as it reckons with Trump's America.
Listed as one of the New York Times Critics' top books of 2018 and as a finalist for the 2018 National Book Award in Poetry, you don't want to miss this dazzling new poetry collection!
---
"Dread Nation" by Justina Ireland
Jane McKeene was born two days before the dead began to walk, derailing the War between the States and changing the nation forever. She studies to become an Attendant, trained in both weaponry and etiquette to protect the well-to-do. It's a chance for a better life for Negro girls like Jane in this new America. But that's not a life Jane wants. Almost finished with her education, she intends to leave Baltimore for her Kentucky home. Jane gives little thought to the politics of the eastern cities, who want to go back to the American glory days before the dead rose.
But when families around Baltimore County begin to go missing, Jane is caught in the middle of a conspiracy, one that finds her in a desperate fight for her life against some powerful enemies. And the restless dead are the least of her problems.
---
"Everfair" by Nisi Shawl
Acclaimed short story writer, Nisi Shawl, writes in her first novel a Neo-Victorian alternate history that explores the question of what might have come of Belgium's disastrous colonization of the Congo if the native populations had learned about steam technology a bit earlier. A group of English socialist partners with African American missionaries to purchase land from King Leopold II, the "owner" of the Belgian Congo. "Everfair," as they call their settlement, becomes a refuge for the native populations of the Congo and escaped slaves returning from America and across the globe.
Told from a multiplicity of historically silenced voices, including Africans, Europeans, East Asians, and African Americans in complex relationships with one another, this masterful piece of fiction explores the inherent possibilities in a turn of history.
---
"A Blade So Black" by L.L. McKinney
A fresh take on an old classic, A Blade So Black is a retelling of Alice in Wonderland with the whimsy of Buffy the Vampire Slayer starring a black, bisexual, teen heroine.
Alice comes from a long line of warriors who battle Nightmares in the dark and terrifying dream realm known as Wonderland. Her first encounter with the Nightmares nearly cost her life, and since then, Alice has trained with magic weapons and martial arts to battle the Nightmares—all before her curfew.
When her trainer, the handsome but enigmatic Hatta, is inflicted with "the madness," Alice must go deeper into Wonderland than ever before. Will she be able to save Hatta, protect her home, defeat the Nightmares, and lead her double life without literally losing her head?
---
"Brown: Poems" by Kevin Young
Divided into "Home Recordings" and "Field Recordings," Brown explores the way the personal shapes the cultural, and the cultural inversely determines the individual. Each of the poems engage place and past to find their intertwined power.
These thirty-two taut poems and poetic sequences, including an oratorio based on Mississippi "barkeep, activist, waiter" Booker Wright that was performed at Carnegie Hall and the vibrant sonnet cycle "De La Soul Is Dead," about the days when hip-hop was growing up ("we were black then, not yet / African American"), remind us that blackness and brownness tell an ongoing story.
A testament to Young's own—and our collective—experience, Brown offers beautiful, sustained harmonies from a poet whose wisdom deepens with time.
---
Want to meet your (new) favorite author? University Book Store hosts hundreds of reading and signing events every year! Check out their events page or sign up for their e-newsletter!