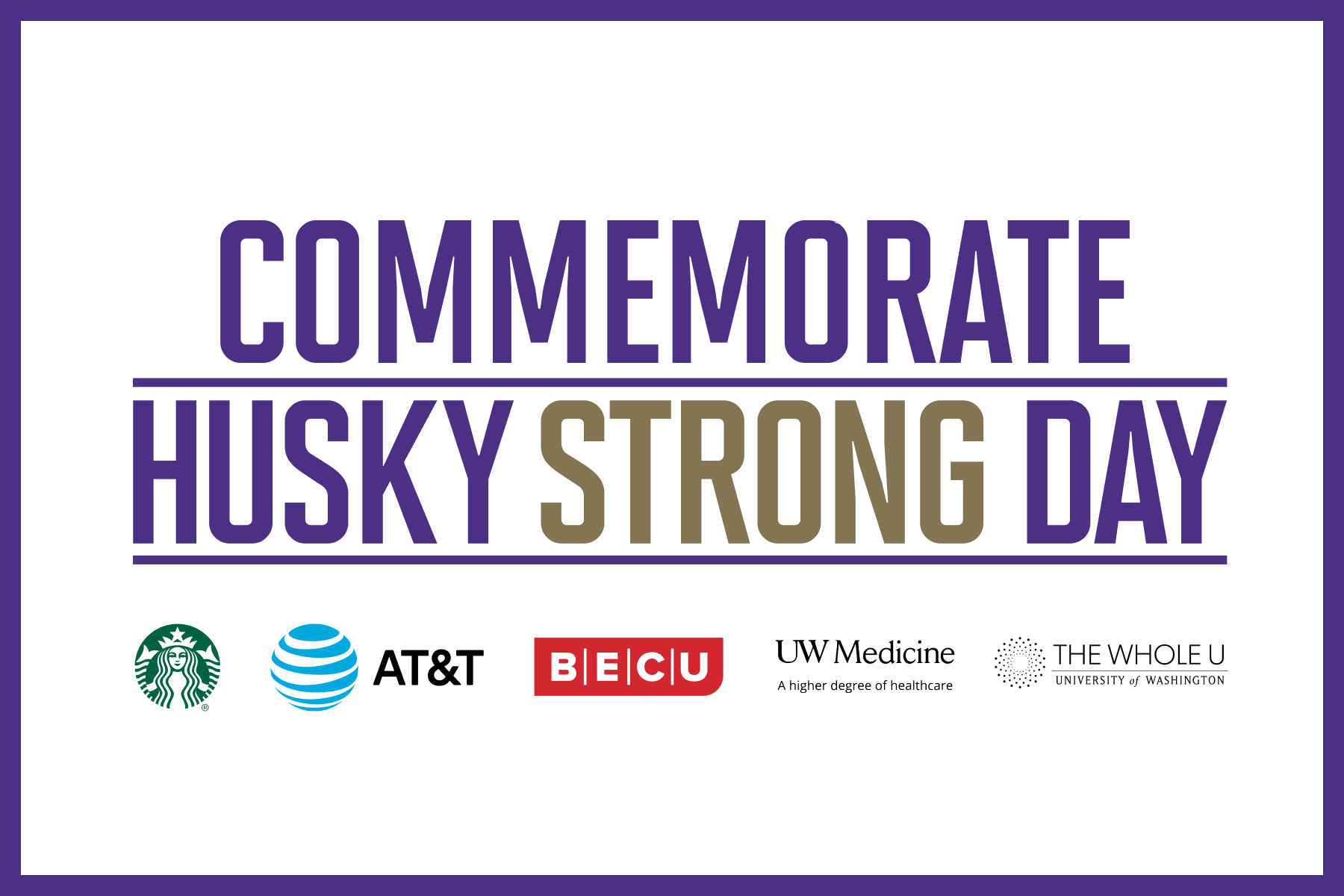 Celebrating Husky Strong Day
On Wednesday, August 11, 1,500 University of Washington faculty, staff, and students came together to celebrate wellness, movement, and the strength of our community. It was a day filled of smiles, virtual waves, sweat, a few happy tears, and lots of fun!
As we look back, we're reflecting on how special this day was. In years past, The Whole U has gathered with thousands of Dawgs at Husky Stadium for our annual Fitness Day. This year, we felt it important to bring our community together celebrating fitness even if only gathering in a virtual space. Husky Strong Day was a high energy, jam packed day and we cannot thank our community enough for joining us!
See what Husky Strong Day is all about below, and get involved on The Whole U YouTube if you weren't able to attend. In the coming week, various classes from Husky Strong Day will be uploaded for you to enjoy at your leisure.
---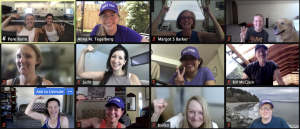 Husky Strong has raised over $20,000
Throughout COVID-19, UW staff and faculty have risen to every challenge the pandemic has thrown at us. From providing care in UW Medicine's hospitals and clinics, to keeping our facilities safe and clean, to adjusting to remote work and teaching, UW employees have led the way with excellence, resilience, curiosity and compassion.
The Whole U's motto is for UW, by UW. That is why we launched HUSKY STRONG in June 2020 – to celebrate the powerful strength of our UW community and to raise money for the UW COVID-19 Employee Emergency Fund. Funds can be used to pay for critical expenses like housing, utilities, medical care not covered by insurance and child care.
Husky Strong has raised almost $21,000 for the UW COVID-19 Employee Emergency Fund, with just over $8,000 coming from participants registered for Husky Strong Day! Thank you to everyone who donated and has joined us on a mission to support our fellow Dawgs. To date, gifts like yours have helped more than 1,775 colleagues.  
Before each Husky Strong Day class, we read an anonymous testimony or story from a fund recipient, reminding all of the attendees just how impactful our fundraising can be. These stories moved us all, showing us that even amidst some of our hardest times, we can lift each other up. Note: Happy tears are allowed at Husky Strong Day!
---
Show your Husky pride
Although we are spread across our region with many colleagues working remotely, Husky Strong Day was brought us all together and reminded us of our personal strength and the strength of our community. Thanks to generous sponsorship by AT&T, BECU, Starbucks, and UW Medicine, Husky Strong Day participants had hats shipped to their addresses along with a $7 gift card from Starbucks. We had so much fun following along as everyone received their event boxes, eagerly awaiting the day to begin. 
---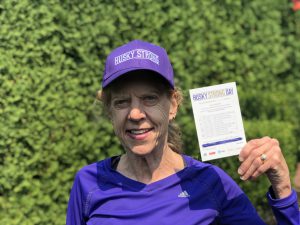 ---
9 exercise classes in ONE day
Here's where it gets interesting. On Husky Strong Day we hosted not one, not two, not three – but 9 different fitness classes! All Husky Strong Day participants were encouraged to attend one or two classes that were of interest to them and set a personal exercise goal for the day. Any additional exercise outside of classes counted as well, of course. We never imagined how many people would consistently be on Zoom with us throughout the day! You fitness fanatics know who you are.
Huskies truly are boundless. We started the morning with sunrise yoga and meditation led by Danny Arguetty of UW Recreation, followed by weight training with Lauren Updyke of The Whole U, into chair yoga with Diana Ratsamee of The Whole U.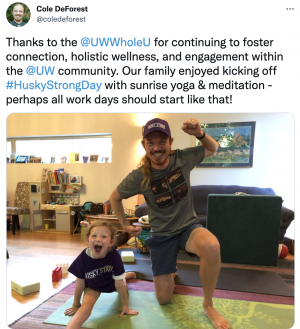 ---
Our afternoon series kicked off with a burning PureBarre class with Maya Hutchinson, owner and instructor at PureBarre Seattle, into strength and conditioning with Lauren Updyke, followed by another strength and conditioning class with YMCA and a family fitness class with YMCA.
---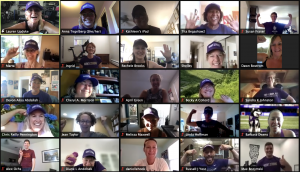 ---
In the evening we pumped back up the energy with an exciting follow-along Zumba workout with Karen Cornelio and finally closed out the day with restorative yoga led by Diana Ratsamee. We had a blast seeing our colleagues across Seattle, Bothell, and Tacoma campuses, and UW Medicine join us throughout the entire day when able.
---
The faces and voices of Husky Strong
All in all, Husky Strong Day is best captured through the joy of everyone who showed up on Zoom and participated. Your voices, faces, and stories are what keep our community Husky Strong. Join us in celebrating our accomplishments! Here's what attendees had to say:
Thank you again to the Whole U team for another successful fitness event. There was a nice selection of activities to choose from throughout the day, and the instructors were all positive and supportive. Also loved the Husky hat and Starbucks gift card – an unexpected yet awesome participation gift!
---
I love that the Whole U was able to put this event together virtually. I think it's important for the community to feel like they can come together despite the pandemic. The classes that I attended were wonderful and my overall experience was positive. Thank you, Whole U!
---
Thank you for setting up the events that made it easy to jump on before, during and after the workday. It was nice to have the variety of levels available. It was fun!
---
I loved Husky Strong Day! I am new to the UW community (and Seattle) and participating in UW events has made me feel welcome. I was lucky enough to sign up early and get a Husky Strong hat–my first piece of UW swag. Thank you!
---
I felt like part of a wonderful community because this allowed me to step out of my comfort zone and participate in activities that I wouldn't otherwise. I am proud to be a part of the UW community.
---
It was a great way to promote health & well-being in these tough times and experience the joy of giving back to the community!
---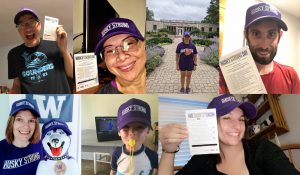 ---
Thank you to all of our partners who helped to make Husky Strong Day such a success including UW Work-Life, the UW Combined Fund Drive, UW Recreation, PureBarre Seattle, Karen Cornelio, YMCA, UW Medicine, BECU, AT&T, and Starbucks.