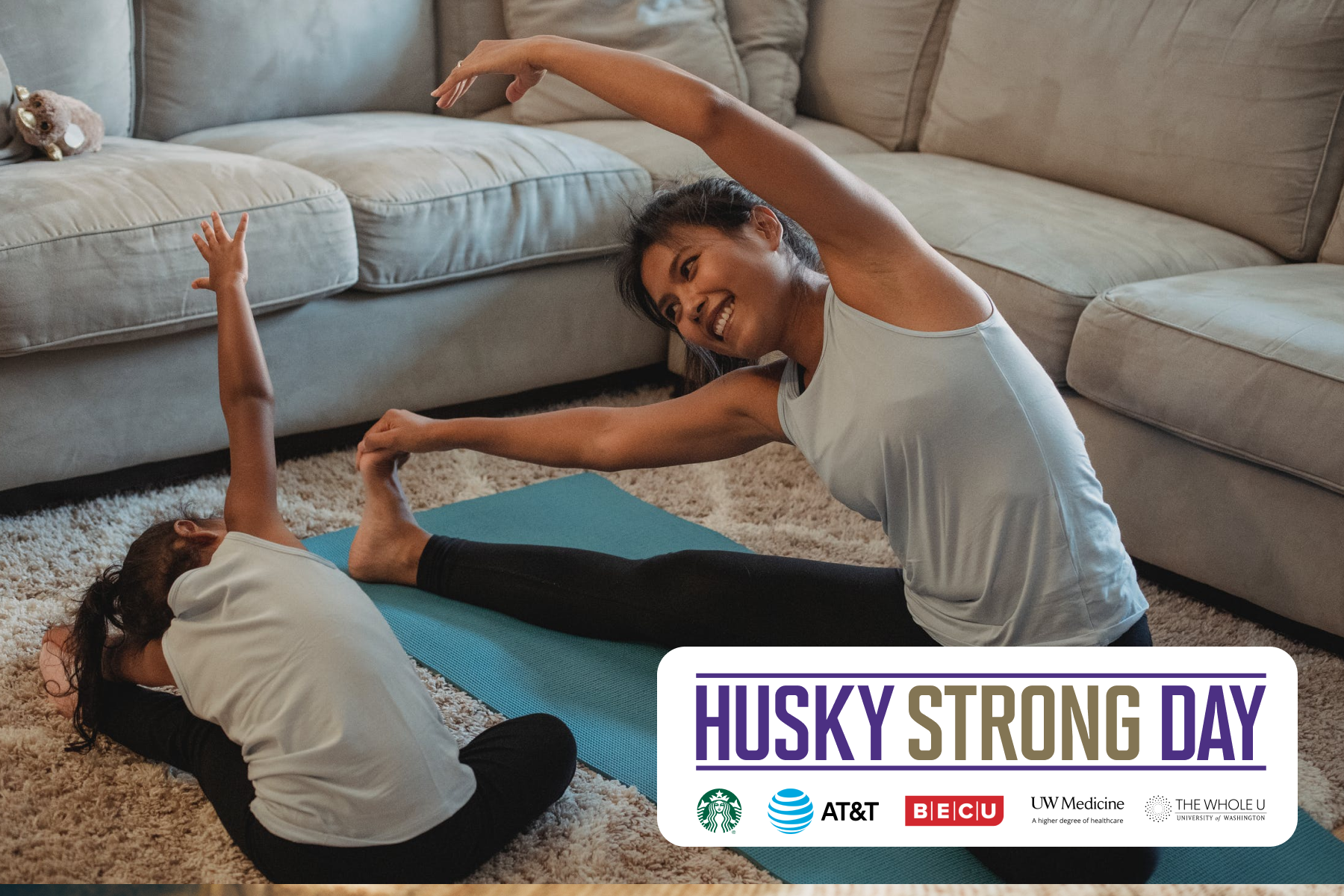 Husky Strong Day Activities
The Whole U is celebrating Husky Strong Day on August 11 and invite all within the UW community to join us on Zoom for a wide variety of free, fitness Zoom classes. The first 1,500 to register for Husky Strong Day received a Husky Strong Day hat shipped to their preferred address, but anyone is welcome to register for and attend the Zoom classes this August.
Below are a list of the different activities and their time of day. Click each link to learn more and register to attend the class. Once you register you can access the Zoom information.
Husky Strong Day Activities
Family Scavenger Hunt and Activities for Kids – All day 
Hop, skip, and kick your way through an adventurous scavenger hunt that can be completed inside or around the outside of your home.
Sunrise Yoga & Meditation with UW Recreation – 6:30 a.m.
Awaken your mind and body at an early morning yoga and meditation class led by UW Recreation.
Weight Training with Lauren Updyke – 8:00 a.m.
Work your entire body during a 45-minute intermediate weight training class. All you need is two sets of weights and a chair.
Chair Yoga: Gentle Movement with Diana Ratsamee – 9:00 a.m.
Chair yoga helps to regain connection to your body and improve physical well-being. This class is for all bodies, regardless of individual health conditions, mobility, or fitness level.
Barre with Pure Barre Seattle – 11:30 a.m.
Energize your afternoon with a low-impact, full-body workout that tones your glutes, thighs, abs, and arms.
Strength and Conditioning with Lauren Updyke – 12:30 p.m.
Enjoy a high-energy exercise class that includes HIIT exercises, cardio bursts, and strength building bodyweight exercises.
Strength and Conditioning Bootcamp with YMCA – 3:30 p.m.
Dial up the adrenaline for a range of heart-pumping, strength building activities including plyometrics, calisthenics, circuit training, speed work, and more.
Family Fitness with YMCA – 5:30 p.m.
For families with kids, this class will build strength, fitness and connection through a variety of fun, challenging games and activities for the whole family.
Zumba with Karen Cornelio – 6:30 p.m.
Take the "work" out of workout at an interval-style dance fitness class that combines low-intensity and high-intensity moves for a full body workout disguised into fun!
Evening Restorative Yoga with Diana Ratsamee – 8:00 p.m.
Wind down, breathe, and incorporate mindful mobility into your day with a restorative yoga class.