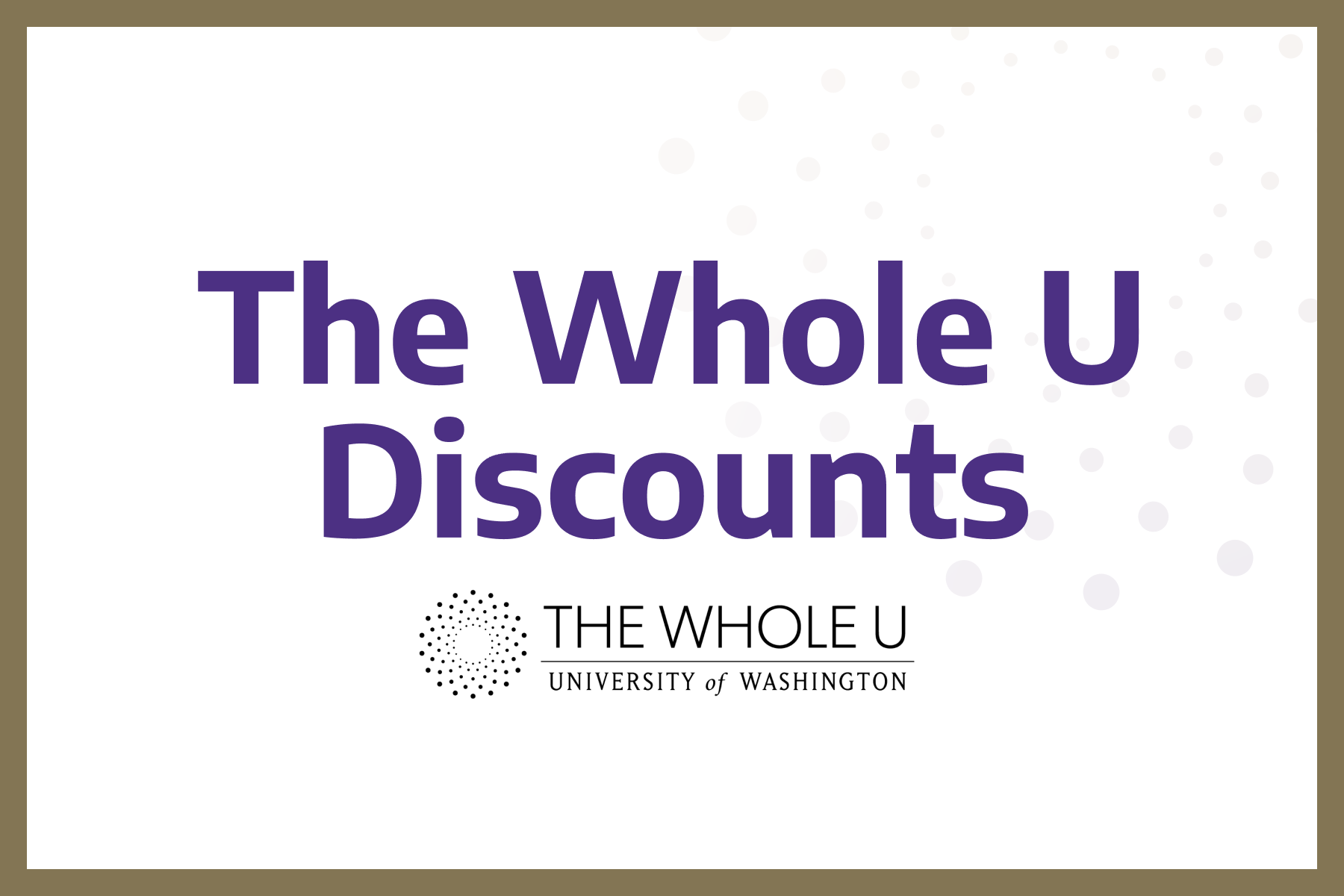 Save money and time this summer with The Whole U Discount Program. Faculty, staff, and students have access to great money-saving offers through our Discount portal (https://depts.washington.edu/wholeu/bnmicl/pages/discounts.html). Take a look at some of our fun new discounts this summer! 
---
Cascadia Forest Therapy
https://thewholeu.uw.edu/discounts/cascadia-forest-therapy/ 
Cascadia Forest Therapy is a regional provider of nature connection experiences. We provide public and private forest therapy sessions, contracted services for team-building retreats, and trail certifications. As a practice in reciprocity, we plant one tree for every participant and 10% of all income goes to Real Rent Duwamish. We seek to provide space for all people to remember, rediscover, and re-story their relationships to all the beings they might encounter. Whole U members receive a 20% discount on any contracted service or private session booking. 
Out of the Box Fun
https://thewholeu.uw.edu/discounts/out-of-the-box-fun/ 
Make your next event one to remember with Out of the Box Fun. Out of the Box Fun is a premier photo entertainment company that offers sleek open-air photo booths with digital photos, MP4s, and prints. Choose from digital props, an on-site prop box, animated movie backgrounds, and more. For the ultimate in guest engagement, check out their photo wall mosaics where guests place their individual photos on the mosaic to be part of the ultimate reveal of a main large photo! Mention the code "UWme" and choose a welcome screen and up to two of our animated feature upgrades (a $90 value) for free!  
Great Wolf Lodge
https://thewholeu.uw.edu/discounts/great-wolf-lodge/ 
Great Wolf Lodge is the largest family of indoor water parks with hotels, with locations across the United States and one in Grand Mound, Washington. Through the Preferred Pack Club Discount Program, UW employees can book at ANY Great Wolf Lodge in the US and receive up to 30% off the best available rate and can be used on two rooms at a time. 
Clipper Vacations
https://thewholeu.uw.edu/discounts/clipper-vacations/ 
Hop on a sleek, high-speed Clipper catamaran for a relaxing and scenic cruise experience! The passenger-only ferry service with daily, year-round departures to Victoria, BC allows guests to skip the traffic and travel seamlessly to your destination. Use promo code WHOLEU21 in the promo code field to receive a 10% discount that is good for domestic travel through Dec. 31, 2021. In the case that international services run again, this will work for booking the Seattle to Victoria ferry for transportation only as well. Note, the promo code only applies to transportation only but cannot be applied to our full and half-day whale watching tours. 
Hien Hong Yoga
https://thewholeu.uw.edu/discounts/hien-hong-yoga-and-meditation/ 
Hien Hong is a trauma-informed yoga and meditation teacher. Hien is committed to decolonizing the practices and teaches to help people, especially BIPOC, find healing. She offers group classes, private sessions, and retreats. 10% off your first private session package. Share that you are a UW member when booking. 
 Centerpoint Wellness
https://thewholeu.uw.edu/discounts/centerpoint-wellness-northwest/ 
CenterPoint Wellness NW is a unique, women-owned Seattle based Wellness Collective featuring Massage, Acupuncture & Ananda Yoga classes.  We take an innovative approach to provide a relaxing and holistically healing experience that will leave you feeling refreshed and renewed. Centerpoint Wellness NW is women-led, women-run, and locally owned. 
UW members can also use the code THEWHOLEU for a 10% off eGift Card for a 60-minute massage. 
 Seattle Athletic Club
https://thewholeu.uw.edu/discounts/seattle-athletic-club/ 
Come see how Seattle Athletic Club has been able to maintain the reputation as North Seattle's premier health club for over 40 years. We offer our members an experience and atmosphere far removed from your typical gym. Membership includes access to our saline lap pool, weight & cardio studios, basketball & squash courts, and full access to our group classes. Discounted membership rates for UW faculty and staff.  Complimentary trial pass for prospective members and referral bonuses of a free month of membership dues for each member you refer. Speak to an associate for more details. 
Gig Car Rental
https://thewholeu.uw.edu/discounts/gig-car-share/
We are car-sharing made easy. Gig gives you the flexibility to pick up and drop off in different locations, getting you from here to there with room for your friends. Our fleet of hybrid and electric vehicles means affordable travel with a lighter environmental footprint and all the space you need to get the most out of life. Every car comes with a bike rack and Discovery Pass so that your adventure can go beyond your car. Gas/charging, insurance, and parking in the designated Seattle HomeZone are included.