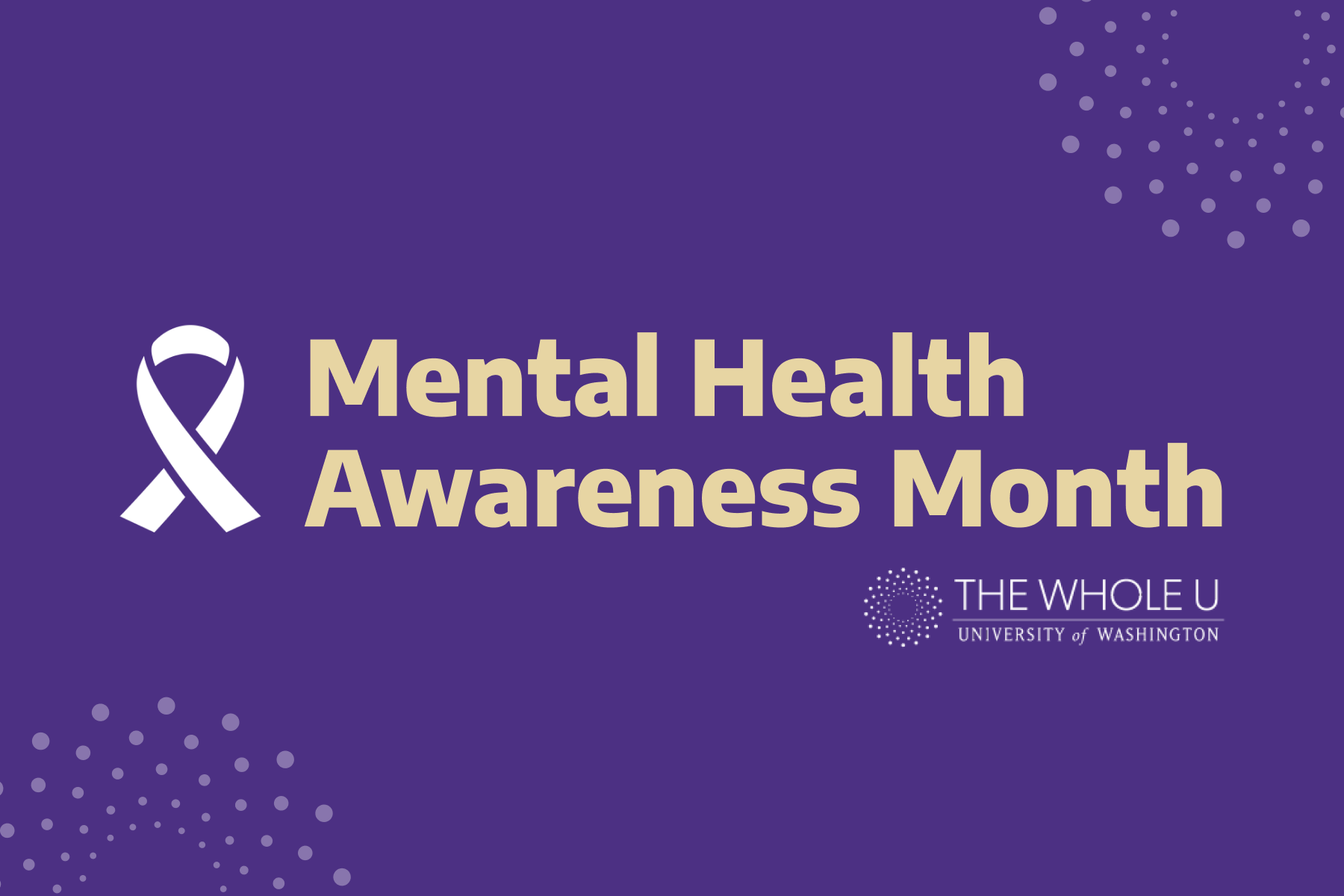 You Are Not Alone: Mental Health Awareness Month
May is Mental Health Awareness Month and this year the theme is appropriately; You Are Not Alone. In the last year we've navigated such major changes in our lives together, while also feeling far apart due to a myriad of reasons like social distancing, differences in political ideology, and social reckoning. There is no doubt that the last year has been extremely difficult for everyone due to the impacts of the COVID-19 pandemic, coupled with additional social pandemics that disproportionately impact our communities.
Whether you have previously struggled with mental health and illness prior to the pandemic or are facing for the first time such impacts in your life, it's important that we all know we are not alone, and that through connecting on shared experiences we can begin to progress forward together.
This month, The Whole U is partnering with UW LiveWell and UW Medicine to observe Mental Health Awareness Month with events focused on the healing value of connecting to a community and acknowledging that it's okay to not be okay.
As we shed light on the impact mental health and illness has, we look at the prevalence researchers have seen in the last year. It's easy to feel alone in our struggles, but sometimes when faced with the data—we are reminded that struggling is a shared human experience and there are resources available to help.
The Kaiser Family Foundation, a nonprofit organization focused on national health issues, found that throughout the pandemic 4 in 10 adults in the U.S. have reported symptoms of anxiety or depressive disorder, up from 1 in 10 adults who reported these symptoms in 2019.
Specifically, their health tracking poll in July of 2020 found that due to a decrease in mental health:
36% of adults are experiencing difficulty sleeping
32% of adults are experiencing an impact on their typical eating habits
12% of adults are experiencing an increase in alcohol consumption or substance abuse
12% of adults are experiencing worsening chronic conditions due to intensified worry and stress
For children, those experiencing job loss, mothers and single parents, frontline workers and communities of color the impact has been even more significant. You can read more detail about how the pandemic has disproportionately affected these groups and the related increase in negative mental health impacts here.
---
Understanding these numbers and the toll that mental health and illness have on all of us is an important step in moving forward and better supporting one another. This month, we encourage you to do the following:
Learn about mental health and intersectionality.
Learn more about the disparate mental health impacts the COVID-19 pandemic and racism have on BIPOC communities. Learn how this in turn impacts other aspects of health, such as physical, intergenerational, environmental, and educational health.
---
Fight the stigma.
Learn about mental illness and educate yourself so you can help to de-stigmatize conditions that are misconstrued in society. Normalize conversations about mental health where appropriate but be sure to respect personal boundaries.
---
Recognize your own mental health needs.
Honor yourself by recognizing the struggles you face as legitimate. Seek out resources to support yourself. Talk to a doctor about your mental health needs, consider seeing a counselor or therapist, and do your best to incorporate strategies for self-care into your routine.
---
Build community.
You are not alone. Join The Whole U and our partners at the following events, or attend additional events for Mental Health Awareness Month. Have a conversation with your friends and family about mental health and illness and share what you learn. Stay tuned to The Whole U events page for more Mental Health Awareness Month events.
Healing Meditation Series – All levels of meditation experience welcome!
Explore the foundational elements of meditation, create a safe space to practice, and cultivate a personal meditation practice at this Tuesday series. Each week, you will discuss different topics around meditation and implement practices that help incorporate and skillfully apply these teachings into your own life.
From these workshops, you will learn skills to help calm and focus the mind in order to become more mindful, less stressed, experience better sleep, and practice radical self-acceptance. This course is an ideal entry point for anyone who has an interest in practicing meditation in a relaxed, no-pressure environment. Register here. 
Nutrition and Mental Health Panel: Intuitive Eating and Health At Every Size
This webinar with Harborview Medical Center registered dietitians will explore nutrition and its role in mental health. The panelists will discuss Intuitive Eating and the positive impact it can have on your physical health, mental health, and overall wellbeing. The session will also discuss the Health at Every Size nutrition approach and how diet culture influences health beliefs.
Come to learn more about these two nutrition approaches, ask the dietitian panel your questions, and listen to an engaging conversation about food, societal pressure, mental health, and nutrition. Register here. 
Give your mental health a PERM(a)!
Come to this interactive and educational workshop on Zoom with LiveWell staff and Peer Health Educators about the top eight influencers of positive, resilient mental and emotional well-being we have control over as individuals. You will learn about the model of PERMA+ from positive psychology while also being given space to reflect and discuss on how you can practice and strengthen these in your life! Register here. 
---
Last but certainly not least, if you are struggling or have a loved one in need of help, the following are resources nationwide and at the University of Washington. Please comment and share additional resources we may have left out below.
A 24/7, free and confidential support hotline in the United States offering help for people in distress, prevention and crisis resources for you or your loved ones, and best practices for professionals. Support offered in both English and Español.
Call: 1-800-273-8255
---
University of Washington's violence-prevention and response Program supporting students, staff, faculty and community members in preventing violence. Call SafeCampus anytime — no matter where you work or study — to anonymously discuss safety and well-being concerns for yourself or others. 24/7, 7 days a week.
Call: 206-685-7233
---
Find an array of work/life resources that go beyond the ordinary. From counseling and legal assistance to financial resources and employee support programs. WA EAP offer comprehensive solutions to meet your unique needs. These services are staffed by local professionals in Washington, ensuring personalized support that aligns with our commitment to your well-being. Starting July 1, 2023: Contact WA EAP at 877-313-4455 for services.
---
The UW Counseling Center provides a safe environment to help students explore the challenges of life and learning through counseling, outreach, preventive programming, advocacy, and consultation. The Counseling Center strives to create a diverse, inclusive, and multicultural learning community. As both a service and training site, the staff is committed to excellence within the college mental health profession.
We provide personal counseling and other services to currently-enrolled UW students. The Counseling Center also provides consultation to faculty, staff, and parents who have concerns about a student.
Learn about services and how to contact here.
Crisis line: Call 1-866-743-7732 (Real-time, confidential mental health and crisis intervention support, 24/7 and in multiple languages)