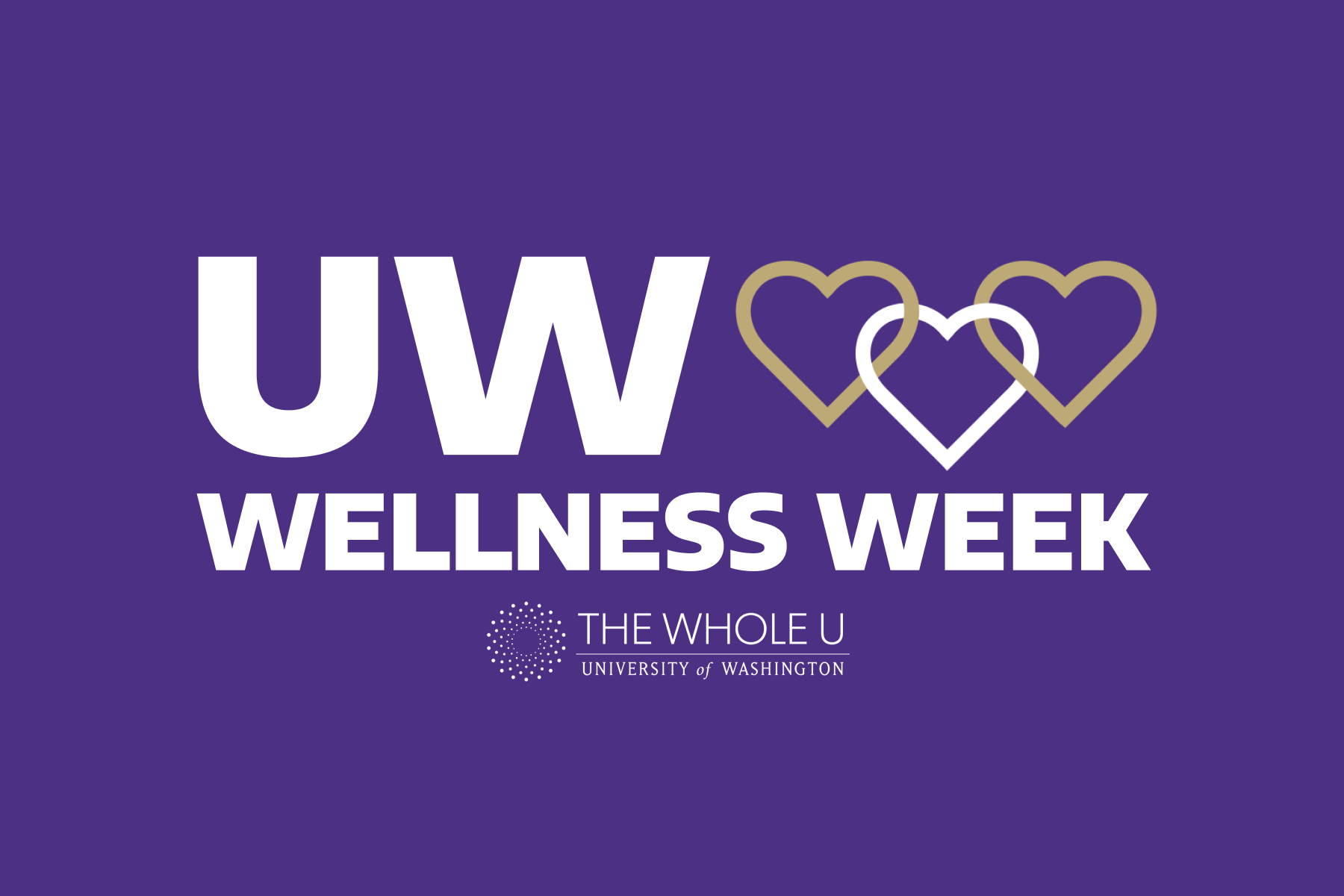 Introducing UW Wellness Week
This year has been quite the whirlwind. As a University, we've taken on many challenges and changes. There is no doubt that 2020 has been a difficult year for many of us. That's why now is more important than ever to prioritize health and wellness. Our ability to persist through the changes that life throws at us and practice a growth mindset comes from an investment in our physical, emotional, and mental selves and our greater community.
At the University of Washington, we have access to a wide variety of programs and departments focused on building resilience, strengthening our minds and bodies, and helping us to live our lives well. This year, The Whole U invites you to join us and our many wellness partners around the University for the 1st UW Wellness Week. Sign up now!
UW Wellness Week is a week dedicated to learning about the many resources and opportunities available at UW for faculty, staff, and students from November 16 to November 20. Together, we'll explore 6 different wellness topics, build community, and connect virtually. UW Wellness Week will be full of virtual events, classes, and drop-in sessions at different times and days of the week.
Wellness Week topics
Physical Health & Wellness
Environmental Wellness
Family Wellness
Emotional Wellness
Financial Wellness
Student's Corner
For many of us, wellness looks a little different. Whether you feel most supported when joining in a guided meditation, through continuous education, or through fitness—this Wellness Week we've got you covered. Attend sessions that stand out to you and join others you are interested in learning more about!
Wellness Week is a unique opportunity to get to know a variety of resources across campus and connect with UW like never before!
---
---
Here's a snapshot of our partners. Each partner will present at least one virtual session throughout the week. Register for UW Wellness Week and gain access to a consortium of wellness at UW!
Wellness Week Presenting Partners hosted by The Whole U
Physical Health & Wellness
UW Recreation (fitness & mindfulness)
Ian Fitness
TruFusion
PureBarre
UW Sports Institute
Environmental Health
UW Sustainability
UW Recycling
UW Environmental Health & Safety
Family Wellness
UW Medicine
Center for Children's and Family Well-Being
UW Work-Life
UW Benefits
Kindercare and Bright Horizons
Bridges at 11th Apartments
Emotional Wellness
UW Combined Fund Drive
UW CareLink
UW Resilience Lab
Financial Wellness
Homestreet Bank
BECU
Fidelity Investments
US Bank
Student's Corner
UW Counseling Center
UW Hall Health
UW Libraries
---
Thank you to AT&T and BECU for being our Whole U program sponsors.