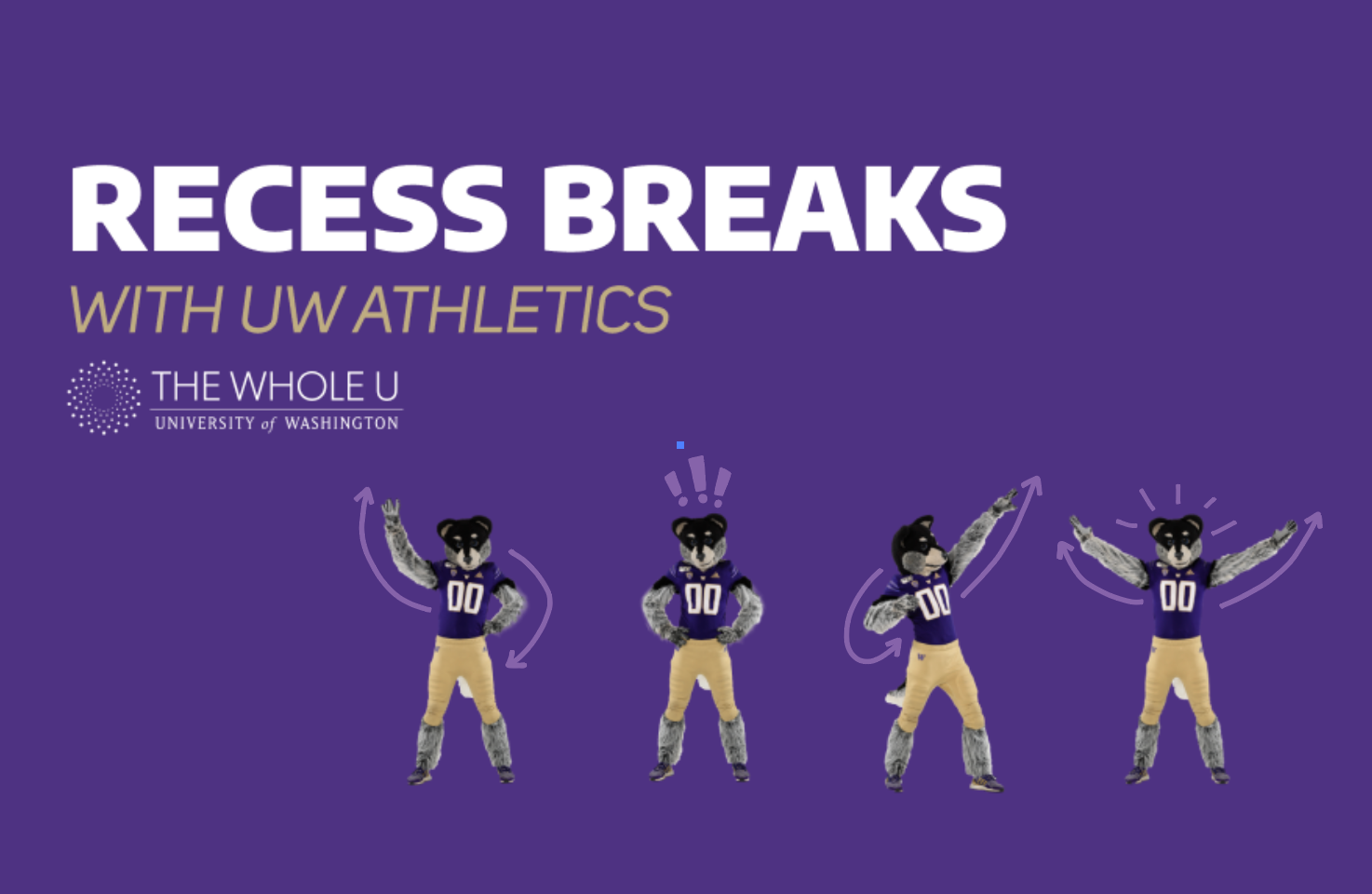 Bring Back Recess with UW Athletics
Laptop? Check. Headphones? Check. Wifi? Check! Back to school this year definitely has a different list of necessities for parents and students. While our learning environment may be shifting into the living room, dining table, or bedroom desk—one thing many parents and students are wondering together is how to continue recess, P.E. and a connection to sports and fitness in a virtual space.
With many fall and winter sports teams postponed and remote learning setting into place, virtual exercise and learning about the benefits of fitness is entering a new realm as well. However, we view this as an opportunity to expand our connection across the University of Washington in a way we simply can't when students are learning in person.
That's why The Whole U is excited to partner with UW Athletics in welcoming you and your school aged kids to virtual UW Recess on Mondays and Wednesdays at noon.
UW coaches and athletes are a wealth of knowledge when it comes to balancing exercise, love of sport, and school. With passion for fitness and sports, they cannot wait to host UW Recess on Zoom—leading accessible, and exciting 15-minute recess sessions for your school aged children.
UW Recess is about keeping your children engaged in learning about fitness and the benefits for our body and mind in a fun way with athletes and coaches your children can look up to. Although we cannot meet together in the gym, we hope to see you virtually for a break from workbooks, creating a space together for expression and expelling built up energy.
"We can't change many of the things that make learning at home difficult, but we can put one proven idea to work — schedule time for children to move every day", says Dr. Samuel Browd, director of The Sports Institute at UW Medicine.

"Physical activity builds brain function. Studies show that movement can make children more attentive. It relieves stress that interferes with the brain's ability to learn. If your child is struggling to focus, start with movement."
How UW Recess works
Every Monday and Wednesday at noon that is free in your child's day, hop on the provided Zoom link. UW coaches and athletes will lead your child in a 15-minute fitness session. Your child will get to know UW athletes and coaches and have an opportunity to ask them questions about what it's like to play at a collegiate level. These workouts will be a mix of drills useful for specific sports and general fitness for all.
Parents are welcome to join but are not required to. UW Recess is designed for school aged kids approx. 6—12 years old, but all students are welcome.
---