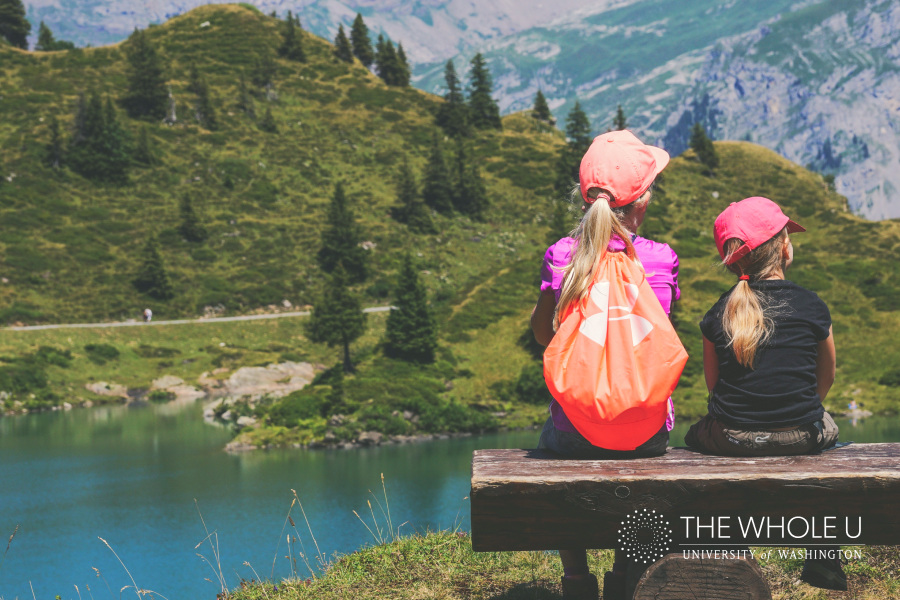 Washington is known for towering peaks, sparkling falls, glistening alpine lakes, and fields peppered in wildflowers. The best way to view all these natural wonders? Hiking! Summer in Washington is high season for hiking, with August being especially busy. Right now, many of us are juggling practicing responsible and safe recreating with getting out in nature and enjoying the activities that are open and socially distanced from others.
Hiking is a great way to exercise and spend time outside of your home, but there are a few important things to note if you plan to be hiking during the pandemic. The following guidelines are recommended by the Washington Trails Association to keep you and others who are enjoying the trails safe. Happy hiking!
1. Mask up!
Even when outdoors and in the woods, be sure to have a mask on hand for passing others on the trails. Often times trails aren't very wide and can bring you closer in proximity to other hikers than 6 feet even if you try your absolute best. Be sure to wear your mask when passing, step off to the side of the trail (safely of course!) and turn away to allow the other hikers to pass comfortably. Don't forget to say hello!
Even if you are masked and facing away, a wave is much appreciated out in nature. If the trail you are on has more foot traffic, keep your mask on. It won't get in the way of the views! If you are doing the passing, be sure to be courteous and pass in single file, as distanced from those waiting for you as possible.
2. Stick to less populated trails.
I bet we all can name some of Washington's most popular hikes. Especially those closer to the greater Seattle area that are commonly shared on social media. While these trails are popular for a reason, they might not be the best to pick for a hike right now. Luckily, Washington has an amazing Washington Trails Association website that can tell you almost everything about the many trails across the state.
One way to know how popular a hike is, is to check out the reviews on the WTA website. Many hikers in the outdoors community leave detailed reviews to help future hikers assess the conditions of the trail. In the last few months, most reviews have commented on trail popularity. If you see multiple reviews noting that the trail was pretty busy, it's safe to say maybe you should look for another option.
3. Have a backup plan.
Tied to tip number 2, it's always a great idea to have a backup trail in mind. If you arrive to the trailhead and there's no parking, you can assume there are a lot of people on the trail. That might be an indicator that you will be able to better socially distance on a different, less popular trail in the area. No matter where you go, there's always something beautiful to see. Don't get too tied to one option. You're sure to find something just as wonderful nearby in almost any of the mountain ranges in the state.
4. Hike at less common times.
We've all heard the saying "The early bird gets the worm". The same is typically true for many of Washington's marvelous hikes. Getting up early in the morning isn't always the most fun, but it pays off when you get the trail all to yourself. Socially distancing is much easier when there are few other groups on the trail. You'll also enjoy having the luxury of keeping your own pace and not needing to navigate passing others.
If you have the ability to hike midweek, you're sure to find less people on the trails than on a sunny weekend. Same goes for cloudy or rainy days. Be sure to watch the weather for your safety, but if there is light rain in the forecast—often times you'll still be covered by the canopy of the woods and the moisture will only help to keep you cool as you climb your elevation gain.
5. Sanitize.
Just like going anywhere else, be sure to bring sanitizer with you so that you can quickly kill germs after coming into contact with any high-touch points. Washington is home to some unique lookout towers and bridges. With sanitizer on hand, you can feel better about exploring new places in the outdoors.
6. Hike in a small group.
It's always a good idea to hit the trails with a buddy, but being outdoors is not a free pass to get together with all of your friends! Keep your plans to a small group already within your "COVID-19 bubble". Be smart and safe, overpopulated trails lead to closures.
7. Stay home if you feel sick.
Last on this list but most important, stay home and rest if you are experiencing any cold, flu, or other illness symptoms. Not only will your body thank you, but this is the best way to be courteous to the others on the trail. The trails will still be there when you feel better!
You can learn more about hiking during the COVID-19 pandemic on the WTA website. In fact, you can find an article or blog post about almost anything outdoors related on the WTA website. Knowledge is power, so be sure to read up on your trail and the surrounding area before you head out on your adventure. All Trails is another popular website for sharing information about trails.
Now that you've refreshed on hiking etiquette and best practices during COVID-19, we've rounded up 10 breathtaking hikes in our state. The mountains, rivers and trees are calling for you to enjoy them! Do so responsibly for yourself, others, and our environment.
---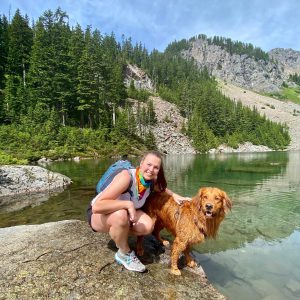 Anna is The Whole U's marketing and events specialist and a UW alum from the Jackson School of International Studies. She absolutely loves working at UW and interacting with her fellow Huskies on a daily basis.
Outside of The Whole U, Anna loves being active with her friends and family. In the winter you'll find her skiing down the mountain and in the summer, hiking back up it! Some of her favorite adventures from this season are highlighted in the photos above. Anna was born and raised in South Seattle and is an avid Grey's Anatomy fan.