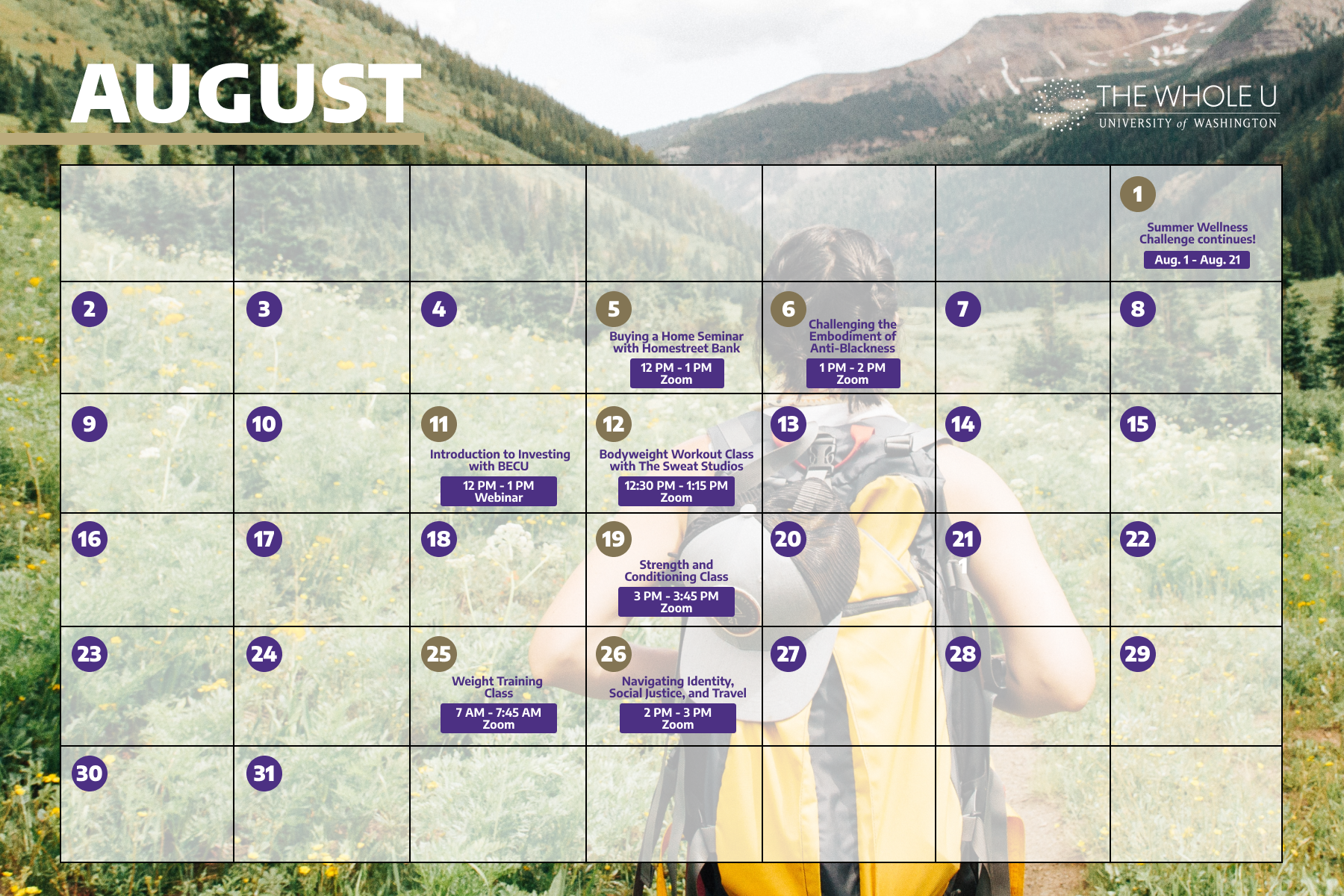 Learn and Grow with The Whole U at these August Events
Let's live it up during this last month of the summer! The Whole U is excited to wrap up the summer with these engaging, wellness-focused virtual events open to the greater University of Washington community. Throughout this month, you can learn about identity, social justice, and financial wellness, in addition to our summer wellness challenge and fitness events. There's something for everyone this August!
---
When: July 13 – August 21
This summer no doubt looks much different at UW. That's why now is more important than ever to participate in The 2020 UW Summer Wellness Challenge, prioritizing your holistic wellness and building community with your colleagues, family, or group of friends! It's not too late to participate. This week we kick off Week 4 focused on financial wellness.  Click here to register and learn more!
---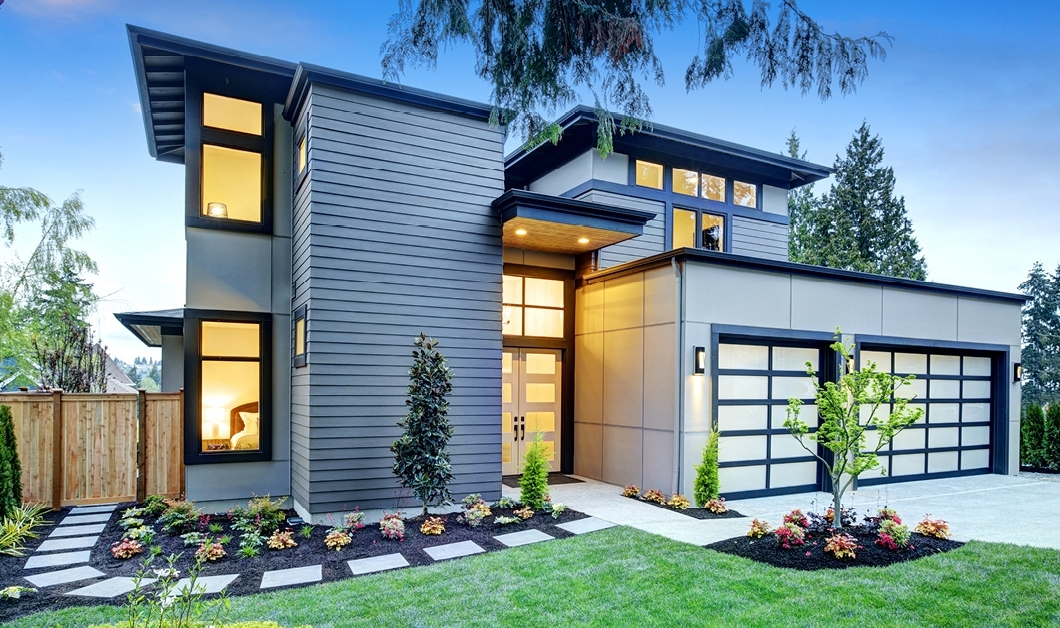 When: August 5, 12 PM – 1 PM
Whether you're buying your first home or just need a refresher, this Zoom seminar hosted by HomeStreet Bank is for you! You will be able to learn more about the real estate market, the role of real estate agents, pre-approvals vs. pre-qualifications, mortgage applications, home inspections, and more. 
---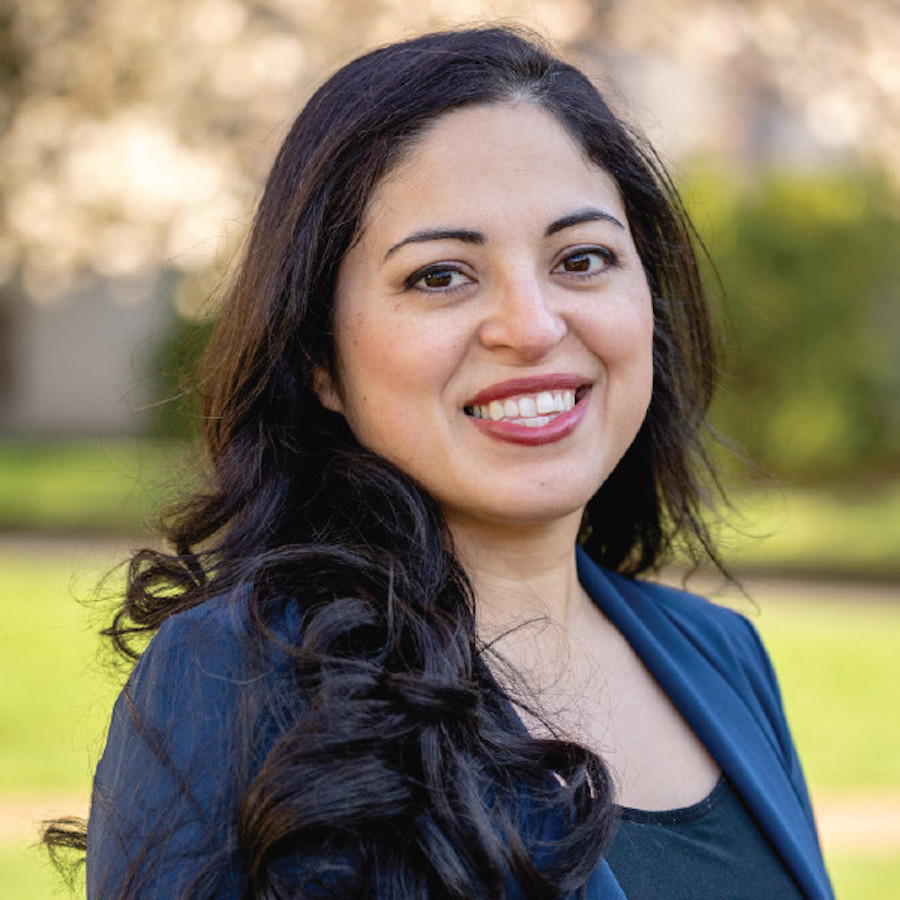 When: August 6, 1 PM – 2 PM
Join The Whole U, the UW Counseling Center and Dr. Andrea Salazar for an hour Zoom workshop on Thursday, August 6 discussing the embodiment of and trauma from anti-blackness experienced by Black and Brown persons. We will use concepts from Resmaa Menakem's book, My Grandmother's Hands: Racialized Trauma and the Pathway to Mending Our Hearts and Bodies. This workshop will facilitate a space to learn more about the historical and ongoing presence of anti-blackness in society. 
---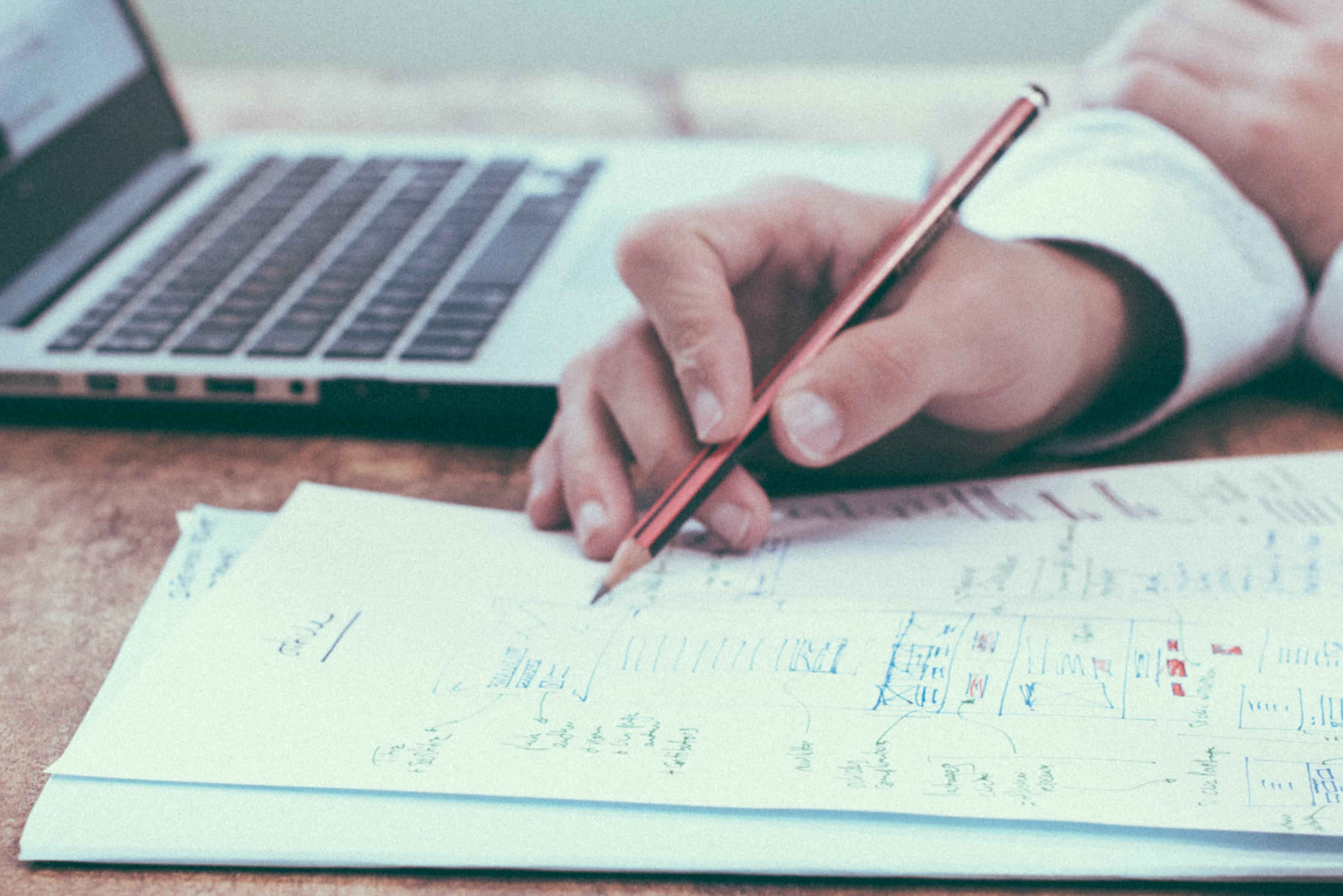 When: August 11, 12 PM – 1 PM 
Join BECU for this simplified conversation which tackles common investing and financial terms, explains basic investment concepts, and describes different types of investments in detail. You will learn how to potentially increase your net worth by setting goals, using various investments, and implementing different investment strategies.
---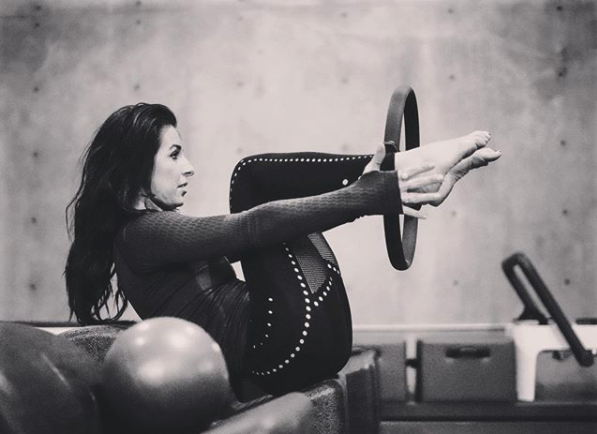 When: August 12, 12:30 PM – 1:15 PM
Virtual classes are the new way to exercise during quarantine! Join Jade Tabares, founder and owner of The Sweat Studios, for a fun and motivating bodyweight workout on August 12 at 12:30 p.m. This pilates based exercise class will work your body from every angle, sculpting the legs and bottom while also focusing on strengthening your core. Leave feeling stronger and taller.
---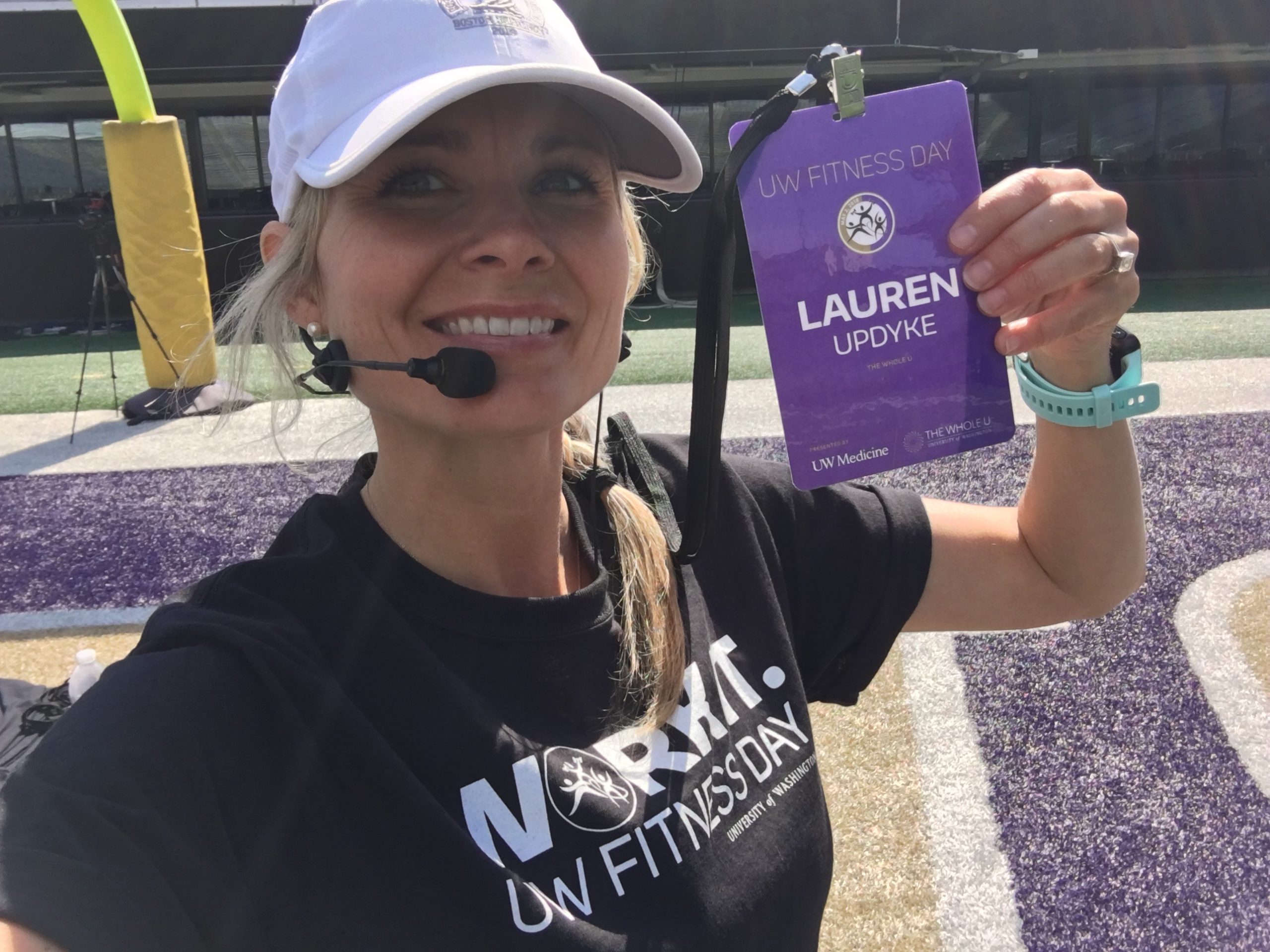 When: August 19, 3:00 PM – 3:45 PM
Energize your full body with a dynamic, virtual strength and conditioning fitness class! This class will include body weight exercises from head to toe with bursts of cardio mixed in. Experience and learn how to use both your body and the space around you for a great exercise routine to keep you motivated through COVID-19. The workout will be hosted via Zoom by The Whole U Assistant Director, Lauren Updyke. 
---
When: August 25, 7:00 AM – 7:45 AM
Dust off your weights, create a gym in your home, and join Lauren Updyke for a 45-minute intermediate weight training class.  You will need two sets of weights at least (5lb – 25lb range) and a chair.
This class will include total body and focus on both large and small muscle groups. We will finish with core and stretching.
---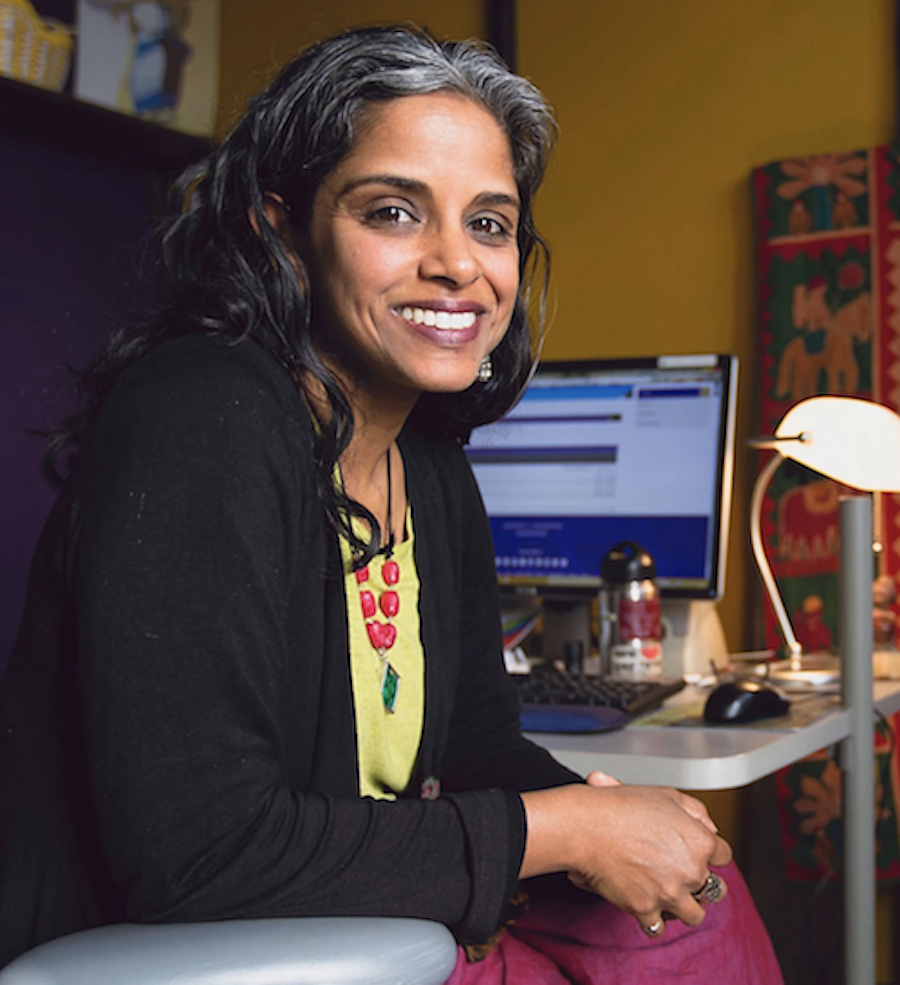 When: August 26, 2:00 PM – 3:30 PM
Join us for a workshop led by Dr. Anu Taranath featuring her timely and compelling book, Beyond Guilt Trips: Mindful Travel in an Unequal World. This workshop will explore how to enter the conversation about race, culture, wealth and access with more grace, reflection and accountability. 
Featured in Oprah Magazine's "26 Best Travel Books of All Times," and a Finalist for three book awards, Mindful Magazine has written, "Enlivened by her travel stories—at once tense, challenging, and brightly beautiful— Taranath's book may become required reading for those who wander, and those who want to." 
---
Wondering what other fun, exciting events and informative articles are offered by The Whole U? Head to our events page to explore all the do-it-yourself downloads and fitness plans that will help you take life to the next level! 
From helpful kitchen "cheat-sheets" for creating delicious, nutritious meals to workout plans for getting stronger and healthier overall, use our virtual trainings to be more accountable and driven in your daily life. Follow us on Facebook, on Twitter, or on Instagram to stay up to date on everything going on, including fun social media-specific features and contests!