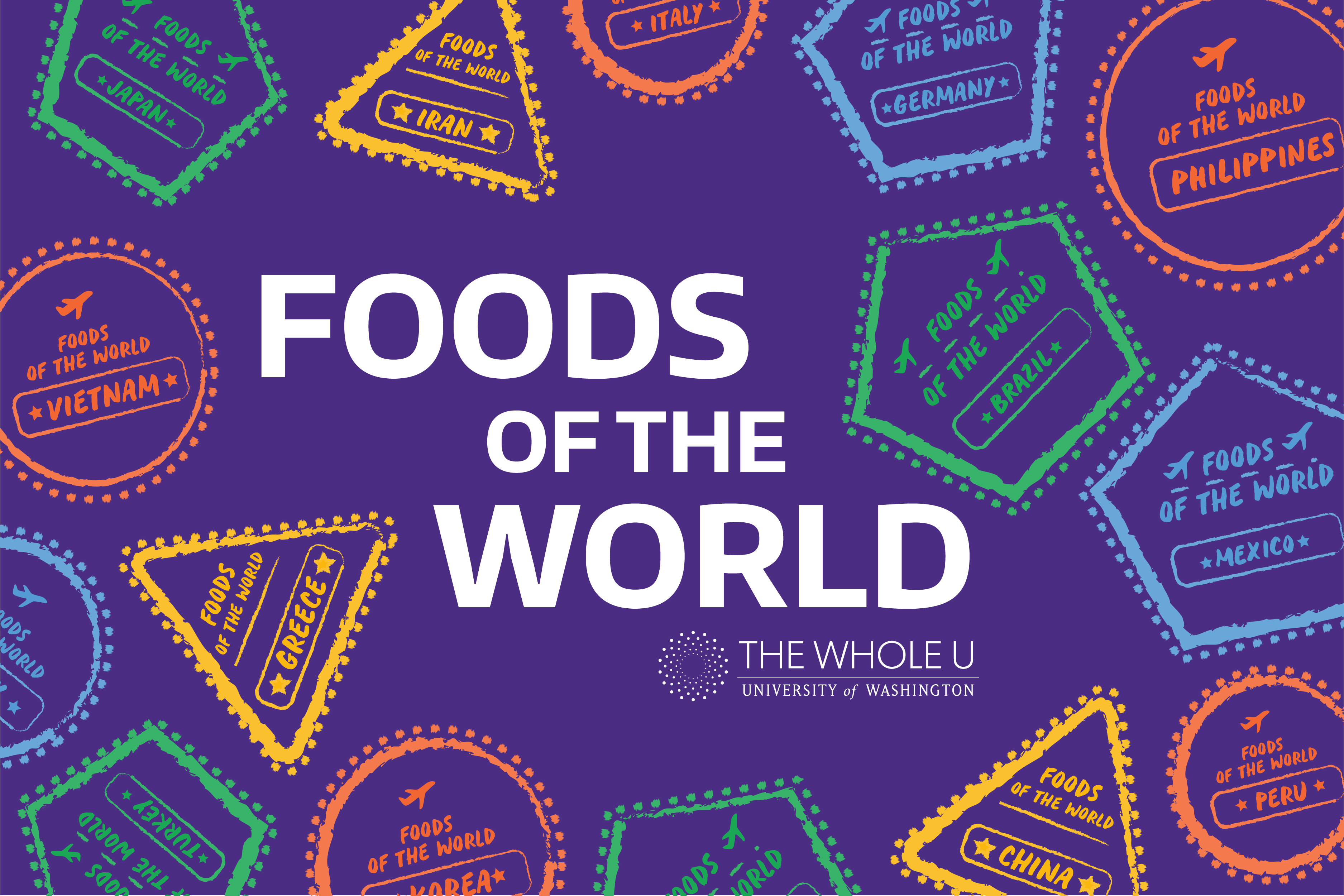 Launching the Husky Cookbook
Across the University of Washington, students, faculty, and staff are creating thousands of groundbreaking and engaging projects that will reshape our UW community and communities around the world. One of these standout student groups is the Husky Cookbook Project Team. This past year, the team worked to develop the first edition of the Husky Cookbook with funding from the 2019-2020 Husky Seed Fund, an award that brings to life innovative and inclusive student ideas.
The Husky Cookbook is a collection of 63 recipes and food stories sourced from an even split of students, faculty and staff in a variety of disciplines and schools at UW. It invites us to share our culture, identity, and get to know one another through food. The project team sought to capture the diversity within the UW campus, creating a final cookbook that showcases dishes with origins from a wide variety of countries, cultures, and cuisines.
The Whole U is excited to provide an online home for the first edition of the Husky Cookbook. 'Flip' through the pages of the cookbook, pick out a recipe to try for yourself or your loved ones, and consider submitting your own recipe and food story to The Whole U for our Foods of the World column and the next edition of the Husky Cookbook. Together, we can make a lasting campus legacy.
You can also download a PDF version of the Husky Cookbook here.
Meet the Team
We spoke with Ivory Loh, the project lead who created the initial project proposal, to learn more about the mission and vision of the Husky Cookbook.
"In my first quarter at UW, I took a class in which we were encouraged to share a food that represented our cultural identity in a small-group setting. Talking about food was an easy way to get a slice of each person's life, and I was able to open up about parts of my background and identity that I wouldn't have otherwise shared. I left class that day feeling much closer to my peers. This experience was my inspiration for the Husky Cookbook," says Ivory Loh, a graduate student pursuing her Masters of Public Health in Nutritional Sciences and training to become a registered dietitian nutritionist.
Ivory sees the Cookbook providing a gateway for us all to take our seat at the Husky dining table.
"At the table, you will share a delicious meal with other fellow Huskies and get to know a bit about each of their personal stories, identities, and cultures through food. As you dine through the pages of this cookbook, I hope that you too will be inspired to bring a dish to the dining table and be willing to share your own food stories.
I hope this project sparks personal reflections on how food, family, and/or culture have shaped your identity, and more importantly, prompt meaningful conversations to help build lasting relationships within the UW community."
To Ivory, food is not only a way to break barriers and build relationships, but also a way in which stories of culture and traditions are shared and preserved. "Food is a part of our daily routines and the perfect starting point for bringing people together to build community. I personally hope that individuals within the UW community will continue to reflect on how food, family, and culture shape who they are."
Alongside Ivory, The Husky Cookbook Team includes Erin McDonnell and Emahlea Jackson, who are both graduate students in the Nutritional Sciences and Dietetics Program, as well as Elizabeth Shi, a graduate student in the Master of Public Administration program.
Sarah Smith, an alumna of the UW School of Art + Art History + Design, designed and produced the Husky Cookbook, and Dr. Anne-Marie Gloster, a faculty member in the Nutritional Sciences Program and lecturer with the UW School of Public Health, guided the project team as a mentor. The team is rounded out by two undergraduate students, Katie Chua and Sabrina Zhu.
The project team's vision is for the Husky Cookbook to kickstart a larger sharing of food stories and recipes within the community. We hope that you join us in making that vision come true by sharing your food story today.