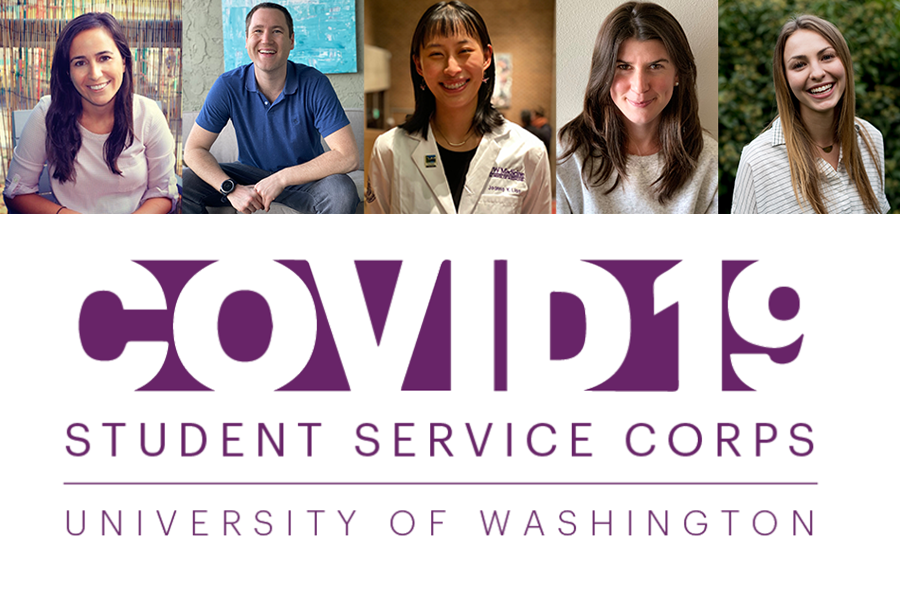 Spotlight: COVID Student Service Corps
At the University of Washington School of Medicine, student service learning never stops—even during a global pandemic. Under "normal" circumstances, more than 500 medical students regularly staff some 50 healthcare projects that serve thousands across Washington, Wyoming, Alaska, Montana, and Idaho.
These clinical projects—which encompass advocacy, health education, and mentorship—form the primary pillars of community engagement at the UW School of Medicine. So when COVID-19 prevented medical students from taking part in on-site service learning and clerkships in hospitals, a group of five students stepped up to found the COVID-19 Student Service Corps (CSSC).
"We got into this with the goal of helping people and since we're not allowed to be in hospitals right now and our education is going to be remote, there were a lot of students wondering how we can help, what can we do," says Steve Coppess, a fourth-year medical student who serves as one of the group's five student administrators. This quarter, he is taking a neurology course, which would normally place him in the hospital for 60-80 hours per week taking care of patients.
"Because we're not in the hospital, there can be more time for students to engage in extracurriculars," he says. "So what we started doing is forming this organization to connect students with the hospitals or with faculty who have projects and are interested in medical student volunteers."
Natasha Steele, another fourth-year medical student, had learned about a similar group at Columbia University that aimed to connect students with needs of the University's hospital during COVID-19. So she, Steve, and fellow fourth-year Ashley Besch put out a call for volunteers among the four medical student classes at UW.
Within a few days, more than a hundred students had volunteered to work on service projects and research.
CSSC's student leaders took that base of support and started reaching out to leaders within UW Medicine to find projects that they might be interested in getting student support on.
"That's been exciting for us to see because [as fourth-year medical students] some of the most important relationships we had in determining our specialty or the trajectory of our career has been born out of the relationships we have with our faculty," Steele says.
"When that goes online, it's lost, so we think we're bringing a lot of that back with these projects for our colleagues. It's a new paradigm for sure."
Among those they reached out to was Dr. Herbie Duber, a co-lead for service learning at the UW School of Medicine and Section Head of Population Health within the Department of Emergency Medicine who has been helping lead UW's vulnerable population response along with Dr. Nancy Sugg during COVID-19.
"Being able to find an outlet for these students, to ensure they're doing something that is not just beneficial to them, but also beneficial to the communities that we serve is critical," Duber says. "It's great to see such passion and interest on behalf of medical students and it's great to see faculty seeking out opportunities for students to fill in roles and be part of it."
CSSC makes it easy for UW Medicine faculty to submit project proposals online—"it takes about three minutes to complete," Steele says—while students can fill out profiles of their own with information about themselves, including special skills, what they're interested in, and how much time they're able to commit.
"One of the benefits of having so many students sign up to help out is that they all bring different backgrounds, experiences, and skill sets from even before medical school," Coppess says. "It provides a way for students to get involved in ways that they might not otherwise know about, but also a way for them to use some skills they've already acquired in a really positive, helpful way."
Steele says in many cases CSSC helps match students with specific interests and experiences with PIs who are in need of such skills, but adds there are different ways for students with less experience to get involved as well.
Coppess echoes the sentiment: "Projects come up and the next thing you know, your career has taken a certain path and you're set to do X, Y, or Z."
Dr. Duber has helped publicize CSSC's networking efforts through the incident command structure for the COVID response. He says that, coupled with the willingness of UW Medicine to support the promotion of this work, being engaged simultaneously in the incident command structure and public health has helped opened up a number of doors for student activities or potential student activities.
"Service learning makes me tune into things a little bit differently—thinking not just how are we benefiting the community through the activities that we're doing, but how can we guide the next generation of students to plug into those activities that are reaching underserved communities," Duber says.
Thus far, medical students have been able to volunteer on a variety of projects and cutting-edge research through the CSSC's networks, including mobile COVID-19 testing centers in Seattle's underserved communities and facilitating efforts to follow up with tested individuals who might not have stable or consistent housing.
"We have one student who is doing a daily chart review to help figure out where those patients are, where they might frequent, and how to contact them," Coppess says. "Then that information is provided to the community organizations to help reach out to these people—for two reasons: one, to let them know they have a positive test and follow up on their health and treatment and, second, to help with isolation and limit the spread of the virus in the areas that they're living."
"What's been important for us is the emphasis on filling the needs of the community—really making sure it was a needs-based approach to this work," says Ashley Besch, also a co-chair of CSSC. "We want to make ourselves a conduit for more direct connection between UW Medicine and the School of Medicine [in the response to this pandemic]."
Together, Steele, Coppess, and Besch say there are three especially exciting areas of research at UW that CSSC is helping to support and is primed to be a national and international leader in addressing: antibody testing, animal transmission, and various clinical trials.
"Are we going to find COVID antibodies in the general population that confer some sense of immunity and people can start getting back to work?" Steele asks. "The antibody question is going to be critical for public policy in the United States."
Among many other things, Dr. Anna Wald, Head of the Allergy and Infectious Diseases Division at the UW School of Medicine, is working on testing antibodies to coronavirus hoping "to create a pool of convalescent plasma to use as potential therapy and to produce high titer IVIG as therapy or prophylaxis." Currently, there are two CSSC volunteers helping do outreach, screening people, getting them into the research clinic.
"The opportunity for our students to work on something like antibody testing is huge," Steele says.
Another looming question coronavirus poses is that while we know it's a disease that has its origins in animals, we still don't know if humans can get it from pets or if they can transmit it to pets, in turn.
"As we move toward controlling it in people, are we going to have this huge animal reservoir that continues to infect people for years to come?" Steele asks, adding that four CSSC students are currently working on a study testing the pets of COVID-positive patients in King County to see how many of their pets are infected.
A third exciting area of focus for CSSC volunteers is helping researchers investigate the effectiveness of hydroxychloroquine and azithromycin as a treatment of COVID-19, Steele says, adding that such studies will help answer the question for the global community of whether or not we should be prescribing these treatments for patients with coronavirus.
"It's cool to have some of the biggest questions that are unanswered around coronavirus being active projects for us at CSSC and getting medical students exposure to the world-class faculty working on those projects," Steele says. "Then they have that connection for the rest of their life."
Not only will such connections and experiences be beneficial—they may well also prove essential when it comes to preparing for the next pandemic. "I'd love to see CSSC continue going forward. Our goal is for this to be a living and breathing organization that our medical student colleagues will take control of and continue to build after we graduate in just a couple months," Coppess says.
"One of the things we've talked about among ourselves is that having the pandemic happen really drives home the point that we all need to be ready to respond to this kind of thing going forward."
---