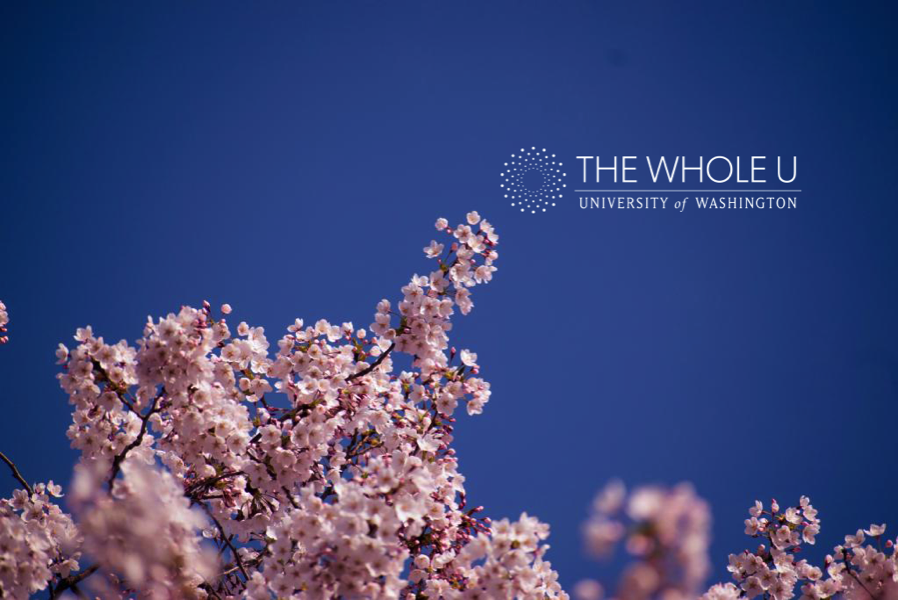 Join our virtual Poetry Café for Poetry Month
In this time of uncertainty and great concern, we can rely on poems to offer wisdom, uplifting ideas, and language that prompts reflection that can help us slow down and center mentally, emotionally, spiritually.
Since launching in April 1996, National Poetry Month has given people an annual occasion to celebrate the importance of poets and poetry in our culture. This April feels like an especially great time to explore the power of poetry and how it can be used to craft connection and celebrate the things that mean most to us!
That's why we're inviting you to join us this April for a virtual UW Poetry Café where we can share the poems we love, write some of our own, and connect with our wider community over the written word.
You might not think of yourself as a poet, but that's all the more reason to participate! Doing so can be as simple as asking yourself the question: "What or who inspires me?" and then writing down any thoughts that come to mind.
To help get your creativity flowing, The Whole U devised the following UW-themed poetry prompts to try on your own or with colleagues and friends.
Pick the prompt that resonates most with you then share your favorite poems or original compositions with us by sending them to wholeu@uw.edu or by tagging them #UWPoetryMonth on social media.
---
Share your favorite poem and what it means to you. Send a favorite poem and a few sentences about why it's your favorite to wholeu@uw.edu and we'll feature your submissions on our social media platforms and in a special spotlight during the month of April. Get your kids or colleagues in on this activity!
---
UW's cherry blossoms are currently off limits to the public, but that can't stop you from appreciating them from afar. Write a poem celebrating UW's cherry trees. Imagine you are there. What can you see, smell, hear, feel?
---
Re-write UW's "college yell." UW professor

James Clauss

suggested this prompt based on finding this somewhat dated iteration from a Tyee 1906 Yearbook. Clauss challenges the UW community to write a new four-line cheer celebrating the UW that you'd yell at an athletic contest. Adapt this activity: Compose a short cheer expressing thanks, praise, or encouragement for UW Medicine staff and we'll share any submissions in this category every Thursday as part of our #UWThankYouThursday theme!
---
Write a poem about a favorite place. Take a cue from the team of UW English majors who last year created an

online ecopoetry map of Washington state

for a course taught by senior lecturer Frances McCue. Populated with site-specific poems that celebrate the state's diverse environments,

the map consists of 56 location markers

which visitors can click on to read a poem referencing locations ranging from the Olympic Rain Forest to the Palouse.
---
Use poetry to connect with others. Consider setting the tone at the beginning of your virtual meetings by reading a poem.

Kate Norako

, assistant professor of medieval literature, suggests teaming up with a friend, colleague, or family member for a poetry "write-off" which involves sending one another a poem a day for a set period of time (try five days to start). "We don't comment, there's no need to respond, it's just the gentle accountability and that push to write," Norako says.
---
Next week, we'll feature any submissions you send us alongside a few favorite poems and further prompts as suggested by UW poetry faculty! Later this month, The Whole U will host a virtual Zoom Poetry Café where anyone who wants to can read their favorite poems or original work!
Looking for more ways to weave poetry into your daily doings or work week this April?