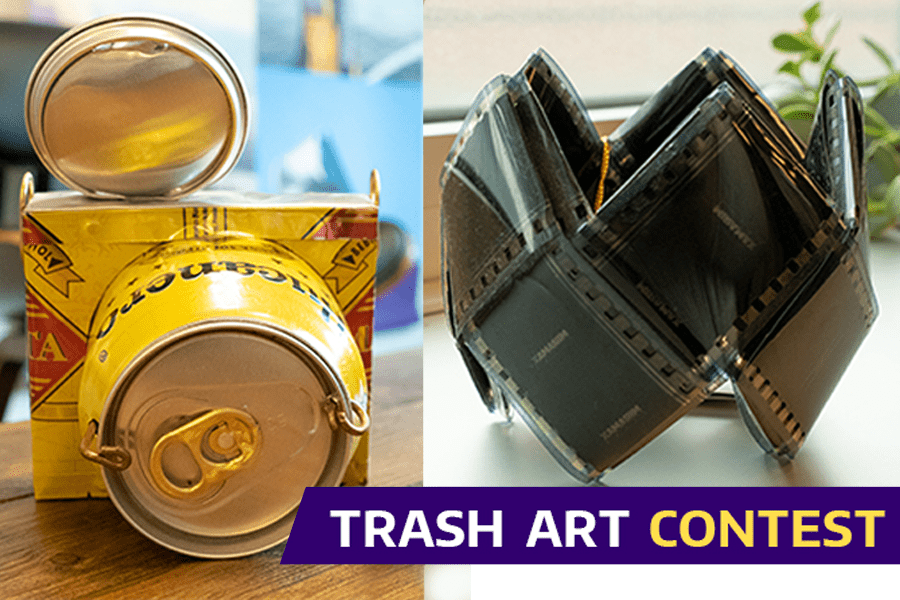 Spotlight: UW Recycling's Trash Art Contest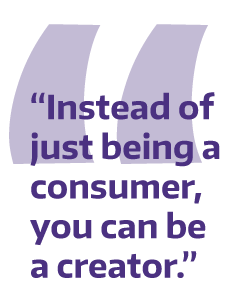 Sometimes the most powerful act of conservation is an act of creation. That's the driving idea behind UW Recycling's Trash Art Contest, which invites current UW employees and students to make and share art pieces composed of a majority of recycled, salvaged or collected litter materials.
"I think a lot of times people think of recycling as a way to disappear items that they don't want anymore and really this contest calls out the more transformative process of recycling," says Liz Gignilliat, manager of UW Recycling. "Instead of just being a consumer, you can be a creator."
Gignilliat says that the contest's call for creative thinking is intended to underscore the idea that recycling is "very different than throwing something away." When you recycle aluminum cans, for example, you're already part of a manufacturing process.
"This project uses peoples' creativity to see what else you can make," Gignilliat says, explaining that the contest is intended as a thought-provoking exercise to encourage people to shift their perceptions of waste and the ways it emanates from our choices into the world.
Submissions to the contest should be shared by filling out this form by March 25, 2020 at 4:00pm. Among all submissions, a 1st, 2nd, and 3rd place will be awarded a $75, $50, and $25 gift cards to Artist & Craftsman Supply. The works of art will be displayed at UW Earth Day on April 22 and three top selections will also be displayed at the UW Tower as part of its new Green Square urban garden courtyard space, a campus sustainability-funded project that will open in April.
"The purpose of the Trash Art Contest is for people to consider their waste in a new light and really consider where it is going exactly," says Madeline Schroeder, UW Recycling program coordinator.
The contest is part of the department's broader participation in RecycleMania, an annual two-month "friendly competition" to encourage recycling at universities which Schroeder helps lead.
In the past, Schroeder says UW typically outperforms the other Pac-12 schools in terms of how much waste diversion we have during RecycleMania, but this year is especially focused on waste reduction instead of raw recycling numbers. Currently, UW diverts 61% of all waste from landfills. Its 2020 benchmark goal is 70%.
Schroeder says its important and powerful that people see their waste: "When you throw something away, it's not actually away. You still have to wonder about where it goes and what you can do to potentially negate that impact."
Schroeder says she hopes the Trash Art Contest gets participants to interact with their own garbage and why they might have it, why they might be throwing it away. Neither she nor Gignilliat are interested in playing art critic, rather, they want to encourage anyone to submit, regardless of their self-perceived artistic ability.
"We really want to provide the opportunity to hear more from campus so it's not just us telling people what to do, but instead trying to get a better understanding from people campus about what they want to do," Gignilliat says.
Schroeder echoes that sentiment, encouraging anyone to enter: "Definitely take a risk and submit something. Someone shouldn't wonder if their piece is good enough or fits the mold. When people make something, we want them to really consider where it's from and what impact it could be having. The art piece could reflect that or you could be thinking about that as you make it."
That ability to platform ideas and elevate voices of students or other staff members and then put those into action is the aspect of her work that Schroeder says she enjoys most.
"I really appreciate that act of doing and our ability to put those [ideas] into action relatively quickly," she says.
Both Gignilliat and Schroeder want people to know that UW Recycling is a resource for everyone on campus and for the community in general and that their team is always available to answer questions and field ideas.
The Trash Art Contest is just one of the many opportunities to engage the UW community for theirs.
"We're trying to be more inclusive where we're not just creating the message," Gignilliat says. "We're amplifying messages that UW faculty, staff, and students want to create."
---
Learn more about the Trash Art Contest, UW Recycling, and more ways to get educated and involved here.