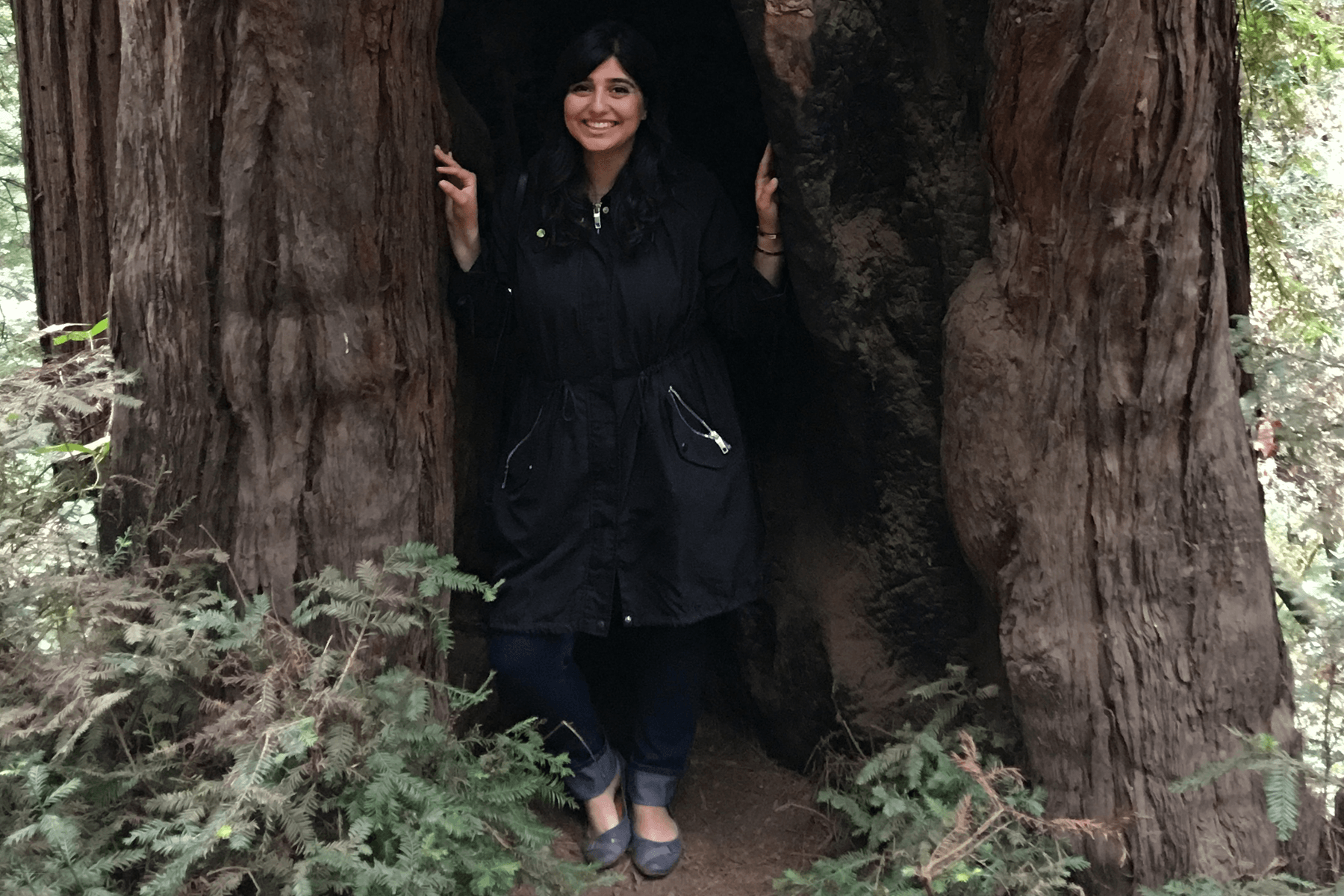 Whether she is working in Seattle as an assistant director of philanthropy at UW Medicine or practicing the craft of woodturning in her free time, Sasha Nouri likes transforming abstract ideas into realities.
Woodturning is the art of using a wood lathe together with hand-held tools to cut a shape that is symmetrical around an axis of rotation. Nouri says the age-old art form shares unexpected similarities with her day job.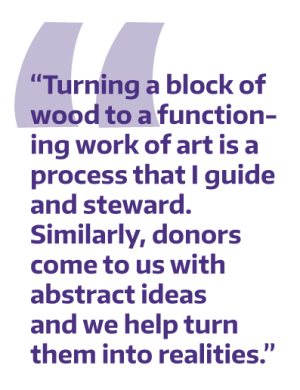 "Turning a block of wood to a functioning work of art is a process that I guide and steward," Nouri says. "Similarly, donors come to us with abstract ideas and we help turn them into realities."
Nouri says the project she is most passionate about is UW Medicine's ongoing effort to raise money for scholarships for underrepresented medical students at the School of Medicine.
"People come to us with a philanthropic spirit," Nouri says. "They want to see something good and positive happen [and] we help make that happen."
"We strive to make giving a meaningful process by building authentic relationships with members of our community and connecting their ideas and hopes to outcomes that have a profound impact on people's lives."
Nouri began working with wood with her father, a self-taught master woodworker, in 2009. A dentist full-time, he began working with wood as a child in Iran when his father gifted him a wood planer for his eighth birthday. He got into woodturning later in life and, together with Sasha, turned the shared hobby into an online shop, Under the Chestnut Tree.
"My dad really encouraged me to explore my creative side in woodturning," says Nouri, who credits him for encouraging her to draw and paint growing up. She recalls how she would often sit in the garage and watch him work on larger scale woodworking projects—like furniture building—for hours.
"I am grateful that my parents were focused on making me a well-rounded creative person and encouraged me to explore that side of myself at a young age," she says. "They also encouraged me to have a love for nature. I feel a deep appreciation for the wood that we work on."
Nouri and her father try to salvage wood whenever they see some chopped up on the side of the road.
"It's very sad to us when a tree is chopped down but we try to create something beautiful out of it," Nouri says, adding that one of her favorite aspects of turning wood is that doing so feels therapeutic. "Some of our best work is done collaboratively. We tend to work on our own pieces but, occasionally, we will be in the shop turning together."
Nouri says she'll often be inspired by her father's work mid-process and offer suggestions that he'll take into consideration and vice versa.
"The wood often speaks for itself and gives us direction on how it should be turned," says Nouri, who is also certified through King County's Master Gardener program, which she says has afforded her an even deeper appreciation of the tree species she and her father work with when turning wood.
"We like to study the tree," she says. "We look at how the wind and the elements have shaped it, and we listen to what that is telling us, and that is what we do, that is what we create."
Though Nouri has lived in Seattle for the past five years, she still does most of her woodturning when she returns to the Dallas area to visit her family for breaks or vacation. Her father converted the garage into studio suited to a variety of projects.
Even so, Nouri keeps a few of the essential tools for woodturning on hand at all times and has sold Washington-turned bowls locally at the Ballard Farmers' Market. Of late, her favorite item to make is wine glasses with wooden stems.
"At the base of each stem, we add a unique identifier in the wood so that it can serve as a marker so each person will be able to identify their glass," she says.
Another unique style she enjoys is turning bowls with a natural edge—meaning she leaves the wood's natural bark visible along the outer edge of a given bowl. The crafting process is not without its challenges and setbacks, however.
Not every piece of wood turns out in the end. Some crack and break hours into the production process.
"It's taught me patience and resilience," Nouri says. "I've learned to not be held up by these mistakes."
Last December, Nouri's local storage unit that held her inventory of bowls and farmers market supplies was vandalized, which has prevented her from selling more pieces at the farmers market. But that hasn't discouraged her from practicing the craft. Nouri has continued to make bowls and other items that are as functional as they are decorative.
She says she hopes more people will recognize women who work as wood turners as woodturning is traditionally a field dominated by men.
"It's important to support artisans who are from diverse backgrounds," she says. "There are very few women woodturners and even fewer of them are women of color so please do your best to support underrepresented people in the field."
---
Learn more about Sasha's work and Under the Chestnut Tree here. Then check out our Engaging Interests category for more great content surrounding how the UW community engages creatively with the wider world.