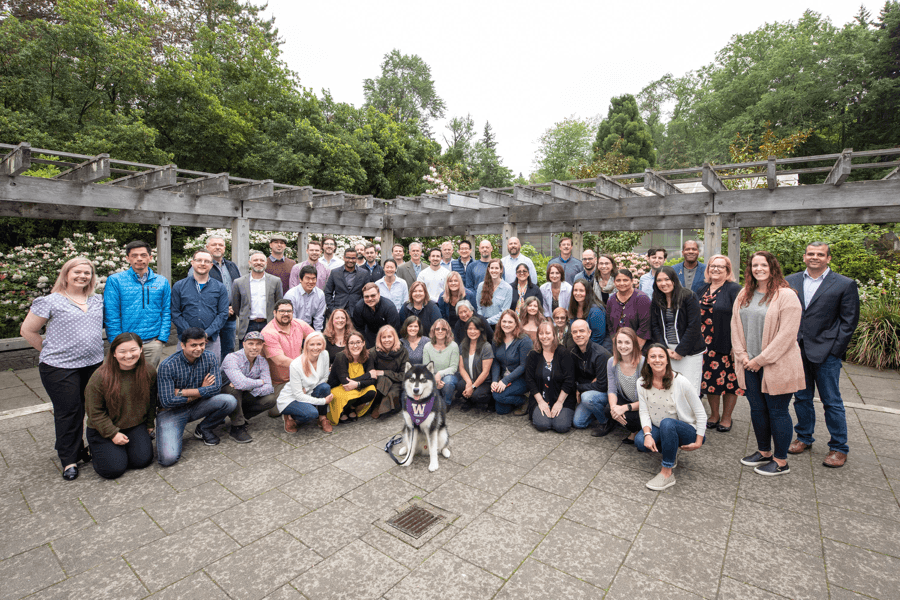 Spotlight: UW Finance Transformation
Despite a penchant for high-speed canoe racing that he's fostered since his days as an undergraduate at Western Washington University, Erick Winger is no daredevil. But when he talks about the University of Washington Finance Transformation (UWFT) initiative, Winger says it might best be compared to a high-flying feat.
"A lot of folks would say we're replacing the engine on a plane while it's in the air," Winger says, referring to the UWFT program, the next step in a broad, University-wide strategy aimed at modernizing and streamlining the UW's administrative systems, policies, and processes.
Winger, who serves as Design Lead Record to Report for UW Finance Transformation, is quick to bring the conversation back down to earth. The transformation process is indeed a steep challenge, but will be far more managed, deliberate, and collaborative than the mid-air mechanics you might be imagining.
"Our goal is to not design a new system and say, 'Here it is,'" Winger says. "Our job is to enable people from across the UW to help design the new processes and policies to enable us to implement a new infrastructure that makes sense for all of us."
Collaboration across the UW will be essential to the program's success. Winger and the UWFT's growing team of 60 employees are attempting to reconsider all finance-related processes and policies, and ultimately replace the UW's current Financial Accounting System (FAS), which was first developed in 1974 using a COBOL-based platform for an institution with a $552 million annual budget.
"The current processes and systems create an environment where there are limitations," Winger says, acknowledging that even the slightest notion of a program that includes a systems change always carries with it a certain level of fear or reticence among those used to working within it.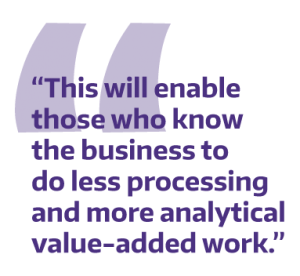 But Winger feels assured that, once the dust settles, people will welcome the freedom and ease the new system and processes will bring to workplaces.
"One of the goals is to reduce unnecessary manual work and redundant steps the system should be able to do on its own," Winger says. "This will enable those folks who know the business to do less processing and more analytical value-added work."
"This will enable those folks who know the business to do less processing and more analytical value-added work."
The UWFT program team, along with partners in UW Finance, UW-IT, UW Medicine, the Integrated Service Center (ISC) and Research (ORIS), will work with stakeholders across the University over the next two and a half years to build out processes, review policies, configure the system, and test and train prior to an anticipated launch on July 1, 2022.
The implementation kicked off in January with next steps being to conduct outreach and engage stakeholders. Beginning in April and May, UWFT will begin hosting events and design workshops to formulate a draft process for all the functions that affect those hundreds of units across the University.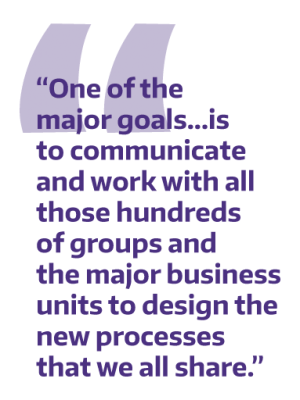 "One of the major goals of our job is to communicate and work with all those hundreds of groups and the major business units to design the new processes that we all share," Winger says. "That's going to be the stage that's happening relatively soon: designing those new processes within a new system."
The Organizational Change Management (OCM) group within UWFT will be an essential part of that discovery process of collaborative discovery and is building a portal that staff and faculty can visit to get all the information they need about what's changing.
"Their particular goal is to make sure no stone is left unturned and that there's no one out there who doesn't have the information they need," Winger says. "The goal is to engage with everybody, provide information, and hear back from people to learn what they may be missing."
Winger says that once the transformation is complete, a fiscal specialist from Microbiology could move to a similar position with UW Athletics and "they'll know exactly what to do because we have consistent processes."
Not only will this have an effect of simplifying admin systems across the UW, it will also enable employees to spend more time strategically analyzing data instead of inputting it.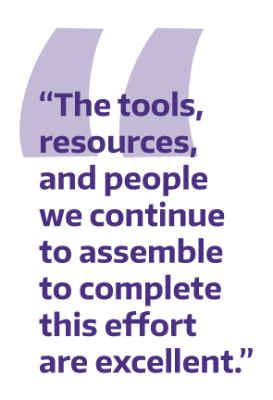 "This is about transforming ourselves from processors to value-added analysts who can do more strategic thinking," Winger says, adding that when he joined the UW 17 years ago, a program of this scale and magnitude was often discussed, but always felt a few years away.
"We've gotten to a point where we have buy-in from leadership as well as from faculty and staff, so now is the time to do it," he says. "For a lot of people, it's really scary. To me, it's not scary because I know we're going to do it together and that's really exciting."
In his nearly two decades at the UW, Winger has worked as part of multiple implementation projects, including the travel reimbursement system and Financial Desktop (a financial reporting tool for departments). In the process of rolling out such projects, Winger says he's had the chance to meet with most fiscal specialists at the UW and feels confident in UWFT's ability collaborate.
"There can be a lot of fear around the unknown, but I think when the ones driving the change can come to the process with some level trust and experience, and a true desire to listen, that's good."
In addition to the many minds involved in the process, Winger says the UW will continue to benefit from the willingness of other institutions of higher education to share information about similar transitions.
"Companies will often go out of their way to not share information with competitors, but as a university, we can talk to other universities about what they've learned from similar transformation projects," Winger says. "It's so awesome to work in that kind of environment."
President Ana Mari Cauce underscored the need for unifying transformation in a statement earlier this week.
"As a world-class research university serving stakeholders from undergraduates to hospital patients, we need to evolve our finance processes, policies and systems to be more cost efficient and ensure responsible stewardship of our resources," Cauce said. "That makes UWFT crucial to our public service mission."
Winger couldn't be more excited about the project's next steps. "The tools, resources, and people we continue to assemble to complete this effort are excellent," he says. "I haven't seen anything like this at the University in my 17 years here."
---
Mingle with UWFT team members and learn more about joining this dynamic program at a networking event on Wednesday, February 26 from 5:30 pm – 7:30 pm at UW Medicine, South Lake Union Campus. Click here or on the image below for more details.