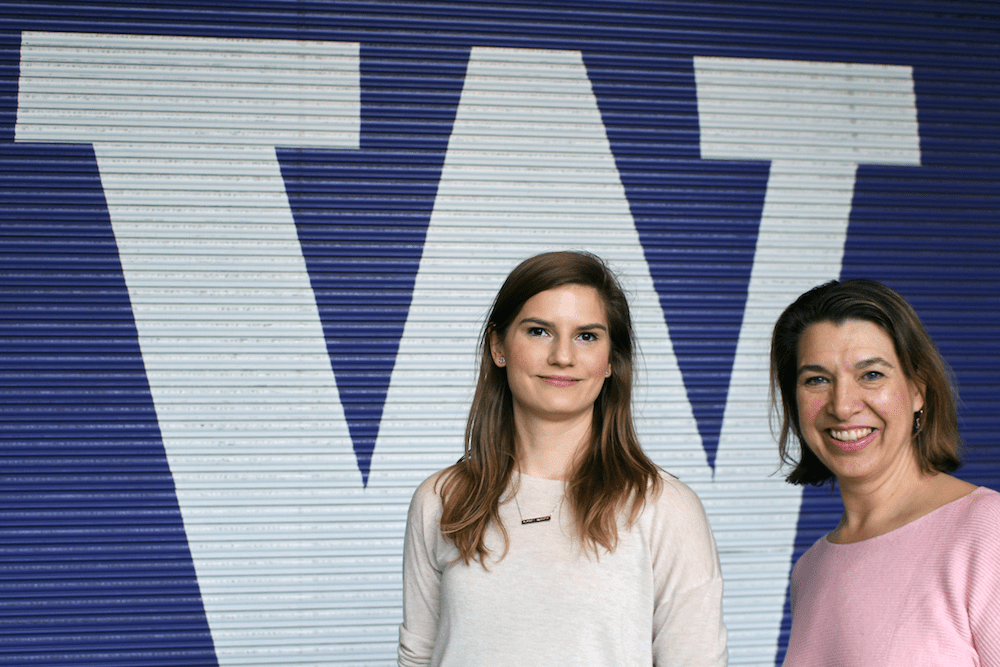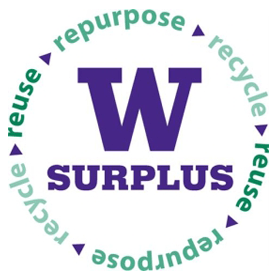 Every Tuesday, just before noon, a line begins to form outside the UW Surplus loading dock. People wait quietly, patiently anticipating the moment when the large purple garage door with a white 'W' will open to reveal the most intriguing inventory of items you are likely to find anywhere in the state.
From noon to 6 pm, the public is welcome inside to peruse the UW Surplus Store in search of deep discounts on everything from office supplies and furniture to computers and monitors. It's not quite Aladdin's cave of wonders, but it's something close.
Taken together, the collection of unneeded items culled from across the University of Washington's campuses and medical centers stands as an eclectic testament to the many facets and functions of one of the world's leading research universities. UW Surplus' motto is "reuse ▸ repurpose ▸ recycle," but when many UW Surplus staff talk about the store and its services, they like to add a fourth term to the mix: reimagine.
"We encourage everyone to visit UW Surplus because you never know what you are going to find and how that might spark your imagination," says Catherine Scheid (above left), program support supervisor for retail store & inventory.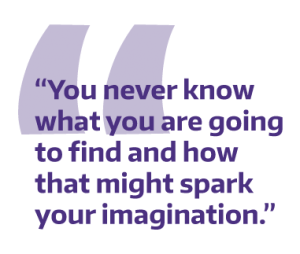 Scheid relates one instance when a pair of deep-ocean buoys attracted a buyer who decided to give the otherworldly orbs a second life as garden ornaments.
Another instance that illustrates—quite literally—UW Surplus' emphasis on creative reimagining was its 2019 collaboration with the UW School of Art + Art History + Design to create Surplused, an art exposition exploring how "items as mundane as mice, keyboards, phones, chairs, and random machine components lend themselves to worthwhile expression in fine art."
"One of the best parts of working [at UW Surplus] is why I think people love shopping here: you never know what items are coming in," Scheid says.
On any given day, Scheid handles an array of office furniture, household goods, electronics, tools, and building materials. After being assessed, each item is flat-priced with the cost indicated by a green tag for larger items and a yellow sticker-tag for smaller items. Chairs and desks sell for as little as five dollars. And whether you're looking to suit up with some nearly new athletic gear or cast off in a 15-foot aluminum canoe, you won't find it elsewhere for a better price (assuming you can find it at all).
---
---
Items are resold through a retail store and live and online auctions. Some items, such as specialized equipment, vehicles, and items generally too large for the UW Surplus warehouse are put up for bids in timed online auctions throughout the year via GovDeals.com and Proxibid. Past timed online auctions have included large wooden sheds, kitchen and lab equipment, passenger buses, DNA sequencers, live potted trees, pallets of phone and audio-visual equipment, food trucks, weaving looms, large weightlifting equipment, and one-of-a-kind Rose Bowl spec football shoes. Auction lots comprised of large quantities of like-items such as laptops, servers, and desktop computers are also popular.
Approximately 6-8 Saturdays per year, UW Surplus Auctions hosts live public auctions at the Surplus warehouse. Auction lots are comprised of large quantities of like-items such as laptops, servers, and desktop computers, items that are large in size or scale such as printing presses or plotters and industrial equipment like saws, lathes and milling machines. Live auctions also offer unique items such as professional coffee equipment, maritime equipment such as buoys and rope, art equipment like pottery wheels, and racks full of printer inks and toners.
"We take in surplus items from all UW departments and medical facilities," Scheid says. "When a department doesn't need something anymore, they send it to us. We're receiving items every day, so our stock is always changing and evolving."
While you can never be sure what you might find amid UW Surplus' aisles, racks, and shelving units, what you can be sure of is where items won't be going. 99% of all items that came to UW Surplus in 2019 avoided ending up in a landfill—the equivalent to 2.1 million pounds. 66% of materials received were resold while 33% were recycled, meaning buyers are not only saving by paying pennies on the dollar for next-to-new items; they're also sharing in a collective University-wide effort to reduce the UW's overall waste.
---

---
"It takes a lot of energy and natural resources to manufacture goods, so consumers can have a powerful impact by buying used goods and reusing them," says Suzanne LeMere (above right), program support supervisor for UW Surplus administration and communications. "When faculty, staff, or students are thinking about making a purchase, instead of ordering it new online or from an office supply store, they can save a lot of money by shopping Surplus first."
LeMere says UW Surplus is "a tremendous and valuable resource" for its threefold ability to deliver value to the shopping public, cost-savings to the University, and less waste into the world. It's that sense of stewardship that, for LeMere, makes the worth well worth doing: "I have a sense of pride in knowing that what I do is making a positive contribution towards environmental stewardship."
Scheid echoes that sentiment. One of the most rewarding parts of her work, she says, is the sense of satisfaction of seeing a UW Surplus purchase help a student or small business owner can a head start on an endeavor. One instance stands out to Scheid in particular: "I remember a high school music teacher who came in and was able to purchase a piano at a discount which allowed him to stretch his music budget a lot farther."
UW Surplus accepts items that are no longer wanted or needed from all three campuses (Bothell, Seattle, Tacoma) and UW Medicine facilities. Anything that is property of the UW is fair game. No personal items are accepted.
---
---
The 33% of items not sold through the Surplus store or auctions get diverted into the appropriate recycle stream. A percentage of proceeds from the 66% of materials received that end up selling goes back to UW departments while a remainder goes to fund staff salaries and operations—meaning UW Surplus is a self-sustaining entity.
"I enjoy the sense of camaraderie with the staff and students I work with and how much we're able to accomplish together," LeMere says.
Before purchasing office supplies elsewhere, faculty and staff are encouraged to visit the store where hard-to-recycle, yet easy-to-reuse items such as binders can be purchased for as little as 25 cents. An expedition to UW Surplus could be a fun and productive outing for any work team looking to organize and optimize their work spaces.
"Don't be afraid to reclaim your office space," LeMere says. "Send Surplus those items you no longer want or need and we'll do everything we can to make sure they find a new home."
Eric Siu, Truck Driver Lead for UW Moving, says one of the things he enjoys most about working for UW Moving & Surplus is that each item that arrives offers one slice of a broader UW story.
"I love seeing where all these items come from," he says. "I don't think there's any other place like this."
---
The UW Surplus Store is open to the public every Tuesday from noon to 6 p.m. Just across from University Village shopping mall: 4515 25th Ave. NE. UW departments, non-profits, and state agencies can shop Monday, Wednesday, Thursday, and Friday from 8:30 a.m. to 3:30 p.m. Live and timed online auctions are also held throughout the year. The next is Saturday, February 1. For more information, visit www.uwsurplus.com and follow UW Surplus on Twitter, Instagram, or Facebook for updates on the newest items and latest deals.