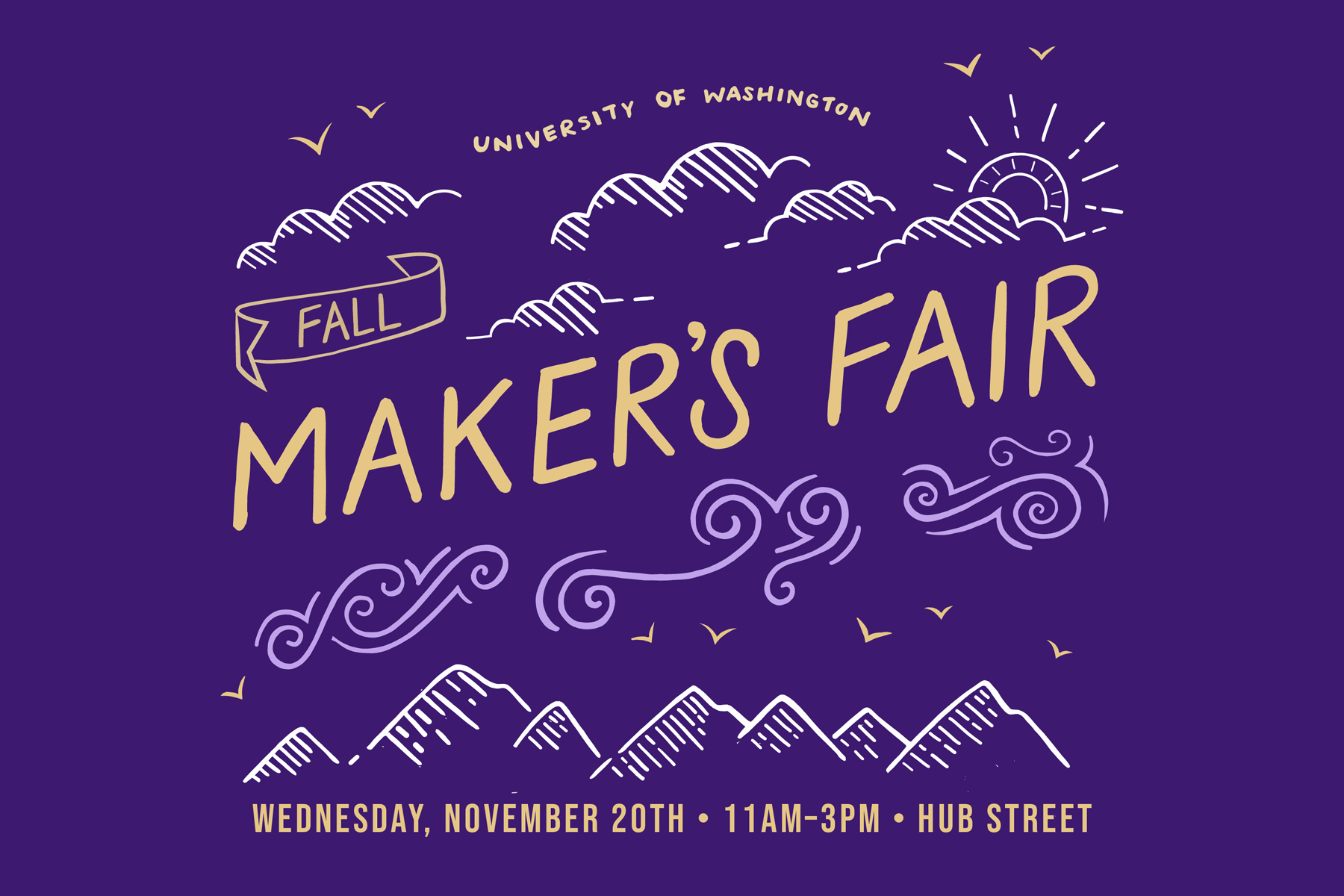 UW's Fall Maker's Fair makes giving great gifts easy
What makes the perfect gift? Is it the item itself or something more to do with the story behind it and why, of all possible things, you picked it to give someone? With the holiday season getting closer by the day, you might be starting to think about what to give to those who matter most in your life. That's why the HUB and The Whole U are co-hosting a Maker's Fair at the HUB on Wednesday, November 20 from 11 a.m. to 3 p.m.
Whether you can't wait to find that perfect item for all the people on your list or don't quite know where to begin when it comes to your holiday shopping, the Maker's Fair can be your one-stop opportunity to browse beautiful creations made by members of the UW community. There will be 25+ vendors in attendance with a variety of unique gift options!
Learn more about the event and register to let us know you'll be stopping by here. Can't wait? Neither can we! Get to know some of the Fair's vendors below, including what they'll be selling and what drives their creative process. You never know where you might find the perfect gift, but there's a good chance at least one thing catches your eye if you join us next Wednesday! A complete list of vendors follows at the end of this page.
---
---
Madeline B. Galbraith
designs and hand stitches all types of stuffed creatures out of repurposed and recycled materials to lessen the earth's excess of plastic and other non-perishable, synthetic materials. Madeline says she loves animals and tries to emulate their personalities through her art. "I let the art take me on its own journey through many mistakes, frustration and then, ta-da! pure pleasure after completing a piece," she says, adding her creations are rarely planned. "That is the beauty of art." Her message to all Huskies:
"Get out of the office or take a break from classes and enjoy the many talents out University community has to offer."
---
Levina Robin can't wait to share some new designs for the stickers, greeting cards, and magnets she makes. "This year, I am trying something new for the holidays, come by and see!" she says. "There is something so special about creating a piece only from the ideas in your head and resources that this world has provided. You truly never know which direction it will manifest. Sharing that with others is so fulfilling because art was meant to be enjoyed and shared with each other." Robin says those who stop at her table can expect her to be fully transparent about her creation process "so they feel inspired and know that they have it fully in them to create something too! I am always ready to collaborate!"
---
Marie Baeta (Rod&Cone) creates hand-drawn and printed cards and shrinky dink pins exploring the funny sides of science. "I'm look forward to meeting, exploring, and connecting with the beautiful, creative minds of the UW community," she says. "Humor and whimsey are my driving forces for my work. I love to think of something that people will enjoy, then match it with the right type of medium for making that idea come to life. I love inspiring others to see things in a new or different way." Attendees should look forward to browsing Baeta's collection of hand-printed cards of humorous perspectives on Seattle, UW, and science.
---
---
Known as the Felted Flying Fox, Erin Sachiko Nakamura makes needle felted sculptures of plants, animals, and other objects as well as LGBTQ+ bottle charms, stickers, and animal enamel pins. "I am doing an art challenge called Huevember this month where I make one needle felted piece per day using a different color every day," she explains when asked why she's excited to be sharing her work. "I'm working super hard, so I'm excited to share my rainbow of felted sculptures at the Maker's Fair! I adore it when someone stops at my booth at craft fairs and finds something that clicks with them. It's different for every person, so even though something can get over looked by dozens of people, there is always one person who gets immense joy from seeing it!"
---
Lena Nguyen makes watercolor paintings and handmade cards and looks forward to potentially selling her first piece. "I have never sold or shared my art to the public before so this will be a first. I'm really excited to see how people react and if anything sells! You can expect to see unique watercolor paintings that can be used as postcards, wall decor, bookmarks, and letters." The element of making Nguyen says she loves most is stepping back to observe the end result. "I can see what I have created and just relax and feel proud. It's especially great to see the progress I've made and remembering the start of how it all began.
---
Daniel Kopald says he loves "creating art from recycled and found materials," discovering cool and unique ways to make useful items, including bags from recycled billboard materials, hammered tin candle holders, and fine art pieces made from recycled bicycle bits. "My booth will be filled with unique and individual pieces of art made from found and recycled materials," says Kopald, who last year exhibited a series of license plate cars at the annual Chicago Bike Winter Art show that he fashioned from plates he'd found during bike rides in Chicago and Seattle.
---
As a women's art/artisan collective,
Creative Mujeres
offers "unique handmade gifts for a vibrant life" and will be sharing "
lots of new items, including some Husky-inspired goods
." In addition to one-of-a-kind offerings, they say they also look forward to sharing more about the therapeutic process that goes into each product.
---
Monica Nobbay
makes many things across the spectrum of paper craft: greeting cards, wall decor, bookmarks, scrapbook pages primarily made with paint chips (paint samples), and card stock. "
I have been wanting to share my work with others and this is the perfect event to start doing that
," Nobbay says, adding that she loves the sense of calm crafting brings her. "When I am being creative, it doesn't feel like work at all; I just try to go with what my heart wants and not think about making it too perfect. I focus on putting what I'm feeling into the creation I'm making."
---
Voyage UW
 started as a platform at UW to share stories from writers, photographers, and storytellers from all backgrounds and identities. Since 2018, each issue produced contains a main theme: from traveling perspectives, relationships between food and culture, to reclaiming yourself through solo traveling or as a female traveler, the magazine touches on a variety of underrepresented voices and experiences as travelers. "
You will be able to find our latest 3 issues (Perspective Issue, Food Issue, and Reclaiming Narratives), our limited edition traveler's tote bag, and our "find your voyage" stickers
! If you tag us @voyage_uw on your social media, you will be able to receive a free sticker of your choice!"
You'll also meet the following vendors at the Maker's Fair!
Alyssa Hall: Display resources available for students in our makerspaces and give away free items like 3D prints
Amara M Le: Handmade Soap, Art Prints with personal photography, Handmade Candles
Audra Daniels: Pottery – cups, planters, bowls, match holders, vases, etc.
Barbara Lechtanski: Handmade knit hats and cowls
Dalia Maxum: Handcrafted products from Oaxaca, México
Eileen O'Connor: Woven scarves and towels, woven metal jewelry, switch plate covers (clay)
Evonne Martinez: Individually handmade art, artisan crafts, jewelry, home decor
Jack Tamblyn: Cupcake Candles
Jill Christenson: Jewelry made from repurposed and recycled pieces.
Leah Wood: drawings/art
Paul Manka: Hand made wood products and floral arrangements
Rosie Sun: Magazine (written, illustrated, designed, and produced by UW students), stickers, tote bags
Sammi Cheung: Wish bottle charms, bookmarks, ornaments, holiday cards
Sara Chen: stickers, stationery, apparel
Shawn Heide: Fine art illustrations and reproductions
Tomoko Morita: Jewelry, Decor, Crafts
Yuna Shin: Abstract modern polymer necklaces, graphic tees, prints
Grace Lee: Art, Sculpture, Paper-based media
Lorna Hamill: "I <3 my dog" earrings
Katherine Eng: Freshly pressed juice
Lu Song: Magazines and Seattle guidebook produced by our RSO Weget Magazine, flower decors
Sandra Esquivel: Ribbon Bons
Iman Haji: Polymer clay charms and keychains
---
We can't wait to see you and all our participating vendors at this year's Fair! Get details about the event and help us know how many attendees to expect by registering here with your NetID.