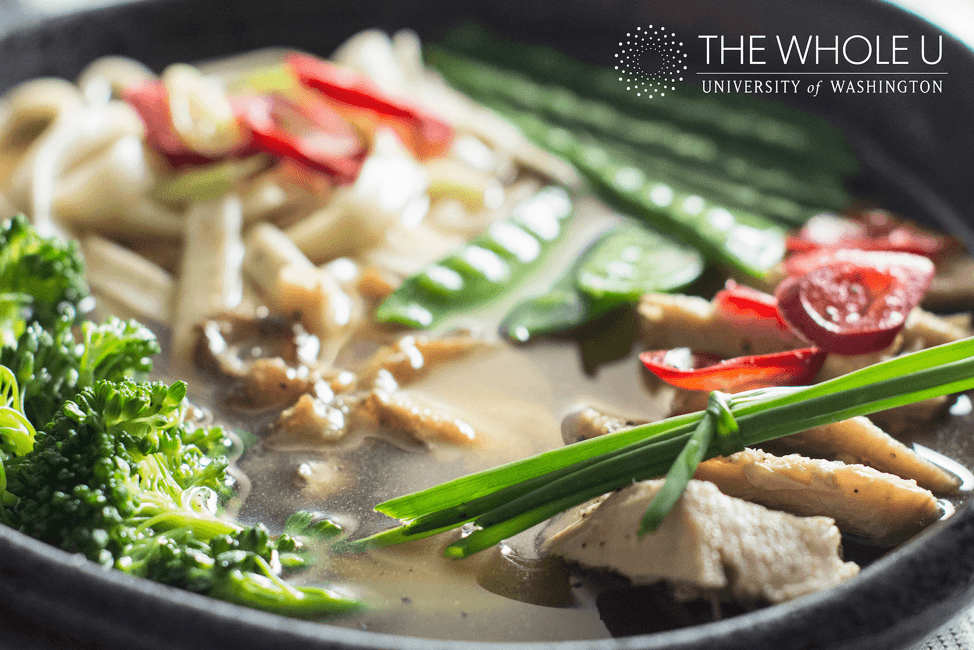 Flu-fighting foods and favorite recipes for cold season
While a flu shot is the most effective way to combat the flu, food can play a crucial role as well. Registered dietitian Julia Marnadi shares some insight onto what foods pack nutrition to help stave off the flu and why in this month's edition of the RD blog!
The Whole U has you covered with easy, on-campus flu shot locations this fall. Catch the list of remaining flu shot dates and locations at the end of this article and learn all you need to know about getting your on-campus flu shots here.
---
To begin understanding how food can help or hamper your efforts—beyond getting your flu shot—to not get the flu, let's get to know the immune system. Our immune system is constantly working to protect the body from injuries and illnesses. It consists of various organs, cells, and tissues located throughout our body.
The immune system is broadly divided into two major components:
1) Innate immunity — This is an immediate/first responder to foreign invaders. The innate immunity is comprised of physical barriers like skin, chemical barriers like our stomach secretions, and biological barriers like the flora of the gastrointestinal tract.
2) Adaptive immunity — This is not an immediate response and takes weeks to fully develop and create immune cells to target the particular pathogen/foreign invader for destruction
Nutrition is critical for this defensive system to function adequately. Undernutrition due to insufficient intake of energy and macronutrients and/or due to deficiencies in specific micronutrients impairs the immune system, which suppresses immune functions that are fundamental to host protection.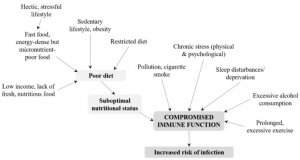 Life-style factors affect immune function during adulthood. The risk of infection is also influenced by gender, early programming, vaccination history, pathogen exposure, specific health conditions, and diseases. Below, learn which foods contain the nutrients that can help keep your body and immune system strong all winter long!
---
To Fight the Flu
Vitamin A:  Carrots, sweet potatoes, squash, pumpkin, mangoes, papaya, dark leafy vegetables
Vitamin C*: Sweet red pepper, strawberries, kiwis, oranges, red, green, yellow peppers
Vitamin E*: Avocado, spinach, squash, kiwis
Vitamin D: Research has shown Vitamin D helps to decrease upper respiratory infection, foods include salmon, sardines, sunshine
Vitamin B6: Milk, cheese, eggs, salmon, eggs, turkey, potato
Vitamin B12: Clams, sardines, beef, tuna, trout, fortified cereals
Zinc*: Legumes, seeds, nuts, oysters, beef
Selenium*: Fish, enriched foods, turkey, tuna, whole wheat bread, pork
Copper*:  Oysters, cashew nuts, lentils
*These vitamins/minerals help heal the cells that are damaged in the process of destroying the invading organisms that can cause the flu. During this process, immune cells—cells that destroy invading organisms—produce free radicals which damage other cells. Constant production of these free radicals results in increased inflammation and chronic disease.
Vitamin A, B6 and B12: These vitamins play a key role in production and function of many cells in the body, including immune cells.
Omega 3 fats: EPA and DHA are part of omega 3 fatty acids which are not synthesized in the body and they are found to have anti-inflammatory compounds that turn off inflammatory response
Probiotics and prebiotics: 60% of the immune system is present in the gastrointestinal (GI) tract. Including foods rich in probiotics and prebiotics (which feeds growth of good bacteria) in one's diet is important to maintain gut health, which also helps our immune system. The most common fermented foods naturally contain probiotics: yogurt, kefir, sour dough bread, miso, tempeh. Most high fiber foods contain prebiotics: apples, bananas, onion, asparagus, garlic, leeks, soybeans, whole wheat foods.
Cooking with spices and herbs: Turmeric, garlic and cinnamon are a few of many plant species and herbs that have been shown to have anti-inflammatory compounds. Cooking with these spices not only adds a kick flavor, but also health benefits, especially during the winter months.
It is recommended to limit food preservatives, which has shown to alter gut bacteria. This increases the risk for inflammation and chronic disease. Also, it is encouraged to limit consumption of fried foods/processed foods, which can also increase inflammation.
---
Recipes to fight the cold
Immune broth
Makes about 4 quarts | prep time: 15 minutes | cook time: 90 minutes
Ingredients:
1 fennel bulb plus stalks, cut into chunks
1 unpeeled yellow onion, quartered
3 unpeeled carrots, cut into thirds
½ bunch celery, including the heart, cut into thirds
1 sweet potato, cut into chunks
½ large bunch fresh flat-leaf parsley
6 fresh shiitake mushrooms
1 (3-inch) piece burdock root, quartered crosswise
6 sprigs fresh thyme
6 large unpeeled cloves garlic, halved
1 (2-inch) piece fresh ginger, halved lengthwise
1 (8-inch) strip kombu
6 black peppercorns
1 bay leaf
4 quarts cold, filtered water, plus more if needed
2 teaspoons sea salt, plus more if needed
Instructions:
Rinse all of the vegetables well, including the Kombu.
In a 6-quart or larger stockpot, combine the fennel, onion, carrots, celery, sweet potato, parsley, shiitakes, burdock root, thyme, garlic, ginger, kombu, peppercorns, and bay leaf.
Add the water, cover, and bring to a boil over high heat. Decrease the heat to low and simmer, partially covered, for at least 90 minutes, or until the full richness of the vegetables can be tasted. As the broth simmers, some of the water will evaporate; add more if the vegetables begin to peek out.
Strain the broth through a large, coarse-mesh sieve (use a heat-resistant container underneath). Stir in the salt, adding more to taste if desired. Let cool to room temperature before refrigerating or freezing. Store in the refrigerator for up to 5 days or in the freezer for up to 6 months.
Variation: For an extra immunity and anti-inflammatory boost, add 3 (1-inch) slices of fresh turmeric root or 1½ teaspoons ground turmeric during the last 30 minutes of cooking.
---
Triple green frittata
Makes 6 servings | prep time: 15 minutes | cook time: 40 minutes
Ingredients:
1/2 cup diced red bell pepper
Sea salt
2 cloves garlic, minced
Pinch of red pepper flakes
1 cup tightly packed, finely chopped kale
2 cups tightly packed, finely chopped chard
2 cups tightly packed, finely chopped spinach
Freshly grated nutmeg
10 organic eggs
2 scallions, minced
2 tablespoons chopped fresh marjoram
1 tablespoon chopped fresh thyme
1/4 teaspoon freshly ground black pepper
2 ounces crumbled feta
Instructions:
Preheat the oven to 375°F. Lightly oil a 6 by 8-inch baking dish.
Heat the oil in a large skillet over medium heat. When it's shimmering, add the bell pepper and a pinch of salt and sauté for 3 minutes.
Add the garlic and red pepper flakes and sauté until fragrant, another 30 seconds or so.
Stir in the kale and another pinch of salt and continue to sauté for 5 minutes.
Add the chard and spinach, and one more pinch of salt, sautéing until the greens are wilted and tender, about 5 minutes more.
Remove from the heat and add a few gratings of nutmeg, stirring to combine.
Whisk the eggs, scallions, marjoram, thyme, 1/2 teaspoon of salt, and the pepper together in a large bowl. Lay the cooked greens along the bottom of the prepared dish and top them with the crumbled feta.
Pour the egg mixture over and bake until the eggs are just set, 25 to 30 minutes
---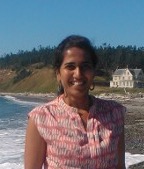 Julia Marnadi RD,CD an inpatient dietitian for hematology oncology and bone marrow transplant population. In her spare time, she likes cooking, spending time with her family and running with her friends.
Flu Shot Clinic – Remaining Fall Dates
Seattle Campus
Tuesday, November 5
5:00 p.m. to 7:00 p.m.
Odegaard Undergraduate Library, Room 326
Wednesday, November 6
4:00 p.m. to 6:00 p.m.
Intramural Activities Building, main lobby
Friday, November 8
10:30 a.m. to 2:30 p.m.
Dempsey 302: Anthony's Executive Forum
Health Sciences Building
Thursday, November 14
9:00 a.m. to 3:00 p.m.
Health Sciences 3rd Floor Lobby