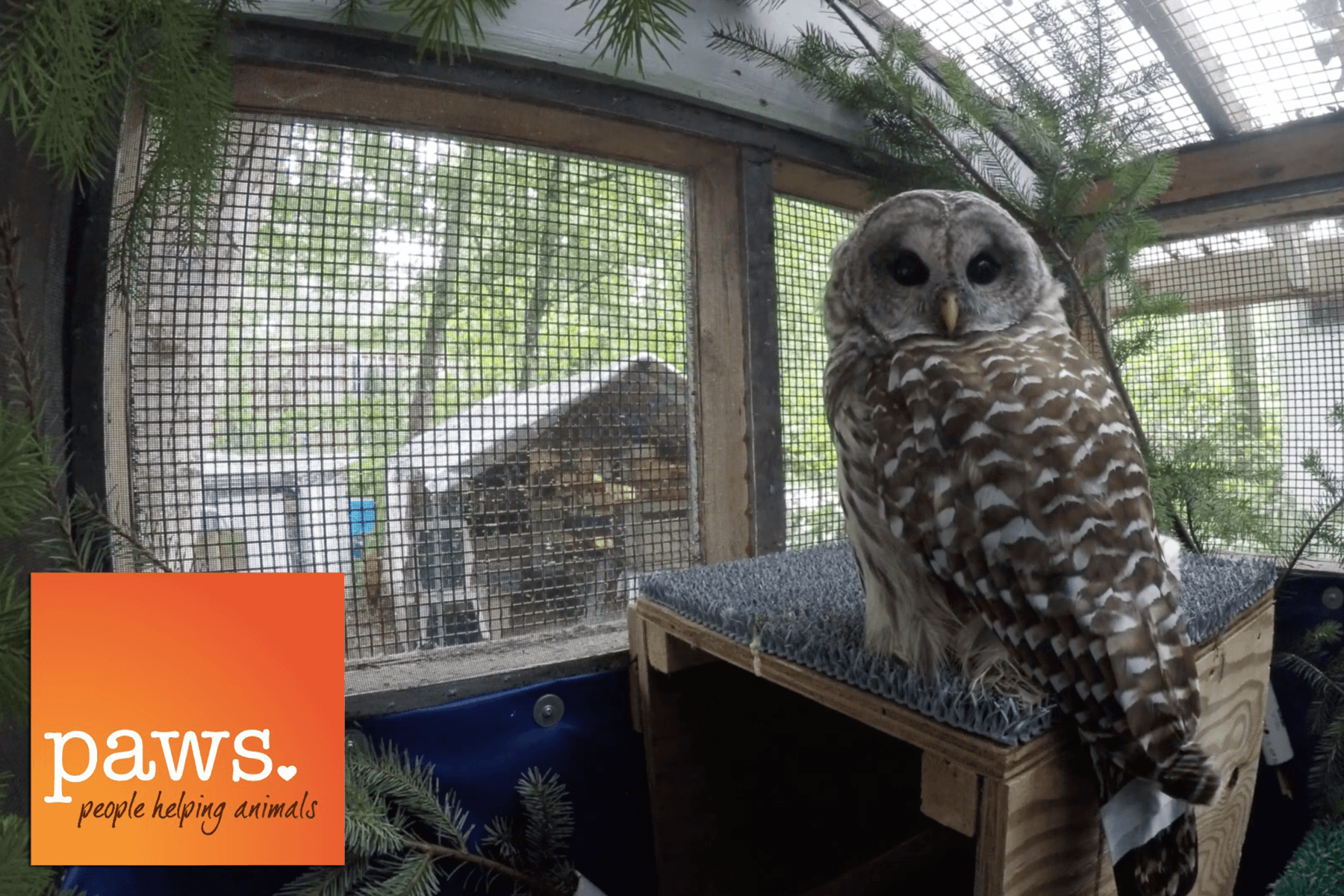 UW Owl returns to campus healed with PAWS' help
It's not every day that pedestrians at the University of Washington come face to face with a grounded Barred Owl. The scene outside Allen Library early on the morning of September 13 stopped Marie Eaton in her tracks on her way to a conference.
"You could see his eyes blink so we knew he was alive but he was not moving his head or attempting to fly away when we approached him," recalls Eaton, who was one of the first on the scene.
Eaton and other employees surrounded the owl with caution tape while they figured out what to do. They called UW Security and kept curious onlookers from getting too close. A photo was taken and tweeted out on the popular UW News channel, resulting in hundreds retweets. From there, local news organizations picked up the story, dubbing the bird the "UW Owl."
While the story went viral, a biologist on campus secured the owl and transported him to PAWS Wildlife Center.
"Fortunately, the UW Owl's injuries were manageable," says PAWS Veterinarian Nicki Rosenhagen, who surmised that the young barred owl had crashed into a library window. "After we got him over the initial shock, we evaluated him further and found he had fractures to his pelvis and left scapula, as well as a lesion in his retina."
Rehabilitating an injured wild animal is a complex task with a variety of costs associated. Fortunately, the UW Owl's injuries were treatable and PAWS was able to provide veterinary care and rehabilitation services towards a full recovery. Each year, PAWS cares for up to 60 injured owls comprising nine different species and helps them return to the wild.
---
---
UW News kept concerned followers in the loop, tweeting status updates on the UW Owl as they became available: "The owl is now holding both eyes open and is stronger than it was upon arrival. It's appropriately defensive. The owl will be cage rested for two weeks to allow the fractures to heal and then moved to a flight cage for testing."
The experienced staff at PAWS were optimistic all would go according to plan when, after 27 days of rehabilitation, time came to release the barred owl back into the wild on campus on October 9. Watch the successful release below!
---
---
On hand to help with the release ceremony was UW President Ana Mari Cauce, who offered a parable about failure and success: "We have a series for our students called Fail Forward where it's all about resilience. We teach our students that sometimes you fall just like our [owl] friend did and there's nothing wrong with that. Then what you need to do is, hopefully, with support from our wonderful UW family—and friends at PAWs—you get back up and use it as a learning experience. Often failure is the first step to success."
---
If you ever find an injured wild animal, please call PAWS Wildlife Center at 425.412.4040 as soon as possible.
---
Here's a breakdown of what your PAWS donation will net owls who are in need:
Recurring monthly:
One-time:
$30—
$55—
$170—Furnishings for one owl enclosure (rope, AstroTurf, PVC pipes)
---
Click to learn more about PAWs and the work they do.
---