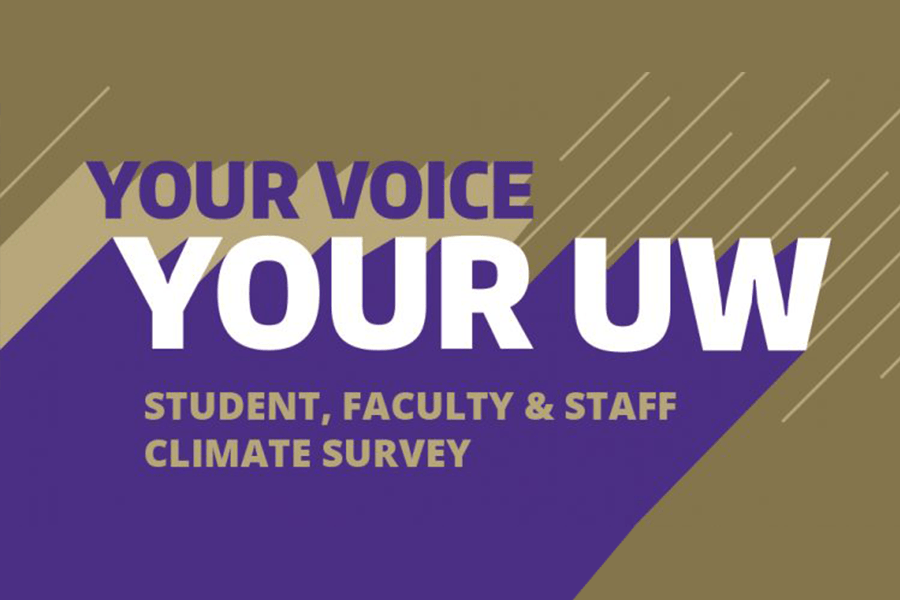 Make Your Voice Heard: Take the UW Climate Survey
At The Whole U, your feedback is essential. Our annual community interest survey gauges the types of programming you want to see, while your event-specific survey feedback alerts us to what's working and where we can improve. But if there's one survey we encourage you to complete this year, it's the UW Climate Survey, open now through November 8.
The 2017-2021 Diversity Blueprint and Race & Equity Initiative identified a climate survey as a priority to help UW confront individual and institutional racism, as well as to inform the work that will make our campuses more inclusive overall. Climate, in this case, refers to the current attitudes, behaviors and standards of employees and students concerning the access for, inclusion of and level of respect for individual and group needs, abilities and potential.
"In a community as large and diverse as ours, creating a sense of belonging that allows everyone to thrive doesn't happen by luck or by accident; it requires attention and effort," says UW President Ana Mari Cauce.
---
---
"This in-depth survey will ask important questions about your life and work at the University of Washington, including what the living, learning, and working environment is like for you, how you experience the University's culture, and what kind of experiences—positive and negative—you've had as a member of this community."
Choosing to take 20-30 minutes to complete is essential for helping the University of Washington understand how the environment for learning, living and working at University of Washington can be improved.
"For us to truly meet our public mission, we need to nurture and create where you can be your very best self and reach your full potential," President Cauce says. "That can only happen when you feel welcome and valued for your contributions. That's why I want to encourage you to take part in our Campus Climate Survey."
The survey is not only for the UW community, but has been developed by it. The Climate Study Working Group responsible for guiding the development of survey questions—as well as the interpretation of the survey and its results—is comprised of 29 UW students, faculty, and staff representing all three campuses
Per The Climate Study Working Group co-chairs Jeanette James, Director of Strategy, Office of Minority Affairs & Diversity, and Jason Johnson, Senior Associate Dean, Undergraduate Academic Affairs, the goals of the survey are to:
Identify existing successful initiatives and experiences
Identify challenges facing members of our campus communities
Develop actions to build on successes and address challenges
The survey provides an opportunity for you to share in your own words your personal experiences and offer suggestions for change. It is completely confidential and you may answer as many questions as you'd like. Any comments that participants provide are separated at submission so that they are not attributed to any individual demographic characteristics.
Overall and campus-level results will be reported in spring of 2020 and all community members will have access to their respective campus report. After reviewing the results, UW campuses will develop and share action plans beginning in summer/fall 2020. The Office of Educational Assessment hopes to complete basic analysis at the divisional dean and VP levels in approximately August 2020.
President Cauce, Chancellor Mark Pagano and Chancellor Wolf Yeigh have all committed to using the results of this survey to plan and take effective actions to address critical issues that the survey process identifies. For example, the results will inform development of the next Diversity Blueprint and how the University prevents and addresses sexual assault and misconduct under its Title IX responsibilities.
"It's completely your choice to participate," President Cauce says. "But I hope you will because your voice matters."
---