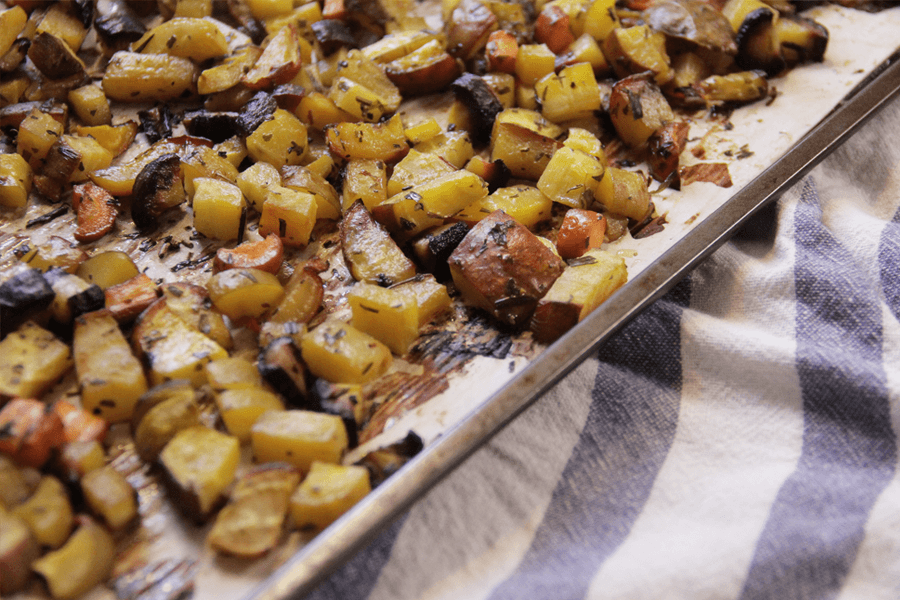 Fall Sheet Pan Recipes to Make in a Flash
Fall is coming and many of us are already busy with activities and commitments with little time to throw a meal together. When life gets busy, I am a big fan of sheet pan meals. When planning for a sheet pan meal, I think about a vegetable (or several), protein, and usually I like to add a root vegetable—perhaps winter squash or potato. You can also just as easily cook a meat-free sheet pan dinner as tofu and tempeh work well with vegetables in sheet pan cooking.
Whether or not you're feeling pressed for time this fall, these three registered dietitian-favorite sheet pan recipes are sure to make mealtime easy and pleasing for all to enjoy. Below you'll find options for any meal of the day!
---
Ingredients
12

 

ounces

 

brussel sprouts, sliced in half

3

 

large

 

carrots, cut into carrot sticks (an excellent source of Vitamin A)

1

 

large

 

sweet potato, diced small (high in Vitamin A and Vitamin C)

1

 

medium

 

leek

1

 

tablespoon

 

olive oil

1/4

 

teaspoon

 

kosher salt

fresh ground black pepper, to taste

Savory Tempeh

8

 

ounces

 

tempeh

1/2

 

cup

 

vegetable broth

2

 

tablespoons

 

soy sauce (substitute with tamari if gluten free)

2

 

tablespoons

 

maple syrup

2

 

tablespoons

 

apple cider vinegar
Directions
Preheat the oven to 425 degrees F.

Using your hands or a knife, crumble the tempeh into small chunks.

In a medium bowl, stir together the soy sauce (or tamari), maple syrup, and vegetable broth. Marinate the tempeh in it for at least 15 minutes, making sure all the tempeh gets covered.

To prepare the leek: Cut off the roots and the dark green tops- you won't be using these parts. Cut the remaining stalk lengthwise, then rinse in water to remove any dirt. Slice into 1/2 inch half moons.

In a large bowl, toss the vegetables in olive oil, salt, and pepper.

Combine the vegetables and marinated tempeh and spread into a thin layer on a large sheet pan. Roast for 30 minutes, stirring halfway through. Remove from the oven and enjoy!
This recipe makes 3 filling servings, but if you want to stretch the recipe you can pair it with quinoa, toasted pepitas (pumpkin seeds), and a handful of arugula.
---
Ingredients
Oil or cooking spray (I prefer avocado oil for recipes above 350°)
1 medium sweet potato, chopped
1 medium potato, chopped
1 red bell pepper (or color of your choice), diced
2 zucchini, sliced
1, 15-ounce can black beans, drained and rinsed
3 tablespoons avocado oil
2 minced garlic cloves or 1 heaping Tbsp of jarred minced garlic
1 teaspoon ground cumin
1/2 teaspoon chili powder
1/2 teaspoon paprika
salt & pepper (few cracks of each from a grinder or about 1/4 tsp of each)*
6 large eggs
1/4 cup chopped fresh cilantro leaves
1 large or 2 small avocados
1 lime, sliced
Instructions
Preheat your oven to 425°. Using cooking spray or oil, lightly grease a rimmed baking sheet.
In a large bowl, toss the chopped potatoes, zucchini, bell pepper and black beans in avocado oil. Add in the spices and mix until coated evenly. Place on the baking sheet and sprinkle with the salt and pepper, if desired.
Bake for about 15-20 minutes until the potatoes are tender. Using a wooden spoon, mix the veggies once about 10 minutes into the cook time to keep from sticking/burning on one side.
Remove the baking sheet from the oven and using a spatula or wooden spoon, create 6 wells in the vegetables*. Crack an egg into each well (I would suggest cracking each egg in a glass measuring cup then gently pouring into the well).
Continue baking for 7-9 minutes or until eggs are set. Garnish with avocado, cilantro and a fresh squeeze of lime, if desired.
Serves: 4-6
Time: 30 minutes
---
An easy, one-pan meal, this sheet pan za'atar chicken with potatoes and green beans is the perfect nourishing dinner for a busy weeknight. 
Ingredients
1 tablespoon

 lemon juice (about 

1

lemon)

1 1/2 teaspoon

s lemon zest (about 

2

lemons)

3 tablespoon

s za'atar spice

3/4 teaspoon

 salt

3/4 cup

 olive oil

5

 boneless, skinless chicken thighs, about 

1 1/2

 lbs

1

 lb fingerling potatoes, halved

1

 lb green beans, trimmed
Salt and pepper, to taste
Instructions
In a small bowl, whisk together lemon juice, zest, za'atar and salt. Slowly whisk in olive oil.
Reserve 3 tablespoons of marinade and set aside.
Combine remaining marinade and chicken in a Ziploc bag and let marinate in the refrigerator for 30-60 minutes, or up to overnight.
Preheat oven to 400 degrees F.
Add potatoes and green beans to baking sheet. Drizzle reserved marinade over top and toss to coat.
Drain excess marinade from chicken. Evenly space chicken out on top of vegetables.
Season with salt and pepper, to taste.
Bake until potatoes and green beans are tender and chicken is cooked through (internal temperature reaches 165 degrees F), about 30-35 minutes.
---
I recommend looking for recipes with familiar ingredients when you first try a sheet pan meal. I tend to add more vegetables then in the recipe. I also have used parchment paper or foil for easy clean up.
If you are short on time, select a recipe with fish, seafood, or tofu that will cook faster (10-15 minutes). Larger cuts of meat such as chicken or beef may take between 25-45 minutes. Be sure you pair lighter protein with vegetables that cook faster or cut vegetables like onions or potatoes into smaller pieces.
Special thanks to the dietitians who shared their favorite recipes!
---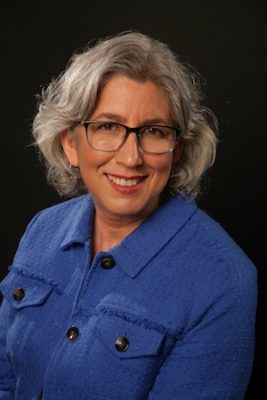 Judy Simon MS, RDN, CD, CHES, practices as a clinic dietitian at Roosevelt Clinic and clinical instructor at the University of Washington Medical Center. She specializes in reproductive nutrition.